Escorted Group Tour: Embark on an exhilarating journey through South Korea's most captivating destinations! Start your adventure in the heart of Seoul, dive into the rich history at Gyeongbokgung Palace and immerse yourself in the bustling markets of Myeongdong. Then, venture to the Demilitarized Zone, where history unfolds at the border between North and South Korea. From there, discover the enchanting towns of Andong and Gyeongju, where you'll find yourself in a living museum without walls, with centuries of culture and heritage waiting to be explored.
Trip Highlights
Seoul - Explore the nations captivating capital; Gyeongbokgung Palace, Jogyesa Temple, Insadong Antique Alley, Cheonggycheon Stream and Seoul Tower on Mt. Namsan
Andong - Discover UNESCO World Heritage listed Hahoe Folk Village and Andong Folk Museum
UNESCO Listed Seokguram Grotto - Marvel at one of Asia's finest Buddhist shrines and Bulguksa Temple
The DMZ - Visit one of the most heavily militarized borders in the world, Imjingak Park built to honour the displaced from both the North and the South of Korea, Dora Observatory
Gyeongju - Discover the former capital of the Silla Kingdom and historic heart of the nation; Gyeongju National Museum, Tumuli Park and the Sill royal tombs, Anapji Pond, the ancient Cheomseongdae Observatory
Included
6 nights 3 - 4 star hotels
Escorted by a qualified local tour guide (separate driver and tour guide for groups of 5 or more)
Private excursion to the DMZ (Demilitarized Zone)
All transfers and tranportation in private air conditioned vehicles
6 breakfasts
Touring of Seoul, Andong and Gyeongju
Airport arrival and departure transfer on days 1 and 7
Not Included
International flights and visa
Entrance Fees: USD$25-$35pp, paid in local currency
Tipping - an entirely personal gesture. For your tour guide and driver, we suggest you allow USD8 - 10 per traveller per day.
Sunday. Welcome to Seoul! Upon arrival you will be met at Incheon Airport and transferred to our hotel in the centre of Seoul.

Seoul, the capital of South Korea, is a captivating blend of tradition and modernity. This bustling city boasts a rich history reflected in its ancient palaces and shrines, while also showcasing futuristic skyscrapers and innovative architecture. Here, you can explore Korea's royal palaces and serene parks, shop at dynamic markets, enjoy diverse Korean cuisine, and immerse yourself in the city's vibrant nightlife.

The remainder of the day is free for you to relax or explore Seoul at your own pace. The subway station is within walking distance of the hotel, giving you easy access to all areas of the city.
Overnight: Seoul
Seoul Sightseeing
Today, we explore Seoul, the enchanting capital of South Korea. Our first destination is the magnificent Gyeongbokgung Palace, a historic gem that served as the primary royal residence during the Joseon Dynasty. Within the palace's picturesque grounds, we delve into Korean culture and history at the National Folk Museum, gaining insights into the nation's rich heritage.

Next, we journey to Jogyesa Temple - the centre of Zen Buddhism in Korea. The serene atmosphere and beautiful architecture make it a truly captivating place to visit. Nearby, we explore Insadong, a lively antique alley bustling with art galleries, antique shops, craft stores, pottery boutiques, traditional eateries, and cozy teahouses.

Our adventure continues with a leisurely stroll along the picturesque Cheonggycheon Stream, which peacefully winds its way through the heart of the city, surrounded by gleaming skyscrapers. We'll end the day with a visit to the towering Seoul Tower on Mt. Namsan. Here, you'll be treated to breathtaking panoramic views of the sprawling cityscape from the observatory.
Overnight: Seoul | Breakfast
The DMZ
Seoul - DMZ - Seoul. This morning, we depart for an exhilarating excursion to the Korean Demilitarized Zone (DMZ), a historically significant area located just 45 kilometers north of Seoul. The DMZ, acting as a buffer zone and the border between North and South Korea, holds a unique place in world history.

Our first stop is Imjingak Park, a poignant memorial built to honour those who tragically lost their homes and families during the tumultuous separation of Korea. We'll then delve deep into the mysteries of the 3rd North Korean Infiltration Tunnel, a subterranean passage stretching 1.5 kilometers in length and plunging 150 meters below the ground. This tunnel serves as a chilling reminder of North Korea's intentions for a surprise invasion.

For those eager to catch a glimpse into the North, we've got you covered. Our next destination is the Dora Observatory, perched on Mount Dora. From this vantage point, you can peer across the border and get a rare view of the secretive northern territory. Additionally, we'll visit Dorasan Station, which once facilitated the passage of freight trains between the South and the North, representing hopes for reunification.

On our way back to Seoul, we'll make a stop at either an amethyst or ginseng shop.
Overnight: Seoul | Breakfast
Scenic Andong
Seoul - Andong. This morning, we leave Seoul and head southward to Andong, a place steeped in the traditions of Korean Confucianism.

In the afternoon, we explore the ancient UNESCO-listed Hahoe Village. Nestled among the serene landscapes, approximately 130 traditional houses, each bearing its unique charm, have been lovingly preserved by the same families for generations. As you wander through, you'll be transported back in time, experiencing the timeless beauty of Korean culture.

Our exploration continues with visits to the Andong Folk Museum and the historic Dosansewon Confucian School, which was established back in 1574. This educational institution offers a fascinating glimpse into the Confucian values that have shaped Korean society and continue to resonate today.
Overnight: Andong | Breakfast
Gyeongju - Capital of Silla Kingdom
Andong - Gyeongju. Continuing our journey southward, we arrive in the city of Gyeongju, often referred to as the 'museum without walls.' This enchanting city served as the capital of the Silla Kingdom from 57 BC to 935 AD, and it's a treasure trove of ancient Korean history and culture.

This afternoon, our first stop is the Gyeongju National Museum, a repository of countless treasures that showcase the remarkable legacy of the Silla Dynasty. Among its prized possessions is the 23-ton Emille Bell, cast in AD 771, a testament to the incredible craftsmanship of the era.

Next, we venture to Tumuli Park, a landscape dotted with gigantic grass-covered burial mounds that house the final resting places of Silla's royalty. Our journey continues with a leisurely stroll around the picturesque Anapji Pond, where the Silla royal family once found respite and relaxation.

Last stop of the day is a visit to Cheomseongdae Observatory, one of the world's oldest astronomical observatories. Standing tall as a symbol of ancient scientific inquiry, Cheomseongdae offers a window into the Silla Dynasty's achievements in the realm of astronomy.
Overnight: Gyeongju | Breakfast
Bulguksa & Seokguram Temple
Gyeongju - Seoul. This morning, our journey takes us to two magnificent UNESCO World Heritage-listed temples. Our first stop is Seokguram Grotto, a masterpiece of Buddhist art and spirituality. Perched dramatically on the slopes of Toham Mountain, this grotto is considered one of Asia's finest Buddhist shrines. Explore its sacred chambers and admire its intricately carved statues.

Our next destination is the beautiful Bulguksa Temple, a testament to the architectural and artistic prowess of the Silla Dynasty, having been constructed in 528 AD. This temple's beauty and historical significance make it a true jewel of Korean culture. Wander through its peaceful courtyards and admire the magnificent craftsmanship of its structures.

In the afternoon, we bid farewell to Gyeongju and journey back to the bustling capital, Seoul. This evening, you have the opportunity to spend your final night at leisure. Why not check out the city's vibrant nightlife or indulge in 'chimaek' - South Korea's favourite food combination of fried chicken and beer.
Overnight: Seoul | Breakfast
Seoul
Saturday. We hope you enjoyed your South Korean adventure! After breakfast and hotel check out, spend the remainder of the day at leisure before your transfer to the airport for your onward flight.
Breakfast
See more of South Korea
Want to see more of South Korea? Consider our 9 day Seoul Searching & Jeju private tour, taking in the capital, the DMZ, Gyeongju, Busan and the beautiful Jeju Island. Alternatively book this group tour and we can arrange a private extension to Jeju Island, or any other destinations you wish to visit. Please contact us for a quote.
The hotels listed below are ones which we frequently use on this tour. We reserve the right to substitute these hotels to ones of a similar standard.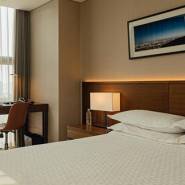 Four Points by Sheraton Josun, Seoul Station, Seoul
Four Points by Sheraton Josun, Seoul Station is a conveniently located hotel in the heart of Seoul, directly connected to Seoul Station via an underground passage. This modern hotel offers a range of amenities, including a restaurant serving various cuisines, a fitness center, free WiFi throughout the premises, and complimentary on-site parking. The well-appointed rooms feature air conditioning, work desks, safety deposit boxes, and private bathrooms with walk-in showers and complimentary bath amenities. With its central location, easy access to Seoul's transportation hubs, and proximity to key attractions, it's an ideal choice for travelers exploring the vibrant city of Seoul.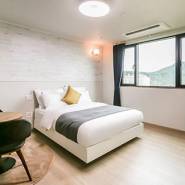 CM Park Hotel, Andong
The CM Park Hotel is situated in the city of Andong in the southeast of South Korea, ideally located just a few km's away from Andong Hahoe Folk Village. Guest rooms are comfortable and equipped with air-conditioning and free wifi. Boasting a bar and terrace with views of the city, this makes for a great stay in Andong.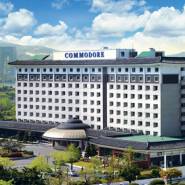 Commodore Hotel, Gyeongju
The Commodore in Gyeongju has a variety of rooms, from the traditional Korean On-dol to palatial suites. All rooms are air conditioned and equipped with a cable TV. The hotel itself also boasts a seasonal outdoor pool, extensive gardens, restaurant and karaoke facilities. The restaurant serves up a generous range of Korean, Japanese and European dishes, all of which are expertly prepared and utterly delicious. All rooms have mountain views. The Commodore is located in a glorious setting on the banks of the picturesque Bomun Lake.
Reviews
Travellers have rated this tour as 4.5 out of 5 based on 2 recent reviews
"
This was my first trip ever to South Korea and I was not disappointed. While much of our tour focused on history (back to the 6th and 7th centuries), we also got to see a lot of the new Korea. Because of the devastation caused during the Korean War, much of the construction within the country has been within the last 65 or so years. The airport in Seoul has to be one of the most modern in the world.
The trip is definitely "On The Go," and the ability to walk 5km in a day is not an understatement. Fortunately, my three travel companions and I were apparently in good enough shape to handle the extensive walking required. This is definitely a 4 out of walking stick figure active tour. As an aside, the tour of the cave in the DMZ was demanding, especially for anyone over about 5 feet 7 inches. The ceilings are low and there is a long walk down a steep incline to get into the cave and to get back out. We wore plastic helmets, which was good since I banged my head several times on the way down and back (I'm 6 feet 3 inches tall).
Our tour guide was very knowledgeable and my three other traveling companions were good and equally able to keep up. Post script: My brother had been stationed in Korea in the US Army over 40 years ago so that along with the current interest in North and South Korea along with the DMZ were of particular interest to me personally."
Giles Light
• Submitted 12 Jul 2018
Tour





Guide





Country





"
Hi Sarah, I just wanted to let you know that we had a wonderful time in South Korea. Our guide was really knowledgeable and very sweet, she really went out of her way to ensure that we enjoyed ourselves. I'm looking forward to planning our next trip with you in 2018. Thanks for all your help. "
Jana O'hare
• Submitted 30 Sep 2017
"
I had a really lovely holiday, the hotels were a good standard, the guides were really knowledgeable and the tour on whole was really interesting. Thanks for all your help with the booking. "
Fran & Gaurav Handa
• Submitted 19 Apr 2017
"
I had a thoroughly good time in South Korea. The hotels were excellent and the itinerary was perfect for the relatively brief 7 days. There was a good balance between being guided and being left to ones own devices.
My guide was very friendly and accommodating and took great care in ensuring I was satisfied with the tour. So on the whole, I was extremely satisfied with my holiday. Many thanks!"
Mark Langer
• Submitted 24 May 2016
Tour





Guide





Country





"
Mr Denny was excellent. He worked really hard and helped us find good vegetarian meals at lunch each day - not easy in Korea (we don't eat fish either)."
Liz & Mike Bissett
• Submitted 08 May 2014
"
I just wanted to say thanks a lot for a great trip! South Korea is a really fascinating country and we loved Gyeongju. Our tour guide Kyungyi was very friendly and informative, she really made our trip! I will definitely be recommending On The Go and hope to travel with you again soon. Thanks again. "
David Brooker
• Submitted 11 Jun 2012
At a Glance
Range
Trip Type
Starts
Seoul
Ends
Seoul
Departs
Sundays
Group Size
Min 2 / Max 24
Hotel Rating
3 - 4 star
Tour Guide
Yes - escorted by a tour guide
Meals
Breakfast: 6
Countries
Minimum Age
15 yrs, accompanied by an adult
Arr. Transfer
Yes
Dep. Transfer
Yes
"
Hi Sarah, I just wanted to let you know that we had a wonderful time in South Korea. Our guide was really knowledgeable and very sweet, she really went out of her way to ensure that we enjoyed ourselves. I'm looking forward to planning our next trip with you in 2018. Thanks for all your help. "
Jana O'hare
OTG000939
South Korean Express - 7 days
Far East
Signature
Far East
false
5
South Korea
https://www.onthegotours.com/uk/South-Korea/South-Korean-Express-7-days
https://www.onthegotours.com/repository/GyeongbokgungPalaceSeoulSouthKoreatoursOnTheGo-248581418115310_crop_flip_300_300_f2f2f2_center-center.jpg
Group_Tours