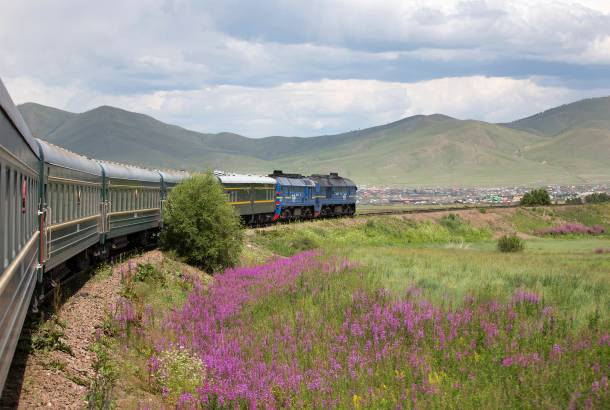 If you're ready to take on one of the planet's greatest train journeys, make sure you've covered the basics and start with our Top Travel Tips. Here we cover the time zones you'll be travelling through, the currencies you'll be using along the way, and more.
What time zones will I be travelling through on the Trans-Siberian?
One of the most disorienting aspects of the Trans-Siberian trip is working out what time it really is. The important thing to remember is that all long-distance trains run on Moskovskaya Vremya or Moscow Time in Russia, the abbreviation for which is MB in Cyrillic or MV in English. It has to be this way in a country that has 11 time zones.
All timetables, station clocks, train clocks and announcements are on Moscow Time. Clocks may have the letters 'MB' underneath - which signify the clock is operating to Moscow Time. Having gotten used to Moscow Time, you'll then have to get used to Mongolia Time and Beijing Time.
Mongolia has 2 time zones, though you'll only pass through one, and China has 3 time zones, though only Beijing Time is used for all trains. To further assist you, take a look at the time guide for stops on the Trans-Siberian route below:
MV = Moscow Time.
London 12:00 GMT
Moscow, St Petes 15:00 GMT+3
Perm 17:00 GMT+5 MV+2
Yekaterinburg 17:00 GMT+5 MV+2
Novosibirsk 18:00 GMT+6 MV+3
Krasnoyarsk 19:00 GMT+7 MV+4
Irkutsk 20:00 GMT+8 MV+5
Ulaan Baatar 20:00 GMT+8
Beijing 20:00 GMT+8
What sort of plugs do I need on the Trans-Siberian and what is the voltage?
Russia and Mongolia
Standard voltage is 220V, 50Hz AC. Sockets require a Continental or European plug with two round pins.
China
Standard voltage is 220V, 50Hz AC. Chinese plugs come in at least 4 designs: 3-pronged angle pins as used in Australia; 3-pronged round pins as used in Hong Kong; 2-pronged flat pins as used in the USA; or 2 round narrow pins as used in Europe.
Pack a worldwide travel adaptor so you can use any socket you come across.
What currencies will I be using along the Trans-Siberian?
Russia
Russian Rouble - 1 Rouble = 100 Kopeks
Russian Rouble notes come in the following denominations: 10, 50,100, 500. Coins are also in circulation and come in the following values: 1, 2 and 5 Roubles and 1, 10 and 50 Kopeks.
US Dollars and Euros are the best currency for exchange. You'll find Bureau de Change and ATM machines in Moscow, St Petersburg, Irkutsk and Yekaterinburg. Changing traveller's cheques is cumbersome so avoid if possible and credit cards are rarely accepted outside the main cities.
Russian ATMs allow you to choose to withdraw currency in either Roubles, Euros and US Dollars.
Mongolia
Mongolian Tugrik (MNT) 1 Tugrik = 100 Mongo
The Tugrik is non exportable and money changing facilities are available in Ulaan Baatar. Please make sure you change all remaining currency before leaving Mongolia. The best currency to carry for exchange into Tugrik is the US Dollar. Please note that the USD is sometimes the method of payment for optional activities, for example, horse-riding at Terelj NP.
China
Chinese Yuan (CNY) 1 Yuan = 10 Jiao
Pound Sterling, US Dollars, Euro and other major currencies can be converted into Chinese Yuan locally, or you can purchase currency in advance. ATM machines and Bureau de Change are available in Beijing.
General Money Guide:
Bring clean, unmarked cash in US Dollars (not $100 bills as they're hard to exchange) for your Trans-Sib adventure.
When changing money, ID is required.
Ensure you have enough in cash aboard the train, or for example, at Listvyanka on Lake Baikal's shore.
Take a mixture of cash and credit/debit cards (for ATM usage). Changing traveller cheques is cumbersome and complicated and only recognised by the very large banks. Avoid if possible.
Credit card acceptance is becoming more common, though cash is still the norm in most establishments.
Check OANDA for the latest exchange rates.
What vaccinations do I need for the Trans-Siberian?
It is recommended that you be vaccinated against Polio, Tetanus, Diphtheria, Typhoid and Hepatitis A. If visiting Yekaterinburg in Russia between May and August, it is also advisable to be vaccinated for Tickborne Encephalitis. This information is only intended as a guide and recommendations can change so please consult with your local healthcare provider.
Upset stomachs and diarrhoea are a common occurrence amongst travellers in foreign countries. Take care with food and drink. Drink only bottled mineral water. Pack a high factor sunscreen and mosquito repellent (if visiting in summer) and a personal first aid kit containing anti-diarrhoea and headache tablets, plasters, antiseptic cream, handy wipes etc. If you are currently prescribed medication, take an ample supply. Dispensary items of the type you are used to may not be available Russia, Mongolia or China.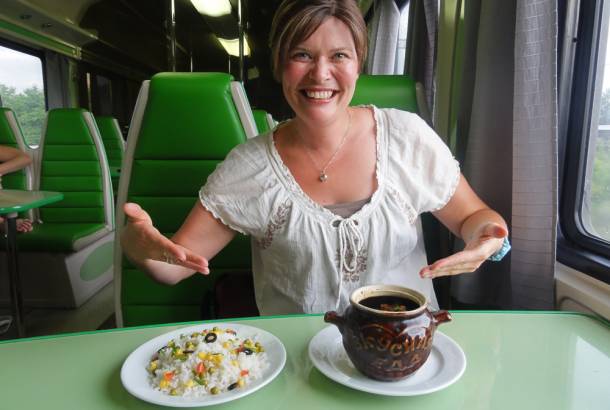 What's the food like on the Trans-Siberian railway?
When it comes to food, the Trans-Siberian Railway has something of a reputation. But we promise you won't starve! Your train will have a main dining carriage, open from around 09:00 to 21:00 local time. The menu won't be extensive and will be catered by whichever country you happen to be passing through. But the food is of a decent standard and served cafe-style alongside a rain of alcoholic and non-alcoholic drinks.
Typical meals in the Russian Buffet/Dining wagon include ham and eggs for breakfast, schnitzel and potatoes for lunch or dinner, with soups and salads for starters. The Buffet/Dining wagon also sells beer, Russian champagne, vodka, chocolate and snacks. The Mongolian Buffet/Dining wagon (Ulaan Baatar - Zamyn-Uud only) will invariably offer rice and mutton and other dishes. Whilst the Chinese Buffet/Dining wagon will offer Chinese staples - noodles and suchlike.
A cart is sometimes wheeled through the wagons with snacks and drinks for sale too. You can also buy food including fruit and vegetables, from the many vendors on station platforms when the train stops. Watch your stomach, though. Perhaps limit the platform-vended snacks to bread, fruit and non-meat items.