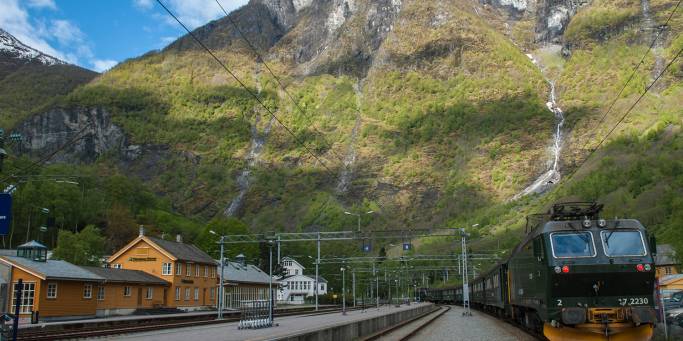 Add-on: Flamsbana Train Ride
Fjords, Cruise & Coast |
from
$ 115
Opt to experience the Flamsbana train, one of the steepest trainlines in the world! If you decide to take the optional train ride, the bus will leave you at the train station in Voss. The first part of the train journey takes you to Myrdal station and takes about 45 minutes. Myrdal station is a mountain railway station and junction, located about 13 km from the village Flåm. There you will switch to Flåmsbana train. The journey is approximately 45 minutes. Flåmsbana is one of the steepest trainlines in the world and the train journey runs through fantastic nature, past the Rallar road, steep mountains, breathtaking waterfalls, through 20 tunnels and offers so many viewpoints that many feel like travelling multiple times between the mountain and the fjord.
| Prices | Dates | Price/Person | Single Supp. |
| --- | --- | --- | --- |
| Add-on: Flamsbana Train Ride - Fjords, Cruise & Coast | All Dates | $115.00 | - |
Additional Information
Starts/Ends: Voss- Myrdal - Flam
Prices shown are 'per person', based on 2 or more persons travelling.
We recommend that you book this excursion when you book the tour, as we cannot guarantee availability if booked upon arrival in Norway
Available On: