A land of contrast, Chile is sure to delight and enthral. Book your Chile package today!
Breathtaking beaches. Gigantic glaciers. Enchanted forests. Lush lakes. Wonderful wildlife. Lively cities. An On The Go Chile package gives you everything. Scale volcanoes, and delight in wine tasting in Santiago. Gaze at volcanoes, ice caps, and more in Torres del Paine National Park.
Just 64 kilometres wide at its narrowest point, but stretching down the coast of South America for 4,300 kilometres, Chile is an odd yet bewitching country. Home to the world's driest desert in the Atacama, and the massive glacial fields of Patagonia. Magnificent snow-capped mountains, volcanoes, impressive geysers, and gorgeous lakes. In Chile nature and adventure combine. Add to that welcoming people, world-class Chilean cuisine and wine, and colourful modern cities - and you have yourself an unforgettable experience.
Our Chile tours also take in the surrounding nations of South America, including Argentina, Brazil, Peru and Bolivia. Whilst our private Chile tours take in the less-travelled path. However you'd like to explore the country, get in touch with our team today to start planning your Chile package!
Group Chile Trips & Tours
Our Chile group tours take in all the main highlights of this diverse and dramatic country, plus other countries in South America. From the capital of Santiago to the glaciers and mountains of Torres del Paine National Park, you'll see it all on our fully escorted small group tours, with a maximum group size of 20.

Staying in good quality 3 - 4 star hotels (or 4 - 5 star on Patagonia in Style!), you'll enjoy plenty of included sightseeing, internal flights, daily breakfast, lots of other meals, and private transportation. We'll even pick you up and drop you off at the airport at the start and end of your trip for a hassle-free arrival and departure!
Private Chile Trips & Tours
If you prefer the idea of travelling with just your friends or family, then perhaps a private Chile package is a better fit for you. These tours include many of the same highlights as our group tours, like Santiago, Torres del Paine National Park and San Pedro de Atacama. And they also visit some hidden gems, such as the northern city of Arica, and the Chilean Lake District. You will still enjoy the services of our tour guides for included sightseeing and all of your transportation and accommodation is included too. Get in touch with our Reservations team today if you would like to enquire about one of these trips.
Explore more destinations like Chile
Frequently asked questions about our Chile trips
Will I visit Santiago on your Chile tours?
The majority, although not all, of our Chile tours start or pass through Santiago. So if you want to explore this fascinating city in the mountains then make sure to check our tour itineraries carefully!
Will I explore Chilean Patagonia on your tours?
The majority of our Chile tours take in the dramatic scenery of Patagonia, a region covering the southern tips of Chile and Argentina. It's the most popular reason for Chile travel, after all! Our tours take in the cities of Punta Arenas (Chile) and Ushuaia in Argentine Patagonia, as well as Torres del Paine National Park and Los Glaciares National Park, home to the iconic Perito Moreno glacier.
When is the best time to visit Chile?
Chile's unusually long, narrow shape means that the country experiences a varied climate. Patagonia is best visited in the warmer, more accessible summer months, from October - March. Santiago and the Atacama can be visited year-round, but peak season is January - February. There is more information in our guide on when to visit Chile.
Will I have a tour guide on my Chile package?
Yes. All of our Chile group tours are fully escorted by a qualified tour leader. On our private Chile tours, you will travel independently, but will still benefit from the services of local guides for all scheduled sightseeing.
How big are your tour groups in Chile and what is the age of your travellers?
Our Chile group tours depart with a minimum of four passengers and have a maximum group size of 20. The average age of our travellers is around 48, though we also welcome lots of people in their 20s and 30s on our holidays, as well as older passengers into their 70s. if you have a sense of adventure and a desire to see the world, then you'll fit right in on our group tours!

Find out what previous travellers thought with our South America / Chile tour reviews. Click here.
What is the standard of accommodation on your Chile trips?
All of our group tours stay in centrally located hotels with plenty of amenities. They are generally of 3 - 4 star standard, although travellers on our Patagonia in Style tour will enjoy more luxurious 4 - 5 star hotel accommodation throughout their tour.
What sort of transportation do you use?
Airport arrival and departure transfers are included on all of our Chile group tours and most relevant transportation is in private vehicles.

Where necessary or practical, we also make use of public transportation including buses, trains and boats on your Chile package. Your tour leader will handle the logistics so you needn't worry about missing the bus or train!

On tours where we travel across multiple countries, some internal flights are also necessary. These are included in the cost of your package and are clearly labelled on the itinerary for each tour page.
What is the currency in Chile?
The currency of Chile is the Chilean Peso. Check OANDA for the latest exchange rates.
Is Chile a safe destination for travellers from the LGBTQ+ community?
According to the 2022 LGBTQ+ Travel Safety Index, Chile scores a B+ rating for LGBTQ+ traveller safety, ranking 14th out of 203 countries.

Same sex marriage is legal, and there are broad constitutional and worker protections in place for people of all sexual orientations. Hate crimes against members of the LGBTQ+ community are criminalized and 51 - 75% of consulted citizens consider Chile a good place to live for gay and lesbian people. There are no legal punishments for same sex relations and most trips for LGBTQ+ travellers to Chile are trouble-free.

The LGBTQ+ Travel Safety Index is designed to provide a good overall picture of attitudes towards the LGBTQ+ community in each country and may not reflect the experience of foreign travellers to the country.
Can I drink the tap water in Chile?
The tap water in Chile's larger cities is generally considered safe to drink. However, it has a high mineral content that can cause stomach upsets if you are not used to it. For this reason, we recommend sticking to filtered or bottled water, to be on the safe side. In more rural areas, the tap water is not safe to drink.
As a solo traveller will I have to pay more for my Chile package?
On our Chile tours, we are able to match up solo travellers with another traveller of the same sex, so you don't need to pay a single supplement. If there is not a solo traveller of the same sex for you to share with, you will be given a single room to yourself at no extra cost. Please contact us if you would like to take up the room share option.

If you are a solo traveller who would prefer to guarantee the privacy of your own room, then you can choose to pay the single supplement, the price of which is listed on each tour page.
What is the current travel advice for Chile?
As a UK-based company, we follow the latest up to date advice from the Foreign and Commonwealth Office (FCDO).

You can see the latest travel advice and local laws for your Chile trip here.
VISIT THE DRIEST PLACE ON EARTH WITH OUR CHILE TRIPS
The north of Chile is a vast expanse of parched lunar-like landscapes, epitomised by the Atacama Desert west of the Andes mountains. The rocky terrain is punctuated by salt lakes and eerie abandoned mining towns with wide-stretched and unbelievably clear skies. Ideal for stargazing when the dark descends. Base yourself in San Pedro de Atacama and discover this incredible scenery with our range of tours.
The Best of our Chile tours
The stunning sliver of a country that is Chile has enchanted explorers for thousands of years. Largely thanks to its staggering variety of landscapes. From the driest of deserts to the most perfect-looking of volcanoes and rugged mountains. Discover the best of Chile with our selection of top picks, from Torres del Paine National Park to Santiago and the Lake District.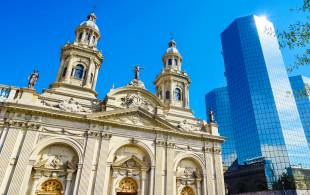 Santiago
Comprised of dozens of thriving districts from the glitzy business areas to the more bohemian spots, Chile's capital of Santiago offers a diverse cultural landscape made even more appealing by the impressive natural backdrop of snow-capped mountains. It's also a city with its fair share of colonial architecture, interesting museums, vibrant markets and excellent restaurants in which to sample some Chilean wine.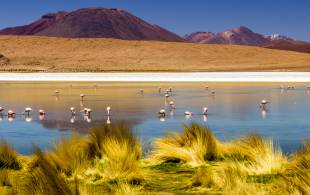 San Pedro de Atacama
Nestled within beautiful mountains in Chile's northern altiplano, the village of San Pedro de Atacama is the perfect base for exploring the numerous natural beauties that decorate the region; from the dazzling salt flats to the otherworldly Valley of the Moon and the hugely impressive Tatio Geysers. These incredible landscapes become even more remarkable when you consider that San Pedro has not seen a drop of water since records began.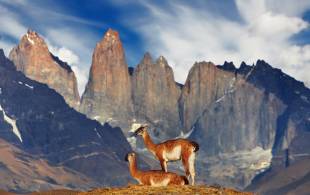 Torres del Paine National Park
The dramatic snow-capped mountains and brilliant blue waters of Torres del Paine National Park deserve a spot on any South American itinerary. The park sits in the southern region of Chilean Patagonia, in the Andes mountains and is home to some of the most stunning hiking routes in the world, as well as a diverse selection of wildlife and a number of natural wonders including waterfalls and glaciers.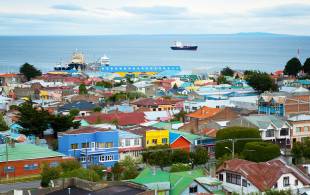 Punta Arenas
Situated in the far south of Chile, Punta Arenas makes the perfect base for intrepid explorers looking to venture in and around the Tierra del Fuego archipelago. The city itself is a lively place, the streets buzzing with activity, particularly in its giant tax-free shopping zone. Another must-see is the cemetery, often acclaimed as one of the most beautiful in the world.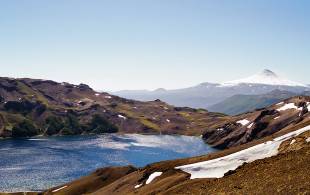 Lake Villaricca
The most well-known lake in the Chilean lakes region, Villaricca is surrounded by a conical volcano of the same name. Villarrica volcano is one of the most active in the world, and smoke can often be seen billowing from its summit. Lake Villarrica is popular with water sports enthusiasts, and it is possible to enjoy all manner of activities including trekking, biking, and horse riding in the surrounding area.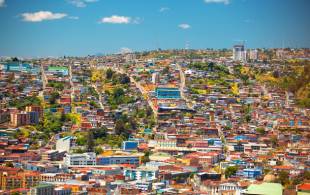 Valparaiso
Once known as 'Little San Francisco', Valparaiso experienced its golden age in the mid-19th century, before falling into decline with the opening of the Panama Canal. It has enjoyed a recent rejuvenation, however, with tourists flocking to admire the cobbled streets and colourful buildings. In addition, Valparaiso is a UNESCO World Heritage site.