Embark on a remarkable 10-day odyssey across Thailand. Pay homage at the Bridge on River Kwai, visit the poignant Hellfire Pass Memorial Museum and retrace history's footsteps with a ride on the Death Railway. Explore historical gems like Ayutthaya, cultural treasures in Lampang, and spiritual sanctuaries in Chiang Mai, and end your adventure in the vibrant streets of Bangkok city.
Trip Highlights
Bangkok - Explore Thailand's bustling capital city, home to lively street markets and exciting cultural landmarks
Handicrafts - Watch Thai craftsmanship come to life with visits to Ban Bang Sadet Court Doll Centre, Aranyik Knife Village, a Lampang ceramic factory and more
Lampang - Embark on a walking tour along Talad Gao Street, where stylish colonial houses stand as elegant remnants of the past
The Golden Triangle - Witness the location where the borders of Thailand, Myanmar and Laos converge, and cruise along the Mekong River
Elephant Poopoo Paper Park - Learn about the creative and innovative process of making paper products from elephant dung
Thai Wartime History - Learn about Thailand's wartime history with visits to the Thai-Burma Railway Centre, Allied War Cemetary, Hellfire Pass and the Hellfire Pass Memorial Museum
River Kwai - Take a long-tailed boat ride along the famous river and visit the Bridge on River Kwai
Ayutthaya - Explore the UNESCO-listed former capital of Siam, and marvel at its ruins of ancient temples
Sukhothai Historical Park - Explore this UNESCO World Heritage Site, showcasing meticulously preserved temples, palaces, and sculptures
Doi Mae Salong - Explore the picturesque village of Doi Mae Salong, renowned for tea plantations, Chinese temples and ethnic hill tribe communities
Chiang Mai - Nestled in the mountains of Northern Thailand, explore this cultural hub and enjoy a traditional khantoke dinner and dance performance
Temples - Visit iconic and historic Thai temples including Wat Pranancherng, Wat Muang, Wat Pra Dhat Suthep and more
Mon Tribal Village - Enjoy a visit to a Mon Tribal Village and witness their traditional dance performance
Death Railway - Take a train ride down this historic railway, built during WWII by prisoners and laborers under harsh conditions
Included
8 breakfasts, 8 lunches & 4 dinners
1 night air-conditioned overnight sleeper train from Chiang Mai to Bangkok (2nd class)
Escorted by an English-speaking Thai tour guide
Guided sightseeing - Ayutthaya, Aranyik Knife Village, Angthong, Lopburi, Phitsanulok, Sukhothai Historical Park, Lampang, Doi Mae Salong, Chiang Rai, Chiang Mai, Kanchanaburi
All applicable taxes and service charges
6 nights 4 star hotel, 1 night safari-styled tent and 1 night in floating hotel
Airport arrival transfer on day 1
All transportation and transfers in private air-conditioned vehicles
Entrance fees for all included sites
Note: Touring is operated in conjunction with other tourist groups, not solely On The Go. Guiding may be in an additional language to English
Not Included
International flights and visas
Departure airport transfer
Tipping - an entirely personal gesture
Welcome to Bangkok!
Saturday. Welcome to Bangkok, the bustling capital city of Thailand! A world-renowned tourist destination, this vibrant city offers an eclectic mix of lively street life, cultural landmarks, and busy shopping areas.

Arriving at Suvarnabhumi or Donmuang Airport, you'll be met by our local representative and transferred to your hotel for check in. Spend the rest of the day at leisure to explore Bangkok. Why not try some tasty street food or take a thrilling tuk tuk ride?
Overnight: Bangkok
Thailand's Wartime History
Bangkok - Hintok River Camp. Today begins with a historical exploration tour to the Kanchanaburi province, where we will learn about the region's wartime history.

Our first destination is the Thailand-Burma Railway Centre, an interactive museum that commemorates the infamous 'death railway.' Continuing our journey, we pay our respects at the Allied War Cemetery, a solemn resting place for over 6,000 prisoners who sacrificed their lives during the railway's construction.

The next stop is the world-famous Bridge on the River Kwai. After lunch, we visit the chilling Hellfire Pass Memorial Museum. Exhibits and audio displays within the museum pay homage to the workers and their sacrifices.

Then, we walk along Hellfire Pass itself, a challenging section of rock cutting that stands as a symbol of peace amidst the jungle. As the day winds down, enjoy the afternoon at leisure.

Overnight at Hintok River Camp, in Safari-style tents.
Overnight: Kanchanaburi | Breakfast, Lunch, Dinner
Boat Ride on the River Kwai
Hintok River Camp - River Kwai Jungle Rafts. This morning, we enjoy a long-tail boat ride to the River Kwai Jungle Rafts, where we will spend the night in unique floating hotel rooms. After checking in, we visit an ethnic Mon Tribal village where we can immerse ourselves in their culture and traditions.

The afternoon is at leisure to relax and explore. At night, enjoy dinner at the hotel, followed by a 45-minute traditional and colourful Mon dance display.
Overnight: Kanchanaburi | Breakfast, Lunch, Dinner
Back to Bangkok
River Kwai Jungle Rafts - Bangkok. After a morning at leisure, we will take another long-tail boat ride down the River Kwai.

After lunch at a local restaurant, we will take a journey on the infamous 'death railway,' - the actual train link built by the Allied prisoners during World War II. The train ride along this historic route gives us a unique perspective on the challenges faced by those who built it.

As the day draws to a close, we bid farewell to the River Kwai and make our way back to Bangkok. A transfer will take you back to your hotel in the bustling city.
Overnight: Bangkok | Breakfast, Lunch
Temples & Pagodas
Bangkok - Phitsanulok. Rise and Shine! This morning we leave bustling Bangkok and take a journey back in time to Thailand's ancient past.

Our first stop is the historic Ayutthaya, the former capital of the Kingdom of Siam. We will then visit Wat Pranangcherng and the three ancient pagodas at Wat Phra Sri Sanpetch.

Next, we will visit Aranyik Knife Village, which dates back to the early Rattanakosin period. This village is home to generations of skilled craftsmen that have perfected the art of crafting knives and other items by hand.

Our adventure leads us to Angthong, where we'll visit the Ban Bang Sadet Court Doll Centre. Housed within a charming traditional Thai-style wooden house on stilts, we'll witness the intricate process of crafting Thai dolls. Afterwards, prepare to be amazed at Wat Muang, home to Thailand's largest sitting Buddha image.

As we continue towards our overnight destination, Phitsanulok, we'll make a pit stop in Lopburi for lunch. Don't miss the chance to catch a glimpse of the ancient Khmer temple, Pra Prang Sam Yot.

Upon reaching Phitsanulok, we'll visit Wat Pra Sri Rattana Maha Dhat, a temple that houses the beautiful Phra Buddha Chinnarat.
Overnight: Phitsanulok | Breakfast, Lunch, Dinner
Folk Museum & Sukhothai Historical Park
Phitsanulok - Lampang. Today will be a mix of culture and history, as we embark on a day trip to Lampang.

We begin with a visit to the Sgt. Maj. Thavee Folk Museum, a fascinating attraction with a collection of antiques that mirror Phitsanulok's past. Afterwards, we visit a Buddha statue factory and observe skilled craftsmen as they fashion the iconic spiritual images.

Our adventure continues to the renowned Sukhothai Historical Park, aptly named the 'dawn of happiness.' Prepare to be mesmerized by the UNESCO World Heritage Site, spanning 45 sq km and boasting 193 artifacts, including palaces, temples, city gates, walls, and villages.

Following lunch, we'll make our way to Lampang. Along the route, we'll stop to explore a ceramic manufacturer. Here, you'll gain insights into the making of the blue and white signature ceramic bowls.

As we arrive in Lampang, get ready for a walking tour of the elegant colonial houses that line Talad Gao Street. These stylish houses showcase the historical and architectural charm of the area.
Overnight: Lampang | Breakfast, Lunch
Merit & Doi Mae Salong
Lampang - Chiang Rai. Rise and shine with an early morning visit to a nearby temple. The temple visit provides an opportunity to engage in an act of 'merit' by offering food donations to the monks. Merit is believed to be a protective force that arises from performing good deeds. This sacred experience also creates a harmonious start to our day!

After our temple visit, we'll head back to the hotel for a delicious breakfast. Then, we begin our journey to Chiang Rai with a few stops along the way.

First stop is a pineapple plantation. Here, try the delicious tropical fruit and learn about its cultivation process! We'll also pause at the breathtaking Phayao Lake for a well-deserved coffee break.

Next on our list is the captivating Doi Mae Salong, a mountain located a mere 6 kilometers from the Thai-Myanmar border. This area holds a rich history as it once housed a Chinese military division back in 1961.

Chinese influences still echo throughout this region, and you'll find several tea plantations and charming tea houses dotting the landscape. The elevation of 1,800 meters lends itself to the production of superior tea leaves, thanks to the cooler climate.

The area also boasts open-air bazaars and shops that offer an array of Chinese specialties. Take your time to browse through these offerings before we head to Chiang Rai.
Overnight: Chiang Rai | Breakfast, Lunch
The Golden Triangle & Khantoke Dinner
Chiang Rai - Chiang Mai. Today, we leave behind Chiang Rai's tranquil charm, and set our sights on the lively Chiang Mai.

Our morning kicks off with a visit to the renowned Golden Triangle, where the borders of Thailand, Myanmar, and Laos converge. Afterwards, enjoy a short cruise along the mighty Mekong River, soaking up its surrounding landscapes and rugged mountains.

Returning to Chiang Rai, we'll pay a visit to Wat Rong Khun, often referred to as the White Temple. Prepare to marvel at its unique sculptures and artistic wonders.

After lunch, it will be time to head for Chiang Mai. Upon arrival, we'll delve into the local craftsmanship with visits to handicraft factories. Here, you'll witness the skillful creation of traditional products such as Thai Silk and intricate paper umbrellas.

As the evening approaches, get ready for a truly unique Chiang Mai tradition—a khantoke dinner. This captivating experience combines delicious food, traditional dance, and musical performances. Served in charming small bowls known as khan, the meal is enjoyed while seated at low tables called toke.
Overnight: Chiang Mai | Breakfast, Lunch, Dinner
Poo Park & Ancient Temples
Chiang Mai - Bangkok. Start the day off fresh, with a visit to an orchid farm. Immerse yourself in the vibrant colours and varied species of flowers that thrive in Thailand.

We will then drive to the Elephant Poopoo Paper Park, an eco-friendly attraction that offers a unique experience. Discover the fascinating process of making paper products from elephant waste - a creative and sustainable endeavor.

Next, we head to the Dara Pirom Palace Museum, an elegant property that once belonged to one of King Rama V's royal consorts. The building has been transformed into a museum containing a wide range of exhibits that showcase palace decor, as well as Chiang Mai's rich culture and history.

After lunch, our journey leads us up the Serpentine Road to Wat Pra Dhat Doi Suthep. Perched 1,676 meters above sea level, this mountaintop temple dates back to 1383 and holds immense significance. It's Chiang Mai's most sacred shrine and offers stunning panoramic views of Chiang Mai City and the sprawling Ping Valley below.

As the day winds down, we'll head to the Chiang Mai Railway Station, and board an overnight air-conditioned sleeper train (second class) that will transport us back to the vibrant capital, Bangkok.
Overnight: Overnight Sleeper Train | Breakfast, Lunch
Goodbye
Monday. Wake up to the gentle sway of the carriages as we arrive in bustling Bangkok. Peer out the windows, take in the mesmerizing sight of verdant landscapes, charming towns, and picturesque villages passing by on this final leg of our train journey.

Upon arrival into Bangkok this morning, we'll transfer back to the hotel where our touring arrangements will come to end. Depending on your onward plans, why not consider a Krabi beach break or a Phuket Beach Break?

Prices & Dates
Departure dates marked with a 'G' are operating. All departure dates are guaranteed to operate when there are 2 persons booked on the tour. 'Twin Share' prices are per person when there are 2 people sharing a room. 'Single Room' prices are applicable to solo travellers or anyone wanting the privacy of a single room. We also offer a triple share option on this tour, please contact us for details.
The hotels listed below are ones which we frequently use on this tour. We reserve the right to substitute these hotels to ones of a similar standard.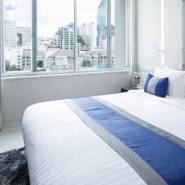 Mandarin Hotel Bangkok, Bangkok
The Mandarin Hotel Bangkok is recognized by its iconic white Mandarin building and has evolved into a renowned luxury destination for global travelers seeking both leisure and business comforts. Boasting two wings—the original Mandarin wing and the Princess wing added after refurbishments in 1981—the hotel's 367 modern and tastefully furnished rooms and suites, including Deluxe, Premier, Executive, and Grand Suite options, offer a comfortable and contemporary experience. There is an outdoor pool, fitness center, spa and restaurant on site.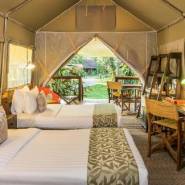 Hintok River Camp, Kanchanaburi
Nestled overlooking the historic River Kwai and Hintok Mountain, the unique Hintok River Camp offers a nature retreat in luxurious canvas tents with free WiFi. The spacious tents feature wooden furnishings, en suite bathrooms, outdoor showers, and private verandas. The camp includes a restaurant set amidst tropical trees, a natural spring-water pool, and daily campfires. The camp pays homage to its history as a British PoW camp, with a museum and artifacts on display. The camp's cave is home to the world's smallest bat. Glamping at Hintok River Camp balances nature and comfort, providing a serene escape.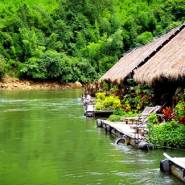 River Kwai Jungle Rafts, Kanchanaburi
River Kwai Jungle Rafts Resort offers a unique accommodation experience right on the flowing Kwai Noi River. All floating rooms are tucked into a floating bamboo lodge moored along the historical River Kwai Noi surrounded by lush green mountains and jungle. The walls are weaved from local bamboo decorated with wooden furniture reflecting Mon living style. Each is appointed with en-suite private bathroom, balcony and a hammock. To work in harmony with the natural surroundings, the property does not use electricity and kerosene lamps are provided to light the rooms and evoke a romantic atmosphere.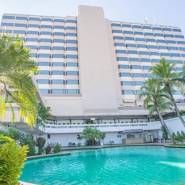 Topland Hotel, Phitsanulok
Positioned conveniently near the Nan River, Topland Hotel & Convention Centre in Phitsanulok provides captivating views of the river and the city. With complimentary Wi-Fi, an inviting outdoor pool, and a rejuvenating spa, the hotel offers a blend of relaxation and convenience. Rooms are air-conditioned and equipped with amenities including a bathtub, shower, cable TV, minibar, and fridge. The hotel boasts a variety of restaurants serving Chinese dishes and local specialties. Additionally, guests can unwind in the sauna and hot tub, or indulge in recreational activities such as karaoke, nightclub, and snooker rooms for an enjoyable stay.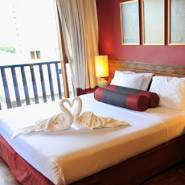 Wienglakor Hotel, Lampang
Wienglakor Hotel Lampang offers a comfortable retreat with a range of amenities. The hotel features a serene garden, complimentary private parking, a shared lounge, and a terrace. Guests can enjoy the convenience of an on-site restaurant. The air-conditioned rooms offer free WiFi and come with private bathrooms. Some rooms offer scenic city views. The hotel provides services including free shuttle service, room service, and luggage storage. Guests can start their day with a continental, American, or Asian breakfast.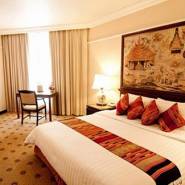 Wiang Inn Hotel, Chiang Rai
Experience the charm of Chiang Rai at Wiang Inn, a luxurious hotel that combines modern amenities with the warm hospitality that Northern Thailand is known for. With 260 beautifully decorated guest rooms, Wiang Inn offers a comfortable stay. The hotel features an outdoor swimming pool and offers three dining options. The air-conditioned rooms are adorned with traditional northern Thai furnishings and equipped with modern amenities. Guests can indulge in relaxation with a massage or enjoy a night of karaoke with friends. Wiang Inn Coffee Shop presents a variety of Thai, Chinese, and European dishes, while the Lobby Lounge offers cocktails. Room service is available.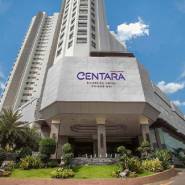 Centara Riverside Hotel Chiang Mai, Chiang Mai
Overlooking the serene Mae Ping River and the majestic Doi Suthep Mountain, Centara Riverside Hotel in Chiang Mai is located a short drive from the city's vibrant Night Bazaar and revered temples. With spacious rooms featuring modern amenities and a variety of dining options, including River Terrace and China Palace, guests can savor delectable Thai and international cuisine. The hotel also boasts an outdoor pool for relaxation, a sauna and fitness center for rejuvenation, and convenient access to Chiang Mai's attractions, making it a perfect blend of comfort and convenience for a memorable stay.
At a Glance
Range
Trip Type
Starts
Bangkok
Ends
Bangkok
Departs
Saturday
Group Size
Min 2 / Max 24
Hotel Rating
4 star
Tour Guide
Yes - escorted by a tour guide
Meals
Breakfast: 8, Lunch: 8, Dinner: 4
Countries
Minimum Age
None, when accompanied by an adult
Arr. Transfer
Yes
Dep. Transfer
No
Tour Add-ons
Enhance your trip with these amazing added extras and add-ons
OTG002690
Ancient Thailand & River Kwai - 10 days
Southeast Asia
Handpicked
Southeast Asia
false
Thailand
https://www.onthegotours.com/za/Thailand/Ancient-Thailand-and-River-Kwai-10-days
https://www.onthegotours.com/repository/Ayutthaya-817011691464467_crop_flip_300_300_f2f2f2_center-center.jpg
Group_Tours