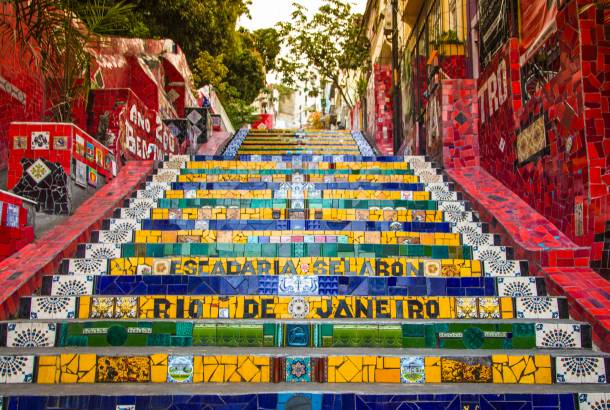 Here we provide you with a comprehensive guide on travelling to Brazil, covering all manner of useful tips including pre-travel health advice, what to expect of the food, whether you should tip and much more besides - nothing makes a good holiday like a well-planned holiday.
What vaccinations do I need for Brazil?
You should seek medical advice from your local health practitioner before travelling to Brazil and ensure that you receive all of the appropriate vaccinations. As a guide tetanus, diphtheria, polio, typhoid and hepatitis A are recommended. A Yellow Fever vaccination is strongly recommended and you may be requested to present a Yellow Fever certificate when entering the country.
Do I need anti-malaria tablets for Brazil?
There is the risk of malaria in certain areas of Brazil so it is very important to check with your doctor before you go to see whether malarial medication is required for the areas you are visiting. Extra care should also be taken to avoid mosquito bites as cases of the Zika virus have been reported. Sleeping under a mosquito net at night is advised as is using a strong repellent containing at least 50% DEET. For more information on the malaria risk in Brazil visit the
NHS Fit to Travel
page or the
CDC Traveler's Health
page.
Is it safe to drink tap water in Brazil?
As is the case across most of South America, the tap water in Brazil is not safe to drink and may make you unwell. Only drink bottled water. You also shouldn't use tap water to brush your teeth, and it is best to avoid ice cubes in drinks and salads which may have been washed in tap water.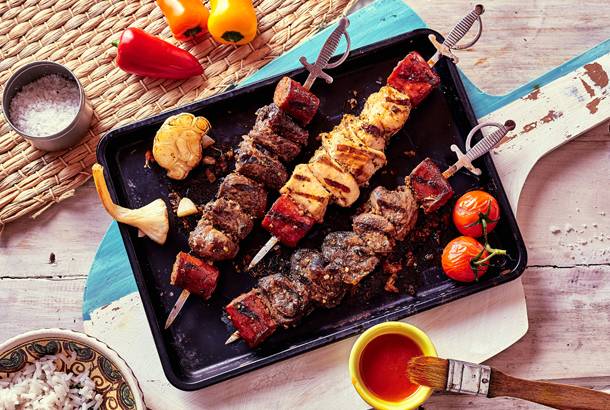 What's the food like in Brazil?
The cuisine in Brazil is diverse, especially in the cities where food from around the world can be found. Although traditional meals in Brazil tend to consist of meat and black beans and the favorite national dish is 'feijoada', a tasty meat stew cooked with black beans and manioc flour.
Brazil is famous for its Churrascarria (BBQ) restaurants where every meat under the sun is served on giant swords by waiters who repeatedly top up your plate with generous slices. Fish and seafood is also plentiful in Brazil and two local specialities are 'moqueca', a fish or seafood stew made with palm oil and coconut milk and 'vatapa', a dish with shrimps, chicken, coconut milk, manioc paste and rice.
Cachaca is the local firewater in Brazil and the national drink is 'Caipirinha' (a mix of cachaca, sugar, crushed ice and muddled limes).
Safe eating while travelling in Brazil
Being a thoroughly carnivorous country, Brazilians know how to cook their meat properly so, generally speaking, you should not have any problems with poorly prepared food. Travelers should keep an eye out for salads and fruit that hasn't been peeled as these might have been washed in unsanitary water and could make you unwell. Street food is normally fine to eat but be wary of anything that looks like it might have been sat in the sun for too long.
Is it standard to tip in Brazil?
Given that wages are generally quite low in Brazil, many workers in the service industry rely on tips to make up their salary. 10% is often added to the bill in restaurants but if the service has been particularly good, there is no harm in leaving a little extra on the table. Other people who might expect to be tipped are hotel staff (bell boys, concierge staff etc.), taxi drivers and tour guides. For taxi drivers, it is fine to simply round up the fare and hotel staff need only be tipped the equivalent of a dollar or two per day. If the tour guide has been really good then USD $10 per day is an appropriate tip.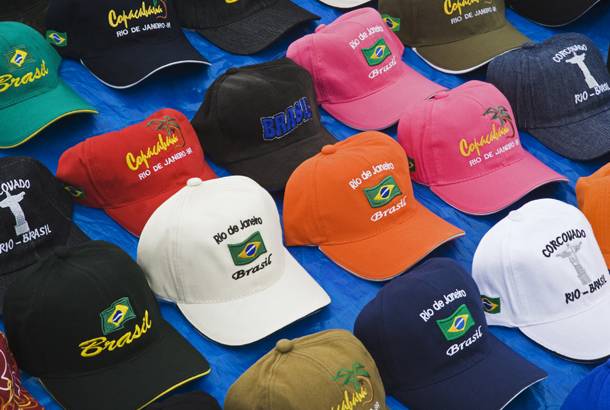 What is good to shop for in Brazil?
Brazil is a great place to shop for diamonds and emeralds, gold and silver jewelery and leather goods including coats, bags and shoes. If you're looking for the latest fashion, glamorous Rio is the place to shop for cutting edge clothing and swimwear. Popular souvenirs to take home include ceramics, soapstone carvings and wooden ornaments.
Another popular purchase made by travelers is flip flops. While these can be bought anywhere in the world, Havaianas are originally Brazilian and can be bought here for a fraction of what they cost in other countries. Similarly, the country's national tipple Cachaca can also be bought at cut price in Brazil, and it is normally of a superior quality to what you find abroad.
Is bargaining acceptable in Brazil?
There are a number of occasions where haggling is not an option. Supermarkets, salons, taxis with meters, petrol stations etc. will all have fixed prices, with almost no exceptions. What can be bargained, however, are hotel rooms, if you are going off season or checking in late at night, taxis without meters and street/market sellers. If you ask for a discount and receive a firm no then don't aggravate the situation by continuing to push for one as this will be seen as rude and disrespectful.
Is it safe for a single woman to travel in Brazil?
Macho culture is alive and thriving in Brazil and women, especially those who look notably foreign (blonde hair and/or blue eyes), will almost inevitably be subject to stares, lewd comments and even physical grabbing. While these advances can be annoying, and at times intimidating, they will rarely lead to anything serious. Be firm but polite and tell them you are not interested or shoot them a disapproving look. Most men will get the message and back off after this. At night women on their own should always choose taxis over walking and always keep an eye on their drinks when on a night out.
What is the duty free allowance for Brazil?
The following goods may be brought into Brazil by travelers over 18 years of age without incurring customs duty:
12 liters of alcohol
200 cigarettes, 25 cigars and 250g of tobacco
20 items (such as small gifts) worth up to USD $10 each (or USD $5 if arriving via land)
The total value of the above items should not exceed USD $500 if arriving via air or sea or USD $300 if arriving via land, river or lake. In addition to the USD $500 limit, travelers can buy goods up to USD $500 in value at the duty-free shop on arrival in Brazil. The following limits apply:
24 units of alcohol
20 packs of cigarettes made outside Brazil, 25 cigars and 250g of tobacco
10 toiletry items including cosmetics
Three of the following: watches, toys, games or electronic items
The following are banned from being imported into Brazil: Toy, replica and imitation firearms, illegal drugs, cigarettes and drinks manufactured in Brazil intended for sale abroad, unlicensed wildlife species, and counterfeit and pirated goods.
Restricted items which you must declare and have prior authorization for include firearms and ammunition, drugs (other than prescribed drugs for personal use), animals, animal products, plants and seeds.
What is the currency in Brazil?
The currency in Brazil is the Real. Check OANDA for the latest exchange rates.
ATMs are available in all large towns and cities, although there can sometimes problems withdrawing money. The most widely accepted credit cards in Brazil are Visa, Diners and American Express (Mastercard is not common). Do not rely on credit or debit cards as your only source of money, a combination of cash and cards is best.
Although most major currencies can be exchanged locally, US Dollars are the most widely accepted. Exchange facilities are available at airports, banks or bureau de changes and it's advisable to request bank notes in smaller denominations, as there is often a lack of small change. Traveler's Checks are not recommended as they're often difficult to exchange and incur high fees.
What do things cost in Brazil?
Brazil is not known for being cheap, in fact, it is the most expensive country in South America, especially the city of Rio de Janeiro. Areas like Ipanema and Copacabana Beach can be extortionate so avoid staying in these zones unless you're prepared to splash out. Pousadas, a type of guesthouse, are common in Brazil and a room here will usually cost around USD $40-70 per night depending on whether you go in high or low season.
Given the size of the country and its lack of train line, travelling within Brazil can be difficult and expensive. A 7 hour bus journey can cost USD $25 if booked in advance and a one way 2 hour flight comes in at USD $80 but, naturally, these prices change almost daily. When it comes to eating out, a decent meal with a drink can be bought for around USD $10-15. Note that these prices are for Rio, which is more expensive than the rest of the country.
What sort of plugs do I need for Brazil and what is the voltage?
The voltage in Brazil is not fixed and it can be either 110V or 220V. The type of plug required is either a US style flat 2 pin plug or a European round 2 pin plug. We recommend packing a universal travel adaptor that will allow you to use a hairdryer, electric shaver, charge a mobile phone or other electrical items. You may need a voltage converter in order to use U.S. appliances.
Is WiFi widely available in Brazil?
Brazil's big cities are filled with WiFi spots. Restaurants, bars, cafes, hotels, malls and some public plazas all have decent connections and are usually free for customers. In more rural areas, including the Amazon, WiFi will be scarce but travelers will probably be able to find some sort of connection somewhere but it might be a lot slower and unreliable than what you are used to.
What time zone is Brazil on?
There are three time zones in Brazil: Brasília Time, Amazon Time and Fernando de Noronha Archipelago Time.
The time zone which applies to Brazil's key tourist destinations (such as Rio de Janeiro and Sao Paolo) is Brasilia Time (BRT) which is 3 hours behind GMT. During Brazilia Summer Time (BRST) which is when Daylight Saving is observed, Brazil are 2 hours behind GMT.
Is Brazil a dangerous place to visit?
Brazil has something of a reputation for being dangerous, but that doesn't necessarily mean that it deserves it. Despite media reports of kidnappings and murders taking place in Rio and elsewhere in the country, these occurrences are actually incredibly rare, especially for tourists. That is not to say that the country is free from crime.

The favelas in large cities are known to be dangerous and should be avoided by travelers, particularly at night. Pick-pocketing and even armed robbery against tourists do happen, so travelers are advised to leave anything valuable in a safe in their hotel room and to avoid flashing any jewelery, cash or electronics whilst out in public. In the unlikely event that you are robbed, be sure to hand over your belongings and don't put up a fight - it isn't worth the risk of getting hurt, and your travel insurance provider will likely cover any losses.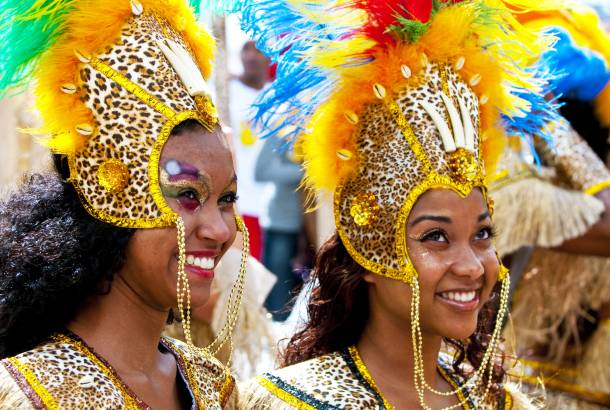 Travelling during public holidays
The Rio Carnival is the biggest party in the world, held in February each year, at the peak of the Brazilian summer. Carnival is celebrated everywhere in Brazil, but in Rio de Janeiro, it becomes a fantastic spectacle of the color, music, and spirit of the Brazilian people. There are Carnival Balls each evening and free street parades in different areas. Parades in the Sambadrome run from Thursday to Tuesday night, but the two most spectacular are on the Sunday and Monday evenings.
During this period hotel and flight prices are at a premium, availability is scare and local transport is booked up months in advance. It's always best to get in early when it comes to booking a visit to Rio during this time to ensure better prices and availability. If you'd like to join in the party we offer a 5 day Rio Carnival Bolt-on which can be combined with one of our group tours or our 5 day Go To Rio Carnival tour.