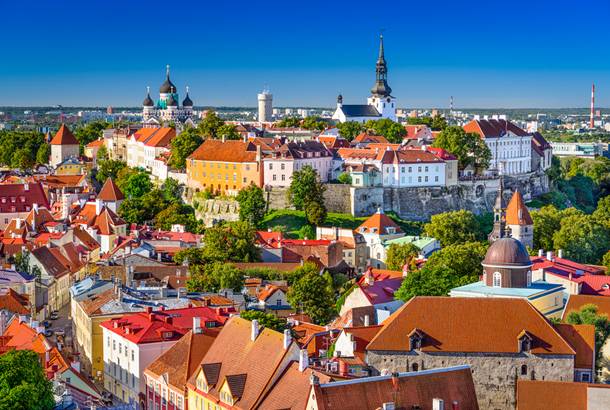 If you're planning a visit to Estonia and the charming city of Tallinn, make sure you're properly prepared with our Top Travel Tips. Swot up on what currency you'll need to take and what plug types you'll be using. There's also info on the cuisine and shopping so you can come home with great souvenirs.
What vaccinations do I need for Estonia?
You should seek medical advice from your local health practitioner before travelling to Estonia and ensure that you receive all of the appropriate vaccinations. As a guide Diphtheria, Hepatitis A and Tetanus is strongly recommended.
Is it safe to drink tap water in Estonia?
The tap water in Estonia is generally considered safe to drink, especially in the cities, such as Tallinn. Although bottled water is readily available, we recommend bringing along a reusable water bottle on tour. This will save you money and help to protect the environment.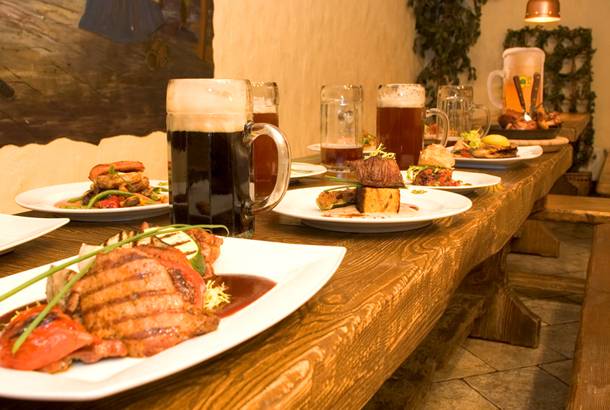 What's the food like in Estonia?
Estonian cuisine once consisted of little more than meat and potatoes but under the influences of Russia, Germany and neighboring Scandinavian countries, the range of dishes has been greatly diversified. Rye bread, pork, potatoes and dairy products continue to play an important role but now visitors will find versions of popular international dishes.
Traditionally the first course of any Estonian meal would be a cold dish of meat and sausage, potato salad and herring. Soup may be served between the starter and main course though usually features as the main dish with thick, hearty soups and stews made with different meat, potatoes and often blended with sour cream. Even sweet soups exist in Estonia, specifically leivasupp which consists of black bread & apples seasoned with cinnamon & sugar.
Estonians are serious about their bread with three different names for it and black rye bread is served alongside practically every savory dish. The variety of breads is quite astounding! Sweet things are also popular and typical Estonian desserts include kissel, sweetened juice thickened with starch, and sweetened curd cut into bite size pieces.
Locally brewed beer is a favored beverage and will often accompany a meal. Wine is also popular, as well as kvass, a traditional Slavic and Baltic fermented beverage commonly made from black or regular rye bread.
Safe eating while travelling in Estonia
Food hygiene standards in Estonia are generally very high so travelers are unlikely to fall ill during their trip. As with anywhere in the world, it is important to be wary of any meat or fish that has not been cooked thoroughly. In Estonia, much of the meat is slow-cooked so this won't usually be an issue. Furthermore, if anything looks old, unclean or poorly prepared, it is best to avoid it.
Is it standard to tip in Estonia?
Tipping in Estonia operates on a very casual basis so you are unlikely to cause offense by not tipping enough or at all. However, if you have been satisfied with the service you received in a restaurant, it is customary to tip around 10% on top of the bill. Hotel staff won't usually expect a tip but leaving USD 2-3 per day for housekeeping and USD $1 per bag for bellboys is a nice gesture. Taxis usually have set fares so tipping is not necessary, however, rounding up the total bill or leaving some loose change is generally appreciated.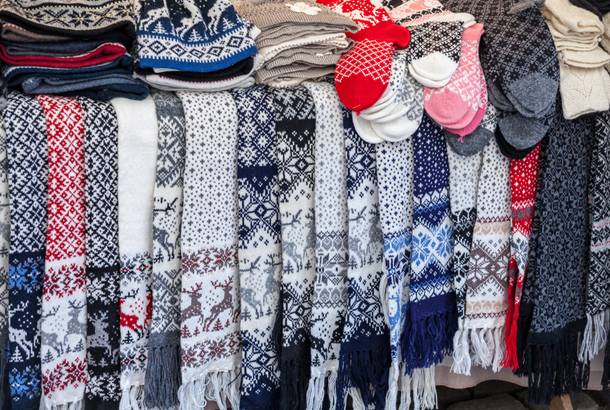 What souvenirs are good to shop for in Estonia?
Estonia has a rich design and handicraft tradition and is a great place to pick up unique souvenirs, especially during the winter months when Tallinn's main square comes alive with Christmas markets. You'll also find a number of glitzy shopping centers and boutique stores in the larger cities.
Knitting, crocheting and embroidery have a long history in Estonia and you can pick up beautiful slippers, scarves, table cloths and curtains. Many designers are putting these ancient traditions to modern use with designer clothing featuring ethnic Estonian elements.
Valued for its long-lasting and pleasant aroma, juniper is used for all manner of items from toys to beer mugs, dolls to kitchen utensils and Estonia is an excellent place to pick up such items whether as souvenirs or for practical use. You might also want to grab a bag of almonds while you're there – they are sold all over the Old Town and come in a variety of flavors.
Is bargaining acceptable in Estonia?
Generally, bargaining is not accepted in Estonia. Shops and markets invariably have clearly marked price tags on items and these are very rarely open for negotiation. Shoppers buying multiple items might be able to get some sort of discount but do not count on it.
Is it safe for a single woman to travel in Estonia?
Estonia is an extremely safe destination for solo females, especially within the confines of the Old Town in Tallinn. Men are generally very respectful, meaning women rarely encounter any catcalling or pestering in the streets. It is safe to walk alone at night but, as with anywhere in the world, stick to main roads where possible and favor taxis over walking in deserted areas if it is really late. Fortunately, in summer, nights do not last very long so your chances of having to walk around in the darkness are minimal.
What is the duty free allowance for Estonia?
Estonia is within the European Union. If you are travelling from the UK, you are entitled to buy fragrance, skincare, cosmetics, Champagne, wine, selected spirits, fashion accessories, gifts and souvenirs - all at tax-free equivalent prices.
If you are travelling from within the EU, there is no limit on the amount or value of goods you may import, providing your goods are for personal consumption. Goods imported for commercial purposes are subject to duty and the following guideline amounts are in place to determine whether this is the case:
800 cigarettes or 400 cigarillos or 200 cigars or 1kg of tobacco
10L of spirits over 22% volume, 20L of alcoholic beverages less than 22% volume, 90L of wine (no more than 60L of sparkling wine) and 110L of beer
If you are arriving from a non-EU country, the following goods may be imported into Estonia by travelers over 18 years of age without incurring customs duty:
40 cigarettes or 100 cigarillos or 50 cigars or 50g of tobacco
4L of wine (excluding sparkling wine) and 16L of beer and 1L of spirits over 22% volume or 2L of alcoholic beverages less than 22% volume
Other goods up to the value of €430 for air and sea travelers and €300 for other travelers
It is not permitted to import meat or milk products into Estonia from outside the EU member states. Contact the Estonian Tax and Customs Board for further information.
Also prohibited are unlicensed firearms and ammunition, dangerous weapons, pirated goods, counterfeit goods, narcotics, pornographic materials featuring children, and alien species which may pose an ecological threat.
What is the currency in Estonia?
The official currency in Estonia is the Euro. Check OANDA for latest exchange rates.
British Pounds, US Dollars and other major currencies can be easily exchanged locally in banks or bureaux de change or prior to departure. We advise against exchanging currency in airports, as the rates offered here are generally uncompetitive.

Credit cards such as Visa and Mastercard are widely accepted in most of the major hotels, restaurants and shops in Estonia. Use of American Express is not as common.
Traveler's Checks are not recommended as they're often difficult to exchange and incur high fees.
What do things cost in Estonia?
Estonia is certainly not known for being expensive and travelers will be delighted to know that they can find a good, filling meal for less than USD $10 in many places. Slightly more upmarket restaurants will often cost around USD $15-20 for a meal and a drink. Hotels are usually between USD $40-70 per night but dorms are considerably cheaper and luxury hotels are significantly more. Taxis will usually take you anywhere in the city for around USD $10-15 and there are plenty of free walking tours (although you should be prepared to tip your guide generously).
What sort of plugs do I need for Estonia and what is the voltage?
Standard voltage is 230 volts, AC 50Hz. Primary sockets generally require European plugs, of the two round-pin variety. We recommend that you pack a universal travel adaptor. You will need a voltage converter and plug adaptor in order to use U.S. appliances.
Is WiFi widely available in Estonia?
Yes, WiFi can be found in the majority of restaurants, bars, cafes and hotels throughout Estonia and is likely to be both fast and reliable.
What time zone is Estonia on?
Estonia is 2 hours ahead of Greenwich Meantime (GMT). From the last Sunday in March to the last Sunday in October, Estonia observes Daylight Saving and is 3 hours ahead of GMT.
See Also
To help further plan your visit to Estonia, check out our handy Travel Guide resources:
Best Places to Visit
- the top sites in the beautiful city of Tallinn
Best Time to Visit
- climate and seasons in Estonia
Tourist Visas
- details regarding visa regulations and procurement