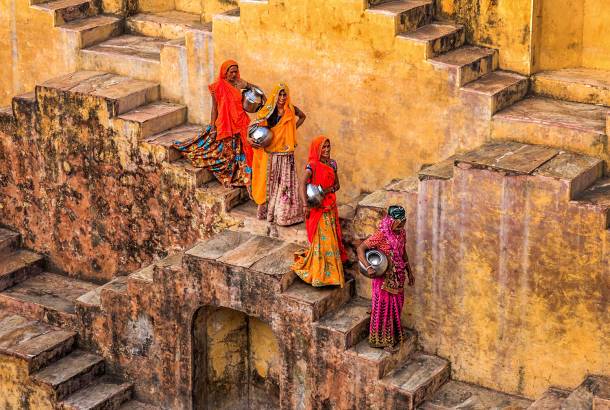 Planning a trip to India and want to know what to expect? Here's our handy guide to all things travel-related in India from the local cuisine and healthy eating, to bargaining at markets and temple etiquette with plenty more besides. Join those in-the-know.
What vaccinations do I need for India?
As a guide Tetanus, Typhoid, Hepatitis A and Polio are strongly recommended. You are also advised to take anti-Malarial medication. We strongly recommend that you speak to your doctor or local medical practitioner about any other vaccinations or treatments you may need before travelling to India.
Is it safe to drink tap water in India?
This is a big no. You've probably heard of "Delhi belly" and drinking the tap water is a sure way to make yourself sick. You must never drink tap water and only drink bottled mineral water. This is readily available in hotels, shops, and restaurants across the country. You should also avoid salads which may be washed in unhygienic water.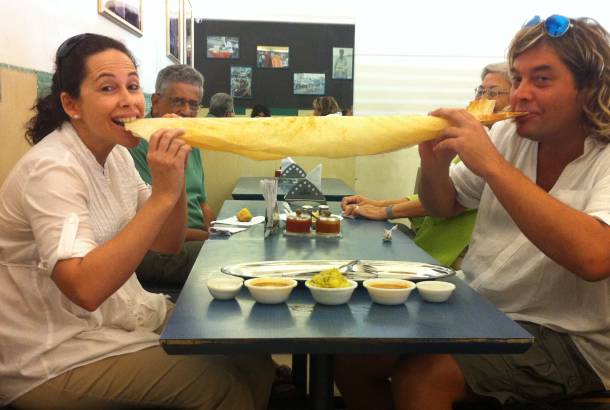 How do I avoid getting Delhi Belly?
Indian food is simply delectable and contrary to popular belief, is not all about hot curries - far from it in fact. Nothing quite beats the simplicity of home-cooked Indian food you will have plenty of opportunities to sample some fantastic and authentic Indian food while on holiday.
That said, it is pretty common to get an upset tummy, often referred to as Delhi Belly when you visit India. For the most part, the food is not unsafe to eat, it is more that your system will not be used to the bacteria in the water there. The biggest thing to avoid is water that is not distilled, so ensure that you only drink bottled water. As salads will be washed in water, it's best to avoid eating salads, unless you are at a top end 5-star establishment. It's fine to eat chicken, but we would recommend avoiding pork unless you are eating out at a top-end restaurant. Do not try fresh street foods as those will most certainly upset your stomach. That said, Indian street foods are simply delicious, so if you are travelling with us and are keen on sampling some, your tour leader will be able to recommend hygienic places to do so.
If you are keen on a culinary adventure, Tandoori food is a North Indian specialty and absolutely delicious. Biryani is another Northern Mughal dish worth trying. The consistently tasty Thali is a great value dish that originated in South India; it consists of a variety of curry dishes, relishes, poppadums, chapatis and rice. Try a vege-thali and you'll never consider vegetarian food boring or bland again - Indian's excel at being vegetarian! For something quite unique, try a Dosa, a savory paper-thin pancake that comes from Tamil Nadu in the South but that is now relished by Indians all across the country. And if you've got a sweet tooth, give local favorites like Gulab Jamun, Kulfi and Ras Gullas a whirl.
Is it standard to tip in India?
Tipping is not a natural part of many Western cultures and many of us feel uncomfortable, or unsure, about when, or how much, to tip. However, in India, tipping makes up a significant part of many people's wages so it's important that we get it right. For this reason we have developed a very simple system to take all the hassle out of tipping. With our Tipping Made Easy policy on our tours, a nominal pre-determined amount is collected from all group tour participants to cover tips en route, payable on the morning of day 2 in INR (Indian Rupees). This then saves you the hassle of when and how much to tip bellhops, luggage handlers, local guides and other support staff through the tour.
Please note on our tours the Tipping Made Easy amount does not include a tip to your group tour leader, where we suggest an amount of approximately USD 4 to 7 per day of your tour. Naturally, though, the amount is up to you. If travelling on a group tour with less than 6 participants or on a tailor-made holiday, in place of Tipping Made Easy we recommend the following amounts per person per day be allocated to cover tips paid directly by you to bellhops, luggage handlers, your driver and local guides - USD $9 if the day includes a local guide & sightseeing and USD $4 if the day does not include a local guide and sightseeing.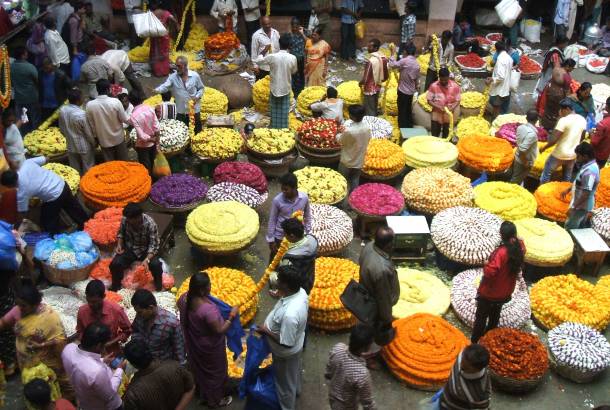 Is it okay to bargain at the markets in India?
In a nutshell - yes. Though if you are happy with a price quoted, it's fine to pay that price, as after all, that's how local traders in India make a living! At the many bazaars known as chowks, the cardinal rule is to bargain hard, so don't feel shy. State run craft emporiums that stock the best of what a particular state has to offer can give you a reasonable idea of what is acceptable in terms of price and quality. You'll find carpets of quality equal to those of Persian origin, Rajasthani pottery and metalwork, embellished slippers known as jutti, jewelery in breathtaking designs. Likewise leatherwork, woodcarvings, silks and saris in spectacularly colorful designs, paintings and clothing are well priced and make excellent souvenirs.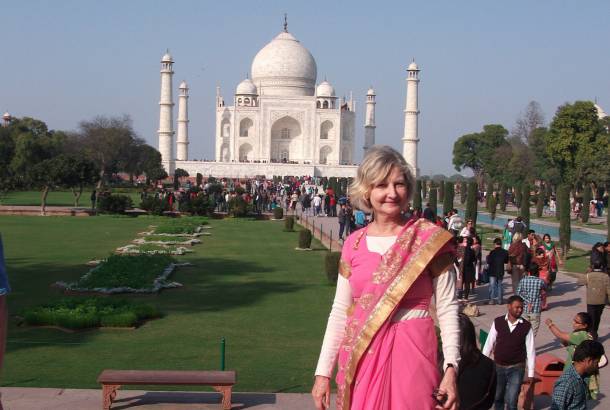 Is it safe for a single woman to travel in India?
Yes, it is, but just like travelling anywhere else in the world, you do need to be careful and not put yourself into a potentially unsafe position, like travelling by yourself at night. It's advisable to dress conservatively covering your shoulders and legs at all times. A number of foreign female visitors to India adopt the local dress of the salwar kameez, a two piece garment comprising of a knee-length shirt worn over baggy trousers. It's extremely comfortable, perfect when travelling in the hotter parts of India, very affordable and comes in a staggering variety of patterns and colors - a unique and practical outfit for travelling around India that will demonstrate an appreciation for the local culture.
Western women can get a lot of attention in India, but don't let this put you off. If you are a single woman and are thinking of travelling to India, the easiest and most hassle-free way to visit is by joining other travelers on a group tour. You'll feel perfectly safe and it will certainly put your mind at ease. Remember to be respectful of the local culture, have an open-mind and you'll have a top time away in India. Indians are very friendly people who openly welcome travelers and you'll be touched by the warmth of the culture.
What etiquette should I follow at temples in India?
In order to avoid offense when visiting religious sites, it's important to take particular care and to dress and behave appropriately. Visitors should always wear long trousers or skirts or shorts that reach below the knee and shirts with sleeves. It's advisable that women travel with a simple shawl to cover their shoulders if needed. Smoking is not allowed in temples and couples should avoid holding hands. When entering temples shoes and hats/caps must be removed and there will usually be a shoe rack where you can leave your footwear while you wander around the temple grounds. Once inside, refrain from touching icons, carvings or statues of deities.
Photography is prohibited in certain sections of sacred sites and this will usually be signposted. Do not attempt to be photographed with Buddhist bhikkus (monks) or other holy figures. If in doubt, please ask your local guide or tour leader for further information. Many temples may have 'off-limit' sections that prevent entry to tourists so please be aware of this. Part of the beauty of travel is discovering different cultures and traditions from around the world and respecting the local culture will always stand you in good stead. Note that at some sights an additional fee is charged for the privilege of taking photographs or video footage. Estimate approximately USD $10 for your entire tour.
Is India a suitable family holiday destination?
Yes, it certainly is, but we do recommended that children be aged over 10 to appreciate the experience of travelling to India. India has so much to interest teenagers and young adults, from tigers and temples to the Taj Mahal and holy rituals at the ghats on the Ganges in Varanasi, a family holiday to India will be very educational.
On all of our group tours, we welcome teenagers aged 16 years or older, accompanied by a parent/guardian if under 18. We even have a dedicated family tour to the country - North India Family Adventure. On Tailor-made holidays, there is no minimum age for children. If you are travelling as a family we will also try and arrange adjoining rooms for your convenience.
What is the duty free allowance for India?
You are permitted to bring up to one liter of alcohol or wine, 200 cigarettes and a reasonable quantity of perfume into the country for personal use.
What can I expect arriving into Delhi Airport?
If you are planning a trip to India, you are likely to be flying into either Delhi or Mumbai, the two main international gateways. Indira Gandhi International Airport in Delhi has been upgraded and is well equipped to modern international standards. Once you clear immigration and customs, you'll be greeted by a real cacophony of sounds and car-horns sounding, even if it's 3 in the morning! There will be plenty of taxi drivers trying to get your fare, but we strongly recommend a pre-organized private airport arrival transfer. Travelling with us you'll have a soft landing, if you are arriving on day 1 of your tour or if you have booked pre-tour accommodation with us, our local representative will meet you at the airport and transfer you to your hotel in Delhi.
Indian airport officials don't quite seem to have fully grasped the concept of an e-ticket. You will need to provide evidence of your flight by way of a printed itinerary, or you may not be allowed entry to some airports, even for internal flights. So be to sure to have this at hand along with you passport.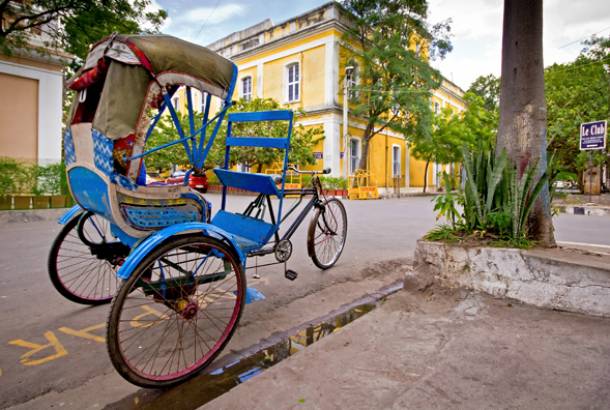 What are taxis & rickshaws like in India?
Taxis are cheap and readily available in most of the bigger towns in India. Most of them possess meters, although taxi drivers who use their meter are rare! Try and get an idea of the likely fare before you leave your hotel. The front desk staff or your tour guide should be able to assist you. Then negotiate with the driver before departure.
Motorised three-wheel rickshaws. Always negotiate the price you want to pay before setting off. Offering around 50% of the asking price is the general rule of thumb, though you'll always pay more than the going rate for a local!
A cycle rickshaw is a 3-wheeler bicycle with a seat for passengers behind the rider. Although not often seen in big cities, you'll find them in Old Delhi and all the smaller towns. Again, negotiate the fare before departure.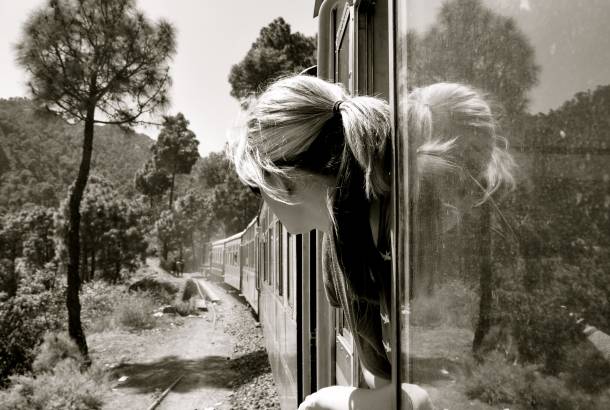 What is train travel in India like?
Travelling by train is a must-do experience in India and a great way to meet local people. You'll get a true slice of local life and are bound to strike up a conversation or play a game of cards with the ever-friendly locals. Some of our group tours and tailor-made holidays in India include comfortable train journeys, which depending on the itinerary may take place during the day or during the night.
Comfort levels of the trains vary by the class of cabin you are booked on. 2nd class sleeper air-conditioned cabins consist of two upper and two lower bunks (which are sat upon until retiring to bed), shared by you and other Indian travelers. Some smaller cabins comprise one upper bunk and two lower chairs that are for seating until retiring to bed, when these two lower chairs can be easily converted to a lower bunk. All cabins are mixed sex. Your cabin is not self-contained as such. 'Cabins' are separated from the carriage corridor by curtains, serving as an artificial barrier that can be drawn at night. Luggage can be stored underneath the lower bunks or on the floor. The carriage is manned by an attendant who will distribute linen. Dependent upon the service, a variety of snacks and drinks or full dinner service can be ordered at additional cost. Food aboard the Shatabdi Express train is exceptionally good, though on many other train services it is probably best to buy snacks, fresh fruit or meals prior to the start of your journey. In addition, there are WC facilities (European and also 'squat-style') at each end of the carriage. Cleanliness varies, so be prepared and take your own anti-bacterial hand wipes and toilet paper. If you are travelling on a daytime train, you will travel in an air-conditioned seated carriage, except to elevated destinations like Shimla where due to local weather patterns air-conditioning is not necessary.
Did you know? The Indian Railway system is the world's second-largest with over 108,706 kilometers of track, connecting more than 7,000 stations and employing around 1.4 million people. Every day more than 7,000 passenger trains run, carrying some 14 million passengers.
Are US Dollars and other currencies easily exchanged for Indian Rupees?
Pound Sterling, US Dollars or other major currencies can be exchanged only in India, as the Rupee, India's currency, is presently exchangeable only in destination. The Rupee is non-exportable, so spend it all before you leave or donate the rupees you have left for our Change for Children program in India.
Exchange facilities are available at major airports and bureau de changes, while ATMs/cash machines exist in larger towns. It's advisable to request bank notes in smaller denominations, as it can sometimes be hard to get change from large notes and smaller notes are handy for smaller purchases and gratuities. Traveler's Checks are not recommended as they're often difficult to exchange and incur high fees. Visit OANDA for the latest exchange rates.
Important notice: In December 2016, the Indian government issued new 500 and 2,000 rupee notes. Please be aware that some older notes remain in circulation and will not be accepted as legal tender. Make sure that any notes you receive in change or other transactions are of the new currency.
What do things cost in India?
By international standards, India represents good value for money in terms of costs of eating, drinking, postage, sundry holiday and souvenir purchases, though India is no longer as cheap as it used to be. One can eat still like a Maharajah at USD$20 a day for a light lunch and full dinner. Bottled mineralized water and mineral water is widely available at very reasonable prices. Infrastructure services for tourism (hotels, qualified guides and internal flights) are relatively expensive however and hotel rates in particular have risen sharply in the last three years.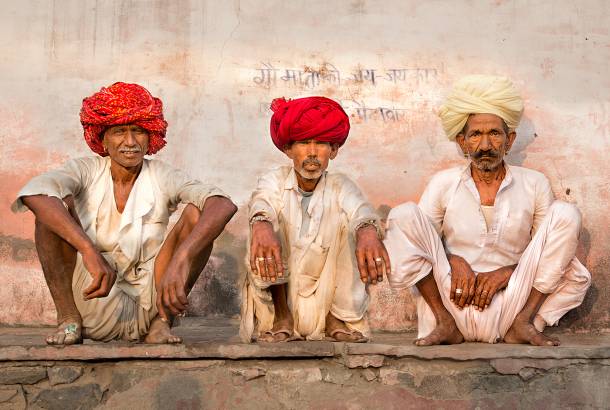 What sort of plugs do I need for India and what is the voltage?
Standard voltage is 230-240 volts (usually 240 volts). Primary sockets require round 3 pin plugs that are similar but not identical to European plugs. We recommend that you pack a universal travel adaptor. You will need a voltage converter, and plug adaptor in order to use U.S. appliances.
Is WiFI widely available in India?
Good WiFi connection is limited to the larger metro cities in India, such as Delhi, Mumbai, Bangalore, Kolkata and Chennai, and WiFI is often offered in global chains, restaurants and coffee shops. WiFI hotspots are also provided at major airports and even train stations. Outside the major cities WiFi is harder to come by.
When it comes to hotels, accommodation options in the major cities generally offer free WiFi in guestrooms. In regional towns and heritage properties that are spread across a wider acreage, WiFi is slower and restricted to the reception/public areas. India's villages and national parks only offer very weak WiFi with usage often chargeable.
What time zone is India on?
India is 5 hours 30 mins ahead of Greenwich Meantime (GMT) and does not observe Daylight Saving.
Are there days when popular sites are closed?
The Taj Mahal is closed on Fridays and the Red Fort in Delhi is closed on Mondays. We have taken these closures into account on our group tours, and will also advise you should there be any closures on your tailor-made India holiday.