COACH TOUR: A slow-paced tour of Puglia in southern Italy, perfect for return visitors to the country! Enjoy a walking tour of Bari and take in the octagonal UNESCO-listed Castel del Monte. Visit the 'Pearl of Puglia' in Trani, explore the historic cave dwellings of Matera and spend two nights in a traditional Trulli conical house. Discover the 'white towns' of Locorotondo and Ostuni independently and tour the 'Florence of the South', Lecce. On your final night, tuck into an authentic Italian dinner at a rural farm in the countryside town of Supersano.
Trip Highlights
Bari - Enjoy a guided tour of the Puglia region's capital city, taking in the Basilica of San Nicola and the central square, Piazza Mercantile
Castel del Monte - See this ancient UNESCO-listed fortress, which is octagonal in shape and shrouded in mystery
Matera - Explore the historic centre of the city, Sassi di Matera, which is known for its cave dwellings carved into a river canyon
Lecce - Join a guided tour of 'Florence of the South' to see the Baroque architecture of the Old Town and Piazza del Duomo main square
Trani - Admire the whitewashed 12th-century cathedral and delve into the vibrant Jewish quarter in the city known as the 'Pearl of Puglia'
Alberobello - Spend two nights in a Trulli, a traditional conical-shaped house made from local Italian limestone
Ostuni - Stroll around this pretty whitewashed town independently, see some of the 3,500-year-old olive trees and taste the local olive oil
Supersano - Tuck into authentic local cuisine at a rural farm on the final night of our tour and see how pasta is made the Italian way
Included
5 breakfasts & 5 dinners including a special farewell dinner at Masseria le Stanzie in Supersano
Escorted by an English-speaking Italian tour guide with specialist guides for some sightseeing
Guided sightseeing with local guides in Bari, Matera & Lecce
Note: Touring is operated in conjunction with other tourist groups, not solely On The Go. You will join travellers who booked through other operators for sightseeing each day, some staying in different hotels, and spend your evenings at leisure. The maximum group size on this tour is 15 travellers.
3 nights 4 star hotels & 2 nights in a boutique Trulli in Alberobello
Transportation by deluxe coach with Wi-Fi and audio headsets
Entrance tickets to the Castel del Monte
Not Included
International flights and visas
Additional meals and drinks unless specified
Tipping - an entirely personal gesture
Airport transfers
Entrance fees not mentioned in Inclusions
City tax of €1 - 6 per person per night (tax varies by city), to be paid directly to the hotel at check-in/out. See Trip Notes for details. Please note we recommend paying your city tax when checking in or in the evening during your stay to save time on check out!
Bari
Welcome to Bari, capital of the Puglia region of southern Italy, located in the 'heel' of Italy's 'boot'! Arrive in the city independently and meet your Tour Leader at the hotel for our 14:00 walking tour with an expert local guide.

We discover the charming narrow alleyways of the historic city center, and admire the Basilica of San Nicola, an important pilgrimage destination for Christians. We also see the 12th-century Norman-Swabian Castle, surrounded by a moat and known for its impressive Aragon walls. We'll see the castle from the outside and there is free time to explore inside the castle and enjoy the panoramic views offered if you choose (own expense). We also see the Column of Justice in Piazza Mercantile before enjoying dinner and an evening at leisure.

Please note: Our walking tour of Bari commences at 14:00 so make sure you arrive in Italy in plenty of time on day 1 or before, to avoid missing the tour!
Overnight: Bari | Dinner
Trani, Castel del Monte & Alberobello
Bari - Trani - Castel del Monte - Alberobello. After breakfast at the hotel, we leave Bari by coach and travel to Trani, known as the 'Pearl of Puglia'. We'll explore the vibrant Jewish Quarter and see the historic 12th-century cathedral, made from beautiful white stone.

After our stop in Trani we continue to Castel del Monte, a 13th-century citadel and UNESCO World Heritage Site. This octagonal castle features on the Italian one-cent coin and is shrouded in mystery, as its exact historical purpose remains unknown.

Our final destination today is Alberobello, best known for its traditional conical houses made from local limestone - these are called Trulli. The village has a fairy-tale feel and our hotel tonight sees you sleeping inside an unusual Trulli - a unique experience!
Overnight: Alberobello | Breakfast, Dinner
The cave dwellings of Matera
We visit another UNESCO World Heritage Site today with a day trip to Matera. The historic center of this city is known as Sassi di Matera and is unique due to the large number of cave dwellings that were carved into the canyon created by the Gravina River, around 9,000 years ago! In this long history, Matera has been occupied by Romans, Byzantines, Saracens, and many other groups.

Many of the caves are still used today, as houses, pubs, hotels, and other businesses. We'll enjoy sightseeing with a local guide to take in the best of the cave dwellings. And we will also see the Roman Catholic cathedral which overlooks the city. We then transfer back to Alberobello for dinner and another night in your magnificent Trulli.
Overnight: Alberobello | Breakfast, Dinner
'White towns' & Lecce
Alberobello - Locorotondo - Ostuni - Lecce. Today we visit two of the iconic 'white towns' of Puglia. Our first stop is Locorotondo, a town of around 14,000 people perched on a hill. There's free time to explore this small town and enjoy the view over the surrounding countryside, including the Trulli pointing upwards.

Then we reach Ostuni, a coastal town popular with Italian tourists in summer. Ostuni is known for its ancient olive trees as well as its whitewashed buildings - many of the trees have been carbon-dated and are known to be more than 3,500 years old. Despite this age, they still produce the famous Ostuni olive oil. If you find a restaurant for lunch, you are sure to be served dishes that use this delicious local product!

After visiting these two towns, we reach Lecce, in the heart of the Salento region.
Overnight: Lecce | Breakfast, Dinner
Lecce sightseeing & Otranto
This morning we enjoy a 3-hour guided sightseeing tour of Lecce with an expert local guide. Known as the 'Florence of the South' thanks to its treasure trove of Baroque architecture, highlights of our tour include the historic Old Town and the 12th-century cathedral. We also see the beautiful Basilica di Santa Croce and Piazza del Duomo, the city's main square.

After our tour we depart for Otranto, a city known to have been ruled at times by the Greeks, Romans and Turks. Because of this, Otranto has a wonderfully diverse mix of cultures, and there is free time to explore the town and find somewhere for lunch. We recommend visiting the iconic cathedral to see its well-preserved mosaic floor, and the bones of 813 martyrs eerily displayed behind the altar.

As it is the last evening of our tour, a special dinner takes place tonight in the town of Supersano. We will be dining at Masseria le Stanzie, a rustic farm and restaurant that is Puglia at its finest. Learn more about the food and history of the region, see how pasta is made the Italian way, and visit the farm's medieval tombs before enjoying a dinner made using the finest local produce. Then it's back to Lecce for the final night of our trip.
Overnight: Lecce | Breakfast, Dinner
Lecce
Enjoy a final breakfast in the hotel before our tour arrangements come to an end.
Breakfast
The hotels listed below are ones which we frequently use on this tour. We reserve the right to substitute these hotels to ones of a similar standard.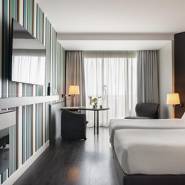 The Nicolaus Hotel, Bari
The Nicolaus Hotel is located in the residential district of Poggiofranco on the outskirts of Bari, 10 minutes by taxi from the city centre. This well equipped, modern hotel features an indoor pool, gym, sauna, Turkish baths and a hot tub. Dining options include The Seasons restaurant, serving a range of Puglia specialities. Or there is The Roof on the 14th floor, serving high quality a la carte meals in a roof garden. Stylish rooms offer free Wi-Fi, air-conditioning, TV and ensuite bathrooms, and the majority of rooms feature a balcony.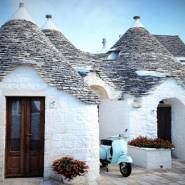 Trulli Holiday Albergo Diffuso, Alberobello
Accommodation with a difference! Located in Alberobello, Trulli Holiday Albergo Diffuso gives guests the chance to sleep in a real 'Trullo' - a traditional stone building with a conical roof. Each Trullo offers antique furnishings and a private bathroom, and all have vaulted ceilings boasting original stone features. The rooms are UNESCO-protected thanks to their cultural importance. Breakfast is served in the communal dining room and there is an onsite spa and wellness centre. Free Wi-Fi is also available.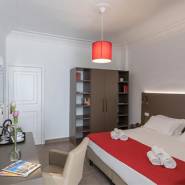 Hotel Delle Palme, Lecce
This conveniently located 4-star hotel is just 10 minutes on foot from Lecce's historic centre. Free Wi-Fi connection is offered throughout the property, and a daily buffet breakfast is served onsite. The large a la carte Estia restaurant also serves popular regional cuisine, as well as typical Italian and international dishes. Recently refurbished guest rooms come with a minibar, air-conditioning, safe, TV and ensuite bathroom.
At a Glance
Range
Trip Type
Starts
Bari
Ends
Lecce
Departs
Fridays
Group Size
Min 2 / Max 15
Hotel Rating
4-star hotels
Tour Guide
Yes - escorted by a tour guide
Meals
Breakfast: 5, Dinner: 5
Countries
Minimum Age
No minimum age
Arr. Transfer
No
Dep. Transfer
No
OTG002513
Perfect Puglia - 6 days
Europe
Handpicked
Europe
false
30
Italy
https://www.onthegotours.com/Italy/Perfect-Puglia-6-days
https://www.onthegotours.com/repository/Pearls-of-Puglia-main-image--Matera-796261676900144_crop_flip_300_300_f2f2f2_center-center.jpg
Group_Tours