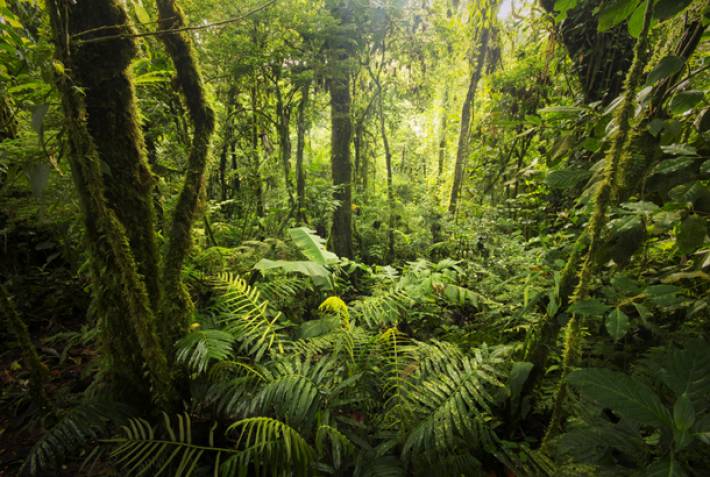 OUR PICK #1
Monteverde Cloudforest - Costa Rica
Costa Rica is known as being one of the most biologically diverse spots on the planet. Of its fauna, few places have garnered worldwide attention like the cloudforests of Monteverde. A biological reserve was set up here in 1972 to protect this important ancient tract of cloudforest and the hundreds of species it supports. For visitors there are a wealth of ways in which to experience the cloudforest from popular canopy tours to horse riding and bird watching, night walks to circuits of the hanging bridges. In the surrounding area you can also visit coffee plantations for a taste of one of Costa Rica's most famous exports.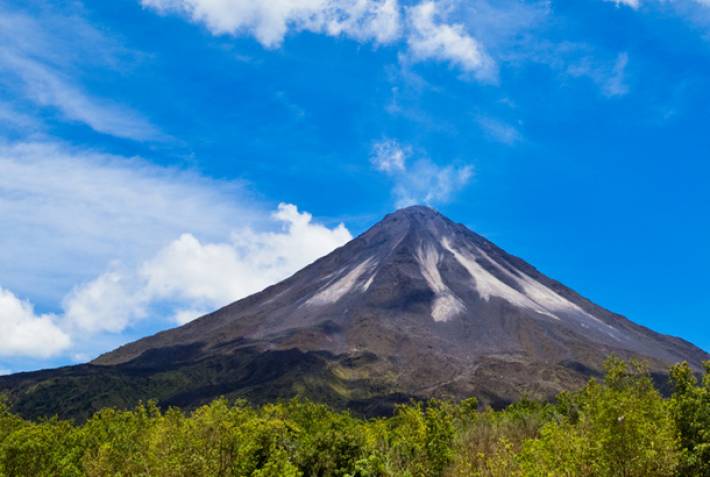 OUR PICK #2
Arenal Volcano - Costa Rica
For years Arenal was one of the most active volcanoes in the Americas. Plumes of smoke would erupt during the day while at night the sides of the peak would glow red with lava flows. This activity has quietened done in the last few years but that doesn't make Arenal any less impressive. You'll still catch glimpses of smoke trailing from the conical peak and feel the odd deep rumble. And there's still plenty to do in the immediate vicinity. There are good walking trails to follow, waterfalls and hot springs to enjoy, caves to explore and a host of thrilling activities to try from rafting to fly boarding.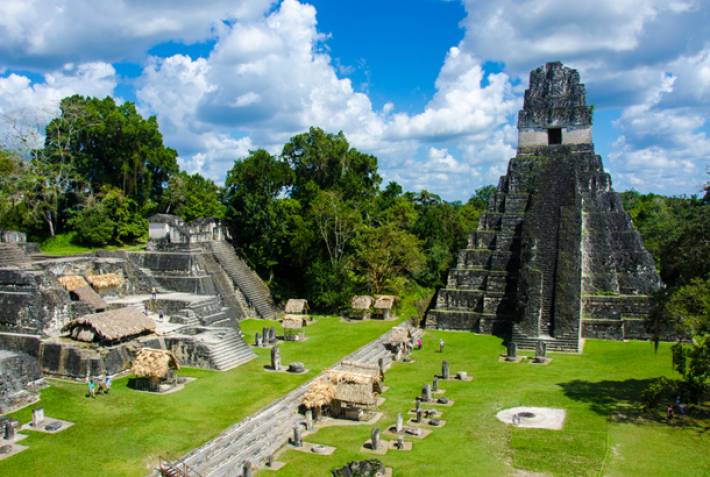 OUR PICK #3
Tikal - Guatemala
Central America is littered with ancient Maya ruins but perhaps none of them are as impressive as Tikal. The complex of large temples and steep-sided pyramids, along with the remains of palaces and ceremonial centres, is one of the largest Maya archaeological sites discovered. Tikal was awarded UNESCO World Heritage status in 1979 and its scale is overwhelming, occupying 16 square kilometres of land that has been protected as a national park. What makes Tikal particularly evocative is the dense rainforest that surrounds it. Walking between the ruins you can smell the forest greenery and hear the cries of jungle-dwelling animals.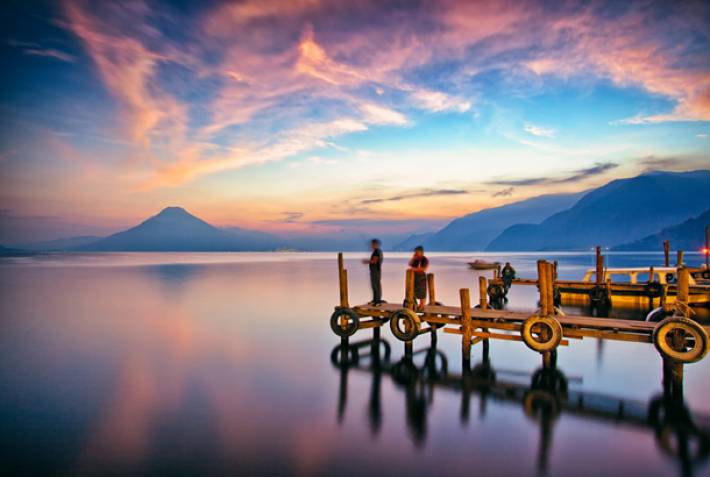 OUR PICK #4
Lake Atitlan - Guatemala
Writers and explorers have been waxing lyrical about the beauty of Lake Atitlan since the 19th century. Aldous Huxley considered it superior to Lake Como while John L. Stephens said it was 'the most magnificent spectacle' he'd ever seen. It's a place that captivates visitors with its bounty of good looks thanks to the wide waters that are hemmed in by steep hills and three volcanic peaks. But it's not just natural beauty that this part of Guatemala has to offer - there's a healthy dose of traditional culture to discover too. Around the lake you'll find numerous indigenous communities where Maya culture has been preserved. You'll soon see it in the colourful clothing that the locals wear.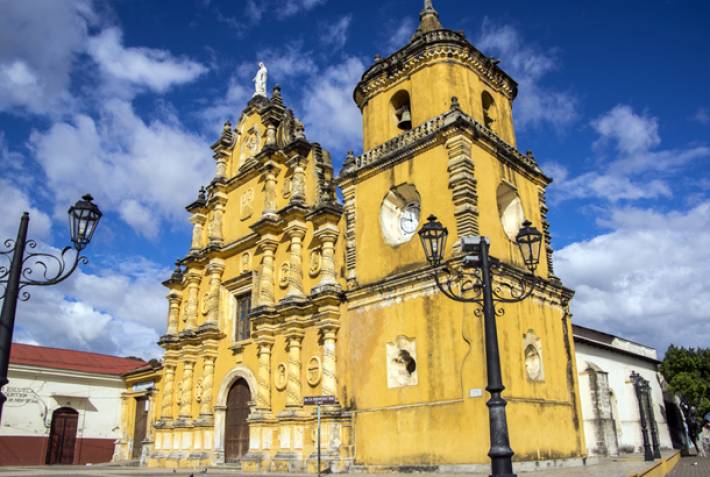 OUR PICK #5
León - Nicaragua
The crumbling colonial town of León is the sort of place that captures your heart and refuses to give it back. It's a charming combination of grand architecture, paintbox hues and urban energy that can often keep visitors lingering for longer than expected. Despite being the second largest city in Nicaragua, León has retained much of its Spanish colonial heritage, from the cathedrals and churches to the attractive private residences. The university here (the second oldest in Central America) attracts a large student population, which in turn has given rise to a vibrant nightlife and choice of eateries that visitors are just as keen to take advantage of.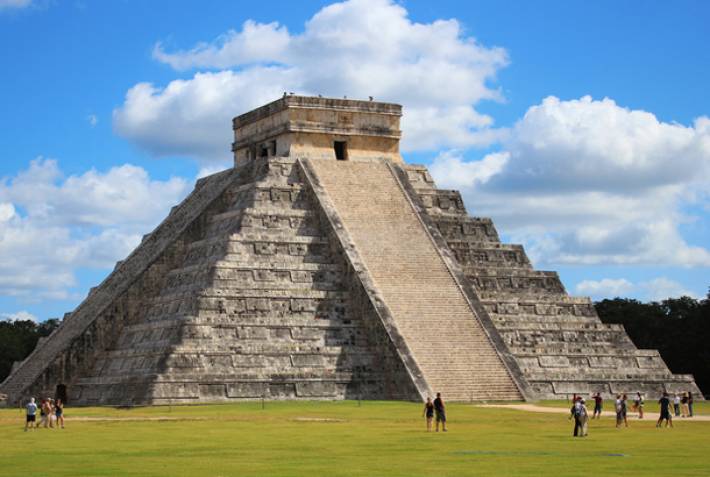 OUR PICK #6
Chichen Itza - Mexico
Since becoming one of the New Seven World Wonders back in 2007, Chichen Itza is perhaps one of Central America's most iconic archaeological sites. It's one of Mexico's most visited destinations and has been on the UNESCO World Heritage list since 1988. The pre-Columbian city was built by the Maya people and was once the largest urban centre of the civilisation. Today the complex of ruins testifies to Chichen Itza's one-time importance with the remains of temples, ball courts, palaces and pyramids. The most recognised of these monuments is the El Castillo step-pyramid with its square terraces and stairways leading to the top. The number of visitors increases dramatically at the spring and autumn equinoxes when the late afternoon sun creates the illusion of a moving snake across these stairs.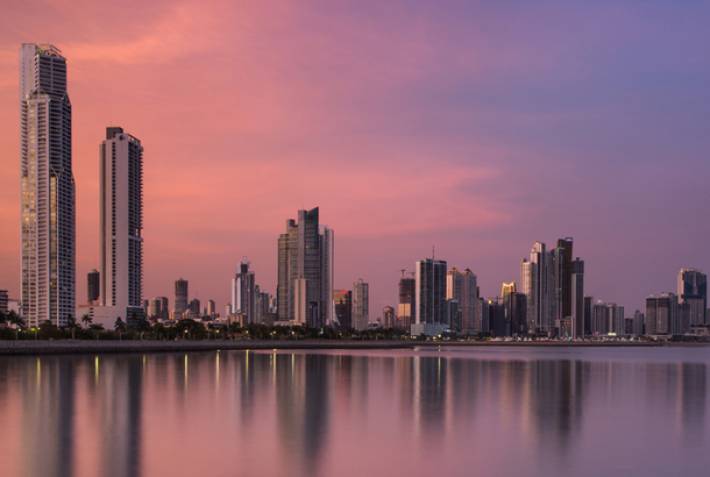 OUR PICK #7
Panama City - Panama
Known as the 'Miami of Central America', Panama City is a thriving metropolis where history and modernity meet. As the capital of Panama, the city has developed into a gleaming hub of international trade with towering skyscrapers, chic restaurants, bars and clubs, and wide tree-lined boulevards. There also exists a world a million miles from this in the form of the Casco Viejo peninsula, the historic UNESCO-listed old quarter where crumbled ruins line cobblestone streets. It's the best place to get a sense of the city's Spanish colonial history. Those in need of greenery will find themselves perfectly positioned to take advantage of the surrounding tropical rainforests and national parks.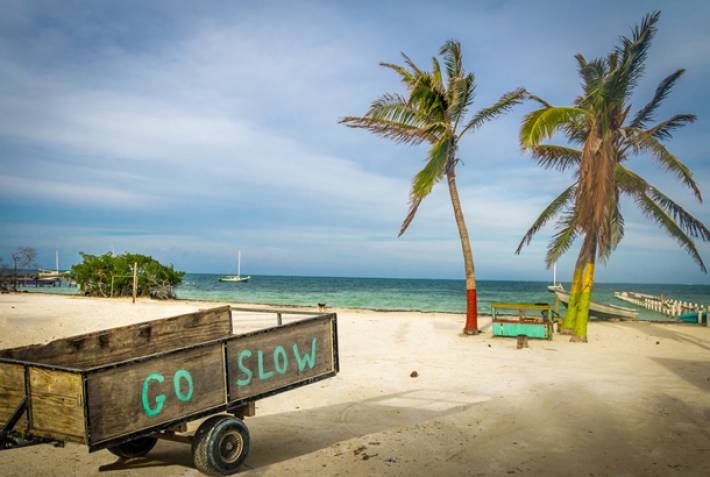 OUR PICK #8
Caye Caulker - Belize
The small Caribbean island of Caye Caulker is one of the best places in Central America to simply lie back and relax. Measuring just one mile long and five miles wide, there's certainly no pressure to get out and explore. In fact, with hammocks swinging between palm trees and colourful coral reefs fringing the beaches, you won't have to move very far in order to enjoy what Caye Caulker is really all about. And if you do want to participate in a little activity then there's great snorkelling, diving and kayaking to be enjoyed. There are no cars on this island - bicycles serve as the main mode of transport so even the roads are a laidback affair.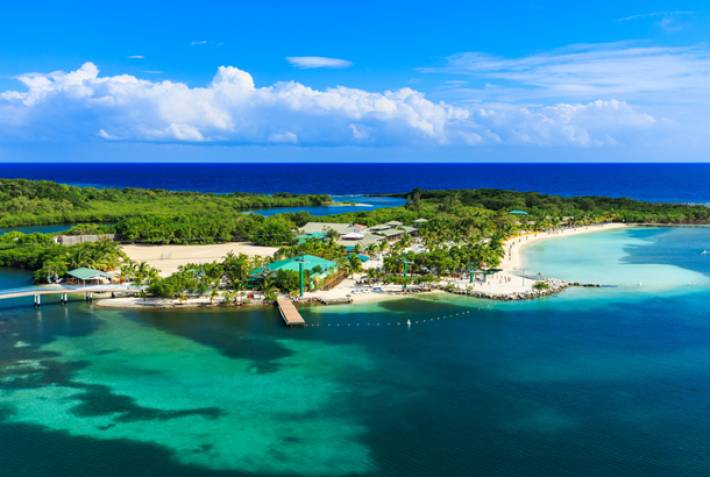 OUR PICK #9
Roatán Island - Honduras
Roatán is another Caribbean island that deserves the accolade of being one of Central America's top destinations. It's located some 65 kilometres off the northern coast of Honduras and forms part of the archipelago known as the Bay Islands. Like Caye Caulker, it's not very large and the coastline is a diving mecca thanks to the brilliant coral reefs. Depending on the time of year you might spot whale sharks though at any given time you're guaranteed an impressive array of marine life as well as wreckage dive sites. There's ample natural beauty on land too with sparkling white beaches, and a mountainous and forested interior to explore.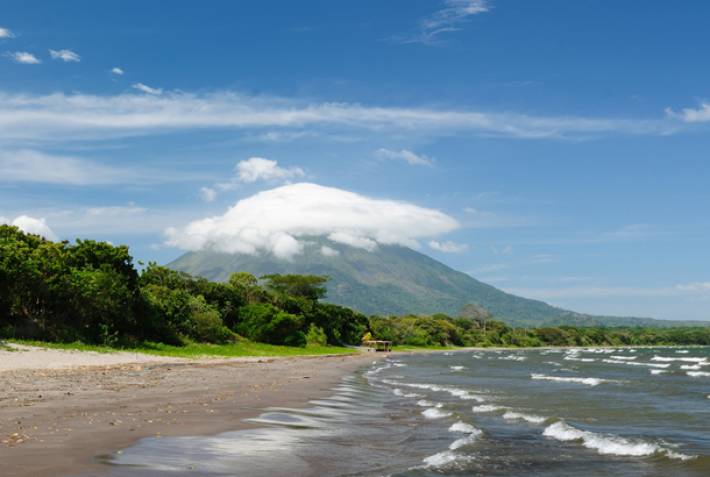 OUR PICK #10
Ometepe Island - Nicaragua
The island of Ometepe is one of Nicaragua's most stunning natural features. It was formed by two volcanoes - Concepción and Maderas, and sits on Lake Nicaragua, known in the local language as Cocibolca. Around the island are wide, beautiful beaches that front the clean, clear waters of the lake with the majestic peaks as a backdrop. Aside from the breathtaking vistas on Ometepe, there's also outdoor adventure to enjoy in the tranquil surroundings, from kayaking to hiking, and even archaeological sites to discover. Ometepe has been a firm favourite with savvy backpackers for years now, and as tourism slowly picks up, it's a part of the world that will no doubt receive the attention it deserves.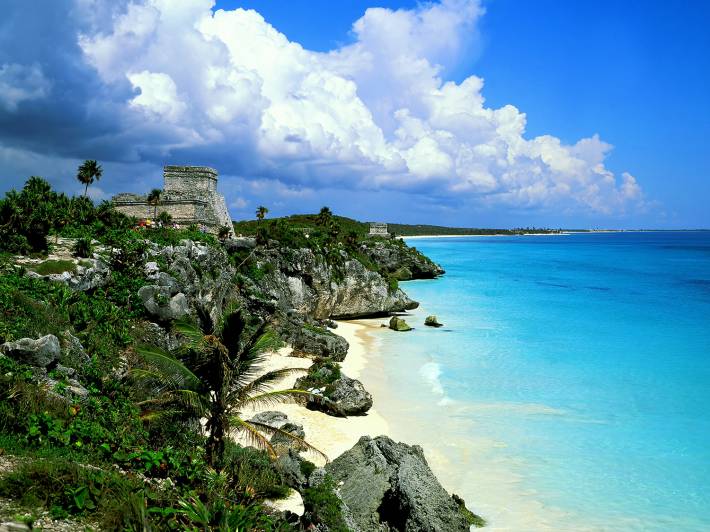 OUR PICK #11
Tulum - Mexico
Located at the southern end of the Mayan Riviera, Tulum is a small town that shot to fame for its Mayan ruins and idyllic beach. Set on the edge of a cliff, the ruins were once a point of defence against invaders and nowadays boasts UNESCO World Heritage status. The site is incredibly photogenic, with the fine sands of Paradise Beach and turquoise waters of the Caribbean lying below. Visitors can unwind on the beach or take an excursion to the Sian Ka'an Biosphere Reserve, which is renowned for its natural beauty. Close by you'll also find Cenote Dos Ojos, a vast underwater cave system of crystal-blue waters and stalactite-filled caverns.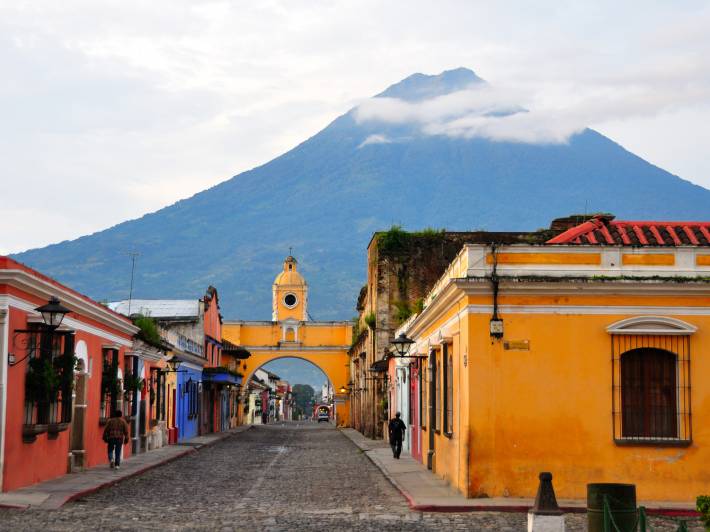 OUR PICK #12
Antigua - Guatemala
Founded in the early 16th century, Antigua is undoubtedly one of Guatemala's must-visit destinations. UNESCO World Heritage-listed since 1979, the city boasts a dramatic setting hemmed in by three looming volcanoes. Its cobbled streets lie in a grid-like pattern, featuring pastel-coloured buildings and numerous colonial relics. Highlights include La Merced Church, Casa Santo Domingo and the iconic Santa Catalina Arch, where you can take a quintessential photo of Antigua beneath the magnificent Agua volcano. There're also dozens of Spanish-language schools and, outside of the city, plenty of volcano trekking, indigenous communities and coffee plantations to be explored.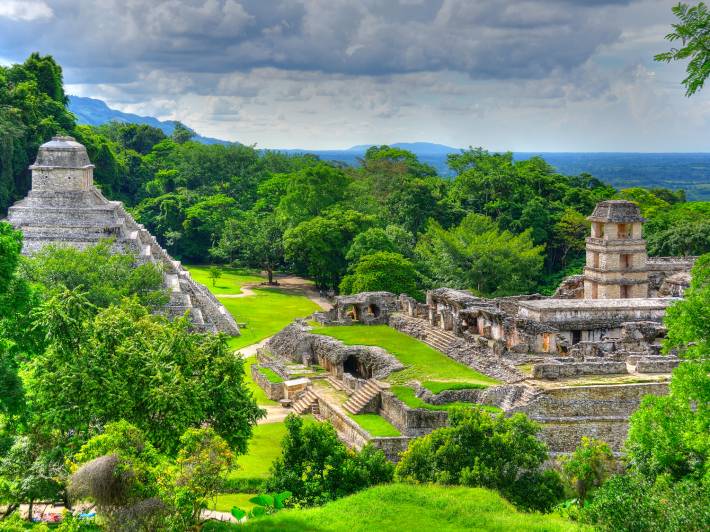 OUR PICK #13
Palenque - Mexico
The town of Palenque is merely the base for exploring the jungle-clad ruins of the nearby Parque Nacional de Palenque. Featuring several large temples and tombs, these ruins are some of the best examples of Maya architecture in all of Mexico and the hieroglyphs found here have enlightened scholars about hundreds of years of Maya history. The site was once a powerful Mayan city in the Classic period from 250 BC to 900 BC, before it was abandoned, and the surrounding jungle overtook it. However, the ruins are no less spectacular today and made all the more magical by their mysterious jungle setting.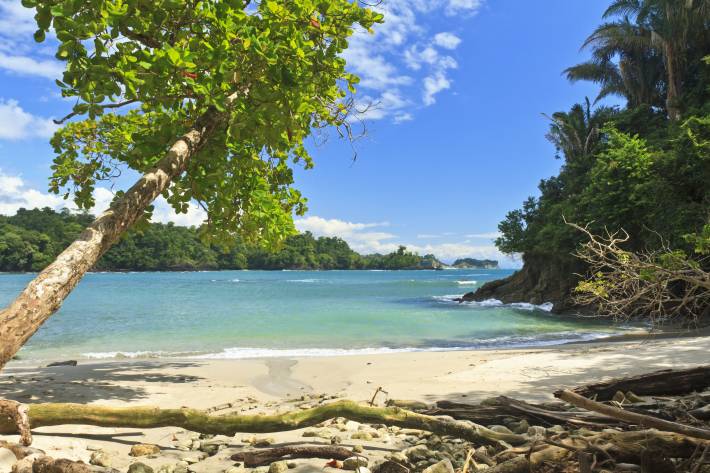 OUR PICK #14
Manuel Antonio National Park - Costa Rica
Manuel Antonio may be Costa Rica's smallest national park, but it certainly doesn't lack in attractions. Easy hiking trails take you through a dense rainforest teeming with animal life. Expect to see Capuchin, Howler and Squirrel monkeys leaping from branch to branch, alongside sloths, iguanas and hundreds of bird species. There's also three beautiful beaches, of which Playa Manuel Antonio is the most well-known for its spectacular views. In 2011, Manuel Antonio National Park was named by Forbes as one of the most beautiful parks in the world. And after a few hours here, you're sure to be in agreement.