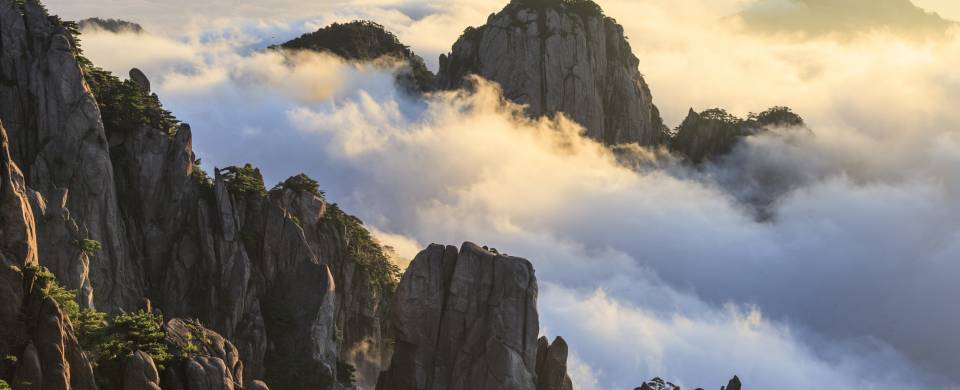 Trips and Tours to Huangshan (Yellow Mountain)
About Huangshan (Yellow Mountain)
Widely thought of as the most beautiful mountain in China, Huangshan (the Yellow Mountain)is an absolute must-see for anyone travelling through China. Its sheer, rugged slopes are a breathtaking sight and while the ascent is certainly a challenge, the feeling upon reaching the summit is incomparable. The vistas over the gorges and ravines are unparalleled in beauty and the sight of the tips of the surrounding mountains, peeking out over the perpetual fog, as if they were floating, makes you feel as though you've been transported to another world.
Read More
Covered in thick pine trees, the mountains reach a height of over 1800m. It is said that in total there are around 60,000 steps that lead to the peak. Along the way hikers will get a chance to see the aptly named greeting guest pine, a 10m tall tree that has grown into the shape of a huge man with an outstretched hand. At the foot of the mountain are some natural hot springs, which are ideal for soaking in after the long hike to the top of the mountain. Discovered over a thousand years ago, they are said to have made the Yellow Emperor younger after he bathed in them.
The town of Huangshan itself also has some points of interest. Thanks to its enviable location it has seen a boom in tourism as more and more people flock to the region in order to leave some footprints on the Yellow Mountain. The town has several ancient streets that are worth discovering as they contain some stunning example of architecture from former dynasties. Calligraphy sets and other beautiful items are made locally here and can be bought to take home.