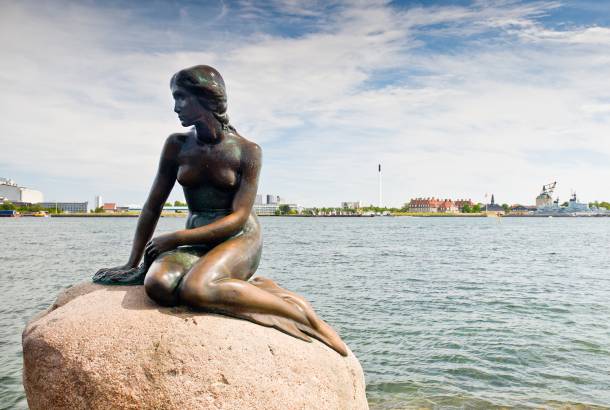 If you're looking to make Denmark your next travel destination, then make sure to have a read of our guide to visiting. It's packed with useful information about shopping, drinking water, Wi-Fi, what to eat and much more!
What vaccinations do I need for Denmark?
You should seek medical advice from your local health practitioner before travelling to Denmark and ensure that you receive all of the appropriate vaccinations. Just make sure you're up to date for recommended vaccinations for your home country, including measles, mumps and polio. Other vaccines to consider are Tetanus and Tick-borne Encephalitis. Visit the NHS Fit to Travel page or the CDC Traveler's Health page for more information.
Is it safe to drink the tap water in Denmark?
Denmark boasts some of the cleanest tap water in the world. It's safe to drink water from taps and also from drinking fountains.
What's the food like in Denmark?
Danish cuisine is a delightful blend of traditional Nordic flavours, innovative techniques, and a focus on fresh, high-quality ingredients. Rooted in a history of fishing, farming, and foraging, Danish food culture has evolved to embrace a diverse range of culinary influences.

One iconic Danish dish is Smorrebrod, an open-faced sandwich featuring a variety of toppings. Common choices include pickled herring, smoked salmon, and liver pâté, creatively adorned with fresh herbs, vegetables, and sauces. These sandwiches reflect Denmark's commitment to both simplicity and exquisite taste. A key aspect of Danish cuisine is seafood due to the country's extensive coastline. Frikadeller, or Danish meatballs, are a savoury classic made from a blend of ground meats, often accompanied by tangy red cabbage and potatoes. Fish dishes such as Stegt Flaesk, crispy fried pork belly served with parsley sauce and potatoes, are beloved comfort foods.

For those with a sweet tooth, Danish pastries, or Wienerbrod, are internationally renowned. These flaky delights come in various shapes and sizes, filled with custard, marzipan, or fruit jams. One of the most famous is the cinnamon flavoured Snegl. Traditional desserts like Aebleskiver, round apple-filled pancakes served with powdered sugar and jam, showcase the warmth and sweetness of Danish culinary traditions. Additionally, Denmark is known for its rich dairy products, contributing to delicious treats like Koldskal, a chilled buttermilk soup enjoyed during the summer months.

Denmark's commitment to sustainability is evident in its New Nordic cuisine movement. Pioneered by the world-famous restaurant Noma in Copenhagen, this culinary approach emphasizes seasonal, local, and organic ingredients. Foraging for wild herbs and locally sourced produce are integral to creating dishes that reflect the natural bounty of Denmark.

Pairing these culinary delights with Danish beer or snaps, a traditional Scandinavian spirit, completes the gastronomic experience. Whether savouring the simplicity of Smorrebrod or indulging in the intricacies of New Nordic cuisine, Danish food invites exploration and celebration of the nation's rich culinary heritage.
Is it standard to tip in Denmark?
Tipping in Denmark is not expected, though it is widely accepted. If you've experienced outstanding service, you may choose to round your bill up to the nearest 10 or 100 kroner or opt for a 10% tip; however, this is generally considered generous.
Is it safe for a solo female traveller in Denmark?
Denmark is considered a very safe and welcoming destination for solo female travellers. The country boasts low crime rates, efficient public transportation, and a culture of respect for personal space and boundaries. However, as with any travel, it's important to exercise common-sense safety precautions. Be aware of your surroundings, especially in crowded tourist areas, and safeguard your belongings. Stick to well-lit and populated areas at night and inform someone you trust about your travel plans. Danish people are generally helpful, and English is widely spoken, making it relatively easy to seek assistance if needed. Overall, Danish offers a secure and picturesque backdrop for solo female adventurers to explore.
What is the duty-free allowance for Denmark?
Goods not subject to duty (From EU Countries):

Tobacco products: 800 cigarettes or 200 cigars or 1kg of other tobacco products.
Alcoholic beverages: 10 litres of spirits over 22%; 20 litres of alcoholic beverages, other than wine or beer with less than 22% volume; 90 litres of wine; 60 litres of sparkling wine; 110 litres of beer
Goods not subject to duty (From non-EU Countries):
Tobacco products: 200 cigarettes or 50 cigars or 250g of other tobacco products.
Alcoholic beverages: 1 litre exceeding 22% alcohol volume; 2 litres of alcoholic beverages, other than wine or beer with less than 22% volume; 4 litres of wine; 16 litres of beer
Prohibited goods (into Denmark):
Weapons, firearms and ammunition require import permission from the Danish Police.
Endangered animals, plants, and their derivative products protected under the Convention on International Trade in Endangered Species (CITES) may require protected species permits.
A health certificate is required to bring in meat, milk, and other dairy products from non-EU countries.
Narcotic drugs and all performance enhancing substances require permission.
What is the currency in Denmark?
The official currency in Denmark is the Danish Krone. Check OANDA for the latest exchange rates.

British Pounds, US Dollars and other major currencies can be easily exchanged locally in banks or bureau de change prior to departure. Credit cards such as Visa and Mastercard are widely accepted in most of the major hotels, restaurants and shops. Use of American Express is not as common.

Traveller's Cheques are not recommended as they're often difficult to exchange and incur high fees.
What do things cost in Denmark?
Denmark is renowned for its high cost of living, particularly in urban areas. Goods and services can be relatively expensive, with dining out reflecting this trend. A meal at a mid-range restaurant may cost DKK 150 to DKK 300 per person (USD $23 - 46), and even fast food options can be relatively pricey, averaging around DKK 60 to DKK 80 for a burger meal (USD $9 - 12). Visitors should consider these factors when budgeting for their stay, keeping in mind the regional variations in prices across Denmark.
What sort of plugs do I need for Denmark and what is the voltage?
Standard voltage is 230 volts and Denmark primarily uses two round-pin plugs. We recommend that you pack a universal travel adaptor. You will need a voltage converter and plug adaptor in order to use U.S. appliances.
Is Wi-Fi widely available in Denmark?
As a modern European nation, you won't be surprised to hear that Wi-Fi is easy to find across Denmark. Most restaurants, bars, cafes and hotels are likely to have Wi-Fi, especially in the big cities. As with anywhere, connection may be a bit patchier in the countryside.
What time zone is Denmark in?
Denmark lies in the Central European Time Zone, which is 1 hour ahead of Greenwich Mean Time (GMT +1).

During summer, daylight-saving is observed in Denmark, where the time is shifted forward by 1 hour so it becomes 2 hours ahead of Greenwich Mean Time (GMT +2). After summer the time in Denmark is shifted back by 1 hour to Central European Time.