Estonia Group Tours & Trips
Our Estonia tours take in all the country's main highlights, plus the rest of the Baltics. The beach resort of Parnu is always a surprise for travellers, and the capital of Tallinn is emerging as a brilliant city break destination. Throw in mile after mile of protected old-growth forest, and you have a delightful holiday destination. We have winter festive tours in Estonia too, including a visit to the famous Tallinn Christmas markets.

If you book an Estonia package with us, you enjoy excellent centrally located 4-star hotels and are fully escorted by a qualified tour leader. There's plenty of included sightseeing, by coach and by foot, and you even get airport transfers included, for a hassle-free arrival and departure. They're the best Estonia tours if you want an all-encompassing experience of the Baltic states! Get in touch with our Reservations team today to find out more about any of our Estonia trips.
Discover medieval Tallinn, the breathtaking forests of the north and the beautiful Baltic Sea coast with an Estonia tour package.
Our Estonia tours help you see the best of both worlds; captivating old towns, interesting cities and sparsely populated countryside. Open-air cafes. Crumbling castles. Extensive forests. All combine to create the perfect place to lose yourself. Despite 300 years of Russian rule, Estonia has maintained its own unique identity and forced a fierce independence. Soviet architecture and even older medieval churches tell a historical story.
Discover all of this and more on one of our fantastic escorted group tours to the Baltics! With an On The Go Tours Estonia package you will travel on comfortable modern coaches. Stay in centrally located 3-4 star hotels. Take in the highlights of this beautiful country. And explore the nearby nations of northern Europe: Lithuania, Latvia, Poland, and Finland.
Explore more countries like Estonia
Frequently asked questions about our Estonia tours
Will I have enough time to explore Tallinn on your Estonia tours?
Tallinn is the capital and most popular destination in Estonia, and all of our tours visiting the country spend two nights here. All of our tours also include a guided tour of the city, taking in the main highlights such as the medieval Old Town (a UNESCO World Heritage Site) and the Alexander Nevsky Cathedral, Estonia's main Russian Orthodox cathedral.

If you choose one of our Estonia trips which ends in Tallinn, then we are able to offer post-tour accommodation as part of your package, if you would like to spend a little longer in the city to further explore Tallinn Old Town independently. Get in touch with our team if this is of interest.
How big are your tour groups in Estonia?
Our Estonia group tours depart with a minimum of two passengers and the maximum group size is 16 - 31 travellers, depending on the tour.
What is the standard of accommodation on your Estonia tours?
Our Estonia tours make use of good quality, centrally-located 4-star hotels. On the tour page for each of our Estonia trips, you can find some information about the hotels we typically use. Please bear in mind that we reserve the right to use different hotels of the same standard on your Estonia package if the need arises.
When is the best time to visit Estonia?
Estonia is a year-round destination with four distinct seasons. The short summer from June - August is when temperatures are at their warmest and is the region's peak season. Things get chilly in winter from November - February, but Christmas markets and snowfall can make it a beautiful time to visit.
Will I have a tour guide as part of my Estonia package?
Yes. You will be fully escorted by a bi-lingual tour leader, and will enjoy the services of English-speaking tour guides for all included sightseeing with our Estonia trips.
Is Estonia a safe destination for travellers from the LGBTQ+ community?
According to the 2022 LGBTQ+ Travel Safety Index, Estonia scores a C+ rating for LGBTQ+ traveller safety, ranking 40th out of 203 countries.

Same sex civil unions or partnerships are legal, and there are constitutional and worker protections in place for people of all sexual orientations. Hate crimes against members of the LGBTQ+ community are partially criminalized and 26 - 50% of consulted citizens consider Estonia a good place to live for gay and lesbian people. There are no legal punishments for same sex relations and most trips for LGBTQ+ travellers to Estonia are trouble-free.

The LGBTQ+ Travel Safety Index is designed to provide a good overall picture of attitudes towards the LGBTQ+ community in each country and may not reflect the experience of foreign travellers to the country.
Can I drink the tap water?
The tap water in Estonia is safe to drink. We recommend bringing along a reusable water bottle on tour - this will save you money and protect the environment by cutting down your plastic footprint.
What transportation do you use in Estonia?
On our Estonia holidays you will travel in a private coach or minibus, depending on the size of the group. There will be frequent stops for sightseeing, and guiding may be in another language as well as English.
What is the currency in Estonia?
The official currency in Estonia and the other Baltic states is the Euro. Check OANDA for the latest exchange rates.
What is the current travel advice for Estonia?
As a UK-based tour operator, we follow the travel advice of the Foreign and Commonwealth Office (FCDO). You can see the most up to date advice for Estonia travel here.
End your Estonia package in Helsinki!
If exploring the Baltics isn't enough, why not join our Baltic Start to Finnish tour which finishes up in Helsinki? You'll explore Lithuania, Latvia and Estonia before taking the ferry across the Gulf of Finland, where you can enjoy a guided city tour and opt to extend your stay to further explore independently, visiting places like the beautiful cathedral and the old town.

Find out more about Baltic Start to Finnish →
The Best of our Estonia Tours
From the Old Town of medieval Tallinn to the Baltic Sea beach resort of Parnu and the stunning Estonian countryside, here are the unmissable highlights from our Estonia trips and indeed any trip to the country!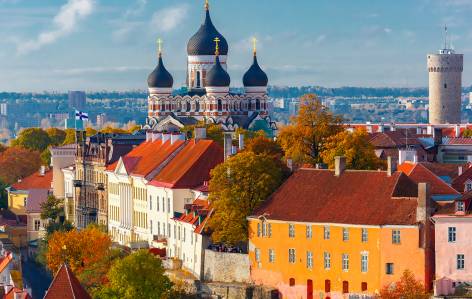 Tallinn
Estonia's capital city is the country's primary destination, and growing in popularity with foreign travellers. Visitors will want to take a guided tour of the medieval Old Town, or visit the old hilltop part of the city, Toompea Hill. Enjoy exploring the cobbled streets, old town square and historic buildings, with wonderful views over the rest of the city.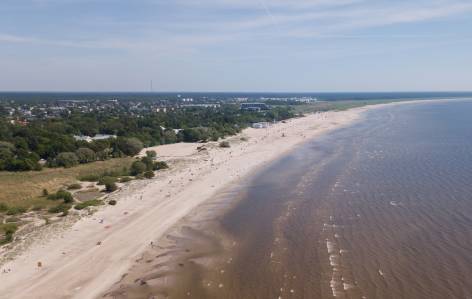 Parnu
The country's premier Baltic Sea (technically Gulf of Riga!) beach resort, Parnu is busy during the country's short summer from June to August. It's popular with Estonians and foreign travellers alike, and the beach is one of the finest in this part of the world, with an unbroken stretch of white sand and a bustling promenade. It's the perfect city for a few days of R&R in summer! Nearby Soomaa National Park is an important bird conservation area.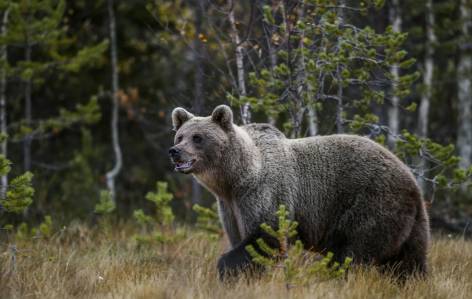 Alutaguse National Park
Predators such as bears and wolves are returning across Europe as the conservation of the natural world intensifies. And Estonia is the bear capital of Europe, with more than 700 of the animals roaming the old-growth forests of Alutaguse National Park. Located in the north of the country, it's an easy visit from Tallinn. Lahemaa National Park is the largest national park in Estonia, and another great option.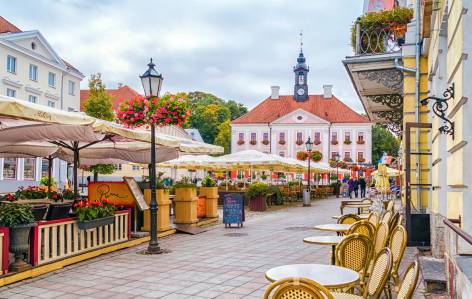 Tartu
Estonia's second city is the country's intellectual hub, with a famous university and a reputation for classical architecture. Visitors to this old city (the oldest in the Baltic states) will want to head to the medieval old town to see some of the ancient churches and other buildings. And there's the and the soup neighbourhood, home to quaint wooden house and rapid modernisation from what was once regarded as one of Europe's last slums.