Introduction to Kerala
Located in the deep south of India, facing the Arabian Sea to the west and backed by the Western Ghats to the east, the state of Kerala is one of the country's most popular destinations. A visit to Kerala means a visit to see the gorgeous patchwork of landscapes that incorporate some 600km of coastline, a network of 44 rivers, and a UNESCO-listed mountain range that towers up to 2700m above sea level. These landscapes may be responsible for the laid-back pace of life that Keralans have adopted, a surprising contrast to the hustle and bustle of northern India. The peaceful backwaters that the state is famous for weave through rural communities, where weathered fishermen and farmers work in simple white dhoti or colourful lungi, a sarong-type item of clothing, while women cook delicious dishes that have been passed on from generation to generation. With a distinctive cultural heritage that has been shaped by Arabic traders, the Hindu religion, and Portuguese colonization, Kerala has a wealth of unique traditions from dance to martial arts, cuisine to ritual theatre, and offers plenty to keep visitors entertained.
Highlights of Kerala
With such stunning scenery there's no shortage of places to explore! To help you plan your visit we've listed some of the top places in Kerala worth visiting.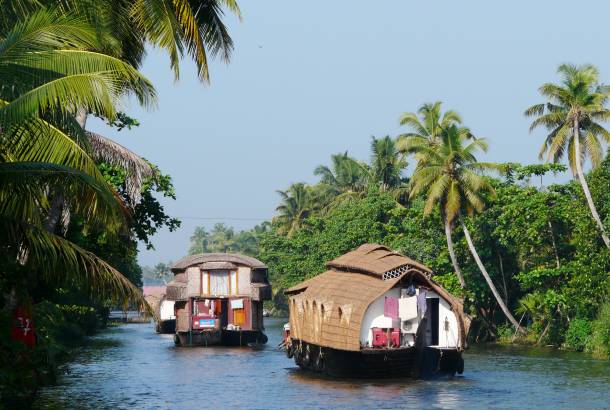 The Kerala Backwaters
Known as the 'rice bowl of Kerala' for the vast paddy fields that are interlaced with dozens of lagoons and lakes, more people visit the region of Kuttanad than any other region in Kerala. The 900km of glittering waterways, dotted with sand bars and tiny islands, meander their way through a lush landscape of palm trees and pandanus shrubs with narrow canals entering onto open lakes where the horizon flattens with rice paddies and low-rise houses and temples. The unique ecosystem of freshwater meeting saltwater provides a home for many unique aquatic species from frogs to kingfishers, otters to turtles, attracting fishermen who quietly sail on small dugout canoes. The best way to explore the region is on a traditional kettuvallam, a rice barge transformed into a comfortable houseboat, whether for a day or over the course of a few with the night spent on board. Experience all of this for yourself with our Captivating Kerala group tour. And why not combine it with the Golden Triangle for a proper Indian adventure?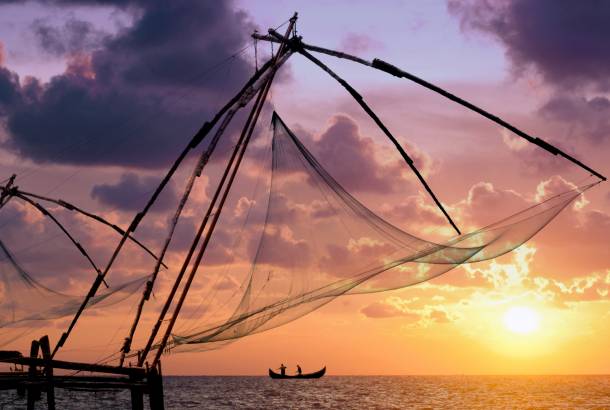 Kochi
As Kerala's second largest city and main commercial hub, Kochi is often the first port of call on any touring itinerary of Kerala. Comprised of the modern centre of Ernakulam on the mainland, the historical towns of Fort Cochin and Mattancherry, and a number of smaller islands reached by a network of ferries and bridges, Kochi offers plenty of options of places to stay and things to do. The atmospheric old town of Fort Cochin is what many people think of when they picture Kochi - charming colonial-era architecture, crumbling seaside battlements and the now-iconic Chinese farming nets. Kochi's history as an important spice trading hub is evident in the shops that line the streets selling a colourful assortment of spices while the Portuguese, Dutch and British influence can be seen in the old mansions and bungalows with their red-tiled roofs, along with the 16th century St. Francis Church.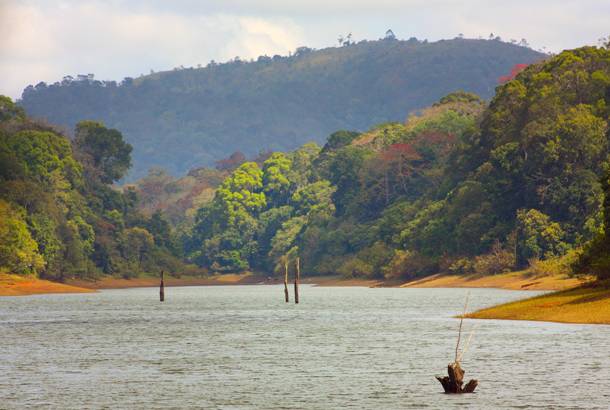 Periyar Wildlife Sanctuary
Situated on the banks of the artificial Periyar Lake and encompassing a 777 square kilometre area of tropical evergreen and deciduous forests, the Periyar Wildlife Sanctuary is one of India's largest and by far the most popular park in southern India. Surrounded by the Cardamon Hills, known for the spice that grows here, the steep and rolling ridges give way to deep valleys ideal for trekking, while the centrepiece reservoir attracts numerous animal species for wildlife spotting opportunities. The area is home to the elusive tiger, wild elephant, bison, sambar, wild boar and langur, some of which can be seen drinking at the water's edge on popular boat trips on the lake, particularly at the height of the dry season (April and May) when the water sources elsewhere are less reliable. Guided walking tours and bamboo rafting trips are the best ways to spot wildlife in Periyar, getting deeper into the forests where the animals are.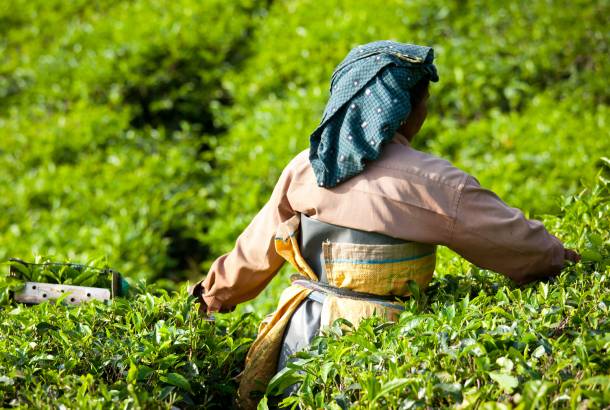 Munnar
At an altitude of 1,600m above sea level and surrounded by undulating hills dotted with verdant plantations, the hill station of Munnar sits in the centre of south India's principal tea-growing region and is one of the best places in Kerala to enjoy a freshly brewed cup. Meticulously manicured tea gardens sit below rugged mountains and grassy ridges that are either veiled by mists or stand in stark contrast with brilliant blue skies. Old colonial bungalows and tea factories punctuate the patchwork of emerald-green where you can see how tea is produced from the picking of the tea leaves to the final processing. The stunning scenery lends itself perfectly to hiking the winding trails through the plantations, grasslands and forested slopes.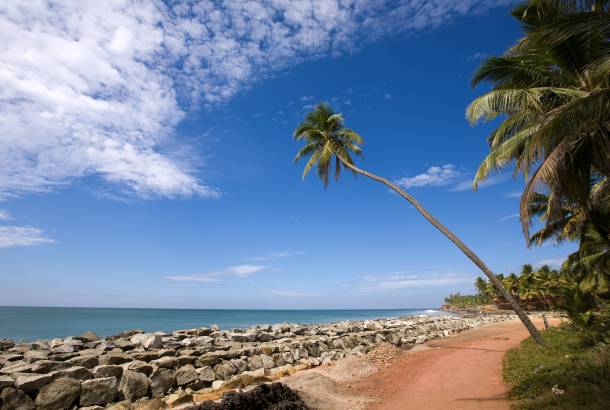 Keralan Beaches
With some 600km of coastline facing the Arabian Sea, there's no shortage of beaches to be found in Kerala, from the idyllic sandy beaches around Vizhinjam in the south to the exquisite and practically deserted beaches around Kannur in the north. The popular resort of Kovalam is the most developed of Kerala's beaches with a paved esplanade and red-and-white striped lighthouse. The beaches around Varkala are the place to go to chill out with numerous yoga schools and ayurveda centres, as well as an important Hindu temple. Located a short distance from Alleppey, the peaceful fishing village of Mararikulam and its adjacent beach is the ideal spot to relax after a cruise on the backwaters, while the 3km-long golden sands of Cherari Beach is a good choice close to Fort Cochin.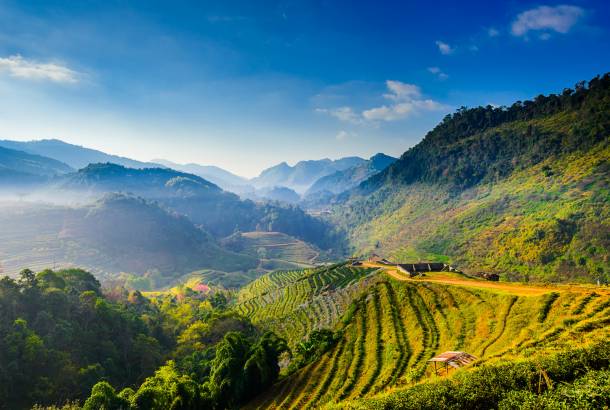 Western Ghats
Running parallel to India's western coast for a distance of 1,600km, the Western Ghats mountain range is an important biodiversity hotspot with over 9,000 different species of plant, thousands of insect species and hundreds of mammal, bird and amphibian species. Older than the Himalayas, the forest ecosystems of the mountain chain not only shelter the Deccan Plateau from the monsoon rains but they also influence the rains themselves. Inscribed a UNESCO World Heritage Site in 2012, the mountains are also home to numerous tribal settlements and their unique cultures. For visitors, the evergreen and deciduous forests offer tremendous trekking opportunities and provide a beautiful backdrop to the numerous hill stations and tea plantations that dot the state of Kerala.
Off the Beaten Track in Kerala
The majority of visitors to Kerala focus on the attractions around Kochi with the north remaining relatively quiet even during peak season. However, there's a host of attractions further along the coast, from deserted beaches to spectacular mountain forests. Here's a list of some off-the-beaten-track destinations worth seeking out, whether you're a first-time visitor to Kerala looking for something a little different or a returning traveller looking for something new.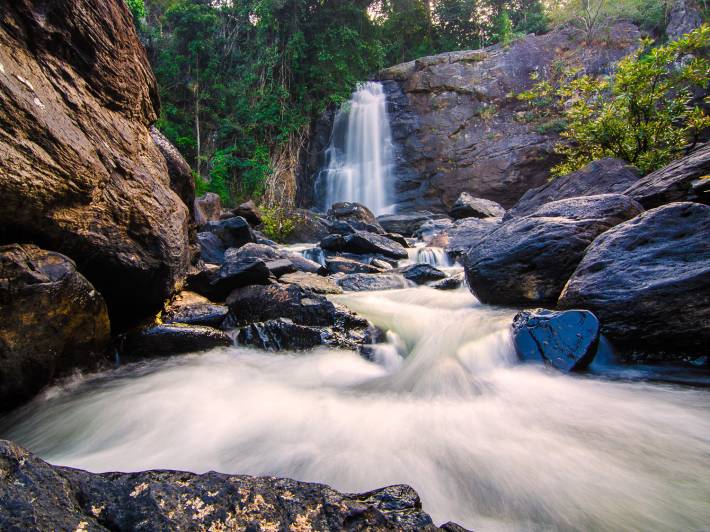 Wayanad
Surrounded by seven mountains in the lesser-visited northern region of Kerala, the hill district of Wayanad is home to some of the most stunning scenery in all of southern India. Encompassing the lofty mountains of the Western Ghats, picturesque rice paddies, semi-tropical savannah, spice and tea plantations and spectacular jungle waterfalls, there are plenty of reasons to visit Wayanad. Stay in upmarket eco-hideaways, spot wild elephants in the Wayanad Wildlife Sanctuary, explore the Edakkal Caves and hike to towering summits.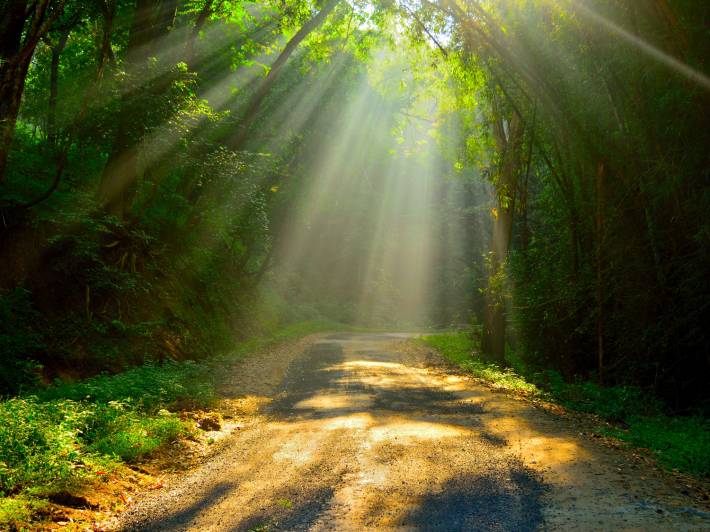 Parambikulam Wildlife Sanctuary
Resembling a scene straight out of Kipling's Jungle Book, the beautiful forests of Parambikulam Wildlife Sanctuary are quickly becoming Kerala's preferred wildlife destination, rivaling the popular Periyar National Park. Located in a remote valley, the sanctuary protects a wide range of species from elephant to panther, macaque to sloth bear, as well as hundreds of bird species and butterfly. Some of the largest teak trees in Asia are found here with a varied landscape of marshes, woodland and mountain streams perfect for nature hikes and jungle expeditions.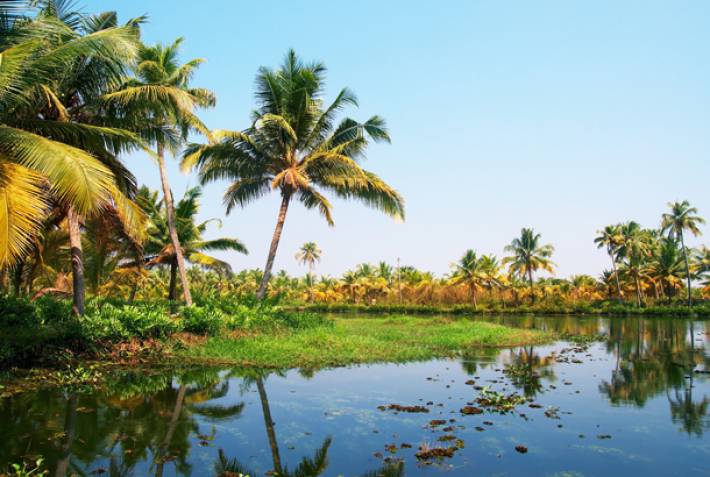 Valiyaparamba Backwaters
Located towards the north of Kerala and comprised of a small 30km delta, the Valiyaparamba backwaters are a quieter and much-less visited alternative to the popular Kuttanad backwaters further south. Here the maze of inland lakes and lagoons see very little traffic, just the occasional fishing boat, and the land is devoid of the dwellings seen elsewhere. It's a great place to get away from the crowds with a select handful of operators offering houseboat cruises and public ferries providing another way of getting around the backwaters while taking in the views.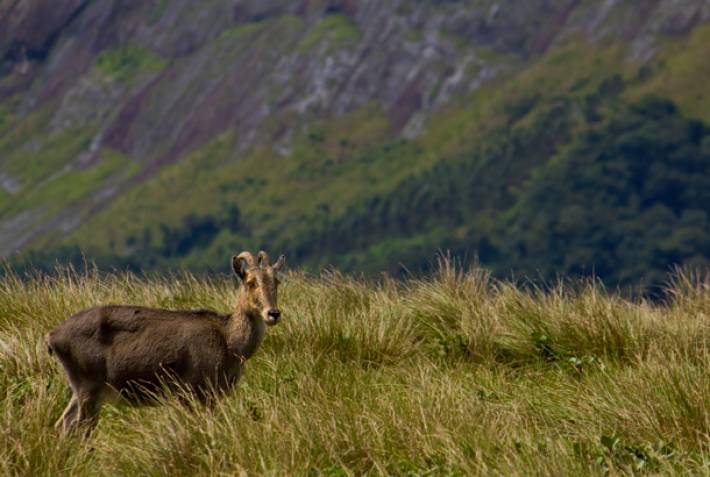 Eravikulam National Park
Like many reserves in Kerala, the Eravikulam National Park in the Western Ghats encompasses an expanse of evergreen forest and rolling grasslands. Not far from Munnar, the park is primarily known as a sanctuary for the endangered mountain goat of South India, the Nilgiri Tahr. No longer driven to the edge of extinction by colonial hunters, the numbers of tahr are today much healthier and Eravikulam practically guarantees you the chance of seeing the creatures at close quarters.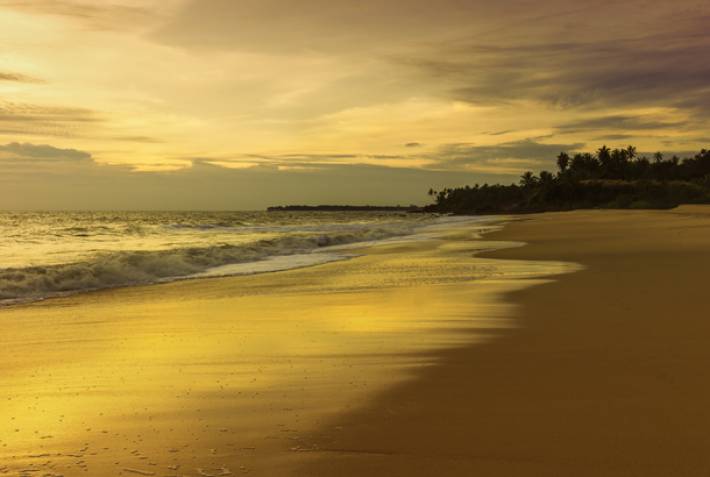 Northern Beaches
Despite the miles of deserted golden beaches backed by palm trees, the far north of Kerala receives surprisingly few international visitors. The town of Kannur has an attractive choice of secluded beaches from the leafy promenade along Baby Beach to the white sands of Palliyamoola Beach. Bekal Beach is known for its fort ruins overlooking the coast while Ezhara Beach is a tropical paradise with laid-back guesthouses - whichever beach you select you're bound to be graced with gorgeous scenery and unforgettable sunsets.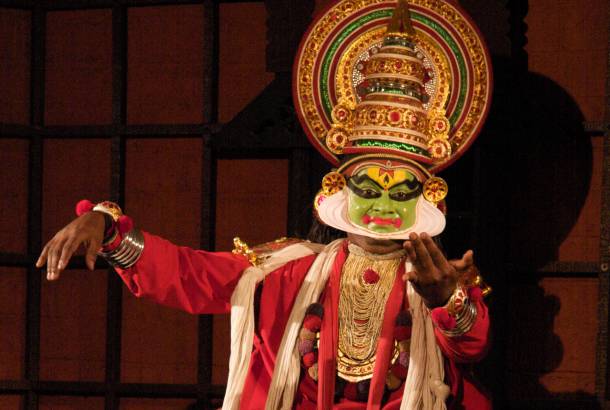 Unique Experiences in Kerala
Geographically endowed with natural beauty and culturally enriched with a long and colourful tradition of sacred arts, Kerala offers an appealing range of unique experiences and here's our choice of some of the best.
Kathakali
The stylized classical Indian dance-drama of Kathakali has become one of Kerala's most iconic images with actors dressed in resplendent costumes and head pieces, and wearing brightly coloured make-up. Depicting the world of gods and demons with elaborate hand gestures and deliberate body movements, the male actors are accompanied by musicians playing percussion and also providing the vocals. Traditionally performances are held in the open-air of a temple complex, running from 10pm until sunrise with nothing but atmospheric flickering lamps to light the stage. In Kochi, one of the best places to see Kathakali, it's possible to attend shorter evening performances and catch the actors made up if you arrive early.
Keralan Cuisine
The rich and varied cuisine of Kerala is a real highlight, particularly the bitter flavour of gourd, the sweetness of juicy mangoes, the freshness of coconut and, of course, the heat of chilli. The Hindu preference for a meat-free diet gives vegetarians numerous options while carnivores will be satisfied with the Christian and Muslim cuisine on offer that features beef, pork, duck and seafood. Dishes to look out for include iddlis - steamed rice cakes soaked in a spicy & sour broth, lentil-based dhals, the fish curry moillee, and uttappams - fermented rice flour pancake-style snacks served with chillis, coriander and chutney. Most South Indians eat with their hands so cutlery may be a limited option in many restaurants.
Homestays
Kerala is a fantastic place to experience a homestay with a number of local families opening their country mansions to visitors. Board and home-cooked meals are provided and the owners will welcome guests and often offer walking tours around the estate and local village. Prices are often higher than a typical hotel but it's a great chance to meet and speak with Keralans and gain an authentic insight into the local way of life. Homestays in Kerala tend to be located in more rural environs with gardens to make the most of the setting.
Snake Boat Races
If you find yourself visiting Kerala during the monsoon season, be sure to check out a snake boat race. Every year between July and September, slender 70m long snake-like vessels hit the rising waters with approximately 100 rowers propelling the boat to the finishing line. Drummers hop on board to provide a rhythmic soundtrack for the oarsmen to row in sync to. There's also a choir singing traditional boat songs to further encourage the rowers. A number of important races are held in and around Alleppey including the spectacular Nehru Trophy Race on the second Saturday of each August.
Kalarippayat
Combining acrobatic combat with the principles of yoga, kalarippayat is Kerala's distinctive and totally unique martial art. Dating back to the 12th century, the specialist fighters are trained in hand-to-hand combat and weaponry that includes swords, spears and shields. It's possible to watch kalarippayat demonstrations at local gyms and tourist resorts.
Ayurveda
With a history that spans some 5,000 years, the holistic medical system of ayurveda is widely practised throughout India and has recently gained popularity in the Western world. Diagnosis and therapy is determined according to physical ailments as well as personality and lifestyle - with an emphasis on the harmony of mind, body and soul. Treatments usually include a vegetarian diet, oil massage and herbal medicine. With South Indians strictly following the ancient Sanskrit roots of ayurveda, Kerala is the perfect place to indulge in a little health tourism either at one of the professional ayurveda hospitals or if it's just a massage you're after, at one of the many spa resorts.
Puram
The annual Hindu festival of Puram held in the temple town of Thrissur is one of Kerala's largest and most colourful festivals with dressed elephants, percussion players and spectacular firework displays. Festivities take place over the course of 36 hours on the day when the moon rises with the Pooram star in the Malayalam Calendar month of Medam (usually sometime in April or May). It's a busy time with thousands of participants and spectators so book well in advance.
Onam Harvest Festival
A 10-day long Onam Harvest is held in the town of Thrissur each year. During this Festival Keralans welcome the mythical King Mahabali into their homes with a banquet known as sadya. What makes the celebrations in Thrissur so remarkable is the slightly wacky pulikali, a procession of men dressed like tigers with masks, striped shorts and intricate body paint with the face of a tiger across their chest and stomach, each one unique. The masked men strut their stuff with wiggling tails, jingling ankle bells and jiggling bellies, accompanied by drummers and out to impress. The event takes place in August/September.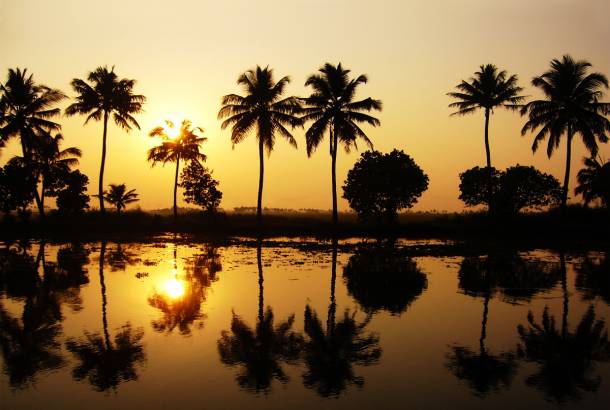 Best Time to Visit Kerala
Kerala experiences three distinct seasons - the cool, dry season between December and February; the hot and humid pre-monsoon season between March and May; and the monsoon season between June and November. Peak season coincides with the cool, dry season when the skies are clear and the humidity more bearable. March brings rising heat and humidity, an uncomfortable time to be sightseeing, and the monsoon brings torrential rains until October - when a second 'retreating' monsoon takes over with shorter and often lighter rains but similar cloud cover.
Fancy a beach holiday? Then the months between December and February are your best bet. This is also a good time for sightseeing and enjoying outdoor activities from backwater cruising to game drives in the national parks.

Many visitors will avoid the monsoon season but this has its advantages. As well as being much quieter and cheaper, this off-peak season is considered a good time to start traditional ayurveda treatment, with climatic conditions believed to increase responsiveness to the therapy. It's also when you'll find the snake boat races being held. The rainy season has one other major advantage - the landscapes are transformed into some of the most beautiful you'll find anywhere in the world. Rivers are full, waterfalls thundering and the scenery greener than at any other time of year. A perfect time for cruising the stunning Kerala Backwaters!
The month of September can offer a bit of a compromise, with a drop in rainfall between the two monsoons and tolerable levels of humidity - a great time of year for sightseeing.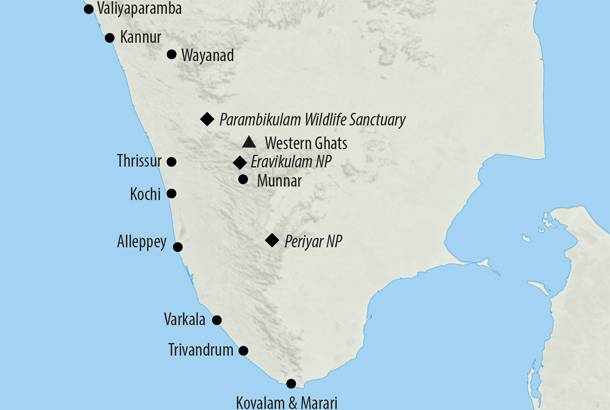 Getting around Kerala
Kerala is served by three international airports - Cochin International Airport, Trivandrum in the south and Kozhikode in the north. The majority of visitors will fly into Cochin (Kochi) with a number of airlines operating routes between the UK, North America, Australasia and South Africa with a stop made in either the Gulf or Southeast Asia depending on which direction you are flying from.
Train journeys are generally considered a quintessential Indian experience. However, if your travels focus solely on the state of Kerala there's little benefit to travelling by train for shorter distances as there are often delays and a private car with driver is often much quicker. If you are heading elsewhere in India then overnight sleeper trains are an economical and comfortable way to travel. The state is well-connected by road so on our tours we generally use road vehicles to get from A to B with journeys lasting around 3-4 hours between the more popular destinations.
Houseboats are the best way to get around the backwaters with cruises ranging from a half day jaunt to a 2-night voyage further into the delta.
The Best Route Around Kerala
The vast number of attractions in Kerala gives you the freedom to explore different touring itineraries. For a taste of the popular attractions, we recommend starting at Kochi and moving upwards to the tea plantations of Munnar and the sweeping rolling hills of Periyar Wildlife Sanctuary, before coming back to the coast for a night or two on a houseboat and freeing yourself a few days to lounge on one of Kerala's many beaches.
If you're visiting some of Kerala's lesser-visited areas then you'd be advised to follow a similar pattern of city, nature, backwaters and beach - starting with the more active part of your holiday and ending with reflection and relaxation. Our tailor-made team are on hand to create the perfect itinerary for you bearing in mind the destinations in Kerala to visit.
Tours of Kerala in India
Here's a selection of our tours that cover some of the many highlights in the state of Kerala from mini breaks cruising the backwaters to longer adventures that explore national parks and tea plantations. You can also browse through our full collection of Indian tours |120911]].