Nicaragua Tours & Package Trips
Uncover the volcanoes, tropical forests and glassy lakes of Nicaragua with our escorted group tour packages.
Discover the wonders of Nicaragua - Central America's largest and yet least visited country, which remains refreshingly untouched by tourism. Sandwiched between Honduras and Costa Rica, Nicaragua has a string of attractions, from miles of dense rainforest, lush tobacco fields and majestic volcanoes, to beautiful lakes and the charming Spanish colonial towns towns of Leon and ancient Granada.
Founded by the Spanish in 1524 and located on the shores of Lake Nicaragua, at the base of Mombacho Volcano, Granada is one of Central America's most charismatic towns and has a distinctly Moorish feel. Ometepe Island is the place to head for relaxation, and Lake Nicaragua is Central America's largest body of water.
Take in all the highlights of Nicaragua and its neighbours with our selection of group tours to the region.
Nicaragua Group Tours
Our Nicaragua group tours combine the country with other Central American highlights, including Panama, Guatemala and Belize. Escorted by a qualified tour leader and with plenty of included sightseeing, these trips are the perfect introduction to the region. You will stay in comfortable mid-range lodges and hotels and solo travellers have the option to room share with another single traveller of the same sex, in order to avoid paying the single room rate.
Explore more countries like Nicaragua
Frequently asked questions about our tours & trips in Nicaragua
When is the best time to visit Nicaragua?
Nicaragua's dry season lasts from November - May and is generally regarded as the best time to visit the country, with warm and dry weather. Jun - October sees heavy rainfall and much of the country becomes difficult to navigate. There's more information in our guide about when to visit!
Will I have a tour guide?
On our Nicaragua group package trips, you will be escorted for the duration of your trip by a qualified local tour leader. They will be on hand for all of your sightseeing and to assist with any questions or problems you may have on tour.
How big are your tour groups in Nicaragua and what is the age of your travellers?
Our tours in Nicaragua depart with a minimum of 4 passengers, and the maximum group size on these trips is 20. The average age of our travellers in Central America is around 50, but we also take people on tour in their 20s and 30s, right up to their 70s and beyond. If you have a reasonable level of fitness, a passion for travel and want to uncover the highlights of Central America, you've come to the right place!
What is the standard of accommodation on your Nicaragua trips?
In Nicaragua and the rest of Central America, we make use of well-located 3-4 star hotels with plenty of amenities. Some hotels offer swimming pools and all serve a delicious daily breakfast.
What sort of transport do you use in Nicaragua?
Our Nicaragua package tours travel across Central America using private, air-conditioned vehicles. We make limited use of public transport too, for example a bus ride in Panama is included on some tours.
What is the currency in Nicaragua?
The currency of Nicaragua is the Nicaraguan Cordoba (NIO). Check OANDA for current exchange rates.
Is Nicaragua a safe destination for travellers from the LGBTQ+ community?
According to the 2023 LGBTQ+ Travel Safety Index, Nicaragua scores a C rating for LGBTQ+ traveller safety, ranking 58th out of 203 countries.

Although same sex marriage is not legal, there are broad constitutional and worker protections in place for people of all sexual orientations. Hate crimes against members of the LGBTQ+ community are criminalized and 51 - 75% of consulted citizens consider Nicaragua a good place to live for gay and lesbian people. There are no legal punishments for same sex relations and most trips for LGBTQ+ travellers to Nicaragua are trouble-free.

The LGBTQ+ Travel Safety Index is designed to provide a good overall picture of attitudes towards the LGBTQ+ community in each country and may not reflect the experience of foreign travellers to the country.
Can I drink the tap water?
We do not recommend drinking the tap water in Nicaragua, as it is likely to make you sick. Stick to bottled or filtered water which is readily available in hotels, restaurants and shops.
As a solo traveller will I have to pay more for my Nicaragua package?
On our Nicaragua trips, we are able to match up solo travellers with another traveller of the same sex, so you don't need to pay a single supplement. If there is not a solo traveller of the same sex for you to share with, you will be given a single room to yourself at no extra cost. Please contact us if you would like to take up the room share option.

If you are a solo traveller who would prefer to guarantee the privacy of your own room then you can choose to pay the single supplement, the price of which is listed on each tour page.
What is the current travel advice for Nicaragua?
As a UK-based company, we follow the latest up to date advice from the Foreign and Commonwealth Office (FCDO). You can see the latest travel advice for your Nicaragua trip here.
Recent Nicaragua & Central America Blogs
THE JEWEL IN NICARAGUA'S ECOLOGICAL CROWN
In the centre of picturesque Lake Nicaragua, is the tranquil island of Ometepe. With its two towering volcanic peaks rising dramatically from the lake, Ometepe is a spectacular sight to behold, blessed with pristine white sand beaches and lush rainforest, which are home to an array of wildlife and ripe for adventure.
The Best of Nicaragua
As the largest country in Central America, Nicaragua is stacked with attractions, many of which you may not be familiar with! These are our top picks for travellers on our Nicaragua tours!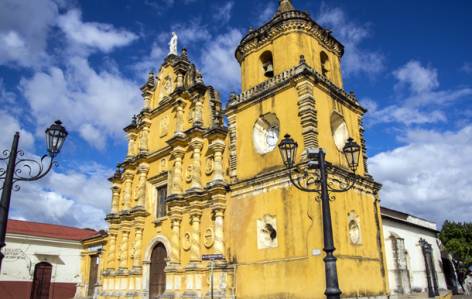 Leon
Nicaragua's intellectual capital is home to a large student population, located in the shadow of Momotombo volcano. An eruption caused the abandonment of the city in 1610, but it was rebuilt to the east, in its present day location. Expect exceptional views of the volcano and Lake Managua.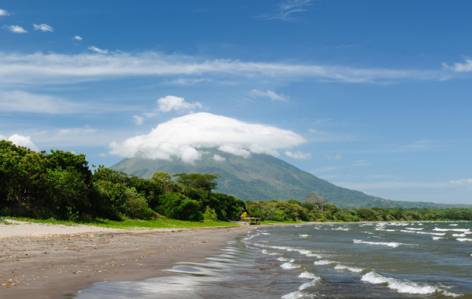 Ometepe Island
A volcanic island in the middle of Lake Nicaragua, Ometepe is a fertile paradise thanks to the volcanic-ash enriched soil. Two volcanoes named Concepcion and Maderas are joined by a strip of land and visitors to the island can hike and horse-ride amongst the lush forest. The island was also once an Indian burial ground, with many important historic relics still visible today.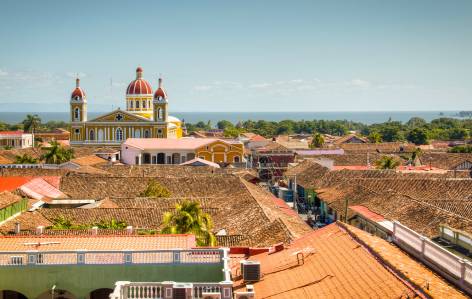 Granada
Historically a major thoroughfare for looted gold, once resplendent Granada is slowly being restored to its former glory. English, Dutch and French pirates have at one time or another invaded the city, on the shores of Lake Nicaragua. Tourism has found its way to the city, with many bars, restaurants and attractions now catering to visitors.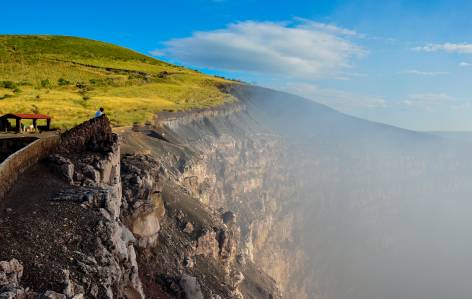 Masaya National Park
One of Nicaragua's many natural gems, visitors to Masaya National Park can spend their time here discovering the active volcano and surrounding crater lakes, or hiking to see the hilltop fortress of Coyotepe. Dusk is a great time to see thousands of bats emerging from Tzinaconostoc Cave and other wildlife to spot in the park includes a variety of monkey species and iguana.