As one of the best-known archaeological sites South America, Machu Picchu is a must for all visitors to Peru. Situated on a mountain ridge above the Urubamba River and surrounded by tropical forest, the Inca city enjoys a truly spectacular setting. Believed to have been built as an estate for the Inca emperor Pachacuti, the site was abandoned at the time of the Spanish Conquest though remained unknown to the Spanish, perhaps explaining the city's surprising state of preservation. Since its discovery in 1911, many of the outlying buildings have been reconstructed to give visitors a better idea of the grandeur of the structures. Explore the Inca ruins with our range of day tours and excursions to Machu Picchu, ready to book online in an instant.
Next Departures - Machu Picchu Day Tours and Excursions
Best things to do in Machu Picchu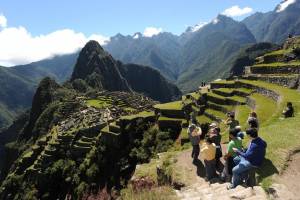 14 hours
FROM USD $372.90
Visit the breathtaking Inca citadel of Machu Picchu on this all-inclusive day tour from Cuzco with...
Planning a longer visit to Peru?
Browse some of our popular multi-day trips that spend a day or more in Machu Picchu. Alternatively, if you would like to include a visit to Machu Picchu on a bespoke touring itinerary to Peru, take a look at our tailor-made holiday planning section.
Peru Day Tours and Excursions
A few hours to spare? Get a new taste of Peru on a day tour. From the bustling streets of Lima. Through the treasures of Cusco and the Sacred Valley. To the iconic heights of Machu Picchu.