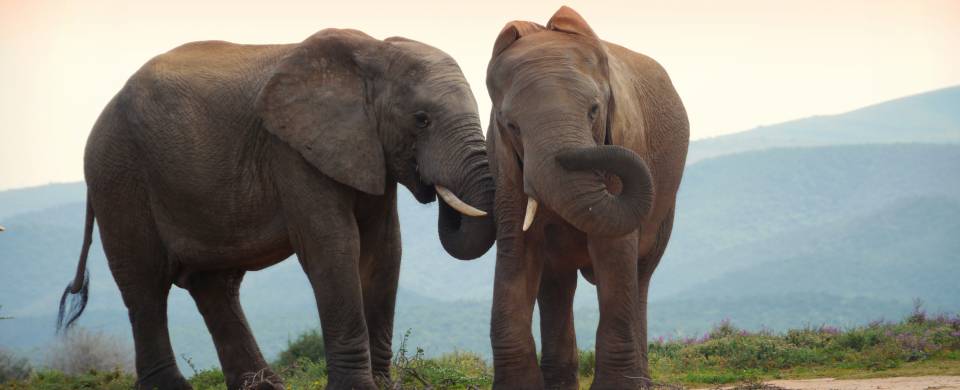 Trips and Tours to Addo Elephant Park
About Addo Elephant Park
As the third largest national park in the country, Addo Elephant Park is an important area dedicated to the conservation of elephants. Whilst formerly it was intended purely as a sanctuary for the eleven remaining elephants in the area, it has, since its inauguration, expanded and is now home to dozens of other animals. The park is lined on one side by the Sundays River, which feeds in from the Indian Ocean and adds to the rich landscape. While the river itself is shark-free and great for fishing, the immediate area outside of the mouth of the river has a huge population of hammerhead and great white sharks.
Read More
Naturally, there are plenty of walking and hiking trails that run throughout the area and can be undertaken by foot or by horseback, allowing explorers to get better acquainted with the area. There is also the option of touring the park in a 4x4. For more information about the park and the magnificent creatures that inhabit it, all visitors should pay a visit to the onsite interpretive centre.
Surrounding the park are the Zuurberg Mountains, from which a panoramic view of the Addo Elephant park can be had. Within the mountains and the park itself are several archaeological sites worth visiting as various forms of Bushman rock art can be seen there. In addition to this, the park also has a marine reserve, which includes the St Croix and Bird islands, both of which are home to African penguins. The inclusion of this section has allowed Addo to be the only park in the world which can boast the Big 7: elephant, lion, buffalo, rhino, leopard, southern right whale and great white shark.