Namibia Tours & Safari Trips
Uncover the wildlife and scenery of Namibia on one of our camping or lodge-accommodated tours and safaris.


Nestled between the dusty plains of the Kalahari Desert and the chilly Atlantic Ocean lies Namibia. A country of striking natural beauty and dramatic landscapes. Particularly striking is the shifting sand sea of the ancient Namib Desert and the apricot-coloured dunes of Sossusvlei in Namib-Naukluft National Park. In contrast, stand amongst the blackened trees of the surreal Petrified Forest, the harsh but beautiful Skeleton Coast, charming Windhoek, and the tropical waterways of the Caprivi Strip.

Namibia is also a particularly special wildlife holiday destination. Etosha National Park is the country's premier wildlife reserve, home to incredible wildlife and spectacular salt pans. Specially adapted desert elephants survive in Damaraland, which is also home to ancient rock art. And the Caprivi Strip is a birdwatcher's paradise.

Discover Namibia's highlights for yourself with our overland camping and lodge accommodated safari packages, each offering a different style of adventure travel. However you decide to explore, Namibia is a destination that never fails to impress.
Namibia Overland Camping & Accommodated Safaris
Overlanding is as much about the journey as the destination, and with our overland safaris, you get to see the real Namibia. Take in all the main highlights of this country and its neighbours, from South Africa to Botswana. Travelling overland in one of our hardy trucks, you'll be fully escorted by an experienced two-person crew. On these overland safaris everyone pitches, helping with the cooking, cleaning and setting up camp. You'll be able to erect and take down a tent in minutes by the end of your trip! On our camping safaris you'll sleep on a roll mat in two-man dome tents amongst Namibia's beautiful scenery, surrounded by the sounds of the wild. On the majority of tours we also offer an accommodated upgrade. You'll travel with those on the camping safari and help with the chores but stay in budget accommodation at the campsites rather than in tents.

For more information about any of our Namibian camping safaris, please contact our team.
Namibia Comfort Camping Safaris
Our comfort camping safaris are ideal for the over 40s and also welcome families with children aged 10 and above. On these overland safaris you can sit back and relax as your experienced three-person crew sets up camp, prepares your meals and cleans up, so you don't need to lift a finger. In addition, you'll enjoy the comfort of sleeping on a camp bed rather than a roll mat and benefit from at least three nights in a hotel, including the first and last night of the tour. These are small group safaris (maximum size of 16), escorted by a licensed African guide.
Namibia Lodge Safaris
Our lodge safaris in Namibia offer significantly upgraded accommodation when compared to our camping holidays! Staying in some of the country's best lodges and chalets, there is not a tent in sight on these trips! They also tend to have smaller groups than our camping safaris and they are fully escorted by a qualified tour guide, who also serves as your driver. These trips are packed with inclusions, such as game drives in the wild of Etosha National Park, and a walk across the famous sand dunes of the Namib Desert. And you'll visit plenty of other highlights in Southern Africa, from Cape Town to Botswana's Okavango Delta!
Private Namibia Tours
Take the wheel as you embark on a private self-drive Namibia adventure. Pick up your rental car in Windhoek and travel between the country's main highlights, including Etosha National Park, Swakopmund, the Waterberg Plateau and Sossusvlei, with plenty of included activities. This tour can depart any day of the year, get in touch to find out more!
Explore more countries like Namibia
See the sights of Cape Town: Combine Namibia and South Africa
South Africa is one of the most popular destinations on the African continent, and it boasts Namibia as its next-door neighbour! It makes sense then, to combine the two countries, and our tours help you to do this easily!

Many of our Namibia holidays travel to both, meaning you can coincide your trip to Etosha National Park and Sossusvlei with exploring Cape Town and other destinations in the country. Get in touch today to find out more!
Frequently asked questions about our Namibia safari tours
Will I see the Big Five on your Namibia safaris?
The Big Five are the five species most sought after by travellers on a Namibia safari. They are lions, leopards, elephants, rhinos, and buffalo.

We give our travellers the best chance possible to spot these animals on their Namibia tour, with included game drives in the country's main wildlife destination: Etosha National Park.

Etosha National Park is home to four of the five, with the exception of the buffalo, though around 5,000 of these animals do live in the Caprivi Strip. If you travel on one of our longer Namibia trips that pass through neighbouring countries such as Botswana, then you'll have a much better chance to see all five species in places like the Okavango Delta and Chobe National Park.

Of course, no wildlife encounters can be guaranteed on our Namibia holidays, as wild animals are unpredictable. Leopards in particular are hard to search for, because they are well camouflaged and mostly nocturnal. But you are sure to see some incredible wildlife, and you never know, you may be able to tick off all five on your Namibia tour!
When is the best time to visit Namibia?
May - October is the dry season and a great time to visit the country for wildlife holidays, with pleasant weather and wildlife gathering around fewer watering holes, making it easier to find. January - June are the warmest months to travel for a beach break in Swakopmund. You can find a more detailed guide on when to visit Namibia here.
What do I need to pack for my camping safari package to Namibia?
If you travel on one of our camping trips, we recommend you read our guide to overland camping safaris before your holiday. You can also see a detailed packing list in the Trip Notes for each tour, which we suggest you read before you travel!

Some of the important items to remember are: sleeping bag, travel pillow, towel, Mosquito spray (with active DEET ingredient), your own personal first aid kit, torch, antibacterial wipes, a photocopy of your passport data, and your Yellow Fever Vaccination Certificate.

Please note that on our comfort camping safaris, camp bed, mattress, sleeping bag and pillow are provided.
What is the local payment for on your safaris?
The local payment is a cost per person that needs to be paid in US Dollars cash only. It is this payment that in part covers the park fees and other inclusions such as meals as detailed on each tour page. The local payment also covers your arrival transfer and first night's accommodation.

Our comfort camping safaris also have a small local payment, to be paid in South African rand or USD (check each tour for details) at the start of your trip.

Please note that due to exchange rate fluctuations in the US dollar, the local payment amount may be subject to changes. This payment will be collected by your tour leader at the Welcome Meeting on day 1 of your escorted tour. Our Reservations team can give you more information about the local payment, the cost of which can be found on each tour page.
How big are the groups on your Namibia tours?
On our Namibia overland camping safaris, the maximum group size is 30, and these trips depart with a minimum of 4 passengers. Our comfort camping safaris have smaller groups, with a maximum size of 16.

On our Handpicked Namibia holidays, the group size is smaller, with a maximum size of 16. These trips depart with a minimum of 4 travellers.
Will I be escorted by a tour guide on my Namibia trip?
When you travel on one of our overland camping trips in Namibia you will be escorted by a three-person crew comprised of a qualified tour leader who will act as your guide, as well as a driver and cook. On our comfort camping tours you will be escorted by a three-person team including a qualified African guide.

On our lodge accommodated tours, you will be fully escorted by an experienced local guide, who will also act as your driver.
Is Namibia a safe destination for travellers from the LGBTQ+ community?
According to the 2022 LGBTQ+ Travel Safety Index, Namibia scores a D rating for LGBTQ+ traveller safety, ranking 97th out of 203 countries.

Although same sex marriage is not legal, there are legal protections for workers based on their sexual orientation, and 26 – 50% of consulted citizens consider Namibia a good place to live for gay and lesbian people. There are legal punishments for same sex relations but in 2021 discrimination against the LGBTQ+ community became illegal in some contexts. LGBTQ+ travellers to Namibia generally do not encounter any problems.

The LGBTQ+ Travel Safety Index is designed to provide a good overall picture of attitudes towards the LGBTQ+ community in each country and may not reflect the experience of foreign travellers to the country.
Is the tap water safe to drink in Namibia?
Travellers are sometimes surprised to hear that the tap water in Namibia is generally considered safe to drink, particularly in larger towns and cities. However, it can be heavily chlorinated, which can cause bad taste and stomach upsets so it is generally recommended to drink filtered and bottled water where possible on our Namibia safari tours. However, the tap water should be fine for activities such as brushing your teeth.
As a solo traveller will I have to pay more for my Namibia package?
On our overland camping trips (excluding comfort camping), solo travellers will be matched up with another solo traveller of the same sex, with whom they will share a tent. If there is no other solo traveller of the same sex on the tour, you will have a tent to yourself at no extra cost.

On our Handpicked lodge safaris, a single supplement applies for solo travellers. The cost of this can be seen on the tour page for each trip.
What is the current travel advice for Namibia?
As a United Kingdom-based company, we follow the latest up to date travel advice from the Foreign and Commonwealth Office (FCDO). You can see the latest travel advice, current travel health news and local laws for Namibia here. You can also find passport and visa information for Namibia in our guide.
SAND DUNES IN THE DESERT ON OUR NAMIBIA TOURS
The sand dunes of Sossusvlei and the surrounding Namib Desert scenery are simply remarkable. Reaching heights of 380 metres and covering a vast area of 32,000 sq km, these are some of the highest sand dunes in the world, taking centuries to form with oxidised sand of stunning red, orange and pink hues. Located 45km from the Sesriem Gate, Dune 45 is one of the most accessible in the country, and offers an unparalleled desert sunrise experience.
The Best of Our Namibia Trips
With awe-inspiring natural beauty, otherworldly landscapes, and charming colonial towns, Namibia is a top adventure travel destination in Africa. Our escorted safaris travel to all the hot spots. Here are a few of them to get you inspired, from the wildlife-rich Etosha National Park to the adventure capital of Swakopmund, the Skeleton Coast, and the mighty sand dunes of Sossusvlei. Now you just need to decide which Namibia package is the one for you!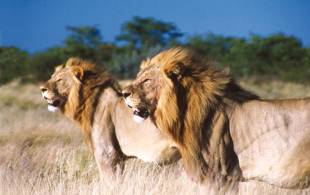 Etosha National Park
Head out in search of Namibia's resident wildlife with game drives in the vast Etosha National Park - where lions, rhinos, giraffes, and more all roam freely. Plus enjoy a stop at the huge salt pans, where wildlife is even easier to spot!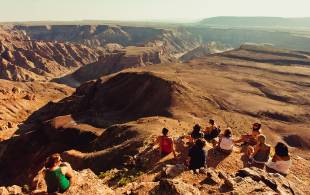 Fish River Canyon
Gaze in awe at the Fish River Canyon, the second largest canyon in the world and one of the most impressive landmarks in the country. Take in the scenery with stops at several viewing points where the surrounding landscapes stretch all the way to the horizon.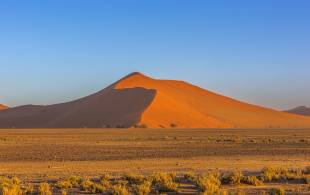 Namib Naukluft National Park
Home to some of the most dramatic sand dunes in the world, visitors to Namib Naukluft National Park will want to explore the iconic Deadvlei with its blackened forest of trees. And make sure to scale the dizzying heights of Dune 45 for a spectacular sunrise view of the surrounding Sossusvlei desert scenery.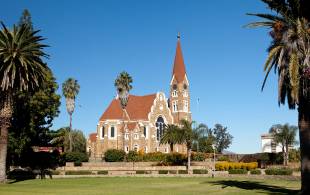 Windhoek
A small but captivating capital city, your Namibian adventure is likely to start in Windhoek. The main sites of the capital can easily be covered on foot, with highlights including Namibia's National Museum, Christ Church, and plenty of German architecture left over from colonial times.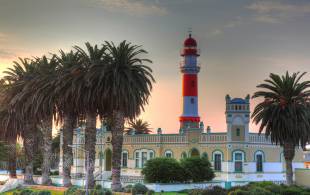 Swakopmund
Enjoy some time at leisure in the charming town of Swakopmund on the west coast of Africa, Namibia's premier seaside resort with a strong German influence. Or choose from an array of excursions and activities. Swakopmund is also a great starting point for travel along Namibia's famous Skeleton Coast.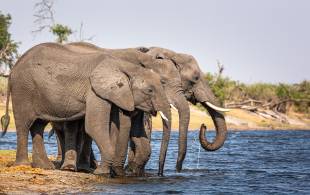 Caprivi Strip
Stretching for 450km but just 30km wide in places, and bordering Botswana, Angola, and Zambia, the Caprivi Strip is the result of some historic political wrangling. It's a tropical region, home to much of Namibia's best wildlife, and its water. Five rivers cut through this narrow but critically important area.