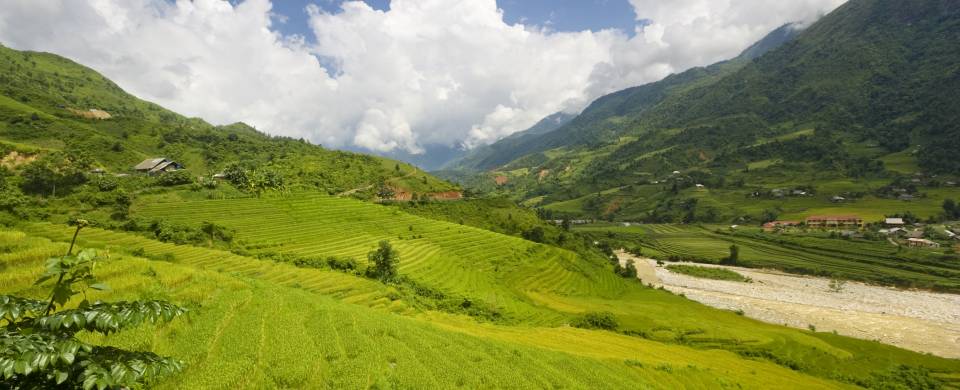 Trips and Tours to Sapa
About Sapa
Located 1500m above sea level, Sapa is a former French hill station nestled in the rugged Tonkinese Alps on the slopes of a spectacular lush valley of cascading rice paddy fields. Here, farmers in conical hats plough the fields with water buffalo and local ethnic minority groups (such as H'mong and Dzao) maintain their age-old traditions, including their own languages and intricately embroidered traditional clothing. Sapa is full of colour thanks to these local tribes people who head into town each day to trade at the local markets with their bright clothing and wonderful range of handicrafts. For shopping Sapa is a delight with a multitude of minority groups producing beautiful jewellery, clothing, accessories and souvenirs.
Read More
Tourism has had an inevitable impact on this charming little town and the local tribes people have become savvy traders accompanying trekkers on their hikes in the hope of selling a few handmade wares. The tourism boom in Sapa has brought with it new restaurants and boutique accommodation springing up across the hillside, all vying for the best views of the valley, which means more choice for visitors using the town as a base for trekking.
Sapa is an overnight train journey north west from Hanoi into the mountains near the Chinese border. Cooler than the city, Sapa is ideal for hiking in pristine scenery and visiting the ethnic minority villages. Depending on your fitness level you can arrange anything from gentle walks to challenging hikes. Popular excursions from Sapa include treks to picturesque local villages such as Cat Cat, Red Dhoa and Ta Phin. Spectacular scenery is guaranteed on any trek in the area.