Waterfalls, wildlife, and wine... book a guided Argentina package with On The Go Tours
Think Argentina and you're likely to conjure up images of wild roaming gauchos, world-class wine and steak, plus the sexy Tango. Not forgetting the country's top natural attractions - the magnificent Iguazu Falls and the awe-inspiring Perito Moreno Glacier, which demonstrate that Argentina is a land of remarkable variety.
Visit cosmopolitan Buenos Aires, a vibrant city full of lovely green parks, plazas and wide boulevards. Take in beautiful Bariloche, a famous winter ski resort full of charming chalets and chocolate shops, surrounded by the towering peaks of the Andes. Marvel at Perito Moreno Glacier in Los Glaciares National Park, renowned for its magnificent scenery and trekking. And spot penguins, whales, and puma amongst the stunning scenery of Argentinian Patagonia, the gateway to the Antarctic Peninsula, South Georgia, and beyond.
From Buenos Aires to Bariloche, discover the best of the country on one of our guided group Argentina trips or private holidays.
Argentina Group Tours
Our escorted group tours in Argentina take in the very best of the country and its South American neighbours, including Chile, Brazil, Peru, and Bolivia. Explore the rugged landscapes and national parks of Patagonia, salsa through the streets of Buenos Aires, admire thundering Iguazu Falls and visit Ushuaia, the city at the end of the Earth.

Our Argentina trips are escorted by a tour leader and stay in a great mix of 3 - 5 star hotels. There are loads of included meals, including daily breakfast, plenty of sightseeing, and arrival and departure airport transfers are included as standard for a hassle-free start and end to your trip! For more information about any of our Argentina tours, do not hesitate to contact our Reservations team.
Argentina Private Trips
If you would like all the benefits of our group tours but on a private trip with just your friends or family, then these private Argentina itineraries may be for you! These tours are ready to be booked off the shelf, and you can choose from a variety of accommodation standards to match your budget. Our local guides will be on hand for all included sightseeing with your package, and these trips can depart any day of the year, giving you the ultimate flexibility! They take in the popular tourist destinations such as Buenos Aires, but we also offer trips in the less-visited northwest Argentina regions of Salta and Purmamarca.
More destinations like Argentina
Frequently asked questions about our Argentina trips
Will I visit Buenos Aires on my Argentina package?
Buenos Aires is the Argentinian capital and one of the country's most popular destinations. All of our trips spend two nights in Buenos Aires, with guided sightseeing to all the main highlights and free time so you can take in a tango show! Some trips start or finish in Buenos Aires, whilst on Highlights of South America you pass through on your way to Peru, but you'll get to take in the highlights of Buenos Aires on whichever tour package you choose!
When is the best time to visit Argentina?
Argentina is a year-round destination with four distinct seasons. If visiting Patagonia for an exciting adventure, then December - March is considered the best time to visit, whilst the cooler months of April - October are best suited to exploring Buenos Aires. You can find more detail in our Argentina travel guide.
Will my Argentina package be guided?
Yes! Your Argentina tour will be fully escorted by a qualified tour leader. At certain attractions, you will also enjoy the services of specialist guides, who will be able to tell you more about the history and detail of sites of interest.
How big are your tour groups in Argentina and what is the age of your travellers?
Our Argentina tours depart with a minimum of four passengers and have a maximum group size of 20.

The average age of our travellers is around 48, though we also welcome lots of people in their 20s and 30s on our holidays, as well as older passengers into their 70s. if you have a sense of adventure and a desire to see the world, then you'll fit right in on our group tours!
What is the standard of accommodation on your Argentina trips?
What sort of transportation do you use?
Airport arrival and departure transfers are included on all of our Argentina group tours and most relevant transportation is in private vehicles.

Where necessary, we also make use of public transportation including buses, trains and boats. Your tour leader will handle the logistics so you needn't worry about missing the bus or train!

On tours where we travel across multiple countries, some internal flights are also necessary. These are included in the cost of your tour and are clearly labelled on the itinerary for each tour page.
Is Argentina a safe destination for travellers from the LGBTQ+ community?
According to the 2022 LGBTQ+ Travel Safety Index, Argentina scores a B rating for LGBTQ+ traveller safety, ranking 26th out of 203 countries.

Same sex marriage is legal, and there are some constitutional and worker protections in place for people of all sexual orientations. Hate crimes against members of the LGBTQ+ community are criminalized and 51 - 75% of consulted citizens consider Argentina a good place to live for gay and lesbian people. There are no legal punishments for same sex relations and most trips for LGBTQ+ travellers to Argentina are trouble-free.

The LGBTQ+ Travel Safety Index is designed to provide a good overall picture of attitudes towards the LGBTQ+ community in each country and may not reflect the experience of foreign travellers to the country.
Can I drink the tap water in Argentina?
The tap water is generally safe to drink in larger towns and cities, such as Buenos Aires. However, it has a high mineral content which your stomach may not be used to, so it can cause stomach upsets. In more remote areas, the tap water is not considered safe to drink.

To be safe, we recommend sticking to filtered or bottled water, which is readily available in shops, hotels, restaurants, and elsewhere in the country.
As a solo traveller will I have to pay more for my package to Argentina?
On our Argentina group tours, we are able to match up solo travellers with another traveller of the same sex, so you don't need to pay a single supplement. Please contact us if you would like to take up the room share option. If there is not a solo traveller of the same sex for you to share with, you will be given a single room to yourself at no extra cost.

If you are a solo traveller who would prefer the privacy of your own room then you can choose to pay the single supplement, the price of which is listed on each tour page.
What is the current travel advice for Argentina?
As a UK-based company, we follow the latest up to date advice from the Foreign and Commonwealth Office (FCDO).
You can see the latest travel advice and local laws for Argentina
here.
WINE AND TANGO ON OUR ARGENTINA TRIPS
Enjoy two of Argentina's best experiences with a visit to Mendoza, the wine capital of the country, and the alluring city of Buenos Aires for a tango show. Surrounded by vineyards and local bodegas offering wine tasting sessions, Mendoza is the best place to sample a glass of vino while Buenos Aires offers ample opportunity to catch a traditional tango show and dinner or simply hit the district of San Telmo where performers shake their tail feathers out on the streets.

Recommended tour: Waterfalls, Wine & Wilderness →
The Best of our Argentina Trips
Seductive European-influenced cities. Gorgeous vineyards. Rumbling glaciers. And the city at the end of the world. There are numerous reasons why Argentina should be your next holiday destination. Here are a few of the best places you could visit on your Argentina package, from Buenos Aires to the Perito Moreno Glacier and Iguazu Falls.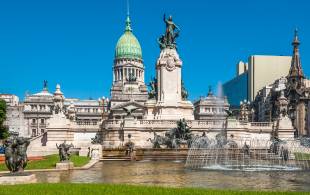 Buenos Aires
Capital city of the land that gave us tango and steak, Buenos Aires is a modern metropolis filled with European-style architecture and a distinctly Latin charm, which is utterly unforgettable. Visitors should explore Buenos Aires on a walking tour in order to make the most of everything it has to offer, including the historical Obelisco in the Plaza de la Republica.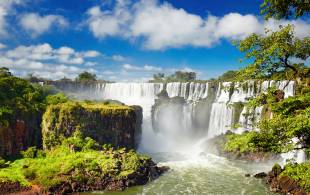 Iguazu National Park
Home to the majestic Iguazu Falls, which stretch out through Argentina and Brazil, Iguazu National Park should not be missed by anyone passing through the region. Few places on earth can compete with Iguazu Falls with regards to showing what Mother Nature is capable of. There are plenty of lookout points from which visitors can get the perfect shot of the cascades, and the falls can also be viewed by helicopter.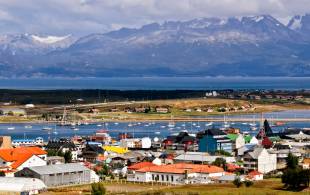 Ushuaia
Ushuaia is the most southern city in the world and the gateway to nearby Tierra del Fuego. It is also the starting point for our Antarctic expedition cruisesto South Georgia and beyond. The town itself is a unique place to explore, and there is plenty of great scenery to delve into on foot, bicycle, boat, or horseback. The Museum of the Prison of Ushuaia is also worth visiting - formerly a high-security prison, it is now a fascinating museum.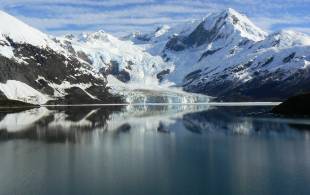 Tierra del Fuego
Literally translated as 'Land of the Fire', Tierra del Fuego spans Argentina and Chile and is an archipelago at the southernmost tip of Patagonia. In 1960 a portion of the area was declared a national park and now has several different paths and trails, varying in difficulty, which visitors can follow in order to explore the natural beauty and rugged landscape in more depth. Most who choose to visit this region base themselves in nearby Ushuaia.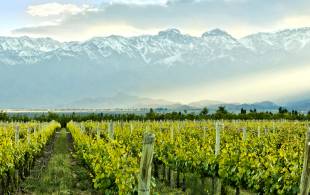 Mendoza
Argentina's wine capital, Mendoza draws in visitors from all over the world. However, this vineyard-filled region has a lot more to offer than just Malbec, with fly fishing, horseback tours and excursions sampling the local gourmet cuisine just a few of the activities available to those who venture here. With snow-capped mountains in the background and colourful fields on the outskirts, it's hard to find a reason not to visit Mendoza.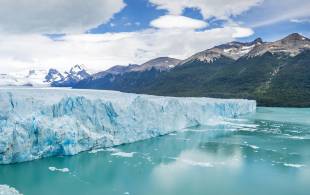 Los Glaciares National Park
Los Glaciares National Park is home to the incredible Perito Moreno Glacier, one of Argentina's undisputed highlights. The glacier covers more than 250 square kilometres and is bucking the trend of our warming world as one of the only glaciers worldwide to actually be growing in size. A range of walkways and viewing spots offer incredible views of the Perito Moreno Glacier and the rest of the park's spectacular scenery.