Mexico Tours & Package Trips
Marvel at Mayan Ruins. Discover picturesque natural wonders. And explore enchanting cities on our range of escorted Mexico tours.
Touch down in magnificent Mexico. Home to the Mayan ruins of Palenque and Chichen Itza. Stunning sandy beaches. The azure waters of the Yucatan Peninsula. Snow-capped mountains and volcanoes. Beautiful highlands, forests and lakes.
Our Mexico group tours are escorted by a knowledgeable local tour leader. They include accommodation in comfortable 3-4 star hotels and private transportation. You won't miss a thing in Mexico, taking in the country's capital, Mexico City and the legendary ruins of Chichen Itza, one of the New Seven Wonders of the World.
Mexico Group Tours
Our 15-day Mexico City to Mayan Ruins group tour takes in the highlights of southern Mexico and the Yucatan Peninsula, including Chichen Itza, one of the Seven Wonders of the World. Escorted by a qualified tour leader, this tour includes all of your accommodation and transportation, including an internal flight. All your sightseeing is included too, but you will also have free time to further explore or relax in the hotel at leisure. We think it's the best way to explore Mexico!
Explore more countries like Mexico
Frequently asked questions about our Mexico tours & trip packages
What time of year is best for visiting Mexico?
Mexico's dry season lasts from December - April and is characterized by virtually no rainfall, making it an ideal time to visit the country. Temperatures are still warm, perfect for sightseeing or relaxing by the beach in Cancun or Playa del Carmen. The wet seasons lasts from May - October and is generally quieter, which can make it a good time to visit attractions such as Chichen Itza. There's more information in our guide on when to visit!
Will I be escorted by a tour guide in Mexico?
On our Mexico package tours, you will be escorted for the duration of your trip by a qualified local tour leader. They will be on hand for all of your sightseeing and to assist with any questions or problems you may have on tour.
How big are your tour groups in Mexico and what is the age of your travellers?
Our tours in Mexico depart with a minimum of 4 passengers, and the maximum group size on these trips is 20. The average age of our travellers in Central America is around 50, but we also take people on tour in their 20s and 30s, right up to their 70s and beyond. If you have a reasonable level of fitness, a passion for travel and want to uncover the highlights of Central America, you've come to the right place!
What standard of accommodation do you use in Mexico?
In Mexico, we make use of well-located 3-4 star hotels with plenty of amenities. Some hotels offer swimming pools and all serve a delicious daily breakfast.
What transportation do you use in Mexico?
In Mexico we make use of private, air-conditioned vehicles for all of your transportation. Internal flights are also included where relevant and as per each itinerary.
What is the currency in Mexico?
The currency of Mexico is the Mexican Peso (MXN). Check OANDA for current exchange rates.
Is Mexico a safe destination for travellers from the LGBTQ+ community?
According to the 2023 LGBTQ+ Travel Safety Index, Mexico scores a B- rating for LGBTQ+ traveller safety, ranking 42nd out of 203 countries.

Same sex marriage is legal and there are broad constitutional and worker protections in place for people of all sexual orientations. 51 - 75% of consulted citizens consider Mexico a good place to live for gay and lesbian people. There are no legal punishments for same sex relations and most trips for LGBTQ+ travellers to Mexico are trouble-free.

The LGBTQ+ Travel Safety Index is designed to provide a good overall picture of attitudes towards the LGBTQ+ community in each country and may not reflect the experience of foreign travellers to the country.
Can I drink the tap water when travelling in Mexico?
The tap water in Mexico is not considered safe to drink and may make you unwell. We strongly recommend sticking to filtered and bottled water throughout your time in Mexico. This is readily available in shops, restaurants and hotels. Avoid ice in your drinks in case this has been made with tap water.
As a solo traveller will I have to pay more to travel to Mexico?
On our Mexico trips, we are able to match up solo travellers with another traveller of the same sex, so you don't need to pay a single supplement. If there is not a solo traveller of the same sex for you to share with, you will be given a single room to yourself at no extra cost. Please contact us if you would like to take up the room share option.

If you are a solo traveller who would prefer to guarantee the privacy of your own room then you can choose to pay the single supplement, the price of which is listed on each tour page.
What is the current travel advice for Mexico?
As a UK-based company, we follow the latest up to date advice from the Foreign and Commonwealth Office (FCDO). You can see the latest travel advice for your Mexico trip here.
The Best of Mexico
Mexico boasts two main drawcards for travellers. First are the blissful beaches of the Yucatan Peninsula, especially the resorts of Cancun and Playa del Carmen. Secondly, Mexico is home to one of the New Seven Wonders of the World, in the Mayan city of Chichen Itza. Other highlights include Oaxaca, for a slice of the 'real' Mexico, and colonial Merida. Here are some of our most magical Mexican destinations!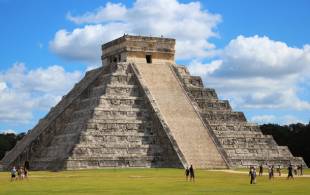 Chichen Itza
No trip to Mexico is truly complete without a trip to the world famous site of Chichen Itza. The central temple is both mystical and highly impressive and is often surrounded by clapping visitors, as the noise from the clap reverberates off the walls, creating some rather interesting sounds. Voted as one of the New World Wonders in 2007, the ruins have garnered world-wide attention with travellers from around the globe eager to marvel at the famed El Castillo pyramid.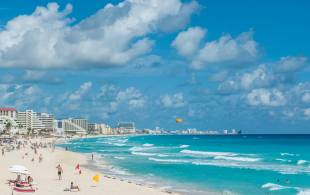 Cancun
A former fishing town, modern Cancun is unrecognisable from just a few decades ago. It's now one of Central America's most famous beach resorts, with its picturesque coastline now dotted with 4 and 5-star hotels, each leading down to beautiful sandy beaches and clear water. Although it's tourist-centric, traditional Mexican culture can still be found in the salsa clubs, restaurants and El Meco Mayan ruins of El Centro, the more traditional part of the city.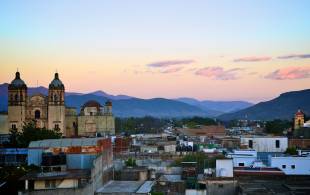 Oaxaca
Surrounded by lush forest, Oaxaca is a popular destination for travellers seeking to experience 'the real Mexico'. From the indigenous villages to the delicious, traditional food sold on every street corner to the ancient ruins, this region is brimming with history, excitement and mystery. The city also provides some much needed respite from the intense Mexican heat as its altitude of 5,000ft above sea level means that the climate is pleasantly cool.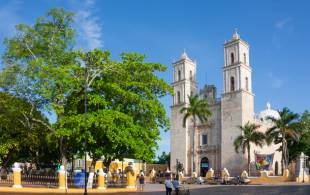 Merida
Speckled with colourful houses and beautiful architecture imbued with rich colonial history, Merida is the cultural and commercial centre of the Yucatan state and is well worth a visit as you travel through Mexico. Plaza Grande is one of the main attractions of this thriving city and often sees free, impromptu salsa performances or jazz concerts. For a more educational visit, there are numerous museums on offer, telling guests the story of Merida.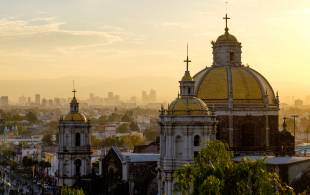 Mexico City
Mexico's capital is a fascinating blend of the old and the new, with years of history intertwined with colonial neighbourhoods, fascinating museums and a burgeoning urban centre that is growing every year. Your Mexico trip will likely start in the city, as it is home to the country's main airport, alongside the international airport in Cancun. It's well worth spending a few days to acquaint yourself with the city before you move on!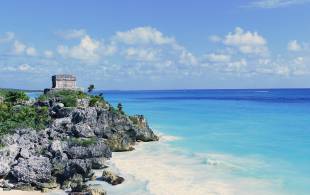 Tulum
The ruins of Tulum are perched on the rugged coastline of the Yucatan Peninsula, overlooking the turquoise waters of the Caribbean Sea. Tulum is a blend of ancient Mayan architecture and stunning natural beauty. Visitors can expect to explore well-preserved stone structures that once served as ceremonial sites, residential areas, and trading hubs. The unique coastal setting also makes it a must-visit destination for nature lovers, and anyone seeking breathtaking vistas.