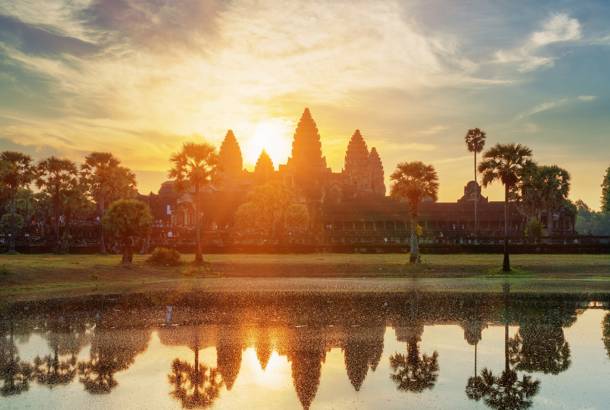 Cambodia at a Glance: Best Time to Visit
Recommended time to visit: November - May. This is the dry season, when you can expect warm, dry weather and cloudless days.

Less popular time to visit: The Cambodia rainy season lasts from June - October. Characterised by humid days and sudden, sharp rainfall, it can be a challenging time to visit. On the plus side, the country's vegetation turns a lush green and the afternoon rains can be a welcome relief from the heat.

Best time for beaches: If planning a trip to the beach resort of Sihanoukville then December - April offers the hottest, driest weather.

Best time to visit Angkor Wat: This depends. The best conditions for sightseeing in Siem Reap are from November - March but this coincides with the crowds. If you want better access to the temple and don't mind getting wet, then visit from May - October.
Want to know more about Cambodia? Check out our latest blog posts
When is the dry season in Cambodia?
With lovely warm temperatures year-round there isn't really a bad time to visit Cambodia. The country's dry season occurs from November through to May with a slight increase in temperature from March onwards. November to February is arguably the most popular time for tourists when the weather is warm and sunny but not stiflingly hot and the rainfall is much lower, which makes sightseeing far more pleasurable.
When is the wet season in Cambodia?
The rainy season arrives in June and lasts until late October. This can be a fascinating yet potentially challenging time to visit Cambodia. The rains generally fall in the afternoon providing a refreshing break from the midday heat with largely dry mornings. The rains that do fall are pretty spectacular and turn the country into a waterlogged expanse of lush green and it is generally the quietest time in terms of tourist numbers.
When is the best time to visit Cambodia?
The best time to visit Cambodia does depend on what you are heading to Cambodia for. For instance, the best time to visit the coastal resort of Sihanoukville for beach-side relaxation is between December to April when it is nice and warm and dry. The best time to visit Angkor Wat would depend on whether you want to avoid the rain but take on the crowds, in which case travel between November and March, but if you would prefer less crowds and don't mind a refreshing shower in the afternoon then May to October would be the best time for you to travel.
Climate | Siem Reap
| | Jan | Feb | Mar | Apr | May | Jun | Jul | Aug | Sep | Oct | Nov | Dec |
| --- | --- | --- | --- | --- | --- | --- | --- | --- | --- | --- | --- | --- |
| Temp Min °C | 19 | 21 | 26 | 25 | 25 | 25 | 25 | 25 | 25 | 24 | 22 | 20 |
| Temp Max °C | 32 | 33 | 35 | 36 | 35 | 34 | 33 | 32 | 32 | 31 | 30 | 31 |
| Rainfall (mm) | 1 | 4 | 28 | 61 | 176 | 221 | 237 | 151 | 276 | 248 | 82 | 2 |
Climate | Sihanoukville
| | Jan | Feb | Mar | Apr | May | Jun | Jul | Aug | Sep | Oct | Nov | Dec |
| --- | --- | --- | --- | --- | --- | --- | --- | --- | --- | --- | --- | --- |
| Temp Min °C | 23 | 24 | 25 | 25 | 26 | 26 | 25 | 25 | 25 | 24 | 24 | 23 |
| Temp Max °C | 31 | 31 | 32 | 33 | 32 | 31 | 30 | 30 | 30 | 30 | 31 | 31 |
| Rainfall (mm) | 28 | 25 | 50 | 125 | 207 | 252 | 341 | 377 | 320 | 290 | 138 | 54 |
Best Time to Go by Region
The compact landmass of Cambodia does not experience wildly differing climatic conditions, which generally means the seasons and weather are similar from one destination to the next. Having said that, some months may be better for visiting particular spots thanks to less than ideal weather resulting in fewer tourists. Read on for more information.
When is the best time to visit the Angkor Temples?
The temples of Angkor are Cambodia's star attraction and many travellers prefer to visit when the weather is at its best. And that would be the months of November to March, when temperatures are cool and days are mostly dry - great for exploring ancient temple ruins.
However, this coincides with Cambodia's peak season, which means bigger crowds, less hotel availability and higher prices. If you would prefer to visit when crowds are thinner, consider going in the shoulder monsoon months of June or September/October. It's likely to be wet, hot and humid but the temples will be a little quieter than at other times of the year. Plus you'll get to see Angkor Wat when its moats are filled with water.
When is the best time to visit Phnom Penh?
Cambodia's charming capital Phnom Penh is largely considered a year-round destination. Like elsewhere, the dry season months of November to February are the best time to visit if you wish to avoid the rains and humid conditions. Though it's usually warm regardless of the time of year. Rainfall peaks in September and October so avoid these months if you hope to get out and about.
When is the best time to visit Sihanoukville and the south coast?
Over the years Sihanoukville has become one of Cambodia's most popular beach destinations. It's situated on the south coast, where you'll also find the delightful seaside retreat of Kep. This part of Cambodia experiences the best weather between November and April with lots of sunshine and little rain.
The waters around Cambodia offer ample scuba diving opportunities so if this is of interest, visit between December and June when water visibility is at its best.
When is the best time to visit Tonle Sap Lake?
Sometimes there are advantages to visiting a country during its rainy season, and Tonle Sap Lake is one of them in Cambodia. During the wet months of July and December, the impressive lake of Tonle Sap is surrounded by vivid green vegetation while the higher water levels mean better access to floating villages and flooded forests.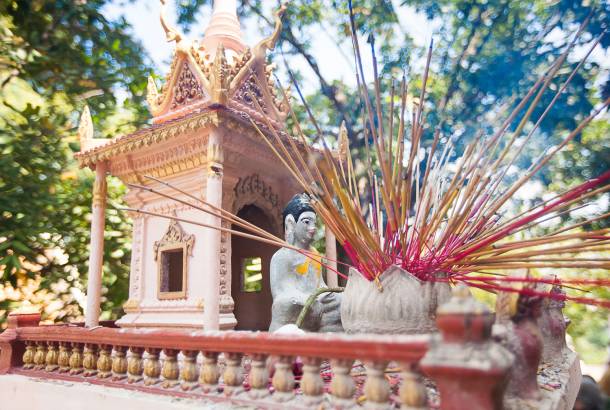 Festivals and Events
Whether it's celebrating independence or important events in the life of Buddha, a number of popular and colourful festivals take place in Cambodia throughout the year and here are some of the busiest and best.
Is Chinese New Year celebrated in Cambodia?
Cambodia's Chinese population dates back to the 19th-20th century and today the country celebrates Chinese New Year with firework displays, family feasts and street parties in the larger cities. Although not an official holiday, many shops close for the day.
What is the Khmer New Year?
Marking the end of the harvest season, the Khmer New Year is a massive holiday in Cambodia, which takes place over three days. Like neighbouring Thailand, the New Year is celebrated with water-throwing as well as large feasts held and attending local temples.
When is Cambodian Independence Day?
Held on the 9th November each year, Independence Day is a national holiday with many Cambodians travelling to the capital of Phnom Penh to watch colourful parades and firework displays though such celebrations occur all over the country in order to celebrate Cambodia's independence from France.
Recommended tours
Signature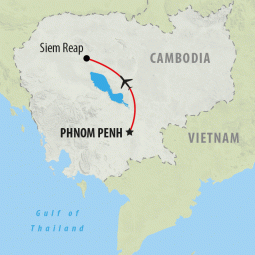 6 days FROM £675
Signature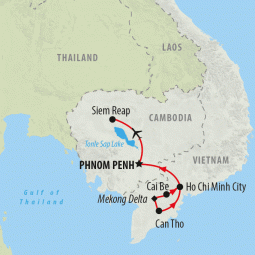 9 days FROM £1,135
Signature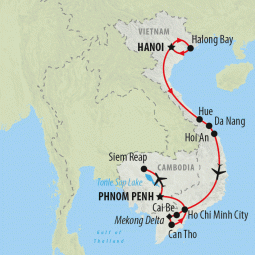 15 days FROM £1,745
Cambodia Trip Styles

Group Tours

Private Tours