Timeless culture. Remarkable history. Captivating caves. Taste-bud tingling food. Feel inspired with our award-winning Laos package tours.
Once ravaged by war but still home to serene landscapes and a proud identity, an On The Go Tours trip to Laos throws you into a timeless authentic culture. Explore exquisite Buddhist temples, bustling night markets and food stalls, and charming caves.
Largely forgotten Laos holds a unique feel. Say hello to stunning scenery littered with waterfalls and dramatic caves. Tuck into sticky rice and minced meat salad and blend into traditional life with the locals. Relax beside the Mekong River, the lifeblood of Southeast Asia. The Nam Song River winds through peaceful Vang Vieng, and Luang Prabang is bursting with historic temples to explore.
The best way to explore this marvellous country is to combine it with neighbouring Vietnam and Cambodia, combining the delights of Laos with a trip to Phnom Penh, Halong Bay, and mighty Angkor Wat. And our Laos tours give you the flexibility to see as much or as little as you choose. So take a deep dive into Southeast Asia with our range of Laos group trips and private packages, and let us take you on the adventure of a lifetime.
Laos Group Tours
Our Laos group tours take in all the country's highlights, from the capital Vientiane beside the Mekong River, to Luang Prubang and beautiful Vang Vieng. Fully escorted by one of our expert tour guides, you will stay in quality 4-star hotels and travel between sites in private, air-conditioned vehicles.

Our Southeast Asia tours run in segments, so if you book a longer tour comprising Vietnam and Cambodia then your group may shrink and grow as people leave and join the tour at different points, such as Siem Reap and Ho Chi Minh City. Our tour groups in Laos tend to be smaller than in neighbouring countries, giving you a more intimate small-group tour experience.
Laos Private Tours
If you would prefer to take in Laos and the rest of Southeast Asia independently, then our private tours could be perfect for you. Our Beautiful Laos tour also takes in highlights that our group tours don't, particularly in southern Laos, and along the banks of the mighty Mekong River.

These tours are ready to book on any day of the year and they include many of the same perks as our group tours - quality, well-located accommodation, many included meals, and the services of our expert guides for sightseeing. Get in touch with our Reservations team today for more information.
Explore more countries like Laos
Tailor-made Holidays
Discover Laos your way. Our Tailor-made team make it effortless for you. Letting you have the dream holiday you've always wanted. Whether after a quick adventure in northern Laos or a slower-paced saunter down the Mekong River, our Tailor-made team have you covered. Make every moment count. Tell us what you want and we'll make it happen.
Frequently asked questions about our Laos tours
When is the best time to visit Laos?
The dry season in Laos lasts from October - April and is characterized by pleasant temperatures and little rainfall. However, as a landlocked country, Laos does not experience the extreme variations in weather experienced by neighbouring countries in South East Asia, like Vietnam. So visiting Laos is possible outside of these months. There's more information in our online guide.
Are your Laos tours guided?
Our Laos group tours are fully escorted, which means that you will be accompanied throughout your tour by one of our local, English-speaking tour guides. They'll be able to fill you in on the history of sites such as the temples of Luang Prabang, point out the best places to eat and shop, introduce you to Laos culture and help you feel safe and secure on tour. You'll still have free time at points during the tour for you to go and see other sites independently, or to relax in the hotel!

If visiting Laos on one of our private tours, you will not be fully escorted, but will still have the services of our tour guides for all included sightseeing.
How big are the groups on your Laos trips?
Our Laos tours depart with a minimum of 4 passengers and the maximum group size is 24. However, Laos attracts fewer foreign visitors than Vietnam and Cambodia, and our group sizes in Laos tend to be closer to 10 - 15. Your group size will then normally grow as you are joined by new travellers for the Vietnam and Cambodia sections of your trip.
Can I combine my Laos tour with Vietnam, Cambodia and Thailand?
Yes! Although we do offer standalone Laos tours, we believe that the country is best combined with neighbouring Vietnam and Cambodia. Our longer itineraries take in all the highlights of these countries alongside northern Laos, including Angkor Wat and Phnom Penh in Cambodia and Halong Bay and the Mekong Delta in Vietnam. We also have a tour that ends in Bangkok, in northern Thailand.
What is the standard of accommodation on your Laos tours?
We stay in great quality 4-star hotels in central locations on all our Laos tours. On the web page for each tour, you will find a tab with information about the hotels we regularly use on tour.
Is Laos a safe destination for travellers from the LGBTQ+ community?
According to the 2022 LGBTQ+ Travel Safety Index, Laos scores a D rating for LGBTQ+ traveller safety, ranking 100th out of 203 countries.

Same sex marriage is not legal, and there are no constitutional or worker protections based on sexual orientation. 26 - 50% of consulted citizens consider Laos a good place to live for gay and lesbian people, and there are no legal punishments for same sex relations. Most trips for LGBTQ+ travellers to Laos are trouble-free.

The LGBTQ+ Travel Safety Index is designed to provide a good overall picture of attitudes towards the LGBTQ+ community in each country and may not reflect the experience of foreign travellers to the country.
Can I drink the tap water?
Like in most of South East Asia, the tap water in Laos is not safe to drink and should be avoided as there is a high risk it will make you unwell. Stick to bottled and purified water throughout your Laos tour, and avoid drinks with ice, or eating salads that may have been washed with the tap water.
What is the current travel advice for Laos?
As a UK-based company, we follow the latest up-to-date advice from the Foreign and Commonwealth Office (FCDO). You can see the latest travel advice for Laos here.
EXPLORE SOUTHEAST ASIA'S UNSUNG HOLIDAY HERO WITH OUR LAOS PACKAGE TOURS
Think captivating colonial cities. Sparkling waterfalls. Incredible caves. Mysterious archaeological sites. The mighty Mekong River. Daring hill tribe trekking opportunities off the beaten track. Warm and friendly people. Plentiful temples and Buddhist wats. Deliciously fresh cuisine. Wild boundless landscapes and charming local villages. Rich in war history and with a unique, relaxed feel, Laos deserves a visit. Delight in this wonderful country, with jaw-dropping nature and incredible Lao culture to match. From the French colonial influences of Vientiane to the stunning scenery of Vang Vieng, book your Laos package tour today to discover a destination like no other.
The Best of our Laos Trips
Laos is small but mighty, with lots to see and do on your Laos tour. Majestic temples, cascading waterfalls, gorgeous rural scenery and a rich history combine to make this little-known destination a must-visit. Here are our highlights, from Luang Prabang to Vang Vieng.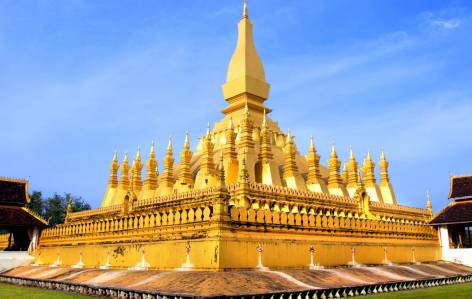 Vientiane
Enjoy a guided tour of the country's oldest Buddhist monastery - Wat Si Saket, the famed Emerald Buddha, the Patuxay monument and the COPE Centre, and enjoy a sunset dinner by the Mekong River. It's a less well-known capital city, but Vientiane certainly packs a punch!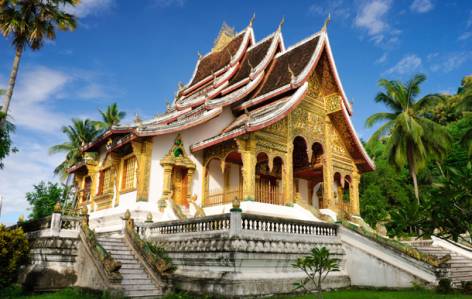 Luang Prabang
Take a vintage tuk tuk tour of this old town in northern Laos, visiting the bustling morning market and magnificent Wat Xiengthong temple. Become a local with the Living the Land Farm Experience nearby and learn how rice is made.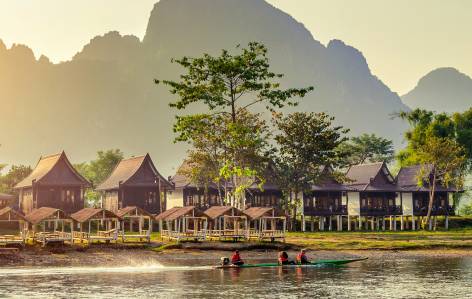 Vang Vieng
Explore the famous caves of Tham Jang. Visit scenic villages to meet the locals. Freely bike ride through the lush surrounding countryside of Vang Vieng and take in the natural beauty beside the Nam Song River.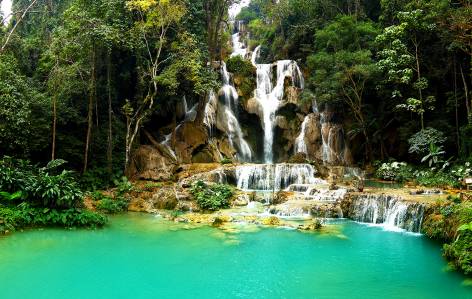 Kuang Si Waterfalls
Hidden amongst rural villages, the Kuang Si Waterfalls are something of a secret gem and sure to be a highlight of your trip to Laos. A three-tiered waterfall plunges down a rock face into a turquoise pool below, a great place for a swim.