Top 10 Destinations in Madagascar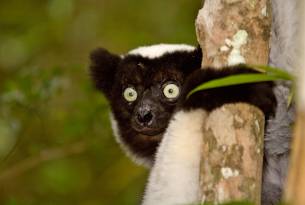 OUR PICK #1
Lush, pristine wilderness and breathtaking natural beauty await those who venture to Andasibe. The Andasibe-Mantadia National Park, an amalgamation of two separate parks, is famed for being the home of the mysterious Indri, the largest lemur in existence and one that emits a strange and unusual cry. This animal is considered sacred by Madagascans and there are numerous legends that explain how the creature gained this status. Some say the cry of the Indri represents that of a father calling for his lost son, while others associate them with brothers who were separated, one becoming the first Indri and the other leaving the forest, causing his brother to weep for him. However, the unique call of the Indri is just one of the park's draws. Dozens of other mammals, reptiles and birds inhabit this verdant region, making this park a true haven for wildlife enthusiasts and nature lovers alike.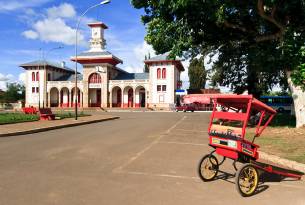 OUR PICK #2
Located right in the centre of the island of Madagascar, Antsirabe enjoys a slightly cooler temperature than the rest of the country and boasts some stunning examples of colonial architecture. Buzzing with activity, Antsirabe is brimming with exciting things to see and do, such as hiking, biking and taking a ride in one of the ubiquitous pousse pousses, un-motorised rickshaws that are characteristic of the city. For those who are in need of a bit of relaxation, a trip to one of the six thermal springs, for which Antsirabe is known, is a must. Alternatively, shopaholics can get their fix at the sprawling Sabotsy market, Madagascar's answer to a Moroccan souk. While the market is open every day of the week, it really gets in full swing on Saturdays. Put your haggling shoes on and prepare to be overwhelmed by a dazzling array of jewellery, clothing, trinkets and more.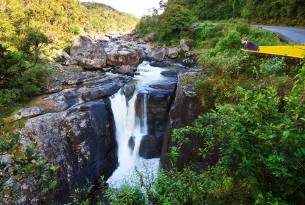 OUR PICK #3
Established in 1991, the Ranomafana National Park is one of Madagascar's most popular and important wildlife reserves and contains twelve different species of lemur. Other animals that inhabit this park include snakes, mongooses, geckos and hundreds of different birds, many of which are endemic. There are several circuits that visitors can follow in order to enjoy the park and their duration ranges from just a few hours to 3 days. With many different landscapes from rainforest to could forest, explorers of the park are unlikely to tire of the ever-changing scenery. Despite this fascinating topography and abundant wildlife, it might come as a surprise to know that Ranomafana, meaning 'hot water', was originally frequented for its thermal springs rather than its impressive collection of lemurs. For a truly unique experience, a nocturnal walk to spot the rufous mouse lemur and the striped civet is a must.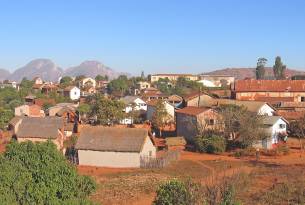 OUR PICK #4
Ambalavao
This arid city, located in the Central Highlands, contains the crumbling relics of French colonialism and has tastefully incorporated them into modern Malagasy living. Of particular note is the striking Gothic cathedral that sits amid the dusty streets, dominating the landscape. While most people just use this city as a fuelling station where they can replenish their supplies before heading to the Andringitra National Park, there is much beauty to be found by those who spend a little longer exploring its streets. There are numerous craft and paper-making workshops that are easy to visit and are a great way to learn about local culture. The Betsileo houses are also worth checking out and provide some picturesque photo opportunities. Ambalavao takes life at its own pace and is an ideal location for those seeking to get off the beaten track and relax for a few days.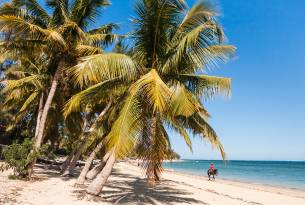 OUR PICK #5
With a combination of rocky and sandy coastline, Ifaty is a popular beach destination for travellers in Madagascar. A number of great resorts line the streets, many of which will organise whale watching tours for their guests or boat rides along the lagoon. Ifaty is also a great place for those wishing to try their hand at snorkelling as the warm, clear water has great visibility and is filled with a wonderful array of fish. If you're feeling a little more adventurous, there are plenty of tour operators that will take people of all ability levels out on diving excursions. Sharks are regular players in the underwater landscape so prepare to get up close and personal with some of the sea's most fearsome creatures. Comprised of two small fishing villages, Ifaty is a far cry from the busy streets of the nation's capital and the perfect place to unwind.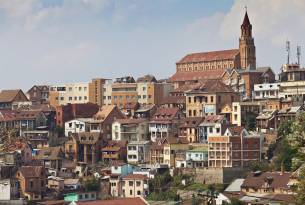 OUR PICK #6
Referred to as Tana by those in the know, Antananarivo, Madagascar's capital, is a colourful city brimming with energy and culture. As the epicentre of politics and power for the past few centuries, there is a lot of history to be found amid its busy streets, many of which are lined with the remnants of colonial architecture. Vibrant markets and gourmet food can be found in abundance here as well. Once you've had your fill of the city's flavours, head just to the northeast of the city and pay a visit to the UNESCO-listed Royal Hill of Ambohimanga. This royal city and burial site dates back as early as the 15th century and, given its height of 1,468m, commands some spectacular views of the surrounding area. In the evening, make your way back to the city centre and see if you can catch a show at the Albert Camus Cultural Centre.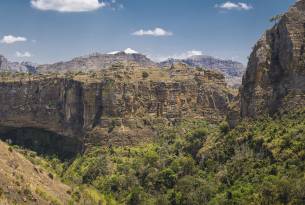 Our pick #7
Isalo National Park has a variety of wild terrain. A historic landscape formed by the elements since the Jurassic period, it has become an extraordinary landscape that is perfect for hikers and trekkers. It has deciduous forests, jagged and deep canyons, dramatic sandstone towers and grassy plateaus. A popular walking route is the Cascade des Nymphes, taking you through canyons and into gorges to arrive at natural black and blue pools. Alongside this diverse flora, as with many of the locations in Madagascar, you'll find a wealth of wildlife here including 14 species of nocturnal lemur alongside brown lemur, the dancing Verreaux's sifaka and the classic ring-tailed lemur. Walking through the incredible scenery and spotting these wonderful lemurs in their natural habitat is a wonderful way to spend a day.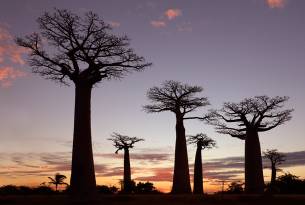 Our pick #8
Avenue of the Baobabs
In the same way lemurs are the iconic animal of Madagascar, the Avenue of Baobabs is an iconic image of the country. Also known as the Alley of the Baobabs, Baobab means 'mothers of the forest' in Malagasy - a fitting name for the trees which reach heights of nearly 100 feet and ages of up to 800 years. This natural monument has been called the most beautiful road in Madagascar. The 20 to 25 trees line a stretch of road which only measures 260 metres. The trees used to be part of a diverse and rich forest which tragically has been destroyed due to massive deforestation. While there are plans to maintain the dirt road, the bumpy terrain at the moment need the skills of an experienced and confident driver. The area is particularly impressive during sunrise or sunset, the trees casting long shadows and the sky coming alive with pinks and purples.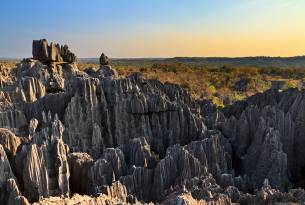 Our pick #9
Tsingy de Bemaraha National Park
The Malagasy word tsingy in English means 'where one cannot walk barefoot'. A forest of jagged limestone needles, this is a very fitting translation. 150 million years ago, this area was under sea. The water receded leaving behind an astounding landscape of limestone peaks and caves, the area dotted with fossils of sea creatures. Walkways have been built to let you explore this geological phenomenon so you can cross over dramatic canyons and use the steel ladders and cable ropes to navigate the narrow gorges. It is a bumpy journey to get there and exploring this national park needs a bit of physical exertion, however it is well worth it to get to know this exceptionally beautiful landscape. You might even be lucky enough to spot a lemur making a death-defying leap from one limestone needle to the next.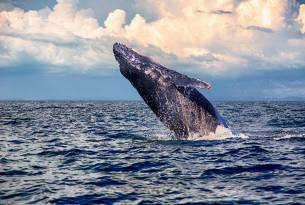 Our pick #10
Ile Saint Marie
The wonderful wildlife watching of Madagascar isn't just limited to the land. Head to Ile Saint Marie, an island off the east coast of Madagascar, between July and September and you'll see migrating humpback whales. This is an incredible wildlife sighting, watching as whales launch their colossal body weight out of the sea to come crashing back down again. If your visit doesn't coincide with these months, Ile Saint Marie is definitely still worth a visit. This tropical destination is surrounded by coral reefs and marine life, perfect for snorkelling and scuba diving. The long thin island, only 57km in length, is dotted with traditional fishing village and there are plenty of white beaches lined with palm trees to relax on.
Browse through our recommended places to visit in Madagascar
See Also
Check out the following useful resources to help plan your visit to Madagascar:
Best Time to Visit - Madagascar's climate and seasons
Tourist Visas - what you need to know prior to travelling to Madagascar
Top Travel Tips - information about money, food and vaccinations