Jump into this unforgettable Norwegian adventure. Enjoy the historic allure of Trondheim's Nidaros Cathedral to the UNESCO treasures of Bergen, including Hanseatic Bryggen and the iconic fish market. Embark on an enchanting Havila cruise, unveiling the breathtaking vistas of Norway's coastline. Sail through the breathtaking Harnagerfjord, hike historic paths, and bask in the romance of Hardanger aboard an electric boat. End in Oslo, exploring highlights, from Frogner Park to Akershus Fortress.
Trip Highlights
Oslo - Take in the highlights of Norway's capital including Frogner Park, the magnificent Royal Palace and Akershus Fortress
Havila Cruiser - Spend a night aboard the Havila Cruiser, exploring Norway's stunning coastline and embracing sustainable travel
Hardanger - Navigate the enchanting waters of Harnagerfjord in the heart of Hardanger aboard an electric boat
Gudvangen - Explore the village of Gudvangen, nestled along the picturesque Sognefjord, offering a glimpse into Viking history
Trondheim - Discover Trondheim's historic charm, from the majestic Nidaros Cathedral to its captivating streets and cultural treasures
Bergen - Step into this beautiful Norwegian city including UNESCO listed Bryggen old wharf and the iconic Fløibanen funicular, and enjoy a seafood tasting platter at the fish market
Flam - Opt to ride on the iconic Flåmsbana train and experience the charming city of Flam
Brandhusdalen - Embark on a hiking adventure through Brandhusdalen, a tranquil valley surrounded by majestic mountains
Included
7 nights 3-4 star hotels, 1 night aboard Havila Cruiser
English speaking tour escort
Excursion to Brandhusdalen
Cruise on Sorfjorden Fjord
Transportation by coach, train, cruiser and ferry
Daily buffet breakfasts, 2 lunches, 1 tasting platter & 3 dinners
Guided sightseeing in Trondheim, Bergen and Oslo with a local guide
Fløibanen funicular return ticket
Visit to Borgund Stavkirke (exterior)
Not Included
International flights and visas
Items of a personal nature and additional meals
Gratuity for your tour guide. Tipping your tour guide is an entirely personal gesture
Welcome to Norway!
Oslo. Welcome to the Kingdom of Norway, home to the world's most breathtaking fjords!

Upon arrival, check in at the hotel and get settled. Depending on your schedule, take the opportunity to venture out and discover the surroundings at your own pace. Enjoy a leisurely walk along the charming streets, including the renowned Karl Johan's Street, where you'll find an array of shops, bars, and cafes to explore.

At 6:00 PM, join your Tour Leader in the hotel's reception area for a welcome meeting and briefing about your upcoming journey. Get ready to uncover the wonders of Norway in style!
Overnight: Oslo
Train to Trondheim
Oslo - Trondheim. After hotel breakfast, we embark on a morning train journey bound for Trondheim. En route, you'll be treated to breathtaking views of the Norwegian countryside, showcasing Lake Mjosa, and the picturesque Vinstra region.

Trondheim is the third largest city in Norway, with roots tracing back to the Vikings who settled on the Nidelven River estuary in the tenth century. It was known as Nidaros until the sixteenth century. This lush and flower-filled city offers a delightful ambiance for leisurely strolls through its center, weaving through pedestrian streets and historic quarters.

Get to know the city with a panoramic tour, complete with a glimpse of the Nidaros Cathedral—one of Northern Europe's most beautiful Gothic ensembles.
Overnight: Trondheim | Breakfast
Havila Cruiser
Trondheim - Havila Cruising. Today you'll step about our Havila Cruiser. Gliding through the expansive Trondheim fjord, you'll enjoy panoramic views of farmland, picturesque fjords and open sea.

For an additional fee, you can opt to disembark in Kristiansund and drive along the Atlantic Ocean Road, acclaimed as one of the world's most scenic drives. This wonderful route winds its way along islets and skerries, offering breathtaking views. After this drive, you can rejoin the cruiser in Molde for the next leg of the voyage. Booked and paid locally.

As the day draws to a close, enjoy dinner on board the cruiser as we sail to our next location.
Overnight: Overnight Cruiser | Breakfast, Lunch, Dinner
Bergen
Havila Cruising - Bergen. The last day on the cruiser takes you through a captivating coastal landscape adorned with rocky mountains, and an intricate network of sounds and waterways between numerous islands. Wonderous fjords and glaciers lie nestled further inland.

Soon, we'll disembark at the city of Bergen, also known as the Gateway to the Fjords of Norway. Bergen boasts UNESCO World Heritage status and holds the esteemed title of a European City of Culture.

After hotel check in and time to freshen up, embark on a Bergen City tour with a local guide. Visit the city's most iconic sites, including the historic Hanseatic Bryggen district, the Church of Mary, the formidable Hakon Fortress, and the renowned fish market.
Overnight: Bergen | Breakfast, Lunch
Wonderful Views & Tasty Specialities
Bergen. Enjoy breakfast and get ready for a wonderful, panoramic views of Bergen and its surrounding mountains.

Today we'll journey on one of Norway's most iconic and popular attractions, the Fløibanen funicular. This remarkable journey, taking approximately 5–8 minutes, transports you to the stunning height of Fløyen at 320 meters above sea level. Opened in 1918, Fløibanen is a historic funicular railway that connects the heart of Bergen to the lofty Fløyen. The railway employs two carriages secured to a cable, maneuvered by substantial upper station pulleys.

Following your funicular excursion, taste an array of local delights at one of the restaurants located at the vibrant fish market. Delight in specialties such as smoked salmon, fresh shrimp, or even hot smoked whale.
Overnight: Bergen | Breakfast
Hardangerfjord
Bergen - Hardangerfjord - Voss. In the morning, enjoy breakfast then set out for Harnagerfjord, where a short cruise will transport you to Bondhus. From this point, your exciting hiking adventure commences. The easy trail offers a one-way journey lasting around 30 minutes. You'll trace a historic route from the quay in Sundal, a charming hamlet along the shores of the Maurangerfjord, to Bondhusvatnet lake.

As the late afternoon descends, board an electric boat, and enjoy the enchanting beauty of Hardanger, renowned as one of Norway's most romantic destinations. Hardanger is known for fruit production, with May and June ushering in a spectacle of pink and white blossoms adorning rows upon rows of fruit trees around the fjord.
Overnight: Voss | Breakfast, Dinner
Flam & Gudvangen Viking Village
Voss - Flam - Gudvangen - Gol. Following breakfast, set out on a journey toward Flam either by bus or train.

If you opt for the optional train ride, a bus will transport you to Voss train station. The initial leg of this train journey leads to Myrdal station, a mountain railway junction situated approximately 13 km from the village of Flåm. Here, you'll transfer to the renowned Flåmsbana train which ranks among the steepest globally, weaving through natural landscapes and past the iconic Rallar road. Spanning 20 tunnels, enjoy towering mountains and breathtaking waterfalls on this trip.

The group will meet back up in Flåm. Schedule permitting, you'll have the chance to join a cruise to Gudvangen, a village nestled along the idyllic Sognefjord—a UNESCO World Heritage site. Take advantage of free time in Gudvangen to explore this Viking-inhabited village. After lunch, set off on a scenic drive toward Gol where we will spend the night.
Overnight: Gol | Breakfast, Dinner
Scenic Highlights & Oslo City Tour
Gol - Oslo. This morning, traverse the picturesque landscapes of the Norwegian highlands, following the scenic route along the coast of Lake Kroderen. As the day progresses, you'll find yourself back in Oslo, the vibrant Norwegian capital.

On arrival, enjoy a 3-hour sightseeing adventure accompanied by a local guide. This guided tour of the city introduces you to its highlights, including a visit to Frogner Park adorned with the captivating sculptures by Vigeland. The tour also includes a visit to the stately Royal Palace, City Hall, and the historic Akershus Fortress. As the day winds down, you'll have time at leisure to explore at your own pace.
Overnight: Oslo | Breakfast
Goodbye
Today, our adventure draws to an end after breakfast. Take the opportunity to explore last-minute shopping options, perhaps finding unique Viking-themed souvenirs to remember your Scandinavian experience.

Arrange your own transportation to the airport or book a private transfer to Oslo Airport, subject to an additional cost.
Breakfast
The hotels listed below are ones which we frequently use on this tour. We reserve the right to substitute these hotels to ones of a similar standard.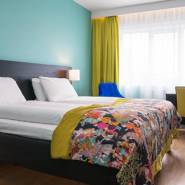 Thon Hotel Europa, Oslo
Nestled in central Oslo, this hotel stands a mere 300 meters away from Nationaltheatret Metro Station and the vibrant Karl Johans Gate shopping street. Offering well-equipped rooms with complimentary Wi-Fi, flat-screen TVs, and coffee-making facilities, it provides both comfort and connectivity. Guests can savor a popular breakfast buffet, while Café Europa, located on-site, serves a delightful mix of Norwegian and international cuisine. Come summertime, the courtyard opens its doors for dining. The hotel ensures connectivity with two internet computers in the lobby and enjoys proximity to city trams and airport buses.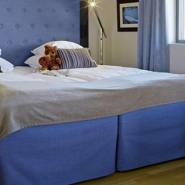 Scandic Nidelven, Trondheim
Situated alongside the tranquil Nidelva River, this hotel enjoys a strategic position just a short 5-minute walk from Trondheim Central Station and the bustling Solsiden Shopping Centre. Offering a renowned breakfast buffet, Scandic Nidelven showcases contemporary rooms with central air conditioning, featuring wooden floors and tea/coffee facilities. Leisure amenities include a well-equipped gym and a round-the-clock art gallery. Culinary pleasures await at Restaurant Nidelven, where a modern menu uses locally sourced, fresh ingredients.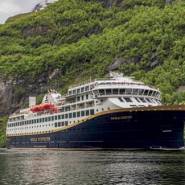 Havila Cruiser, Bergen
Experience a blend of comfort and natural beauty as you sail on a Havila Cruiser. The ships' interiors draw inspiration from Norway's captivating landscapes—sea, sky, mountains, and glaciers. Revel in traditional flavors with culinary offerings sourced from local towns and villages. Gaze at the Northern Lights or the midnight sun from the glass-roofed lounge chairs or unwind in heated jacuzzis. The eco-friendly cruisers provide modern amenities against the backdrop of majestic mountains, vivid fjords, and tranquil waters, all while prioritizing sustainability.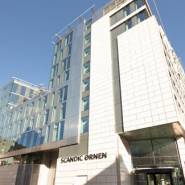 Scandic Ornen, Bergen
Start your day properly at the Scandic Ornen by choosing from any of the 100 different items on offer at the hotel's breakfast buffet. Later in the day, come back for even more gastronomic delights and feast on fresh meat, seafood and vegetables from the restaurant's a la carte menu. Once you're thoroughly satisfied, head to your bright and breezy room, which has been expertly decorated with a neutral colour palette. For active guests, the hotel offers a well-equipped gym and free bicycle hire. The accommodation is just a short walk from UNESCO-listed Bryggen Wharf and Torgallmenningen Square.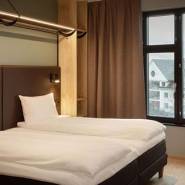 Scandic Voss Hotel, Voss
Ideally situated in the centre of Voss, this modern hotel is located next to the train station as well as the brand-new gondola, which will take you from the hotel door up to the ski slopes and mountain. The gondola's upper station is at 820 metres above sea level, and the trip up the mountain takes less than 9 minutes. The sleek and cosy guest rooms come with modern amenities and provide free Wi-Fi as well as a TV with chromecast. Why not visit the sauna, perfect for winding down after a day of activities, and take in the magnificent views over the lake.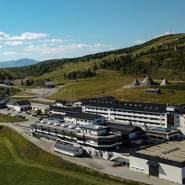 Storefjell Resort, Gol
Nestled in close proximity to the Storefjell Ski and Sledging Centre, and a mere 20 km from central Gol, the inviting Storefjell Resort Hotel offers a seamless blend of comfort and adventure. Guests enjoy access to an array of amenities including a pool, gym, and sauna. The well-appointed air-conditioned guest rooms feature modern essentials such as TV, minibar, and complimentary Wi-Fi, with scenic views of the surrounding landscape. The on-site weekend restaurant serves a delectable à la carte menu during peak periods. Additional offerings include a ski storage room, children's playground, and games room with table tennis and billiards.
At a Glance
Range
Starts
Oslo
Ends
Oslo
Departs
June - August
Group Size
Min 4 / Max 30
Hotel Rating
3-4 star
Tour Guide
English speaking tour escort
Meals
Breakfast: 8, Lunch: 2, Dinner: 3
Countries
Minimum Age
15 yrs, accompanied by an adult
Arr. Transfer
No
Dep. Transfer
No
OTG002755
Fjords, Cruise & Coast - 9 days
Europe
Handpicked
Europe
false
Norway
https://www.onthegotours.com/uk/Norway/Fjords-Cruise-and-Coast-9-days
https://www.onthegotours.com/repository/Bryggen--Bergen-Norway--On-The-Go-Tours-752921564665430_crop_flip_300_300_f2f2f2_center-center.jpg