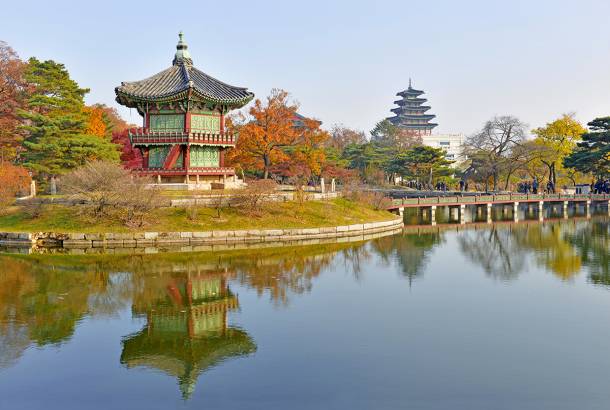 Planning a trip to South Korea and want to know what to expect? Curious about the food and whether you need to tip? Here you'll find plenty of useful information covering all aspects of travel to South Korea from currency to voltage, WiFi to health and lots more.
What vaccinations do I need for South Korea?
You should seek medical advice from your local health practitioner before travelling to South Korea and ensure that you receive all of the appropriate vaccinations. As a guide Tetanus, Typhoid and Diphtheria are strongly recommended.
Do I need anti-malaria tablets for South Korea?
There is a low to no risk of malaria in South Korea and therefore anti-malarials are not required. However, Japanese encephalitis can be transmitted from mosquitoes in rural areas and there is a risk of Dengue fever in some areas of the country so it is important to avoid mosquito bites. This can be achieved by sleeping under the protection of a mosquito net and by wearing a strong insect repellent containing at least 50% DEET. For more health information on South Korea visit the
NHS Fit for Travel
or the
CDC Traveller's Health
pages.
Is it safe to drink tap water in South Korea?
Although tap water in South Korea is said to be safe to drink, the majority of Koreans choose to drink purified or bottled water instead as they state that tap water has an unpleasant, chemical smell. Bottled water is readily available across the country so there is no need to drink tap water if you don't want to. Tap water should be fine for brushing your teeth.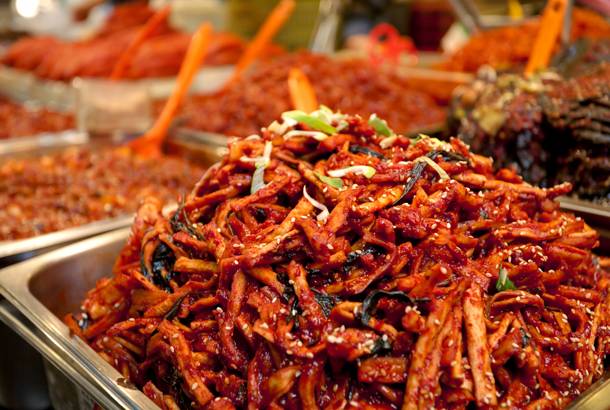 What's the food like in South Korea?
Largely based on rice, noodles, tofu, vegetables and meat, Korean cuisine is delicious and healthy. Traditionally with main meals a quantity of side dishes are served known as banchan, the most popular of these being kimchi. Kimchi is a traditional fermented dish made with vegetables, typically cabbage, radish, onions or cucumbers and flavoured with salt, garlic, ginger, and gochujang – a fermented chilli paste, it can have a very salty and spicy flavour.
A speciality is the Korean barbecue which usually involves beef, pork or chicken. The dishes are typically cooked at the diner's table on a gas or charcoal grill built into the centre. One of the most popular dishes served is galbi, beef short ribs, often marinated in spices before grilling. In specialist restaurants the diner can cook their own food to their liking at the table, with a waiter on hand to offer help.
Further dishes worth trying include the mouth-watering bulgogi, marinated beef served with slices of onion and pepper and garlic. Seolleongtang (ox bone soup) is also incredibly popular and is served with slices of beef, green onions and rice or noodles. For dessert, there are few things more satisfying than hoeddeok, South Korea's response to the western pancake. Soft and doughy on the inside but crunchy on the outside and filled with cinnamon, honey, sugar and peanuts, these are a real treat for the tastebuds.
Safe eating while travelling in South Korea
South Korea is a well-developed country and eating out is generally very safe, with little risk of illness or food poisoning. Restaurants are fine to eat in but be wary of any that look run down or unhygienic. Also, dog meat is still prevalent among many Korean eateries so if this does not appeal to you, make sure you ask before you sit down to eat somewhere. Street vendors are normally fine but if the food doesn't look right or seems a bit old, avoid it.
Is it standard to tip in South Korea?
It is not standard practice to tip in South Korea and very few people in the service industry will expect to be tipped. That being said, no-one will ever turn down a little extra money so if you feel they deserve a tip, you needn't refrain. You might also want to consider tipping your tour guide if they have been particularly insightful and have given you a good tour.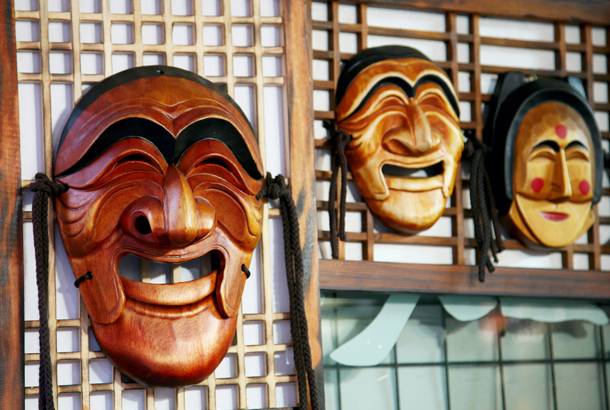 What is good to shop for in South Korea?
Considered a shopper's paradise, great deals can be had in South Korea on shoes, clothes, leather goods, silk, antiques, handbags, suitcases and so much more. Clothes can be tailor-made and range in quality depending on the amount of money you are willing to part with. Most department stores have fixed prices but the major open air markets such as Namdaemun or Dongdaemun in Seoul offer everything imaginable from well known brand names to near perfect rip offs and it is here where you can barter, just be sure you know whether you are haggling over a fake or a genuine item!
For gifts, travellers should seek out K-Pop merchandise. Ranging from clothes to collectable model pop stars, this uniquely Korean phenomenon makes for a truly original souvenir. For something slightly more cultural, the ginseng root, while one of the most expensive things you could take home, is renowned across the globe for its medicinal properties.
How to bargain in South Korea
Haggling is common in the markets of South Korea but perfecting the art of getting a good deal can be a challenge for someone who comes from a country that isn't used to flexible pricing. Remember to remain courteous and smile throughout the entire transaction – you attract more flies with honey than vinegar – and be prepared to walk away if the seller refuses to budge on a price. Usually, once they think you are no longer interested, they will chase after you with a better deal.
Is it safe for a single woman to travel in South Korea?
South Korea is very safe, even for solo females, and is a country that prides itself on its low crime rate. As with anywhere in the world, women should take care when alone at night and should favour taxis over walking very late at night. It is also a good idea to dress conservatively if you want to avoid too much attention.
What's the etiquette when visiting temples in South Korea?
Visitors to temples in South Korea must remove their shoes and headwear before entering and should refrain from taking photos unless they are explicitly given permission. If there is a service going on, be sure to be respectful by remaining silent. You should also bow to Buddha when walking in and out of the temple and exit the temple by backing out so as not to turn your back on Him.
Conservative dress is usually required for those who wish to enter the temple, this is particularly important for women and instead of pointing it is more polite to gesture to something with the whole hand, palm up. When leaving, it is good practice to place a small donation in one of the collection tubs that will inevitably be present. Following these guidelines will help travellers to avoid accidentally offending anyone and to integrate better in to Korean culture.
Is South Korea a suitable family holiday destination?
With an excellent public transport system, easy to navigate cities and a plethora of cultural and physical activities, there are few places on earth as family-friendly as South Korea. There are numerous children's museums scattered across Seoul and, generally, children are adored by Korean adults. If you take your children to a Korean restaurant, it is not uncommon for them to be treated like royalty and offered all sorts of toys and drawing utensils to keep them entertained.
For youngsters that have a lot of energy to burn, a trip to one of Seoul's many green spaces is an excellent way to spend a day. One of the best is the Children's Grand Park, which has outdoor playgrounds and a small zoo. There are also a number of exciting and colourful festivals that take place across the country throughout the year, which are suitable for family members of all ages.
The minimum age on our South Korea group tour, South Korean Express, is 16 years when accompanied by an adult though our South Korea private tours welcome children of any age.
What is the duty free allowance for South Korea?
Travellers over the age of 19 are permitted to bring in the following:
200 cigarettes
One bottle of alcohol up to 1 litre
60ml of perfume
Other goods to the value of USD $400
The following are banned from being imported: weapons, food (small quantities allowed, but you must declare it), counterfeit goods and money, publications infringing upon the constitution and public peace, narcotics and endangered species.
Travellers must not export counterfeit goods as this is taken very seriously and those caught can be subject to a prison sentence.
What is the currency in South Korea?
The currency of South Korea is the South Korean Won (KRW). Check out OANDA for the latest exchange rates.
Pound Sterling, US Dollars, Euro and other major currencies can be converted into South Korean Won (KRW) locally, or you can purchase currency in advance. Foreign currency can be converted at foreign exchange banks and other authorised money changers. Most major credit cards can be used in more upmarket restaurants and hotels and ATMs are common throughout larger cities.
Traveller's Cheques are not recommended as they're often difficult to exchange and incur high fees.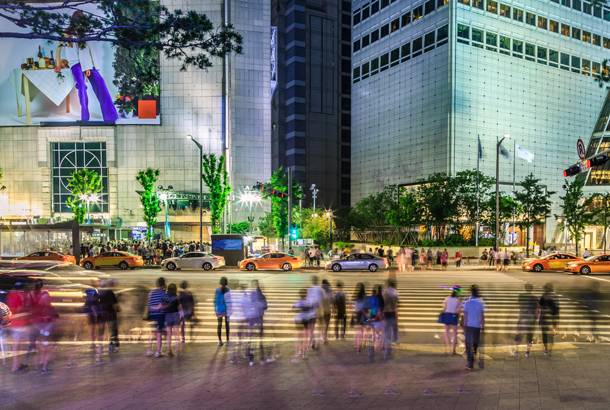 What do things cost in South Korea?
South Korea has a reputation for being expensive and while this isn't necessarily false, there are definitely ways to match budgets across all points of the spectrum. It is possible to find a decent meal for around USD $10 and some Korean BBQs are all you can eat so if you show up hungry, you should definitely be able to get your money's worth. A three course meal at a more upmarket restaurant, however, could come to around USD $50.
Taxis can be pricey in South Korea, especially in capital city Seoul, with a short, 3km ride often costing around USD $5 and a taxi from the centre to the airport amounting to around USD $50. Fortunately, Seoul has a very cheap and efficient public transport system and a subway ride is as little as USD $1.
What sort of plugs do I need for South Korea and what is the voltage?
The voltage in South Korea is 220v and plugs are of the European variety with two round prongs. We recommend that you pack a universal adaptor. You will also need a voltage converter in order to use U.S appliances.
Is WiFi widely available in South Korea?
Yes. Restaurants, cafes, bars, hotels and even taxis provide free WiFi and there are also hundreds of public spots scattered throughout the Seoul and its parks and plazas. The Korean government set up an initiative to open 10,000 free WiFi spots in South Korea so you can be sure there is plenty of connectivity wherever you are in the city. In more rural areas, connection may be less reliable but generally, Wi-Fi accessibility is as good as, if not superior to many European countries, as well as the US, Canada and Australia.
What time zone is South Korea on?
South Korea is 9 hours ahead of GMT and does not observe daylight saving.
Travelling during public holidays
Public holidays in South Korea follow the Gregorian calendar and while most offices and banks close in observance of them, many restaurants, palaces and other tourist attractions remain open for business as usual. Although services will usually be functioning as normal, there is a strong chance that public transport and roads in general will be rammed with people looking to make the most of their day off work. The Harvest Moon Festival, which lasts for three days around the autumn equinox, is the most important festival in South Korea and can be the busiest time to travel as everyone journeys to see their loved ones.
What is train travel in South Korea like?
Train travel in South Korea is easy and efficient but price can vary wildly depending on which type of train you choose. The fastest of all the trains is the KTX, which is an express train and will get you from A to B very quickly but requires you to pay a premium fare. Other trains, known as slowpoke trains, include Saemaeul and Mugunghwa trains which are much slower but are much more budget-friendly.
Virtually the entire country is connected by train, making it an excellent option for transferring between cities. Foreigners have the option of purchasing a Korea Rail Pass (KR Pass), which permits unlimited rail travel across all trains, including KTX trains, for however many days it has been purchased for (1, 3, 5, 7 or 10 days). Unfortunately, passengers travelling with this pass are not allocated seats so may be required to stand for the duration of the journey.