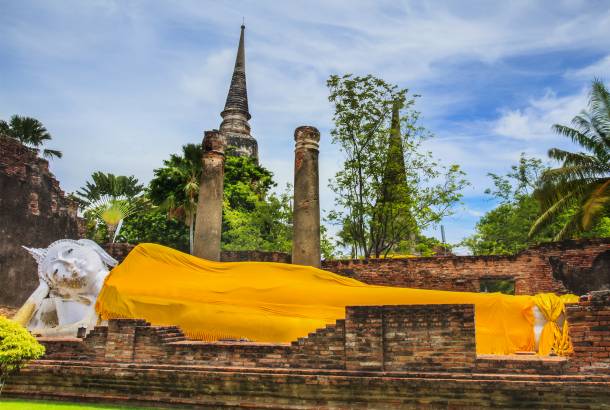 If you're planning a trip to Thailand then you'll want to be prepared and here's where our Top Travel Tips come in handy. Packed with info on everything from what currency to use to whether you should leave a tip at a restaurant, these tips will have you ready for your holiday in no time.
What vaccinations do I need for Thailand?
You should seek medical advice from your local health practitioner before travelling to Thailand and ensure that you receive all of the appropriate vaccinations. As a guide Hepatitis A, Typhoid and Tetanus are strongly recommended. If travelling to remote areas, further vaccinations including TB, Hepatitis B, Rabies, Diphtheria and Japanese encephalitis may also be necessary.
Do I need anti-malaria tablets for Thailand?
Malaria may be present in rural areas, including forested areas that border Burma (Myanmar), Cambodia and Laos, and rural, forested areas in the districts of Phang Nga and Phuket. Malaria is not found in the cities of Bangkok, Chiang Mai, Chiang Rai, Koh Phangan, Koh Samui, Pattaya, Phang Nga and Phuket. The risk of contracting Malaria in Thailand is low but be sure to contact your local health practitioner to find out whether or not you should take anti-malarials with you. There is also a risk of dengue in some parts of the country so avoiding mosquito bites is important. This can be achieved by wearing long sleeves and trousers, sleeping under a mosquito net and covering yourself in an insect repellent that contains at least 50% DEET. For more information on the malaria risk in Thailand visit the NHS Fit to Travel page or the CDC Traveler's Health page.
Bilharzia
This chronic disease may be present in some rivers and lakes and we recommend it best to avoid swimming in untested waterways.
Is it safe to drink tap water in Thailand?
Tap water in Thailand is not considered safe to drink. It's recommended to only drink bottled mineral water, which is readily available in hotels, shops and restaurants, or purified water. Avoid having ice in your drink as it might have been made with tap water.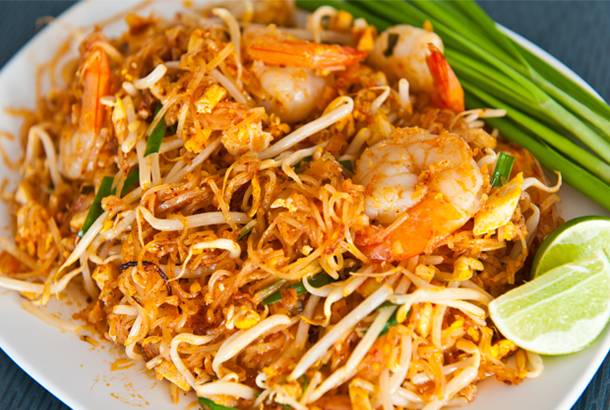 What's the food like in Thailand?
Thai food is world renowned and the country itself a food lover's paradise. Phat Thai, Green Curry, Som Dtam, Tom Yum Gai… almost certainly everyone has a favourite. Rice and noodles are used as a staple and underlying base for most dishes with various accompaniments, whether it be a broth containing vegetables and, or meat, stir-fry, curry or salad, providing flavour. Thai accompaniments strive to strike a balance between the 'four flavours'- sweet, sour, salt & hot. The balance of the four flavours varies from dish to dish to create a varied cuisine full of distinctive flavours – from their celebrated hot & sour soup – Tom Yum Goong, to the milder chicken, peanut & potato Massamum Curry originating in the Muslim South. Omnivores enjoy a plethora of choice and possibilities, though vegetarians need to take heed as often base flavourings often include fish sauce, shrimp paste or dried shrimps.
Thailand brews several beers; the best known is Singha, with Leo and Chang being less expensive and more popular with the locals . Imported beers, such as Heineken, are also widely available. Mekong and Sang Som are two of the more popular local 'whiskeys', even though the latter is more like rum (fermented from sugarcane). Fruit juices, freezes, milkshakes of all kinds and coconut water, iced and drunk directly from a fresh coconut are very popular with Thais and visitors alike. Freshly squeezed Thai sweet orange juice and chrysanthemum juice are other favourites. Thais often add salt to their fruit juices or have basil seeds added to their iced fruit juice - an acquired taste that you might learn to like.
One of Thailand's most characteristic drinks is Thai iced tea. Instantly identifiable thanks to its lurid orange colour, this is the side effect of adding ground tamarind seed (or, these days, artificial colour) during the curing process. The iced tea is always very strong and very sweet, and usually served with a dash of condensed milk. Coffee is also widely available, and like most of Southeast Asia is served with condensed milk and lots of sugar. The Starbucks phenomenon has also arrived in Thailand, though the local companies Black Canyon Coffee and S&P also offer good blends and a strong brew.
Safe eating while travelling in Thailand
Due to the vast numbers of tourists that head to Thailand every year, food hygiene standards have risen to accommodate the requirements of foreigners. Restaurants that look clean and aren't abnormally empty will generally serve good, safe food and street food is also usually fine to eat provided the food hasn't been sitting in the sun for ages, getting attacked by flies. Be wary of meat and fish that might not have been cooked properly and insist that it is served piping hot before you eat it. Travellers should also avoid eating ice, which might have been made with unhygienic water, and salad, raw vegetables and fruit, which may have been washed in dirty tap water.
Is it standard to tip in Thailand?
Tips are not expected in Thailand but given that it is such a poor country, a little extra can go a long way for those in the service industry. Generally, adding 10% to bills in restaurants and rounding taxi fares up is a good way to show your appreciation. If you stay in a hotel with room service, it is a good idea to leave a dollar or two per day for the housekeeping staff and bell boys. It also polite to leave a donation when you visit any of the wats (temples).
We also recommend tipping local guides and suggest an amount of approximately USD $3-$6 per day of your tour. Naturally, though, the amount is up to you.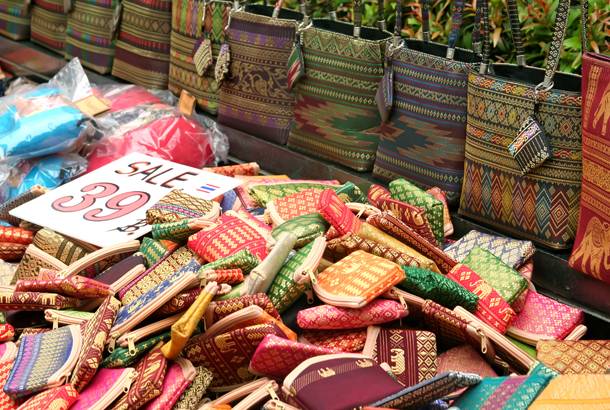 What is good to shop for in Thailand?
Offering a mix of contemporary and traditional, Thailand has a reputation for providing top quality items at low prices as well as having a notorious trade in 'copies' or fake goods, such as Havaianas and Ray-Bans. Items for which Thailand is famous include Thai silk, tailored clothing, colourful hill-tribe artefacts and finely crafted silver jewellery. Even the smallest Thai town has a market offering fresh produce with larger ones selling everything from household items to crafts and artefacts.
Bangkok itself has several famous markets, including the vast Chatuchak market held each weekend with more than 6,000 stalls selling everything from seafood to second-hand jeans to antiques, textiles, animals and food. Take the opportunity to visit the wonderfully aromatic stalls of the Pakklong Talad (Flower) market and visit any one of the many night markets including Khao San, Patpong and Sukhumvit.
Many travellers to Thailand will want to stock up on cheap clothing, including harem pants and vests with various beer logos emblazoned across them. Buying in bulk will reduce the price if this is the case. Other fun souvenirs include Thai boxing shorts, hand carved soaps and sarongs.
How to bargain in Thailand
Prices in chain and department stores are fixed, however, in markets bargaining is expected. If bargaining, figure out what the going rate is so that your starting offer is not embarrassingly low. Once bargaining has started, there is an expectation that you intend to purchase the goods and are not just bargaining for 'fun'. Remember to keep a smile on your face the whole time and do not get stressed or aggressive with the vendor. If the price hasn't dropped enough to suit your budget, simply walk away. If the vendor wants the sale he will chase after you, if not, you are likely to be able to find the same thing elsewhere for cheaper.
Is it safe for a single woman to travel in Thailand?
Yes, Thailand is absolutely safe for solo female travellers. Thai people are constantly surrounded by foreign women, given that it is one of the world's most popular holiday destinations, and so they attract very little attention. In fact, in Bangkok, men are much more likely to be grabbed in the street than women due to the city's thriving sex tourism industry. Nevertheless, women should be wary of walking around in big cities at night alone and should dress appropriately when straying off the beaten track. In the main tourist areas, however, women can feel free to wear whatever they want.
How should I behave when visiting temples in Thailand?
When entering temples in Thailand it is important to remember to take your shoes off beforehand. Women wearing trousers or a short skirt will usually be required to put a long skirt on over the top. These are available to borrow at most temples. It is never acceptable to touch somebody on the head in Thailand as it is the highest point of the body and therefore considered the most important and holy. On the flipside, feet are the lowest part of the body and gesturing with them will often be considered both disrespectful and disgusting.
Fortunately, because Thais are so used to seeing tourists in their temples and holy sites, the ignorance of foreigners is usually just dismissed without too much offence being caused.
Is Thailand a suitable family holiday destination?
With a wealth of activities in every corner of the country, blissful sunshine, mouth-watering food and friendly locals, Thailand might just be one of the best family holiday destinations on the planet. The country is easily accessible by train, plane and bus, making travelling from city to city hassle free, an essential factor for those travelling with small children. Water sports, ziplining and elephant riding all cater to children and teens, while parents can enjoy the thick swathes of jungle and magnificent temples that pepper the landscape.
Although Thailand is rapidly developing and modernising, touching down in Bangkok for the first time can be a culture shock for the less experienced traveller. Gleaming supermalls sit alongside slums while children beg for coins and food on the streets, a distressing sight to say the least but an eye-opening experience, particularly for young ones who might not appreciate just how fortunate they are.
What is the duty free allowance for Thailand?
Travellers are permitted to bring the following into Thailand:
200 cigarettes or 250g of cigars or tobacco
1 litre of alcohol
Goods to the value of USD $288
The following are banned from importation into Thailand: Obscene and pornographic objects and publications, goods displaying the Thai national flag, narcotics, counterfeit currency, fake Royal/official seals, and pirated and counterfeit goods. Restricted imports include drugs, food, weapons and ammunition, antiques, artworks, and endangered species.
What is the currency in Thailand?
The official currency in Thailand is the Baht. Check OANDA for the latest exchange rates.
Euro, British Pounds, US Dollars and other major currencies can be exchanged at banks or or at any one on of the numerous exchange booths that line the streets of the big cities. You may also choose to purchase currency in advance, though its possibly not necessary as ATMs can be found everywhere with the exception of the hill tribe areas of Chiang Rai and if enroute between Chiang Rai and Chiang Khong border if crossing to Laos. It is not common to pay with a credit card at restaurants, cafes or shops for small purchases and if you do often there will be a surcharge applied or minimum charge required. It's advisable to request bank notes in smaller denominations, as it can sometimes be hard to get change from large notes and smaller notes are handy for smaller purchases and gratuities.
Traveller's Cheques are not recommended as they're often difficult to exchange and incur high fees.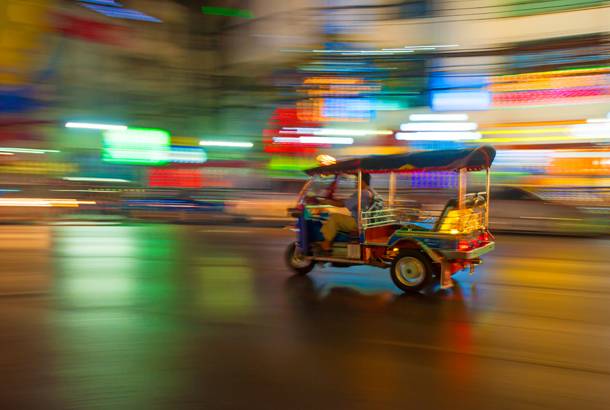 What do things cost in Thailand?
One of Thailand's main selling points is its affordability so, despite the rising prices in places like Bangkok and the islands, travelling through this country is incredibly cheap. Budget accommodation can generally be found for less than USD $10 even in the most touristy areas and more upmarket hotels can come in as little as USD $25-40 per night.
A generous portion of rice or noodles can usually be found from street vendors for around USD $1.50-2 and a meal in a restaurant with a local beer is approximately USD $5-10. Taxis and tuk tuks are both incredibly cheap and a journey across the centre of Bangkok can cost just a few dollars. Public transport is also very affordable with an 18 hour train journey across the country in a sleeper carriage amounting to about USD $50.
What sort of plugs do I need for Thailand and what is the voltage?
Standard voltage is 220 volts. Primary sockets generally require the 2 flat prong plugs (type A) and the 2 round pin plugs (type C). We recommend that you pack a universal travel adaptor. You will need a voltage converter and a plug adaptor in order to use U.S. appliances.
Is WiFi widely available in Thailand?
Yes, WiFi can be found in the vast majority of restaurants, bars, cafes and hotels as well as in some public plazas.
What time zone is Thailand on?
Thailand is 7 hours ahead of Greenwich Meantime (GMT) and does not observe daylight saving.
Travelling during public holidays
Many Thais celebrate public holidays by visiting friends and relatives that live in other provinces so, during these times, many hotels and trains will be fully booked. If your travel plans coincide with any major festivals it is best to make sure you book everything in advance to avoid disappointment. If you are travelling on the roads, be aware that the traffic might be much heavier than usual.
What is train travel in Thailand like?
Trains are an excellent way of getting around Thailand as the country and all of its major cities are well provided for by the railways. Sleeper carriages are available on most long haul journeys and beds can be booked for very reasonable prices. Trains also usually have a dining carriage, which serves astonishingly good food, as well as vendors who make the rounds through the carriages selling hot drinks, fruit and other snacks.