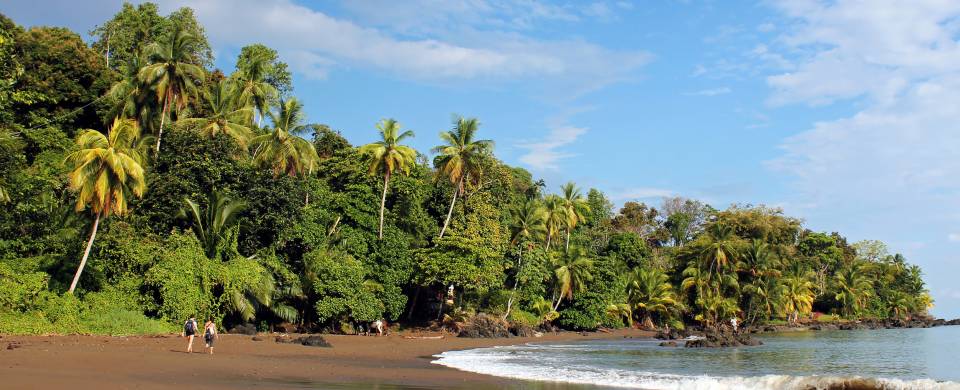 Trips and Tours to Bahia Drake
About Bahia Drake
The sweeping arc of Bahia Drake, or Drake's Bay named after Sir Francis Drake who anchored here in 1579, sits in the northwestern corner of the Osa Peninsula. Enjoying a somewhat remote and secluded location, the small bay is perfect for those looking for a taste of exotic adventure with miles of pristine beaches, spectacular lagoons and secret coves waiting to be explored. The calm waters are ideal for sailing and the wide array of marine life offers plenty of wildlife spotting opportunities. It's fairly common to see manta rays, marine turtles, porpoises and sometimes even whales, either from above on a boat trip or in the water with a scuba diving trip.
Read More
The village of Agujitas serves as the area's main transport hub and is where many of the accommodation options are found. There are also a number of resorts on the rocky Punta Agujitas. Some 20km west of the bay is the tiny Isla del Cano Biological Reserve, a 3km long by 2km wide uninhabited island covered in thick forest. The island is actually the exposed part of an underwater mountain and is an attractive sight on the horizon when viewed from Bahia Drake. It's also possible to visit the island on a tour with hiking opportunities available once on the island, taking visitors past lithic spheres marking Diquis burial sites. The coral beds around the island make Cano a prime snorkelling and diving destination with an abundance of colourful underwater creatures.
A day's hike from Bahia Drake is the famed Corcovado National Park, a pocket of immense biological diversity with deserted beaches and high canopy trees. It's possible to visit the park on a full day's trip from Bahia Drake though for serious hikers, venture further into the stunning wilderness and explore more of the region's hiking trails.