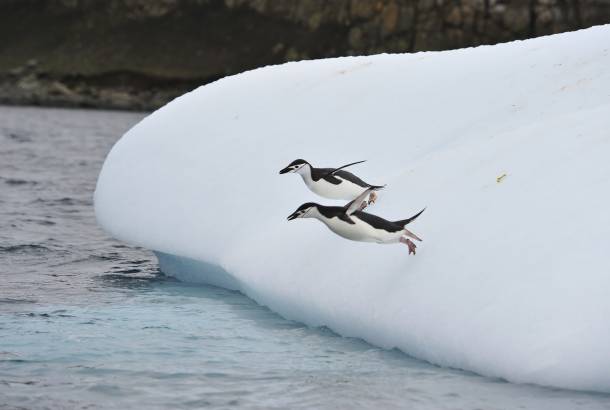 Have you decided to take the plunge and book a once in a lifetime adventure to Antarctica? You're sure to have the trip of a lifetime, and to make things a little easier for you, we've put together this handy guide. It's full of answers to some of the questions you may have about your trip.
What vaccinations do I need for Antarctica?
You should seek medical advice from your local health practitioner before travelling to Antarctica and ensure that you receive all of the appropriate vaccinations. No specific vaccinations are required for travel to Antarctica though it is advised that you are up-to-date with the standard vaccinations prescribed in your home country.
If you are arriving into Antarctica from an area where Yellow Fever is present, you will be required to present a certificate of vaccination against Yellow Fever.
The main health concerns visitors have to contend with are related to the nature of Antarctica - the rough seas require preventative seasickness medication and the extreme cold temperatures require proper planning when it comes to what to take in order to avoid hypothermia and stay warm and dry.
How much spending money do I need?
Currency aboard the Ushuaia ship, and many other expedition boats, is US Dollar, and Euro is also accepted. It is also possible to pay using MasterCard and American Express, however, a minimum charge of US$100 applies.
We suggest that you bring at least US$300 to US$400 per person to cover all possible spending money while on voyage around Antarctica. This sum will be more than sufficient as the isolated areas mean spending opportunities are rare. For services rendered aboard the ship, guests are provided with a personal account using a "chit" system. Your purchases will be kept on record and totaled at the end of your voyage. Your account must be settled prior to disembarkation in cash (U.S. Dollar or Euro). If you prefer to pay using credit card then you need to advise the ship manager when you first embark.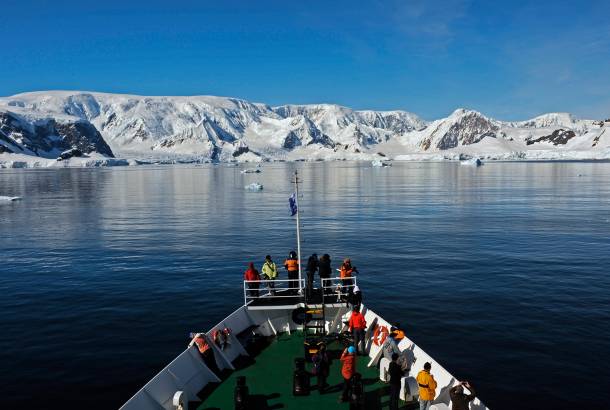 Is it standard to tip on an Antarctica voyage?
The customary gratuity to the ship's service personnel is made as a blanket contribution at the end of the voyage and is divided among the crew. Tipping is a personal matter and the amount you wish to give is at your discretion. As a generally accepted guideline, we suggest US$15 per person per day paid in cash as credit cards are not accepted for gratuities.
What sort of plugs do I need for an Antarctica voyage and what is the voltage?
Electric current on board the Ushuaia is 110 V/ 60 Hz and cabins are fitted with multi-type sockets suitable for several international plugs. However, we recommend to bring necessary converters and any special adaptors with you as only a limited number can be borrowed on board. Voltage may vary across boats.
Some outlets in public areas are 220v-240v and are clearly marked. However, they are fitted with Argentinean outlets. This plug has two flat pins in a V-shape and also has a grounding pin. The ungrounded version of this plug with only two flat V-shaped pins or a plug with two thin round pins also work.
Is WiFi available on board?
Wi-Fi is generally not available on Antarctic expedition cruisers, though they tend to have dedicated computers on board so you can check your emails! A standard rate is approximately $10 for an internet code lasting for 30 minutes, though rates do vary depending on which expedition ship you are travelling aboard.
What time zone is Antarctica on?
There are no official time zones in Antarctica as the continent sits on every line of longitude and is therefore located in all time zones. Time zones are usually based on territorial claims with research stations following the time of the country by which they are owned. Expedition boats generally use the same time zone as Argentina, which is 3 hours behind GMT and does not observe Daylight Saving.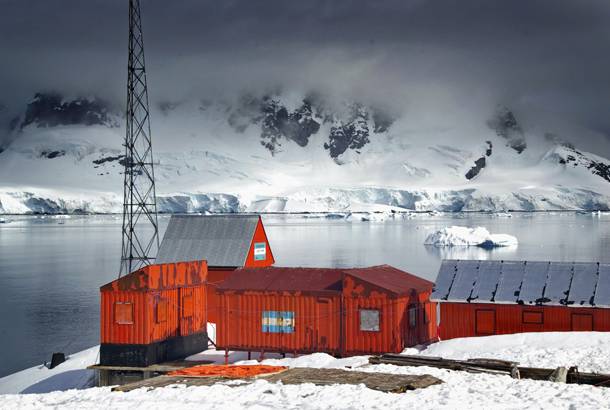 Are there any local customs I need to be aware of in Antarctica?
As you probably know, their are no native peoples on Antarctica, so the only local customs to observe are those of the scientists at research bases! On many of our voyages to Antarctica, it may be possible to visit a research base to meet some of these modern day explorers. Only ever enter a room or building at these stations if invited to do so by the scientists, and make sure not to disturb any of the important work going on. Also, ensure you use the toilet on board your boat before arriving at the research base as adding to the amount of waste that researchers have to dispose of at a later date is considered very bad form.
Antarctica's environment is very fragile and so it's very important that no rubbish is left behind when visiting islands and the Antarctic Peninsula. Before landing travelers will be asked to wash their boots to minimize the chance of cross-contamination of seeds and organisms from places previously visited.
What should I pack when visiting Antarctica?
To help you prepare for your expedition to Antarctica, we have prepared a recommended packing list as a guideline, though you are free to modify these suggestions to fit your individual comfort needs.
Rain jacket
Waterproof trousers
Rubber boots
Pull-on, unlined, knee-high boots are required for wet landings and boots must be 14"-16" high with strong, rubber-ridge, non-skid soles
Parka, preferably water-repellent and hooded
Waterproof gloves or mittens
Hat, scarf, or other face protection
Jacket or sweaters
At least one lightweight and one heavy jacket or sweater in wool or synthetic fabrics to act as insulating layers
Woollen socks
Warm pants
Thermal or long underwear
Light-weight shirts and T-shirts
On board the ship most travelers wear comfortable casual clothing with deck-type, rubber-soled shoes. Meals on board are informal affairs so you will not need to take smart or fancy clothing with you.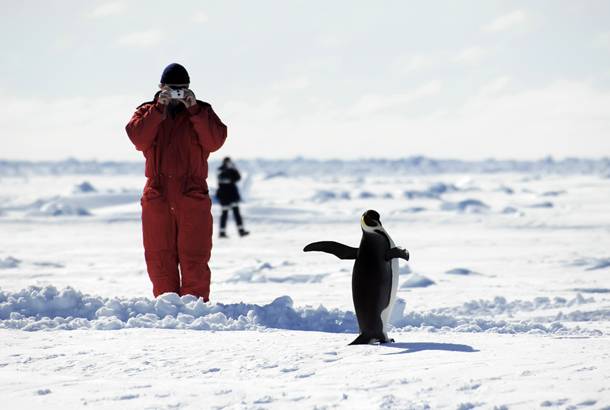 How to take the best photos
Antarctica offers incredible photography opportunities from mesmerizing glaciers to animal antics. To ensure you have the right equipment and make the most of your experience, we've put together a few essential tips:
Make sure you're familiar with how your camera works before you reach Antarctica - for the best pictures you're better off using manual or program settings on your camera so you'll need to know how to do so
When shooting snowy landscapes, the bright conditions will trick your camera into underexposing the scene with a bluish tint - to compensate for this, use the snow setting on your point-and-shoot camera or turn the dial up +1 or +2 on the exposure compensation dial of your DSLR
Take more than one shot at a time - this gives you the chance to experiment with the exposure so that you get the right one
Use a low ISO setting - on a sunny day ISO 100 should be fine and on an overcast day ISO 200 or 400 should suffice
When composing your images, look for details of contrasting color to give the composition more visual interest
Use the soft early morning and late evening light to your advantage and get shutter-happy during these times for the best lit compositions
Take spare batteries with you and charge any used batteries at every opportunity - you don't want to get caught out
If you're using a DSLR, we recommend taking a good telephoto lens to capture distant animals
Carry plenty of protection for your camera with well-padded bags and sealable, waterproof cases to avoid damage caused by the extreme cold temperatures, snow, rain and salt spray
Take enough storage space with you in the form of memory cards - expedition ships do have computers on which you can download your images to hard drives but in case you are unable to do so, it's best to have plenty of memory
See Also
To help you plan your visit to Antarctica's frozen landscapes, take a look at the rest of our handy resources:
Best Places to Visit - our top five destinations in Antarctica
Best Time to Visit - weather and climate in Antarctica
Tourist Visas - details on visa procurement
The Ushuaia - everything you need to know about the expedition vessel