About the boat
Originally built for the United States' National Oceanic & Atmospheric Administration (NOAA) for the purposes of environmental research, the Ushuaia has since been transformed into a comfortable polar expedition vessel accommodating 88 passengers in 46 cabins and suites.
The Ushuaia is staffed with a knowledge expedition leader supported by a team of assistants and zodiac drivers, plus expert lecturers and naturalists. Facilities on board include four spacious open air decks for spotting seabirds and marine life; a large dining room which can seat all 88 passengers; an open-plan observation lounge and lecture room; a library stocked with interesting books and fun board games; a well-stocked bar with a selection of wines and spirits; a gift shop where passengers can purchase clothing, apparel, gifts and souvenirs; and a small infirmary.
The Ushuaia has an open bridge policy whereby passengers are invited to join officers on the bridge to learn about how the vessel navigates these sometimes tricky waters and to spot marine life from a different vantage point.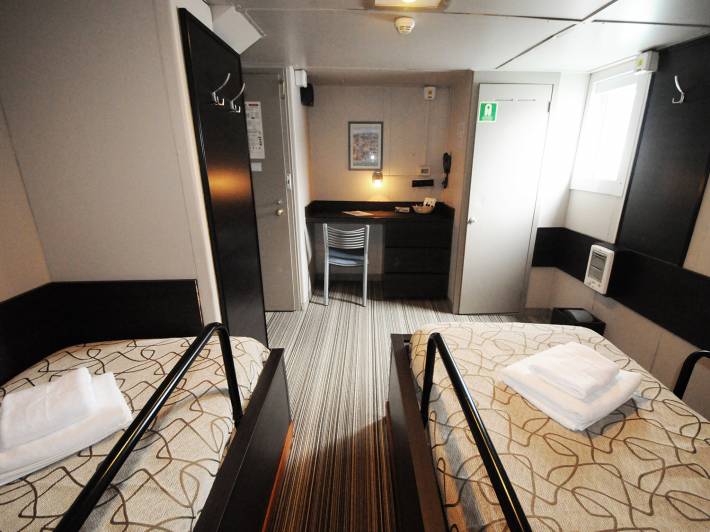 Your cabin
The Ushuaia offers passengers the choice of seven cabins, ranging from standard twins to superior singles and spacious suites. Most cabins offer lower berth and private facilities except for standard cabins which are two berths (upper and lower) with semi-private facilities (two cabins sharing a shower and washroom). Cabins have their own wash basin, are climate-controlled and equipped with hairdryers.
Please be aware that the Ushuaia operates an open-door policy, so if you wish to store any of your valuables you'll need to ask your expedition leader. All passports are collected upon embarkation for kept for administrative and safe-keeping.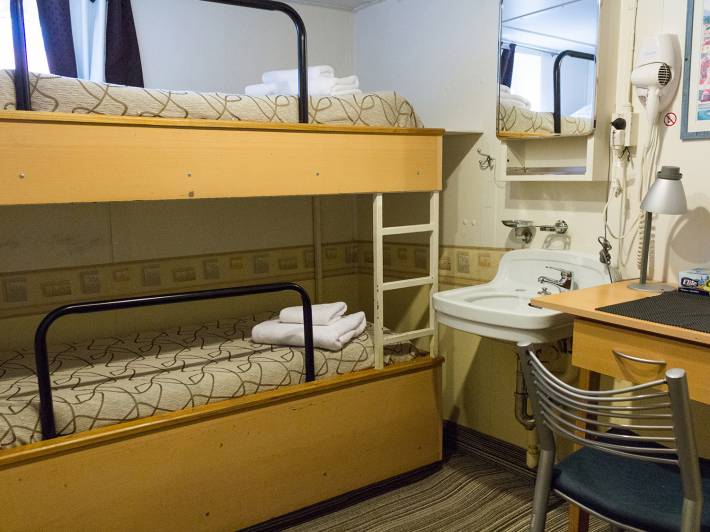 Standard Cabins
On deck E the Ushuaia offers 12 standard twin cabins with portholes. These cabins have semi-private facilities - shared with one other cabin, and have upper and lower berths.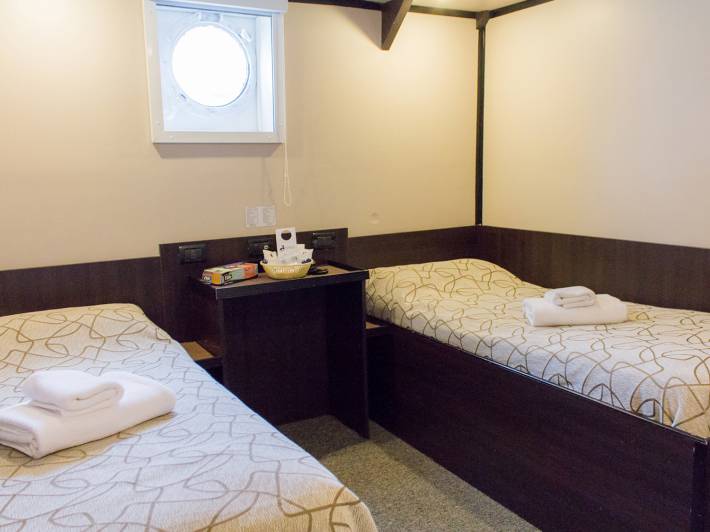 Standard Plus Cabins
There are 11 twin cabins with portholes or windows on deck E, which benefit from private facilities and two lower berths. For couples, Cabin 640 has one double bed. There are also two triple cabins with portholes or windows on the same deck, which have private facilities and three lower berths.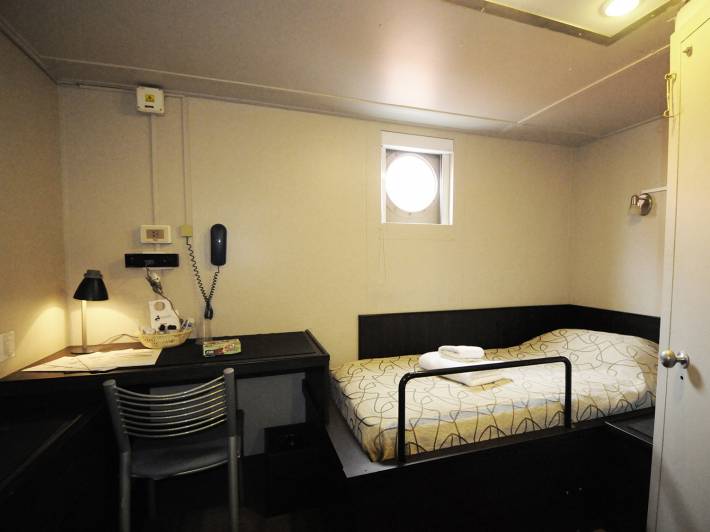 Premier Cabins
On upper deck G there are 6 premier twin cabins with windows, private facilities and two lower berths. On the same deck there are two premier single cabins with portholes (view obstructed by lifeboat) with private facilities.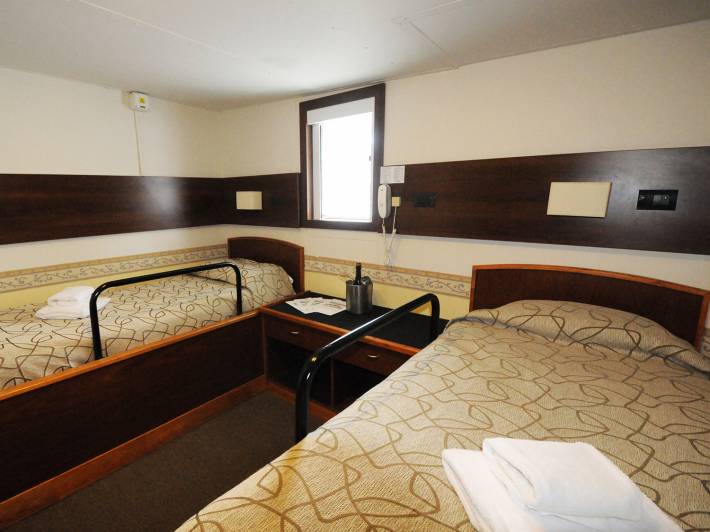 Superior Cabins
There are 9 superior twin cabins with windows on the upper deck G, each with private facilities and two lower berths. Perfect for families or groups of friends, cabin 301 has one double and one single bed.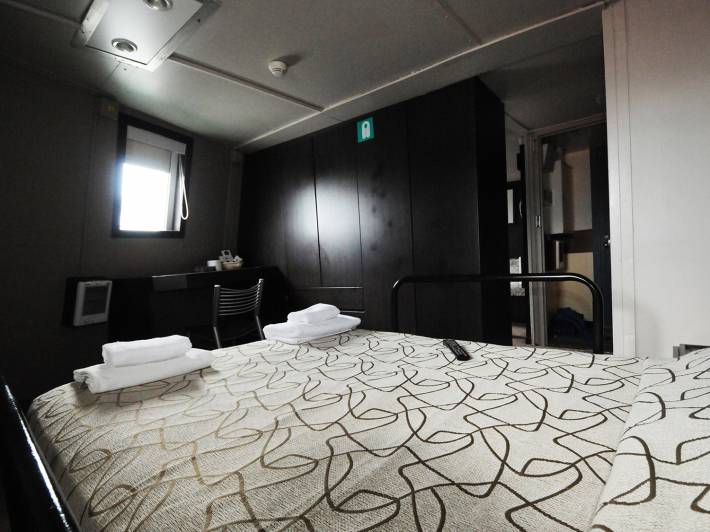 Suites
There are 4 suites with windows on upper deck G, which benefit from private facilities, two lower berths, lounge, TV, DVD player and fridge. Perfect for families, Suite 201 has two double beds and Suite 202 has one double bed and a sofa bed. Suites 204 and 207 has three lower single beds.
Your meals
All meals on board will be freshly prepare by an onboard team of chefs with the choice of a Continental or American breakfast in the morning, a buffet or seated lunch, afternoon tea and a three-course dinner in the evenings. Complimentary tea and coffee will be available throughout the day, and the well-stocked bar serves a selection of alcoholic beverages at an additional cost.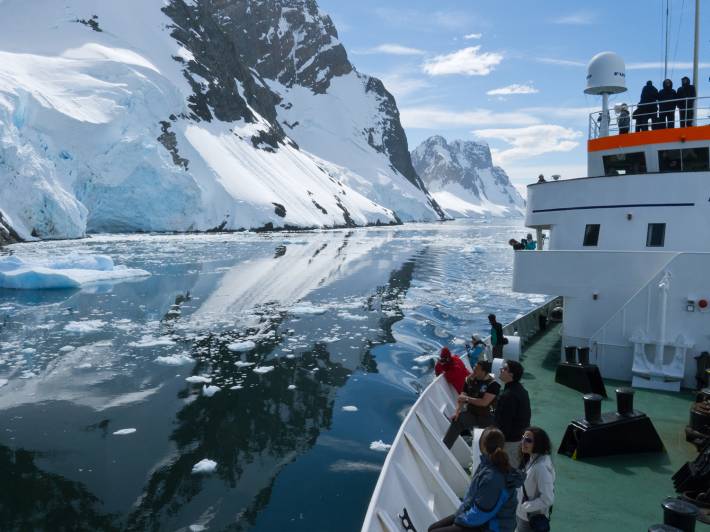 Activities on board
A team of lecturers will give daily talks, to lead shore excursions and answer any questions that you may have. There will also be a selection of informative films offered in the observation lounge, as well as a library stocked with interesting books and fun board games for your enjoyment.
On each evening of your expedition there will be a recap of the program for the following day presented by your expedition leader, including details on the next day's activities, events, landing times, meal times and lectures.
While the Ushuaia does not have WiFi, there are dedicated computers available to use the internet and check emails at an additional charge. Passengers can also make international calls to anywhere in the world for a fee.
Payments on board
On board you will be provided with a personal account so that all of your purchases for the duration of your cruise can be recorded and then settled upon disembarkation in US Dollars or Euro. Credit cards may be accepted provided you've requested this at the beginning of your voyage.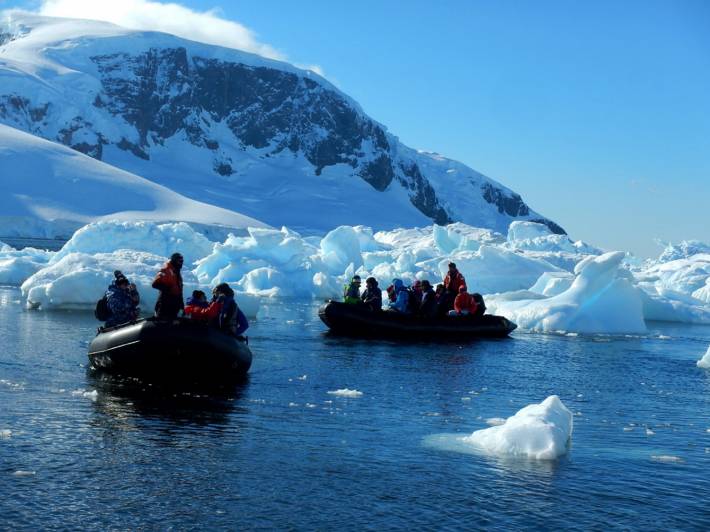 Shore Excursions
When anchored in the Falkland Islands, South Georgia, South Shetland Islands and Antarctic Peninsula there will be two shore excursions per day, ice and weather conditions permitting. The Ushuaia has its own fleet of zodiac boats, which hold up to 12 passengers and are maneuverd by expert drivers. Not only are they sturdy and extremely versatile, allowing landings at otherwise inaccessible locations, they are also easy to board and disembark.
For more detailed information on the Ushuaia and life on board, please see the bottom of the trip notes for your Antarctica Expedition Cruise.