Top Islands in the Galapagos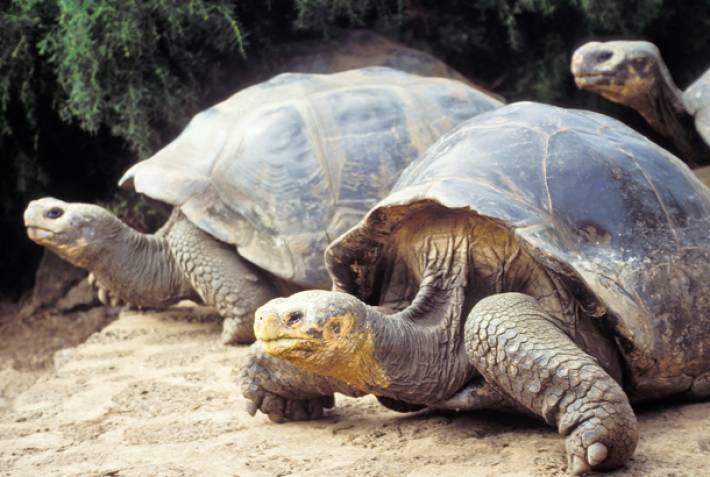 OUR PICK #1
Santa Cruz Island
Second largest of the Galapagos archipelago, Santa Cruz island is home to the largest human population of all the islands as well as a fantastic array of wildlife. Its capital, Puerto Ayora, is the largest urban center in the archipelago and is home to many of the island's 12,000 residents. The Charles Darwin Research Centre, founded in 1959, is located here and plays an important role in environmental education and conservation. While many people simply pass through Santa Cruz, those who spend a little longer exploring its various visitor sites will be pleasantly surprised. Residing at Tortuga Bay are marine iguanas, Galapagos crabs, white tip reef sharks and the iconic giant tortoise. As well as marvelling at the island's fauna, visitors to Santa Cruz can take a stroll through the lava tunnel that stretches out over 2km.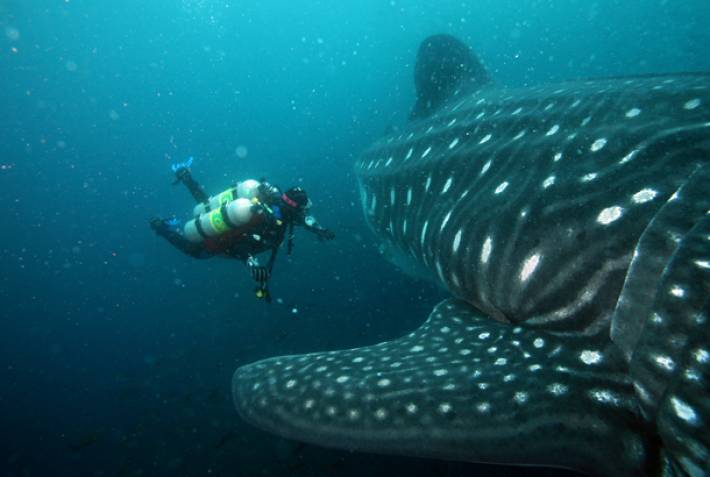 OUR PICK #2
North Seymour Island
With an area of just 1.9 square kilometers, North Seymour Island is covered in thick vegetation and has a walking trail that stretches 2km from one end of the island to the other. Travelers who wander along this path can enjoy the plethora of animals that can be spotted, including marine and land iguanas and sea lions. Frigates and blue-footed boobies are also major players on the island's ornithological scene. In addition to the sights and sounds that can be found on land, much can be said for what lies under the sea. Known to be a fantastic spot for divers, those who plunge into the crystal clear water off the coast of this tiny land mass will often be greeted by herds of hammerhead and white tip reef sharks, eagle rays and all kinds of other exotic sea creatures.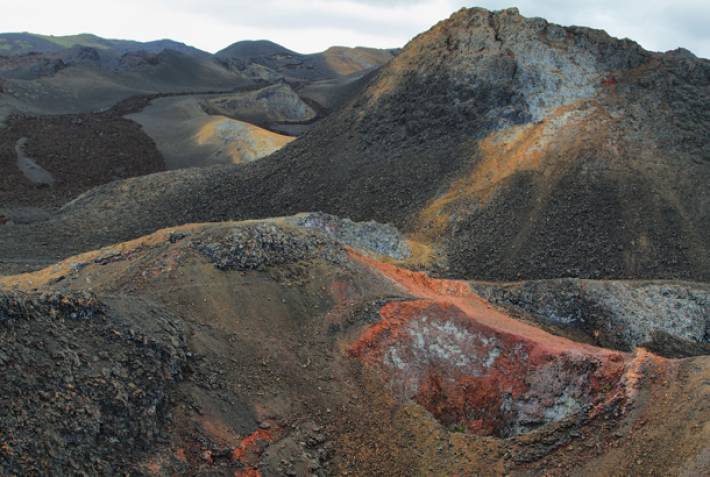 OUR PICK #3
Isabela Island
Almost four times larger than the second largest island in the Galapagos archipelago (Santa Cruz) and known for its peculiar seahorse shape, Isabela Island is a vast expanse of land and the youngest of all the islands. The wildlife on Isabela is unrivalled in terms of diversity, with giant tortoises, penguins, iguanas, hawks and crabs all calling this rocky mass home. The island's west coast has also gained fame as being one of the best places to spot humpback, minke and sperm whales and dolphins. Situated on this island is the dramatic Wolf Volcano, which rises up to a height of 1,707m, making it the highest point in the entire archipelago. The majority of Isabela's residents live in the picturesque town of Villamil, a popular destination for travelers thanks to its pristine, white sandy beaches, swaying palms trees and sparkling lagoons.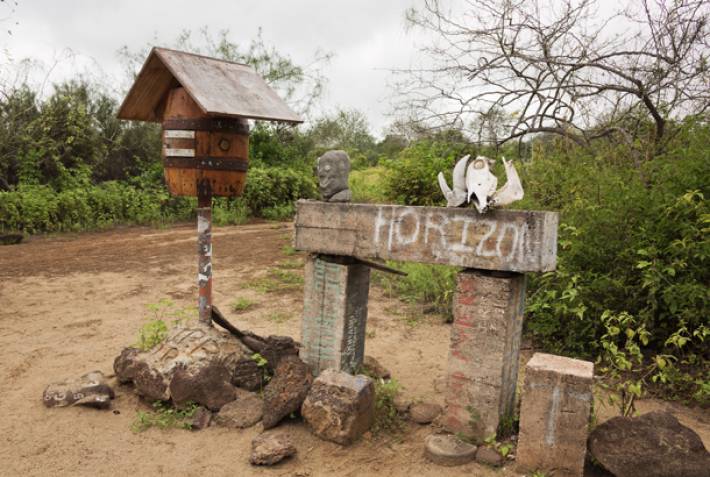 OUR PICK #4
Floreana Island
Floreana has a fascinating history and is home to the legendary Post Office Bay. At this site, towards the turn of the 18th century, whalers installed a wooden barrel in which they then left letters with the hopes that the next ship that passed by might be heading in the right direction to deliver them. Nowadays, people from around the world leave letters and postcards destined for every corner of the globe in the barrel and, simultaneously, take any post they might be able to deliver themselves. It is also said that one of the earliest settlers on the island, an Austrian baroness, mysteriously disappeared and although her case has been investigated, it was never solved. Aside from its curious history, the island draws in visitors because of its striking green sand beach, tainted because of the presence of olivine crystals.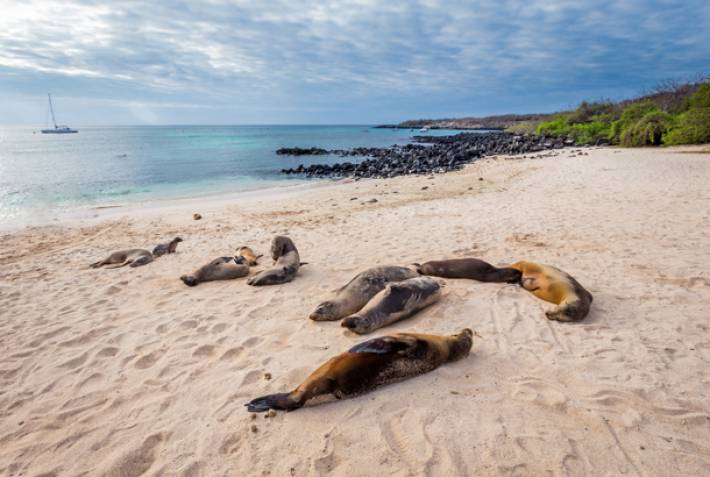 OUR PICK #5
San Cristobal Island
The easternmost of all the islands, San Cristobal holds the only permanent freshwater source in the entire archipelago. Unlike many other islands, San Cristobal has a number of things that travelers can see and do without the supervision of a park guide, making it much more appealing for the independent explorer. You will, however, need a guide to visit Kicker Rock, which boasts some of the world's best snorkelling. For those wanting to learn more about the islands they are exploring, the Centro de Interpretacion is an excellent source of information and rivals the Charles Darwin Research Centre located on Santa Cruz. The displays and exhibits focus on the natural history, geology and climate of the islands as well as the importance of conservation and protecting the environment. The Punta Carola and Playa Cabo de Horno, two pristine beaches speckled with sea lions, are also worth visiting.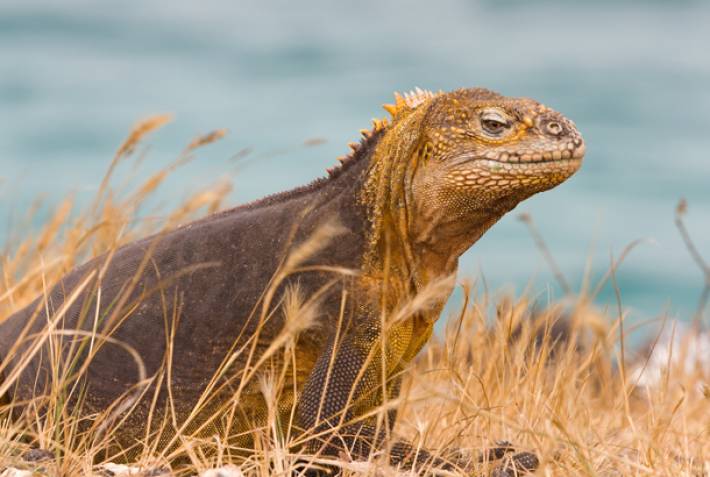 OUR PICK #6
Baltra Island
Home to one of the two airports that connect the Galapagos Islands with the mainland, Baltra is a springboard for exploring the archipelago. Mosquera, a sandy stretch between North Seymour and Baltra, can easily be accessed from the island and is a fantastic place to observe sea lions in their natural habitat. Despite having formerly dwindled to an alarming number, the island also has a thriving population of land iguanas. These animals were driven to extinction in 1954 by a number of factors, one of which was that their habitat was being destroyed by goats that had been introduced to the island. In an attempt to repopulate the island, several iguanas from North Seymour were taken to Santa Cruz for breeding purposes before being released on to Baltra. Scientists are now satisfied that the population of iguanas has recovered sufficiently as there are around 420 on the island.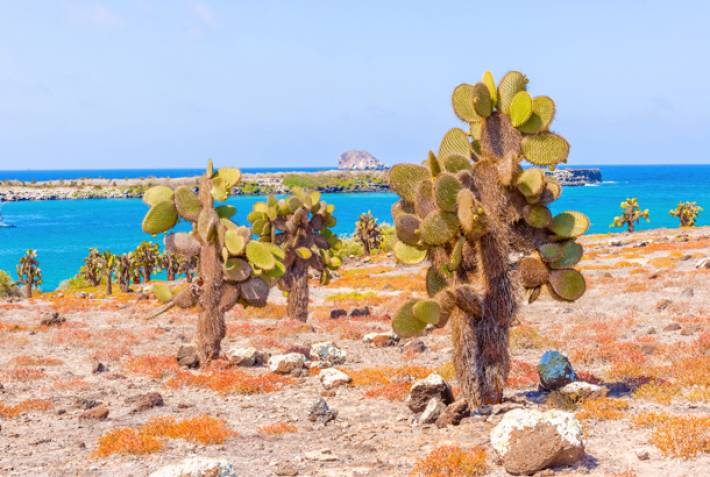 OUR PICK #7
Santa Fe Island
As one of the oldest islands in the Galapagos archipelago, it is estimated that some of the rocks comprising Santa Fe Island date back over 4 million years. The island is home to the endemic Barrington land iguana, of which it is estimated that there are around 7000, and presents several opportunities for travelers to marvel at this majestic creature. Sea lions are also found on the sandy beaches and bays here in abundance. There are two main visitor trails on the island, the first a short loop that stays near the beach and allows travelers to see Santa Fe land iguanas and Galapagos hawks as they wander through the Opuntia Cacti plants. The other trail is slightly more challenging as it involves climbing a steep incline but the sweat and energy expended in the effort are more than made up for by the spectacular views from the top of the inland section of the island.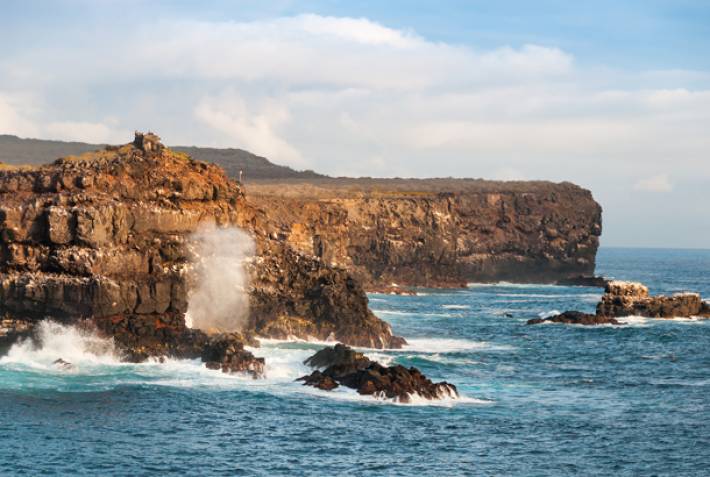 OUR PICK #8
Espanola Island
Receiving just a few inches of rain each year, Espanola Island is the driest of the entire archipelago with very little vegetation across its rocky plains. Nevertheless, this island is a popular stop with travelers because of its big, beautiful, sandy bays that attract dozens of noisy and playful sea lions. Espanola mockingbirds, giant tortoises (that were saved from the brink of extinction) and Espanola lava lizards can also be found on this arid island. Most travelers that head to this island will pay a visit to Punta Suarez, where sea lions and brightly colored marine iguanas laze around, completely unfazed by their visitors. For those seeking some underwater action, Gardner Island and Tortuga Bay is a must. Caves teem with exotic wildlife here, ranging from rays to sharks to turtles. Those who dare can don their snorkel and hop in to the water for a more up close and personal experience.