Which vaccinations do I need for the Galapagos Islands?
You should seek from your local health practitioner medical advice before travelling to the Galapagos Islands and ensure that you receive all of the appropriate vaccinations. As a guide Tetanus, Diphtheria, Typhoid, Hepatitis A are recommended. A Yellow Fever vaccination may also be required.
Do I need anti-malaria tablets for the Galapagos Islands?
Malaria is not present on the Galapagos Islands or in Quito on mainland Ecuador. For more health information on the Galapagos Islands visit the
NHS Fit to Travel
page or the
CDC Traveler's Health
page.
Is tap water safe to drink on the Galapagos Islands?
The tap water on the Galapagos Islands is not safe to drink so only drink bottled water, which is readily available on board cruise boats. It's wise to avoid ice cubes in drinks, and salads, which may have been washed in unhygienic water.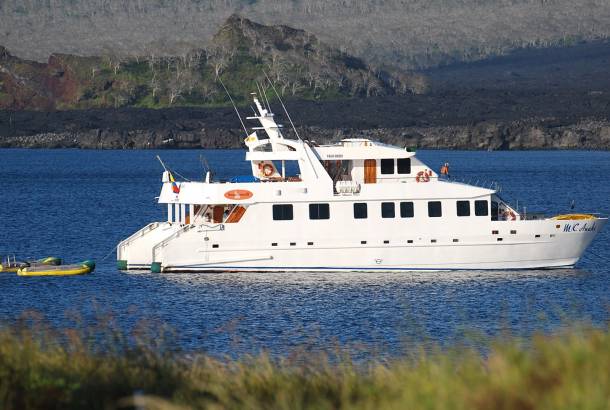 What is the boat like?
On our Galapagos cruises we sail aboard the first-class M/C Anahi Catamaran. Our package includes accommodation in a twin or double cabin on the main deck with en suite and A/C. There is also the option to upgrade to a suite for a supplement. On board the M/S Anahi, three delicious buffet meals are provided each day and you'll be looked after by an attentive crew, in addition to a knowledgeable Level III naturalist guide. For further information about the M/C Anahi and what is included on the Galapagos cruises please click here.
What is there to do on the boat?
The boat will be your home for the duration of your cruising itinerary around the islands, and it has been designed to be the perfect accompaniment to the excitement you will have exploring the islands. There is a bar space on the deck, which is partially covered and used for meetings and occasionally for dining. In the same area is a Jacuzzi where you can soak your aching muscles after a day of adventure. To top it all off, the boat has its own sundeck with reclining loungers, from which guests get fantastic panoramic views of the ocean and the islands.
Will there be WiFi on the boat?
There is no WiFi connection on the boat, making it ideal for passengers who want to disconnect and enjoy their natural surroundings.
Which islands will we be visiting?
Every boat that sails around the Galapagos Islands follow a different itinerary according to the length of time and departure date. Depending on the tour you choose, islands that are often visited include Baltra, San Cristobal, Floreana, Santa Cruz, Genovesa, Santa Fe and Espanola. For more information on these islands, check out our Best Places to Visit page with an outline of what each of these islands has to offer.
What activities will take place off the boat?
During the days, the boat will be stopping off on the islands to seek out its wildlife and marvel at its stunning beaches. One day you might be visiting the Galapagos Tortoise Breeding Centre or the Charles Darwin station and the next you might be snorkelling with sea lions and manta rays. There will be a reasonable amount of physical activity, most of which will be walking and hiking around the islands.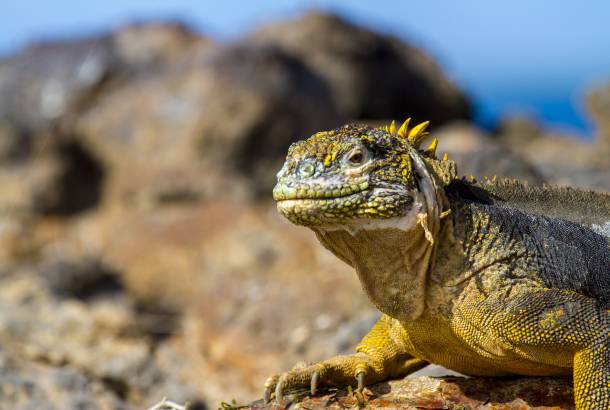 Which animals will I see on my trip to the Galapagos?
The Galapagos Islands are famously where Charles Darwin developed his groundbreaking theory of evolution, and much of the wildlife here is endemic, meaning it can be found nowhere else in the world. Although no wildlife sighting can be guaranteed, passengers on our Galapagos cruises and tours will usually see a wide range of different birds, including boobies, frigates, gulls, and Darwin's famous finches. Most travelers will also get the chance to see marine and land iguanas, sea lions, manta rays, sea turtles, Galapagos sharks, and giant tortoises.
What do I need to pack for a Galapagos Islands cruise?
Given the archipelago's location on the equator, the Galapagos Islands are generally quite warm. Loose, comfortable clothing is essential when exploring the islands. Shorts and a light t-shirt are perfect and should be accompanied by sunglasses and a broad-rimmed hat to protect your face from the sun. You might want a light jumper for the evenings, especially if you plan on stargazing. When it comes to footwear, open sandals are the best things to bring as they can cope with the rough volcanic terrain and are also fine in the water. Other essentials include swimwear, a camera with a waterproof carry case, cash and, if you have them, binoculars for getting a better view of the wildlife.
What options are there for visiting the Galapagos if I don't want to do a cruise?
If you don't want to be based on a boat, we have a tailor-made tour option that allows you to stay in Finch Bay Eco Hotel in Puerto Ayora on the island of Santa Cruz. While you will still need to use boats to get from island to island, your main base will be on land - the perfect alternative for those who suffer from sea sickness. With plush, spacious rooms, magnificent views of the water and an outdoor pool, the property has everything you need for a relaxing stay with plenty of activities and excursions to make the most of the Galapagos.
What currency is used on the Galapagos Islands?
The currency in the Galapagos is US Dollars. Check OANDA for the latest exchange rates.
There are ATM machines on the islands of Puerto Ayora and San Cristobal which accept all major credit cards, however the daily limit that you can withdraw is low.
Do not rely on credit or debit cards as your only source of money as they don't always work so a combination of cash and cards is best. We recommend bringing US Dollars with you and it's best to request smaller denominations (US$1-20) as there is always a shortage of change and shopkeepers will often refuse $50 and $100 bills.
Traveler's Checks are not recommended as they're difficult to exchange with high fees.
What time zone is the Galapagos in?
The Galapagos Islands are 5 hours behind GMT and do not observe Daylight Saving.
What is the voltage on the Galapagos Islands?
The standard voltage in the Galapagos is 120V and sockets are the U.S. flat-pin variety. We recommend that you pack a universal travel adaptor that will allow you to use a hairdryer, electric shaver, charge a mobile phone or other electrical items.