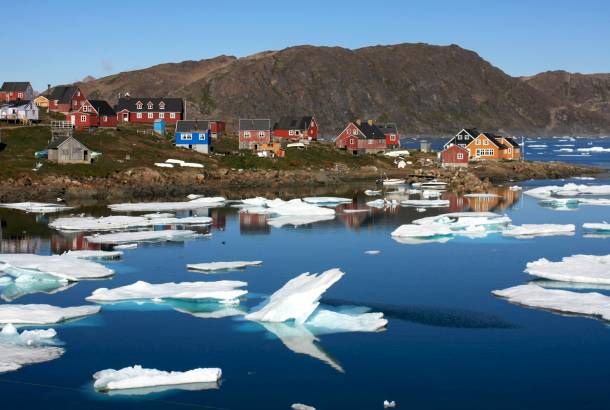 Greenland at a Glance: Best Time to Visit
Recommended time to visit: Most of Greenland is locked under ice throughout the year. During the summer months from May - September, ice around the coast melts, making this the best time for hiking and cruising around iceberg filled bays. Temperatures are also at their highest, occasionally reaching double figures (Centigrade)!

Less popular times to visit: Greenland's winter months from December - March are extremely cold and dark. This however is a great time for dog sledding and Northern Lights spotting.

Best time for Northern Lights: September - March is Northern Lights season in Greenland, with guided Northern Lights tours operating out of Ilulissat and Kangerlussuaq.

Best time for wildlife: 15 species of whale live around the coast of Greenland. July - September is the best time to see humpback and minke whales, while rarer narwhals and belugas can sometimes be seen in spring from April - June.
Want to know more about Greenland? Check out our latest blog posts
Seasons and Weather
The Arctic climatic conditions in Greenland are greatly affected by the extreme variations in sunshine, bringing with it distinct seasons that bring their own unique benefits as far as visiting the country goes.
When is winter in Greenland?
Winter in Greenland lasts from December through till March when days are short and very cold. Being so far north it isn't surprising considering the very little daylight that Greenland gets. That said, the daylight that it does receive is often clear, frosty and although you may not feel the benefits, accompanied by the beaming sun. Winter is, unsurprisingly, a great time to go dog-sledding and also the best time to visit to catch the beautiful Northern Lights, which along with the blankets of snow and bright moonlight, make the evenings actually a lot brighter than you would expect.
When is spring in Greenland?
The transition from winter into spring happens very quickly in Greenland (mid April to mid June at best). It is a magical time to visit with the snow melting away, the days getting longer and the start of vegetation growing again.
When is summer in Greenland?
Summer in Greenland lasts from June through to September and is very unique. The days are long and bright. It is the best time to visit if you want to go hiking and get involved in lots of outdoor activities. It is also the time when you can witness the midnight sun – typical of an Arctic summer. From the end of May until the end of July the sun rarely sets in parts of Greenland. It is a magical time to be there when the concept of time begins to have no meaning. You'll witness children out playing in the street in the middle of the 'night' and groups of friends sit about on the hills soaking up the amazing, never-ending rays of the sun. Most towns and villages will be buzzing with life until the early hours. Understandably the further north you are the more sun you will get.
When is autumn in Greenland?
Just like in spring the change from summer back to winter is very quick making autumn (October – November) a rather short season. It is a great time to be in Greenland as it is less crowded and generally cheaper but without any compromise on the beauty of the place. It is also possible to start seeing the amazing Northern Lights at this point.
Climate | Kangerlussuaq
| | Jan | Feb | Mar | Apr | May | Jun | Jul | Aug | Sep | Oct | Nov | Dec |
| --- | --- | --- | --- | --- | --- | --- | --- | --- | --- | --- | --- | --- |
| Temp Min °C | -29 | -29 | -28 | -20 | -8 | 6 | 8 | 7 | -4 | -13 | -20 | -25 |
| Temp Max °C | -21 | -21 | -20 | -12 | -2 | 9 | 10 | 9 | 1 | -6 | -12 | -17 |
| Rainfall (mm) | 11 | 6 | 9 | 9 | 8 | 12 | 36 | 29 | 12 | 17 | 17 | 9 |