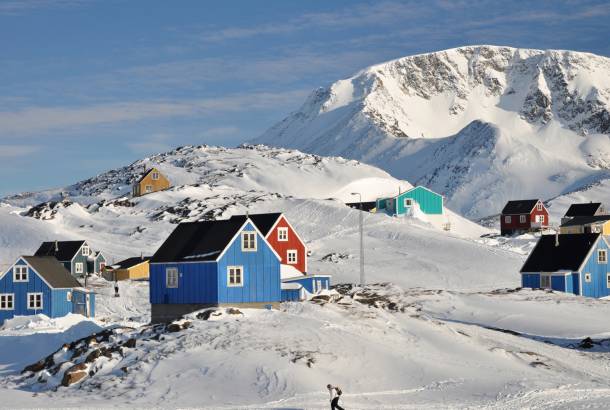 If you're planning an adventure to the Northern Hemisphere's last great frontier, there's a few things you'll need to swot up on before you go. What better place to start then our Top Travel Tips that cover all the essentials from health advice to currency and food.
What vaccinations do I need for Greenland?
It is always advisable to contact your medical practitioner before travelling to Greenland and make sure you are up to date on any vaccinations needed. As a guide a vaccination against tetanus is generally recommended. Medical services are generally free of charge but medical insurance is advisable, especially as charges are made for any dental treatment. Given the remote location of Greenland it is advisable to bring all your own medication with you as it may not easily be obtained in Greenland. Pain killers and antihistamines are available from grocery stores.
Citizens of the EU who hold a European Health Insurance Card (EHIC) are entitled to free emergency treatment at public hospitals in Denmark (including Greenland). Consultations with a doctors and dentists are covered for holders of an EHIC card as long as the doctor or dentist are registered with the public health service in Denmark. If any fees are paid to a doctor, they will be reimbursed using the EHIC. Dental costs are partially reimbursed.
Is it safe to drink tap water in Greenland?
Greenland has one of the most pristine environments of anywhere on Earth and this extends to the water. Tap water is very safe to drink, and you can even drink straight from the lakes and rivers, the water is so clean. Round off your drink with a bit of freshly chipped iceberg and you have a classic Greenland glass of water!

To protect Greenland's fragile environment and save you money, we recommend bringing a reusable water bottle along with you on tour.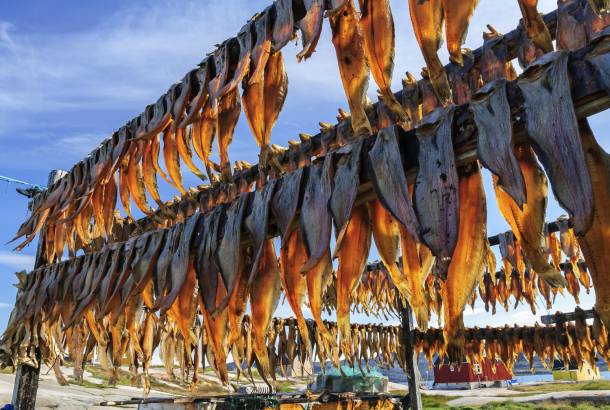 What is the food like in Greenland?
The Greenland diet relies heavily on fish, seafood and meat. Due to the extreme climate in Greenland there isn't much in the way of industrial farming so most fruit and vegetables are imported from Europe. Don't be surprised if you come across whale on the menu in Greenland. The reason for this is simply because the Inuit, as indigenous people, are allowed by the International Whaling Commission to hunt a small number of certain whale species in order to support their own existence. Some of this meat is also sold to local restaurants whom are very proud to serve local dishes using local produce.
The national dish of Greenland is suaasat – a traditional Greenlandic soup. It tends to be made from reindeer, seal, whale or seabirds along with onions and potatoes. To finish off it is simply seasoned with salt and pepper and every so often a bay leaf for good measure. Some Greenlanders opt to thicken the soup using rice or barley.
Due to the remote location of Greenland and the Arctic climate vegetarian and vegan options can be very limited.
Restaurants in Greenland tend to have a mixture of international and traditional dishes though in the small settlements of Greenland, options are limited when it comes to dining establishments. Hotels usually have their own restaurant and there will likely be a cafe and snack bar in town. In the summer it is very common for Greenlanders to eat outside and make the most of the Arctic sun.
Is it standard to tip in Greenland?
Given the relatively few visitors that Greenland receives, there is no established tipping custom. The costs of most services is included for taxis, hotels and meals out, but staff will be appreciative if you do decide to tip for excellent service.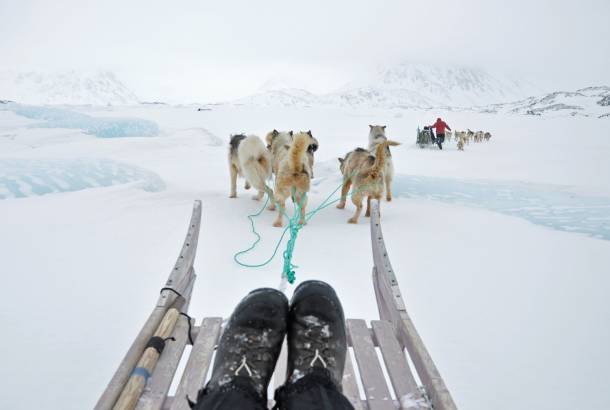 Can I go dog sledging in Greenland?
Yes, there are dog sledging opportunities in the winter in Greenland. For most winter visitors, going on a dog sledging trip is on the top of their wish-list as it is quite unlike any dog-sledging excursions people may do in Lapland, for instance.
Dog sledging in Greenland is first and foremost an authentic experience and gives visitors a great experience of what hunting in the Arctic wintertime is like. The sledges used are traditional wooden sledges based on a design that has evolved over the centuries to work perfectly in harmony with the hunter, the dogs and the landscape.
It is not a leisurely sightseeing trip where you lie back and just enjoy the ride, it is however a fantastic experience if you want to experience real dog sledging 'warts and all'. The local hunter you travel with will be experienced in dog sledging and have detailed knowledge of the area you are venturing into.
For the dogs it does make a difference travelling with two humans on the sledge rather than one. Sometimes it will be necessary to get off the sledge and help the dogs (e.g. when travelling up-hill). At this point the hunter will let you know if you need to get off the sledge and also if he needs assistance in pushing the sledge. We don't recommend this activity to anyone under the age of 12. The hunter is at all times in charge of the dogs and his judgement in regards to route and travel time will prevail at all times.
Travelling in the Greenland wilderness is not always a smooth ride (as you may have experienced on commercial dog sledging trips at other destinations). The landscape is by its very nature rugged and wild – the snow masses do a lot to smooth your route, but bumps and jerks along the way should be expected. It is important to remember this is an authentic experience which uses ancient routes created over centuries because they are the safest/fastest/most lucrative routes to travel – the routes have not been prepared by snow plows. There will be times when you will drive over rocky areas which will shake you about and moments later you enter pristine snow giving you the feeling of being the very first people to set foot here.
See our page on optional activities for more details on what other unique experiences you can enjoy in Greenland.
What is the duty free allowance in Greenland?
The following can be imported into Greenland without incurring any customs duty:
200 cigarettes or 100 cigarillos or 50 cigars or 250g of tobacco
1 liter of alcohol over 22% in volume or 2 liters of fortified wine (up to 22% volume)
2.25 liters of table wine
2 liters of beer
2 liters of soft drink
50ml of perfume and 250ml of eau de toilette
Cosmetics and toiletries up to a value of 1000kr
4kg of coffee or tea
4kg of chocolate or confectionery
5kg of meat, meat products or poultry
The minimum age for bringing alcoholic beverages into Greenland is 18 years old.
What is the currency in Greenland?
The official currency in Greenland is the Danish krone, written as DKK. Notes come in denominations of kr1000, 500, 200, 100 and 50. Coins are in denominations of kr20, 10, 5, 2 and 1 and 50 and 25 øre. There are 100øre to the krone.
Credit cards are generally restricted to the major towns and most hotels. Some of the major towns like Ilulissat do have ATMs. Exchanging travelers cheques in Greenland has been known to be problematic so it is best to bring some Danish krone with you.
There are no restrictions on importing or exporting local and foreign currency. However, anything above €10,000 (or the equivalent) must be declared from or to any country outside of the European Union.
Check OANDA for the latest exchange rates.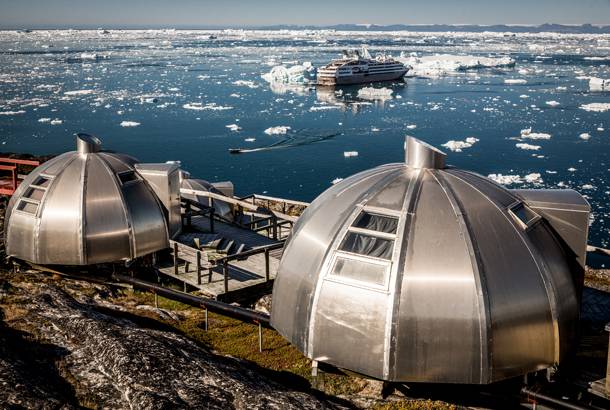 What do things cost in Greenland?
Goods in Greenland are relatively expensive compared to that of Europe, Australia and North America. Given its remote location and lack of industry this is hardly surprising. To put it into perspective a beer in a bar can cost anything between 40 and 100DKK which is about USD$5.50 to USD15.00, and wine in a supermarket usually starts at around 90DKK (USD$13) for a bottle. Meals in inexpensive restaurants can cost anything between 100 – 250DKK ($15 - $37.50) whereas a three course meal at a mid-range restaurant would be between 175 – 600DKK ($25 - $85).
On our Greenland tours we include plenty of free time so that you can soak up the spectacular scenery and choose what suits you from an extensive menu of optional activities. These unique activities definitely add to the overall cost of your trip but it's these experiences that make Greenland such a special destination so budget for them accordingly.
What sort of plugs do I need for Greenland and what is the voltage?
The standard voltage in Greenland is 230 volts and the standard frequency is 50Hz. Power sockets take the following plugs: C, E, F and K. Check out World Standards for more information on these plug types. We recommend that you take a universal travel adaptor with you to Greenland.
Is WiFi available in Greenland?
Yes – WiFi is available in Greenland. 93% of the population have access to WiFi either at home or at public hotspots around some of the bigger towns. If staying at a hotel then it is going to have WiFi. However, be advised that the WiFi isn't going to be super fast. It is good for browsing, social media and emails. But if you want to download something on Netflix to watch on the flight home, then we recommend you do it before you arrive!
What time zone is Greenland on?
The majority of Greenland is on the West Greenland Time Zone – this includes Nuuk, Iliulissat and Kangerlussuaq. The rest of the country varies between Atlantic Time Zone (GMT -4) in the north west including Qaanaaq, East Greenland Time Zone (GMT -1) and Western European Time Zone (GMT).