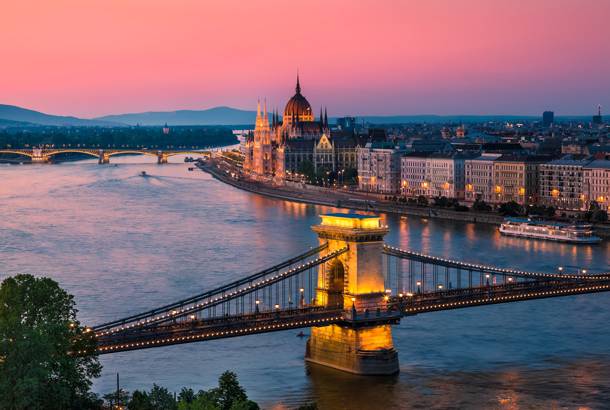 Seasons and Weather
Lying in the temperate climate zone, in Hungary the four seasons roll into one another in a constant cycle with some influences from the oceanic, continental and Mediterranean climatic zones due to its topography. Protected by the Carpathian Basin, the weather in Hungary can also be changeable. Overall summer is warm with high precipitation and winter is cold and somewhat drier.
March to May is a lovely time to visit Hungary with pleasant daytime temperatures and the countryside in bloom with flowers. The autumn months of September to November are another great time to visit when the leaves turn brilliant shades of red and orange. On average this time of year can often be warmer than spring and without the same crowds you'll find in the peak tourist season of June to August.
Winter in Hungary is cold and gray with temperatures hitting below freezing. The nights are particularly cold though the countryside and cities can be especially pretty when dusted with snow. At this time of year Hungary's ski resorts attract the vast majority of visitors.
Climate | Budapest
| | Jan | Feb | Mar | Apr | May | Jun | Jul | Aug | Sep | Oct | Nov | Dec |
| --- | --- | --- | --- | --- | --- | --- | --- | --- | --- | --- | --- | --- |
| Temp Min °C | -3 | -2 | 2 | 7 | 11 | 15 | 16 | 16 | 12 | 7 | 2 | -2 |
| Temp Max °C | 3 | 6 | 11 | 17 | 23 | 26 | 28 | 28 | 22 | 16 | 9 | 3 |
| Rainfall (mm) | 28 | 23 | 33 | 45 | 57 | 69 | 78 | 63 | 85 | 54 | 55 | 39 |
See Also
When planning your visit to Hungary you may find the following Travel Guide resources useful:
Best Places to Visit
- top sites in Hungary to include on your visit
Tourist Visas
- details on visa regulations and procurement
Top Travel Tips
- handy info on money, health, food and shopping