Croatia Tours and Sailing Holidays 2022 & 2023
Whether you're sailing the crystal-clear Adriatic coast or roaming the historic streets of Split, Croatia will take your breath away. Discover the country for yourself on one of our award-winning holidays.
There's a reason Croatia is fast becoming the holiday hot spot of Europe - and it's not just the lure of Game of Thrones. From spectacular scenes of natural beauty to a fascinating ancient history, Croatia is more than just a sunny beach destination.
Medieval fortresses stand proud in Dubrovnik, while waterfalls and blue lagoons await in Plitvice Lakes National Park. Picturesque islands dot the stunning Dalmatian coastline, while a bustling city thrives within the walls of Split and Diocletian's Palace stands proud. On our Croatia small group tours, we cut no corners. We dive into this diverse country, leaving no stone unturned. Departing from Zagreb or Dubrovnik, these trips also cover the highlights of neighboring Slovenia, Austria and beautiful Venice in Italy. Whichever tour you choose, there's one thing you can expect - and that's the unparalleled quality from our expert guides.
Our Croatia sailing holidays explore the beauty of the Croatian islands, travelling between Split and Dubrovnik so you don't miss out on either of these charming destinations. And with stops at Hvar, Mljet, Korcula, Vis and Brac (home to the famous Zlatni Rat beach), you'll savour many of Croatia's brightest sparks. With a range of ships to suit all budgets and styles, there's sure to be the perfect Croatia trip for you.
Croatia Sailing Holidays
Croatia's Adriatic coastline is a well-known European gem. Blessed with long summer days of sun, stunning turquoise sea, gorgeous coastline, and fantastic wine, the best way to take in the region is on a sailing holiday between some of the country's finest islands. We offer a number of itineraries departing from Dubrovnik and Split. And we have different styles of ships and cabins to suit all budgets and preferences, with premium and deluxe holidays enjoying more inclusions and higher-quality ships. You can see more information on each tour page about the different cabins available. Most trips also run in both directions, so whether you would rather start in Split or Dubrovnik, this can usually be arranged. Please get in touch with our Reservations team if you would like more information about a Croatian adventure.
Croatia Group Tours
If you'd prefer to explore on dry land, then our small group tours of Croatia are perfect! The popular Western Balkans Discovery tour starts in the capital Zagreb and visits Ljubljana and Lake Bled in Slovenia before working its way south to Split and Dubrovnik. And we have other tours to Croatia starting in Venice, Italy which take in parts of Austria and mainland Croatian highlights such as Plitvice Lakes National Park.
Croatia by boat
Our motor sailer vessels in Croatia mean we aren't reliant on the wind to stick to the itinerary, though the sails will go up where possible! Outside of your comfortable cabin, each ship has a communal dining area and plenty of deck space to relax and soak up some Adriatic sun.

Outside of scheduled stops, are plenty of informal swimming breaks, free time to head out for a glass of wine and three included meals of Croatian food and other international cuisines onboard. Find out more with our choice of ships page.
Frequently asked questions about our holidays in Croatia
Will I visit Dubrovnik?
Oh yes! You simply cannot visit Croatia without exploring the country's most popular destination and all of our sailing holidays, plus the majority of our group tours start or end in the city. Some tours included guided sightseeing to take in some of Dubrovnik's rich history. And in some there is free time for you to head out and explore your way. The walled city itself is quite small and revolves around the Stradun, so you won't get lost - especially if you're walking the ramparts and city walls!
What island-hopping itineraries do you have?
The most popular way to explore Croatia is by boat, sailing between islands to explore picturesque port towns and coastal cities. We offer a number of popular sailing itineraries that start in either Split or Dubrovnik and cover the best-known islands including Hvar, Brac and Mjlet.
What sorts of boats do you use?
If you visit Croatia on one of our Croatia sailing holidays, you'll have a choice of standard or comfort boats with some named boats on certain itineraries.

Standard boats provide mostly twin bunk cabin accommodation, while comfort boats provide more spacious twin or double bedded cabins. Both types of boat come with en suite cabins.

On other Croatia holidays including our Creme de la Croatia tour you can cruise on a premium vessel with extra services included in the tour price. For more information on what to expect of our ships, read our page on Choice of Sail Boats in Croatia.

Our premium and premium plus holidays in Croatia also have added benefits, such as more guided sightseeing. For example, with Highlights of the South Adriatic, Creme de la Croatia and Jewels of the Adriatic, you get an included walking tour in Dubrovnik and other included sightseeing.
Which is best - an on-deck or below-deck cabin?
This really depends on your own personal preference. The on-deck cabins have windows that open so you can enjoy the cool breeze and not have to rely on air-conditioning. They also offer better views. However, their location does mean that it's noisier, with other passengers and crew walking around the deck. When boats are docked, other ship passengers may also be passing along the deck of your boat.

With a below-deck cabin, things are much quieter as there's not the same footfall. These cabins have portholes for natural light but they cannot be opened. Below-deck cabins are cheaper, so a better option for those on a budget.
I would rather explore Croatia's mainland. What would you suggest?
If sailing isn't your thing, there's plenty to discover away from the water. Croatia's mainland is home to gorgeous old towns and stunning national parks.

We have a range of escorted tours and semi-independent itineraries that cover mainland Croatia, including Zagreb, Split and the famous Plitvice Lakes National Park. Please browse our full range of tours or contact our reservations team.
How big are your Croatia tour groups and what is the age of your travellers?
If you've opted for a sailing holiday in Croatia, the maximum group size is around 36 passengers with 18 cabins generally on each boat. In the shoulder seasons, it's likely to be a smaller group size of around 20-25. Croatia sailing trips attract a real range of ages from those in their late 20s to those in their 60s. However, you won't find any 18-30 style cruises here.

On our mainland small group tours, the average group size is between 10-15 passengers.
I want to make the most of Croatia's islands. What time of year would you recommend I visit?
The sailing season in Croatia officially begins in mid-April and runs through to mid-October. However, April and May sometimes bring harsh, chilly winds, which can bring the temperatures down. It's not always the ideal time for swimming so to really get the most out of an island-hopping adventure, book your Croatia tour between June and September. Though beware - this is peak tourist season so expect crowds.

For a more detailed summer of when to visit Croatia, check out our guide.
What is the standard of accommodation on your group tours?
Our group tours stay in a mixture of 3 - 5 star hotels in central locations, to make it easy for you to head out and explore your destination.

You can find out more information about the hotels we regularly use on each Croatia tour on the relevant webpage. Though we do reserve the right to use different hotels of an equivalent standard if the need arises!
Is Croatia a safe destination for travellers from the LGBTQ+ community?
According to the 2022 LGBTQ+ Travel Safety Index, Croatia scores a B rating for LGBTQ+ traveler safety, ranking 28th out of 203 countries.

Same sex civil unions or partnerships are legal, and there are constitutional and worker protections in place for people of all sexual orientations. Hate crimes against members of the LGBTQ+ community are criminalized and 26 - 50% of consulted citizens consider Croatia a good place to live for gay and lesbian people. There are no legal punishments for same sex relations. Same sex adoption was legalized in 2021. Most trips for LGBTQ+ travelers to Croatia are trouble-free.

The LGBTQ+ Travel Safety Index is designed to provide a good overall picture of attitudes towards the LGBTQ+ community in each country and may not reflect the experience of foreign travelers to the country.
How do we get to Dubrovnik by land?
As you may know, the region of Croatia that Dubrovnik is located in, southern Dalmatia, is cut off from the rest of the country due to a slither of coastline belonging to Bosnia and Herzegovina. Previously, we have crossed through Bosnia to reach Dubrovnik on our land tours. However, in July 2022 a new bridge opened on the Peljesac Peninsula which will reduce journey times by around 40 minutes and enable us to avoid having to cross the border into Bosnia and Herzegovina. Your Croatia tour will take this new route if departing in summer 2022 or afterward.
What is the currency in Croatia?
Many travelers presume that the Euro is the official currency in Croatia. And while many shops, restaurants, and other businesses will accept Euros, the Croatian Kuna is the country's official currency.

You can withdraw Croatian Kuna locally, from ATMs. We recommend avoiding airport ATMs and currency exchanges, as rates here tend to be significantly worse!
PEARL OF THE ADRIATIC
It's one of Croatia's most popular tourist destinations, home to stunning city walls, a medieval Old Town, and delicious wines. Recently starring in Game of Thrones, Dubrovnik is a city popular with people of all ages, with plenty of historic sites to enjoy alongside a buzzing night scene, beaches, and a natural paradise in nearby Lokrum. Throw in a scenic cable car ride to the summit of Srd Mountain and Dubrovnik really has it all! The city will be the start or end point for your Croatia holiday, so you'll never miss the chance to explore Dubrovnik and the rest of Croatia's Dalmatian coast.
The Best of Croatia
With an emerging food scene, stunning islands, and blissful beaches on the coast of the Adriatic Sea, Croatia is fast becoming a must-see destination. Check out some of the highlights of our Croatia holidays. From the walled city of Dubrovnik to the sun-kissed beaches of Hvar and the lush greenery of Mljet National Park, you'll see it all on our tours of Croatia.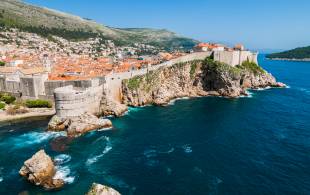 Dubrovnik
Famous for depicting the city of Kings Landing in Game of Thrones, the real Dubrovnik is just as incredible. An ancient walled city of narrow streets and towering ramparts. Visitors will want to walk the city walls, shop the Stradun and relax with a glass of wine before riding the cable car to Srd Mountain for incredible views over the rest of Dubrovnik.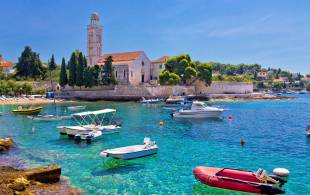 Hvar
For sunseekers, it doesn't get better than Hvar. Known for having the most hours of sunshine per year of any Croatian island, it's a beach bum's paradise. Other things to do include a stroll through the island's famous lavender fields and a wine tour - Hvar is Croatia's wine capital and produces some of the country's best.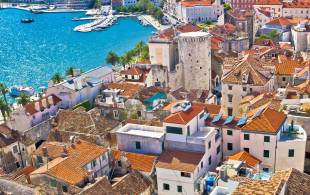 Split
Split was a popular retirement spot for Roman Emperors, and we think they made a good choice. UNESCO-listed Diocletian's Palace is a top landmark for delving into this rich history. And Split is well known for its fascinating museums and galleries, as Croatia's cultural capital. It's the largest city in Dalmatia and the second-largest in Croatia, so you won't be short of things to see and do!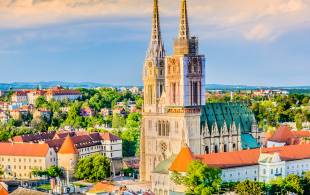 Zagreb
The inland capital of Croatia is often left out of travelers itineraries, particularly if they're sailing at the coast. But the city in northern Croatia is deserving of a visit. Zagreb Cathedral is spectacular, and you'll want to grab a bite to eat at Dolac Market afterward. And the Museum of Broken Relationships is something a bit different!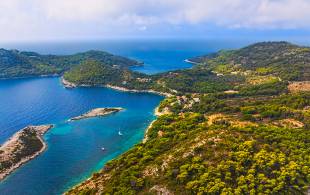 Mljet
Many of Croatia's islands are heavily developed, but Mljet retains more than 70% of its lush forests. Dominated by Mljet National Park, it is a green and pleasant land of vineyards, lakes and rural villages. There are great walking and cycling trails, and a small Benedictine monastery on and island in one of the two lakes.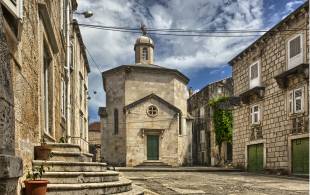 Korcula
Korcula is another of Croatia's islands to retain much of its greenery, known for its dense forests. Home to a UNESCO World Heritage Site in Korcula Town, it's certainly not a destination to miss. The explorer Marco Polo was born here, and the old town is filled with fascinating historic titbits and architectural gems. Korcula is stereotypical Croatia at its finest.