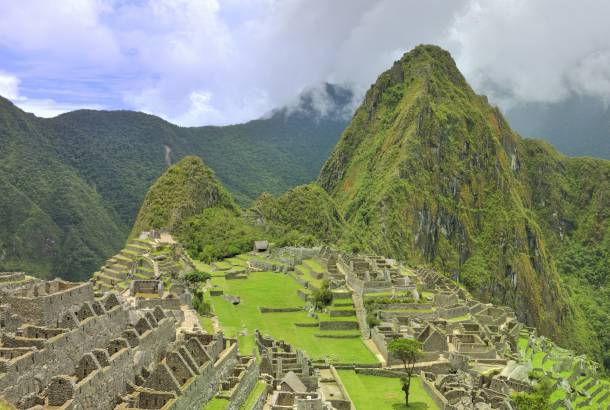 The Inca Trail
The most famous Inca path through the Andes is known as 'the Inca Trail', the royal route to Machu Picchu. The spectacular 44km trail crosses three stunning high passes and weaves between many ancient archaeological sites, culminating at the famous Lost City of the Incas. There are few treks in the world that combine natural beauty, history and mystery on route to such an awe-inspiring final destination.
Your group is led by an expert local guide and supported by a team of porters and cooks who carry the camping gear. We also include the cost of a dedicated porter on our tours of 12 days or more to carry your personal belongings, leaving you with only a small day pack to carry. For tours 11 days or less you'll need to budget up to USD$190 to hire a porter, or you can opt to carry your own belongings. If you choose to upgrade to a Signature tour then porter fees will always be included, regardless of the length of the tour.
Please note that the Inca Trail is closed each year for the month of February for essential maintenance. If you wish to visit Peru during this time see our Lares Trek instead.
The Hike
The Inca Trail itself involves three full days of walking with a few hours to the Sun Gate on the fourth day. Your trekking group will be accompanied by a guide and assistant guide(s) for groups of eight or more. This means one is able to lead and another can stay behind with the slower members of the group, which means everyone can set their own pace. You'll find that the group you are trekking with will naturally spread out along the route but you'll all meet up again at lunch stops and at camp.
The trek follows varying terrain with challenging uphills, enjoyable flats and long downhills that can be hard on your knees. What this means is that some sections will be more difficult than others, especially getting to Dead Woman's Pass on day 2 of the trek. It's certainly not for the faint hearted but it's definitely not the same as tackling a mountain summit. Fear not as there will be ample rest stops to soak up the scenery and give your legs a quick break.
The key to enjoying the trek is to go slow and opt for small steps over long strides. Stay hydrated and take breathers as often as you need. Walking poles help massively and can be rented in Cusco at very low prices. Remember that it's not a race, focus on soaking in the spectacular scenery characteristic of unique experience.
Further Information: You'll find lots more useful information about the Inca Trail trek on our tour Trip Notes which are available to download from the tour pages.
Fitness
You do not need to be an athlete or experienced trekker to complete the Inca Trail. A reasonable level of fitness is required and it's a good idea to get into shape before you head off to Peru to make the trek as enjoyable as possible for yourself. People of all ages regularly trek the Inca Trail and contribute to a high success rate. Stay positive and determined is the key to completing this journey. The only people that really struggle with the trek are those without a basic level of fitness.
Altitude sickness can affect anyone regardless of their level of fitness or age. It's caused by a lack of oxygen and symptoms include nausea, headaches, exhaustion and dizziness. It may occur at any altitude over 3,000 meters above sea level. As the Inca Trail is a mixture of ascents and descents, the effects of altitude sickness are usually brief and should not necessarily stop you from completing the trek. If you are worried about altitude sickness, preventative medication is available.
Before departing for your tour, we recommend you visit your doctor who will be able to provide you with more information. If you are planning to take your children to Peru, please be advised that the minimum age for hiking the Inca Trail is 13 years old.
Obtaining an Inca Trail permit
If you are looking to trek the Inca Trail you must obtain an Inca Trail permit, which needs to be booked before you travel by a tour operator. If you turn up in Cusco hoping to trek the Inca Trail without reserving a permit in advance then you will be sorely disappointed. Simply put: without a permit, you can't trek. However, if you book one of our South America group tours we will obtain the Inca Trail permit on your behalf and it is included in the cost of the tour.
The Peruvian authorities cap the number of Inca Trail permits to 500 per day and this includes permits for the guides and porters, so you'd be best to secure your permit as far in advance as possible.
Once you make a reservation with us, we go ahead and arrange this for you with our local operators in Peru. To do this we need your passport information (a scanned copy) and it is essential that the information you provide is correct. It's imperative that this is the passport you will be travelling at the time of the trek and is valid for at least 6 months after your tour ends. Please note that once your Inca Trail permit is confirmed NO amendments can be made to it.
How far in advance should I book?
As far in advance as possible! As with anything, the further in advance you book something the more likely you are to get it. Inca Trail permits are no different. You should aim to book your tour at least four months in advance, particularly if trekking during peak season from June to September.
For more information to help you prepare for the Inca Trail, have a read of our handy blog on what else you should do before you travel and once you're in Peru.
Best time to trek the Inca Trail
Weather wise the best time to trek the Inca Trail is between May and September with the peak season for trekking the Inca Trail being between June and August. May to September are the driest months, although it can be quite cold in the evenings – so pack some warm clothes and a good sleeping bag. The Inca Trail is open 11 months of the year and is closed only in February for a spring clean. It attracts tens of thousands of visitors each year so it needs some time to be cleaned up and preserved.
What if I don't receive a permit?
Don't panic! All of our Inca Trail tours are on request until the Inca Trail permit is obtained. Once you have confirmation from us that an Inca Trail permit is available for you then you can go ahead and book your fights. If for any reason we are unsuccessful in obtaining an Inca Trail permit then you can either choose a different departure date or alternatively take the Lares Trek which does not require permits. The Lares Trek is an incredibly scenic, off the beaten track hike through the Andes without the crowds of the Inca Trail. Please note that a supplement applies for the Lares Trek on tours up to 14 days in length.
Recommended Packing List
The Inca Trail trek is a trip of a lifetime. With three days of hiking at altitude and nights spent camping, it's an experience that requires a fair bit of planning to make sure it's as a comfortable and enjoyable experience as possible. To make it easy for you we've put together an Inca Trail Packing List with essential items to get you through it and items that we recommend, which you can find here.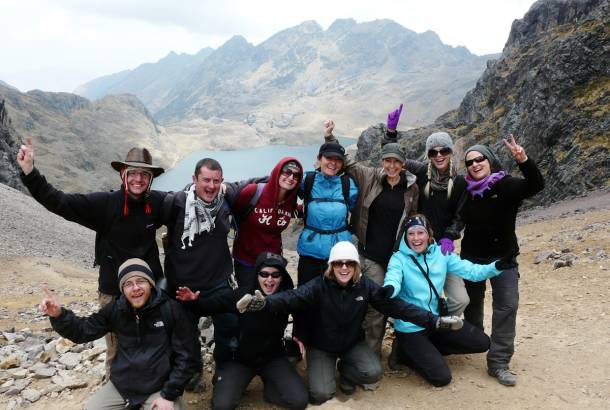 The Lares Trek
Nestled in the Andes, the picturesque Lares Valley has all the natural beauty of the Inca Trail but without the crowds. You'll meet Andean farmers, see thatched stone and adobe houses, and watch herds of llamas and alpacas roaming free.
The Lares Trek is a 3-day trek with one full day of trekking and two half days. Two nights are spent camping and a night is spent in the town of Aguas Calientes before an early morning bus ride to Machu Picchu where you'll meet up with the Inca Trail trekkers. In terms of difficulty, it's considered a similar grade to the Inca Trail with a mixture of uphill slogs, pleasant flat sections and tough-going downhills. Have a read of our Inca Trail and Lares Trek Compared blog for more detailed information.
When Inca Trail permits are not available we offer the Lares Trek on our Signature Tours. You don't need a permit and therefore we can generally guarantee your place on the Lares trek.
The Wild Andes Trek
On our Overland Adventures in South America we offer a different alternative to the classic Inca Trail, which is called the Wild Andes Trek. This is a unique and pioneering route, passing Inca ruins and magnificent mountain scenery on a three and a half day trek which takes you well off the beaten track and deep into the real Andes, with the opportunity to visit some local communities along the way. The Wild Andes Trek is similar in terms of length and difficulty to the classic Inca Trail but reaches a slightly higher altitude of 4,800 meters. On the first night of the trek you stay in a colonial house in a local village where you gain a taste of the local culture and enjoy a traditional dinner. The following two nights are spent camping and the final night is spent at a comfortable hotel in Ollantaytambo, before taking the train to Machu Picchu early the following morning. For more information please read our Blog - The Alternative Trek to Machu Picchu You Need To Know About. The Wild Andes Trek is offered as standard on all of our Budget Overland Adventures, with the option to trek the Inca Trail instead, or take the train to Machu Picchu.
Day Trek to Machu Picchu
On our Handpicked Peru Tours there is the option to enjoy a one day hike covering a portion of the Inca Trek to Machu Picchu. This is a terrific option for people who want to a shorter sample of the Inca Trail and for those who cannot obtain an Inca Trail 4 day trek permit. You will arrive at Machu Picchu in the late afternoon, giving you time to enjoy the World Heritage Site with less people around as most Inca Trekkers will arrive first thing in the morning!
You still need a permit to do the Day Trek so we recommend booking it at least 3 months in advance. Please contact us for more information and note that the Day Trek is not currently offered on our Signature Peru Tours.
Machu Picchu by Train
For a less demanding trip to Machu Picchu, opt to travel by train. On all of our tours that include the Inca Trail you'll have the option to choose a day trip to Machu Picchu travelling by rail instead, allowing you two additional days in Cusco. For further information please read your Trip Notes.