Kicking off in the powerhouse of the Ottoman empire - Istanbul, pay your respects at Gallipoli, get lost in the impressive Roman ruins of Ephesus and Pergamum, witness the beautiful Aegean Coast and dip your toes in Pamukkale's beautiful cascading mineral pools.
Trip Highlights
Istanbul - Old city, Istanbul, Hippodrome, Blue Mosque, Hagia Sofia, Basilica Underground Cistern and Topkapi Palace
Troy - Ancient ruins, 9 cities, one on top of the other, dating back to 3000 BC and replica Trojan horse
Roman ruins of Pergamum and Ephesus
Turkish carpet weaving and leather manufacturing houses
Gallipoli Peninsular - ANZAC Cove, Lone Pine and Chunuk Bair memorials, trenches and battlefields
Stunning Aegean Coast
Pamukkale - Thermal pools and Roman Hierapolis
Included
5 breakfasts
Economy class flight from Denizli (Pamukkale) to Istanbul
Escorted by an English speaking, degree qualified Turkish tour guide
All relevant transfers and transportation in private modern air-conditioned vehicles
6 nights 4 star hotels
Guided sightseeing - Istanbul, Gallipoli, Troy, Ruins of Ephesus and Pergamum, Pamukkale Terraces and Hierapolis
Airport arrival transfer on day 1
Not Included
International flights and visa
Entrance Fees: USD$85-95pp, paid in local currency
Tip for your tour guide and driver. We recommend you allow USD$5 - 7 per day, per traveller as a tip for your guide and USD$2 per day for your driver. Tipping your guide and driver is an entirely personal gesture
Tipping Kitty: USD$40pp, paid in local currency

Istanbul. We'll start the day with an exciting tour of Istanbul's old city. We'll make a number of stops on our trip, starting with a visit to the stunning Blue Mosque famed for it's blue Iznik tiles and unique 6 minarets, we'll continue to the ruinous Hippodrome – now a small park of sorts and once scene of chariot races and political activities in Byzantine times, we'll also discover Hagia Sofia Museum - constructed as a Basilica in the 6th century by Emperor Justinian, Topkapi Palace and the Underground Cistern – an ancient underground water tank - replete with carved and fluted Corinthian columns and a puzzling head of Medusa. Visitors walk on walkways suspended above the shallow water. It's very cool and peaceful.
Overnight: Istanbul | Breakfast
Istanbul – Gallipoli. Early this morning, we travel to the WW1 battlefields of Gallipoli. Here, we'll embark upon a guided tour of the region, once the site of fierce fighting and today almost hauntingly beautiful, with its wooded landscape dotted with understated memorials to the war dead. Our guided tour of the region will take in sights such as ANZAC Cove, Lone Pine Australian War Memorial and cemetery, Chunuk Blair New Zealand War Memorial and cemetery, the Nek, Johnston's Jolly and the many fortified trenches still clearly visible amongst the scrub after all these years.

Crossing the Dardenelles by ferry (offering panoramic views of the entire Gallipoli Peninsular) we proceed to our hotel for a little rest and relaxation.
Overnight: Canakkale | Breakfast
Gallipoli – Kusadasi. Heading south, we enjoy a guided tour of Homer's Troy, famed for the Trojan wooden horse and fabled Helen. Continuing to ancient Pergamum - the cultural and political capital of its time, before continuing onto coastal Kusadasi. Make the most of the hotel facilities this evening.
Overnight: Kusadasi | Breakfast
Today, we enjoy a guided tour at the legendary Roman ruins of Ephesus. Positively the best-preserved classical city in the eastern Mediterranean, and among the best places in the world to get a feel for what Roman life must have been like. Ephesus, under the Romans was a vast city with a population nearing 250,000. It became the Roman capital of Asia Minor. We'll have plenty of time to tour the marble ruins of Ephesus. Be sure to see the famous Library of Celcus, the gymnasium of Vedius and Stadium, the great theatre and stroll the streets in the ruins of this large Roman ruined city. It's completely fascinating. We'll see public toilets, a brothel, fountains and various temples. Carpet weaving has long traditions in Turkey and afterward we stop to watch a demonstration of how they are made.
Overnight: Kusadasi | Breakfast
Kusadasi - Pamukkale. Today, after breakfast, we drive to Pamukkale visiting the region's famed calcium rich terraced pools. Known locally as the Cotton Castles, they are a natural phenomena and gift of Mother Nature.

Pamukkale was formed when warm, calcium rich mineral water cascaded over the cliff edge, cooling and depositing in the process. The calcium built natural shelves and pools on the cliffs, known as travertines. Today, some of the pools are closed. However, areas of the travertines can be walked upon, albeit in bare feet. We can however opt to enjoy a unique and very pleasant dip in the warm waters at the Pamukkale Thermal, with its submerged fragments of fluted marble columns in the centre of the ruined spa town of Hierapolis, which was a was a cure centre founded around 190 BC by the Romans. This evening we have some free time to relax and unwind.
Overnight: Pamukkale | Breakfast
Friday. This morning we make our way to Denizli airport for our flight to Istanbul. On arrival to Istanbul Airport we bid farewell to our group and representative and catch our onward flights.

Note: Please note your internal flight is currently arriving into the new Istanbul Airport airport at approx. 08:50am. Please ensure you book an international flight departing Istanbul after 1pm, allowing for flight delays. If you are departing via Sabiha airport you will need to make arrangements between airports and we recommend booking flights after 2:30pm Alternatively, you could choose to extend your stay by purchasing an additional night's hotel accommodation.

The hotels listed below are ones which we frequently use on this tour. We reserve the right to substitute these hotels to ones of a similar standard.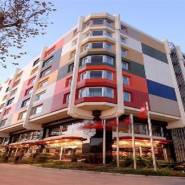 Ramada Old City, Istanbul
A member of the reputable Ramada chain, the Istanbul Old Town property is modern and comfortable with excellent amenities. Guestrooms are bright and spacious with contemporary amenities. Two restaurants are on offer and our personal favourite is the wonderful roof top restaurant, serving delicious local cuisine coupled with a magnificent view of the City and Sea. The perfect way to end the day. Located in the heart of the Old City, near the Basilica Cistern and walking distance from all of the major monuments.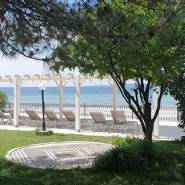 Iris Hotel, Canakkale
The Iris is a modern, low rise hotel with spacious, comfortable rooms and a good size swimming pool. The hotel provides free Wi-Fi connection and has an enviable beach front location. You can enjoy a delicious meal at the outdoor restaurant with views across the ocean.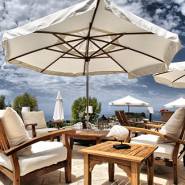 Carina Hotel, Kusadasi
With panoramic views across the turquoise waters of the Aegean sea, the Carina Hotel boasts bright, spacious room with a stylish antique decor. Within walking distance of the hotel are a number of beaches as well as the restaurant, bars and shops of Kusadasi. Enjoy a bite to eat at the restaurant or sip on a cocktail at the poolside bar.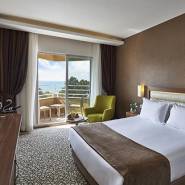 Richmond Ephesus Resort Hotel, Kusadasi
With a beautiful sandy beach lining the shore between the hotel and the sea, the Richmond Ephesus Hotel is a perfect place to relax. Take a dip in one of the two pools or enjoy a delicious dinner and drink at one of the three restaurants. Rooms are spacious and comfortable with air conditioning throughout the hotel.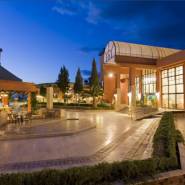 Colossae Thermal Spa Hotel, Pamukkale
Set in landscaped gardens, the Colossae Thermal Spa Hotel has an envious location in Pamukkale. Guest rooms are spacious and tastefully decorated and offer a wonderful level of comfort, ensuring a good night's sleep. The on site thermal spa offers guests the chance to relax, revitalise and enjoy what this region is most famous for. Breakfast can be eaten outside on the terrace while dinner is often taken by the shimmering water of the pool.
"
Tour guide Lale was excellent - very knowledgeable and friendly. Would recommend."
Sarah Hellyer
• Submitted 13 Mar 2020
Tour





Guide





Country





"
Recap was very knowledgeable about the places we visited. Everything was well organized and worked like clockwork. He was friendly and always willing to assist all the travellers. I greatly enjoyed the tour. He is the best tour guide I have ever encountered."
Rosemary Morison
• Submitted 25 Sep 2019
Tour





Guide





Country





"
The destinations were amazing. The wonders we were exposed to are a once in a lifetime to witness. From the time we were picked up from the airport to the time we returned to the airport our guide and driver were amazing. The knowledge of our guide Metin was captivating. The history was intriguing and how they wove it to the present to give us a real feel of Turkey today."
Shawna Boreen
• Submitted 22 Aug 2019
Tour





Guide





Country





"
Enjoyed the trip - it was intense with regards to the schedule.The guide was knowledgeable with her history and extremely flexible in dealing with changes and she gets high marks for effort for that. "
Liza Krassner
• Submitted 30 May 2018
Tour





Guide





Country





"
It was my 1st experience with On the Go tours and it was fabulous tour and tour guider "Esra" got good knowledge about wherever we visited sites in turkey.I will recommend on the go tours to everyone."
Faisal Amin
• Submitted 25 Apr 2017
Tour





Guide





Country





"
This tour was well organised and well run. Borhan (I think that is the correct spelling) was extremely knowledgeable and very informative. Mustafah, the driver, was an excellent driver and joined in with the group when he could. His 'disco' drive-bys were hilarious.
I would recommend this tour to everyone!"
Ken Meehan
• Submitted 15 Aug 2016
Tour





Guide





Country





"
We thoroughly enjoyed our tour of Turkey. Our guide Reggie was most personable, approachable and knowledgeable. Small tour group of about 12 made for a good group who travelled well together through some spectacular historic sights. Hotels were of an excellent standard and we were most appreciative of a temporary room in Pammukkale, to have a quick shower and ready ourselves for a pick up to the Denizli International Airport . Hotels were generally within easy walking distance to the town and restaurants. We were given enough time to walk around the sights but would have liked have more time at Ephesus. We found the travel times between sights a little long, but understand this was beyond OTG's control. This would be a factor in choosing land tours in the future. All in all a great tour and we would certainly consider booking with OTG in the future. Thank you Reggie for a memorable tour of Turkey "
Gregory Kemp
• Submitted 02 Jul 2016
Tour





Guide





Country





"
Both the tour and especially our guide, Burhan, were fabulous. Burhan could not have been more organized, more supportive, more generous with his time nor more knowledgeable about every aspect of our tour. This was our first with On The Go and it won't be our last ."
Susan Peatey
• Submitted 26 Jun 2016
Tour





Guide





Country





"
I must say I was not looking forward to this trip because I was travelling alone but our Tour Guide and the group I met made it a pleasant one.
I really enjoyed my stay in Turkey and the tour itself from beginning to end.
I will definitely be doing another tour with on the go in the near future.
By the way Burchan is THE best tour guide.. "
Palesa Dikgale
• Submitted 19 Dec 2015
Tour





Guide





Country





"
Recep is so helpful, passionate and educational. The best tour leader I have ever had!"
Sharna Burgess
• Submitted 29 Sep 2015
Tour





Guide





Country





In Brief
Range
Trip Type
Starts
Istanbul
Ends
Istanbul
Departs
Saturdays
Group Size
Min 4 / Max 24
Hotel Rating
4 star
Tour Guide
Yes - escorted by a tour guide
Meals
Breakfast: 5
Visiting
Istanbul, Canakkale, Kusadasi, Pamukkale, Ephesus
Countries
Tour Add-ons
Enhance your trip with these amazing added extras and add-ons
"
Tour guide Lale was excellent - very knowledgeable and friendly. Would recommend."
Sarah Hellyer
OTG000002
Aegean Explorer - 7 Days
Europe
Signature
Europe
false
15
Turkey
https://www.onthegotours.com/Turkey/Aegean-Explorer-7-Days
https://www.onthegotours.com/repository/Pergamum-Main-Image-ONLY-234861401203418_crop_flip_300_300_f2f2f2_center-center.jpg
Group_Tours