CHRISTMAS TOUR: There's no stuffing birds or entertaining aunts! Enjoy snowflakes on fairy chimneys, legendary sites at Ephesus, Troy and Aspendos, thermal springs at Pamukkale and Christmas Eve at St Nic's!
Trip Highlights
Istanbul - Sultanahmet (Old Istanbul), Hippodrome, Blue Mosque, Hagia Sofia, Underground Cistern and Topkapi Palace
Troy - Trojan horse and ancient ruins
Roman ruins of Pergamum and Ephesus
Demre - Home of the original St Nicholas
Konya - Silk Road and Mevlana Whirling Dervish Museum and Ancient caravanserais en route
Cappadocia region - UNESCO World Heritage listed Goreme Valley, Kaymakli Underground City and Uchisar Castle
Gallipoli Peninsular - ANZAC Cove, memorials, trenches and battlefields
Aegean Coast
Pamukkale - Thermal pools and Roman Hierapolis
Ancient ruins of Perge and Aspendos
A jolly red suited man flying overhead... calling on Dasher and Dancer and Prancer!
Leather and carpet manufacturing houses
Included
Breakfast daily and 6 dinners inclusive of a special Christmas Eve Dinner in Antalya overlooking the Mediterranean Sea
Guided sightseeing - Istanbul including the Blue Mosque, Underground Cistern, Topkapi Palace, Hippodrome and Hagia Sofia
Escorted by an English speaking, degree qualified Turkish tour guide
Relevant transfers and transportation in private modern air-conditioned vehicles
10 nights 4 star and special class hotels, 1 night 5 star hotel
Guided sightseeing - Gallipoli, Troy, Ruins of Ephesus and Pergamum, Pamukkale and Roman Hierapolis, Perge, Aspendos, Konya and Cappadocia
Airport arrival transfer on day 1 and departure transfer (to Istanbul International Airport) on day 12
Not Included
International flights and visa
Entrance Fees: USD$115-130pp, paid in local currency
Tip for your tour guide and driver. We recommend you allow USD$5 - 7 per day, per traveller as a tip for your guide and USD$2 per day for your driver. Tipping your guide and driver is an entirely personal gesture
Tipping Kitty: USD$40pp, paid in local currency

18 December. Welcome to Turkey! Arrive Istanbul and transfer to hotel. Remainder of the day and evening at leisure.
Overnight: Istanbul
Enjoy a tour of old Istanbul. The only city to span two continents sits on the Bosphorus - the strait of water that divides the continents of Europe and Asia. Its illustrious past leaves a rich legacy of churches, mosques, palaces and museums, complemented by the behemoth Grand Bazaar and colourful street life.

Sultanahmet, the compact old city of Istanbul, is full of parks, gardens and stunning sights. The Blue Mosque is famed for it's blue Iznik tiles and unique 6 minarets. The Hagia Sofia, constructed in the 6th century and considered by some to be the epitome of Byzantine architecture, reigned as the grandest and biggest church in Christendom until the conquest of Constantinople in 1453, when it became a mosque.

Just around the corner is the stunning Topkapi Palace and the Underground Cistern. Rest of day free. Tonight, we are free to explore or relax in our hotel.
Overnight: Istanbul | Breakfast
Istanbul – Gallipoli/Canakkale. Today, we enjoy a visit to battle-scarred Gallipoli. On the 25th April 1915, under the guidance of the British Command, the combined forces of Australia and New Zealand, otherwise known as the 'ANZACs', mounted an assault at a beach in North-Western Turkey. The futile campaign, infamously known as Gallipoli, is poignantly etched in history due to the enormous loss of lives and the impossibly hopeless situation faced by these brave young soldiers, many of whom had left home for the first time, destined never to return. In the fierce struggle for Turkish territory, thousands perished as the odds were resolutely stacked against them. The Turks sustained terrible losses. Thousands of British, French and Indian Allied troops also died. As always in war, common men died, cruelly robbed of their potential because of actions and decisions of military leaders.
Overnight: Canakkale | Breakfast, Dinner
Troy & legendary Ephesus
Gallipoli - Kusadasi. Step back in time as we visit the legendary Roman ruins of Pergamum and Troy - inspiration for Homer's Illiad and much more recently the movie Troy. On day 5, we explore ancient Ephesus. Exemplifying the finesse of Roman urban life, Ephesus boasts carefully restored elements including a Great Theatre, Curetes Way, the Temple of Serapis and the Library of Celsus. Stop by the ancient public toilets and public brothel! Afterward, we stop at a local leather manufacturer. Turkey produces some of the finest leather goods in the world and many are made here before branding in Italy.
Overnight: Kusadasi | Breakfast x 2, Dinner x 1
Kusadasi – Pammukale. Today we visit the famous gleaming white calcium terraced pools of Pamukkale. Known locally as the Cotton Castles, they are a natural phenomena and gift of Mother Nature. We can also opt to enjoy a unique and very pleasant dip in the warm waters at the Pamukkale Thermal with its submerged fragments of fluted marble columns near the centre of the ruined spa town of Hierapolis, which was a was a Roman curative centre.
Overnight: Pamukkale | Breakfast, Dinner
Xmas Eve at St Nic's
Pammukale - Demre - Antalya. The legend of Saint Nicholas (aka Santa Claus) began in Turkey! St Nicholas - a 4th century bishop gave anonymous gifts to dowryless village girls. He would drop bags of coins down the chimneys of their houses and this 'gift from heaven' would allow them to marry. We visit the church and tomb of St Nicholas in Demre before continuing to coastal Antalya for a fantastic Christmas Eve dinner on a hilltop restaurant overlooking the Mediterranean Sea.
Overnight: Antalya | Breakfast, Dinner
Christmas Day & Roman Ruins
Kemer - Konya. Merry Christmas! En route to Konya we tour the incredible Roman ruins of Perge and Aspendos. Settled first by the Hittites around 1500 BC, Perge was an important city in Pamphylia (today's Mediterranean region). The ruins of the ancient theatre (capacity 12,000 people) boasting marble reliefs depicting the life and times of Dionysos along with the remains of the first church built in Perge, and various temples can be seen. Nearby Aspendos is famous for its well-preserved theatre of antiquity.
Overnight: Konya | Breakfast, Dinner
Konya – Cappadocia. Day 9 we tour Konya and the Mevlana monastery before heading north east to Cappadocia. We stop en route at an ancient caravanserai and later take a short walk through the beautiful Ihlara Valley. In the evening, opt for a traditional Turkish dinner and folklore evening. On day 10, we explore the stunning Goreme Valley, fairy chimneys, amazing troglodyte villages, Uchisar Castle and Derinkuyu underground city.

Stopping on the outskirts of Goreme Village we have the opportunity to see Pigeon Valley where century's old pigeon houses are carved into the surrounding cliffs, the pigeon droppings that litter the area have been used as fertilizer on crops for generations. Here you will also have the opportunity to visit an Onyx shop, specialising in historic jewellery designs unique to Turkey and using local materials and craftsmen. For those not interested in shopping spend a little time relaxing and grab a drink from the local cafe.
Overnight: Cappadocia | Breakfast x 2, Dinner x 1
Cappadocia - Istanbul. Today we head back to Istanbul, stopping en route for lunch (payable locally).
Overnight: Istanbul | Breakfast
29 December. After breakfast our tour concludes with an onward departure transfer to the airport. We hope you had a wonderful Christmas in Turkey!
Breakfast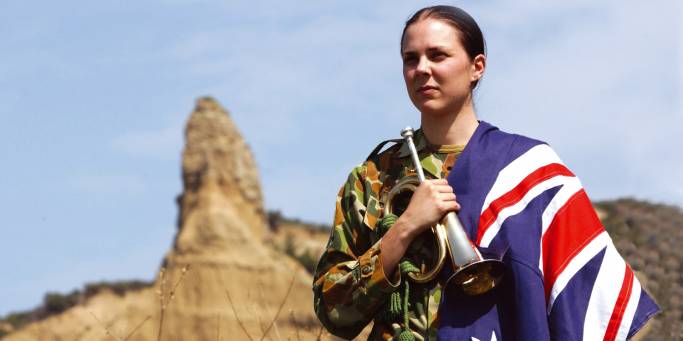 Commemorate the brave soldiers at ANZAC day in Gallipoli
Pay tribute to those that died at the tragic campaign of Gallipoli by paying your respects at ANZAC day, with like minded companions. Whether you are short on time, or would like to see Turkey or even Egypt, we have great packages to suit.

Click here for further information on our ANZAC day tours
Departure dates are guaranteed with a minimum of 4 persons. 'Twin Share' prices are per person when there are 2 people sharing a room. 'Single Room' prices are applicable to those who don't have anyone to share a room with or anyone wanting the privacy of a single room.
Read More
2022
Twin Share
Single Room
2023
Twin Share
Single Room
Extra Prices
Twin Share
Single Room
Post-Tour Accommodation - Istanbul
USD $115
USD $215
Pre-Tour Accommodation - Istanbul
USD $115
USD $215
Princes Islands - 1 day
USD $155
N/A
The hotels listed below are ones which we frequently use on this tour. We reserve the right to substitute these hotels to ones of a similar standard.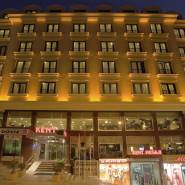 Kent Hotel, Istanbul
The charming Kent Hotel is a great example of contemporary design and a friendly atmosphere. Guest rooms are superbly equipped with modern facilities including Wi-Fi connectivity, state of the art technology and bright marbled bathrooms. Enjoying a delicious Turkish meal at the in house Calcedoine Restaurant after a hard days sightseeing is highly recommended. The hotel is also fantastically located within a 10-minute walk of the Grand Bazaar and Old Town in the Bayazit area in the European side of Istanbul.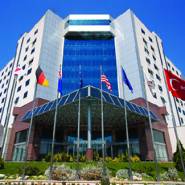 Kolin Hotel, Canakkale
Looking out across the Dardanelles, the modern and bright Kolin Hotel offers well appointed rooms with hard wood flooring and tasteful decor. The hotel also boasts a luxury spa, wellness centre and a number of mouth watering restaurants all set within perfectly manicured lawns. Sipping a sundowner on the roof bar, overlooking the beautiful strait, is the perfect way to end the day. The hotel is located on the water's edge a short drive from the town centre with beautiful views out to sea.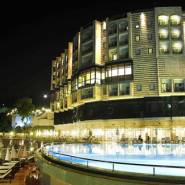 Charisma Hotel, Kusadasi
The Charisma is a modern and elegant hotel with spacious rooms. The rooms are equipped with jacuzzi, LCD screen television, split air conditioning, mini-bar, electronic safe box, hairdryer and free internet connection. Towering over the Aegean Sea's outstanding view, the Hotel is just 15 minutes by walk from Kuşadası's shopping and entertainment area.
Pamukkale Doga Thermal Hotel , Pamukkale
Complete with both indoor and outdoor pools, the Doga Thermal Hotel is a modern hotel with excellent amenities. Guest rooms are bright and spacious with wonderful en suite facilities. There is complimentary Wi-Fi offered throughout and a sumptuous buffet served for breakfast and dinner. The spa facilities on offer include sauna, Turkish bath, hot spring bath, massage treatments and a fittness centre.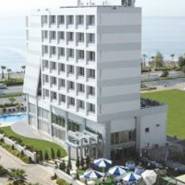 Best Western Khan Hotel, Antalya
Modern and elegant, the Best Western Khan has good sized rooms with en suites and a range of modern amenities, and free transportation to Konyaaltı, one of the most beautiful beaches in Antalya. A breakfast buffet iserved in the hotel's restaurant on a daily basis and various Turkish delicacies can be found here as well. The hotel also has a pool and fitness centre. The hotel is located in the city centre, within easy walking distance of the Old Town and Marina.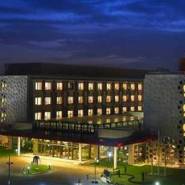 Hilton Garden Inn, Konya
Centrally located with excellent facilities, the Hilton Garden Inn is modern and right next door to the Mevlana Culture Centre - home to the famous Whirling Dervishes. Rooms are spacious and benefit from 24 hour high speed internet and the renowned Garden Sleep System mattresses - guaranteed to provide a great nights sleep. Discover traditionally brewed Turkish coffee and refreshing tea every morning before breakfast at the mouthwatering Sumac Grill. The hotel is is located within walking distance of a range of shopping and business districts.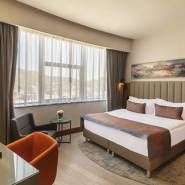 Crowne Plaza Nevsehir, Cappadocia
Situated only 15 minutes from the UNESCO World Heritage-listed site of Goreme, this modern hotel boasts an excellent location in Cappadocia. Its guestrooms are located in quiet zones to ensure you have a restful sleep and offer modern amenities including free WiFi so you can stay connected to friends and family back home. Guests can unwind in the indoor pool or book a revitalizing treatment at the onsite spa centre. A rich breakfast is served in the Gurme Restaurant, then for dinner head to the a la carte Manzara Roof Restaurant on the top floor for some delicious international cuisine.
"
We picked this tour because of the name Christmas Turkey. Neither of us had been to Turkey before and were interested to find out about the country that is often in the news for the wrong reasons. We were very pleasantly surprised as despite there being a bombing just before we left we felt perfectly safe in the country and everybody we met was very helpful. Turkey is really suffering because of bad press. Tourism is down 80%. Turkey is a fascinating country so rich in culture and history. Having travelled around a large part of it we could see why so many nations wanted to invade it. For us Ephesus, Pamakkale and Cappadoccia ( and our snowman built on Xmas Day ) were the highlights and we felt we only scratched the surface and so intend to return. We both came home feeling thoroughly enriched by the experience and empowered.
The government is investing hugely in the economy building big highways to link the west to the east , tunnels under the Bosphorus, a huge water pipeline under the Mediterranean sea sharing water from Turkey with Northern Cyprus.Recep was an excellent guide and prepared to answer any question the group posed. He made sure the whole group was catered for and consequently everyone gelled very well. It was a very special way to spend Christmas 2016"
Caroline and David Worth
• Submitted 17 Jan 2017
Tour





Guide





Country





"
This tour was fantastic, exactly what I wanted to get in terms of learning some history and culture of Turkey. Recep was very knowledgeable, he provided enough information and background for us to understand what we were looking and needed to look. The driver worked hard and often had to drive a long time to reach the sites. I really enjoyed this holiday. "
Kitty Ko
• Submitted 04 Jan 2017
Tour





Guide





Country





"
This was one of my best Christmases ever, even though it was spent with complete strangers miles from home!
The group worked really well, just the right number of people and mix of personalities, but above all it was our fantastic guide Recep who made the trip for me. His knowledge, enthusiasm, patience and timings were excellent.
I was well looked after from the moment I landed in Istanbul, with nothing to worry about or organise because everything was taken care of.
I was on my own yet it didn't feel like that at all, everyone was so friendly and kind to me within the group.
The hotels we stayed in were far better than I expected. A few had pools, all had WiFi, which are things I wouldn't have expected.
There was so much information to take in on the trip and the sites we visited were out of this world. Ephesus was the highlight for me! I would love to go back to Turkey and learn even more about the history.
The pace of the tour was busy but I have still returned home feeling relaxed and slightly more knowledgeable than when I left!
This is my 3rd trip with On The Go and I would highly recommend this particular cultural trip and our brilliant guide Recep. "
Emma Taylor
• Submitted 04 Jan 2016
"
Having returned from our trip, we'd like to share some of our thoughts and feedback regarding the Christmas Turkey Tour with On the Go.
This was our first tour experience together and were not certain what to expect. The full itinerary was enticing and we were intrigued by Turkish culture and Anatolian history, but had no familiarity with the format or standards of tour guides and tour groups.
After nearly two weeks with our traveling group, I have to say my wife and I have walked away from the experience thoroughly impressed by our tour guide and driver. Recep was incredibly knowledgeable and shared his knowledge with eloquence and humor. He was accommodating and gracious, happily amending the itinerary for the requests of our small group without impacting our overall timeline and subjecting any of the tour members to unwanted inconveniences.
We visited many historical sites with Recep and always walked away with far more fascinating history than we could retain. His lectures were always filled with interesting tidbits and there were no questions of relevance that Recep could not answer. We were a curious group with many questions as well and Recep was patient with each of our questions.
Above all, Recep was very warm and friendly. This was a personal touch that made our trip incredibly memorable. His approach helped set the tone of our group dynamics and we all walked away with new friends spread around the world. I believe this is what truly separates our On the Go tour experience from all other options. We are extremely happy and very grateful to have had Recep as our tour guide.
Even with limited English, our driver Yusuf was funny, endearing, and very helpful. He was ALWAYS on time, but usually early so we were always able to rely on his presence. Yusuf did an excellent job in navigating us through difficult mountain passes and rough Istanbul traffic with speed and safety above all. We were never lost and always made it to our destinations diligently and with surprising punctuality. The bus was always clean and reliable and we never had to be concerned about missing a bag. He did not say so, but I believe Yusuf had learned to recognize each of our bags and had a count of how many belonged to the group. Sometimes he would hand our bags specifically to the owners, knowing which bag belonged to whom. Yusuf was a reassuring presence throughout the tour and we could not have asked for a better driver. Again, please extend our heartfelt gratitude to Yusuf. "
Han and Momoko
• Submitted 04 Jan 2016
"
We found this tour to be one of the most interesting and enjoyable tours that we have ever taken. Our guide Recep was wonderful in balancing information and levity so that we were always enjoying ourselves whether in the van or on the ground. Also, the driver Yusef was absolutely the best and very personable. We could not have asked for a better team than Recep and Yusef. Whenever we are asked about this trip in the future we will always add that besides the amazing places we visited we were blessed to have one of the best tour guides who not only made the trip memorable but also made it personal. Please acknowledge Recep for his fine work as I am sure the other 8 members of the group will do so also. I can't imagine taking a tour in Turkey and not having Recep as my guide. Thanks On The Go for another fabulous tour and thanks Recep for making our trip to Turkey a memory that will last a lifetime."
Dennis Hall
• Submitted 01 Jan 2016
Tour





Guide





Country





"
I just wanted to write to express my gratitude for the incredible tour I recently completed with On the Go in Turkey. I was a member of the 2015 Christmas Turkey group and while I was already excited to do the tour based simply on my own knowledge and the description in the brochure, the reality far exceeded my expectations.
To begin with the tour arrangements and route were well chosen and provided a fantastic opportunity for us to see the incredible variety of landscapes, cultures and historical influences which shape the Turkish identity. The timing of each visit allowed for us to gain a good sense of each place while also enabling a wide range of locations and sites to be covered.
Our driver Yussef was great. He was reliable, very steady and friendly and made the travelling aspects of the trip stress free. He was also commendably attentive to details such as knowing who belonged to which backpack when it came time to unload the bus at the end of each journey.
Finally, and perhaps one of the most significant factors which contributed to the experience was our tour guide: Recep Aydin. Recep was knowledgable not only about the sites we visited (and on those his understanding and ability to explain was second to none), but also about Turkish culture, politics and history and he really went above and beyond to address any question members of the group had. He was organised and very efficient, ensuring the smooth running of the tour, but whilst doing all of this he was also able to create a sense of calm, relaxation and time for us to explore sites at our leisure. Recep was able to facilitate quite a diverse group of people on the tour, fostering positive relationships and a really lovely sense of connection between the members of the group, making it feel like a group of friends travelling together rather than strangers.
I have travelled on organised tours before and would happily say that this experience was far superior to those. I would enthusiastically recommend both Turkey and On the Go to others and in particular, owe much of my positive experience to both the structure of the tour itself, but also to our wonderful tour guide, Recep. "
Patricia Taaffe
• Submitted 31 Dec 2015
"
We would just like to send our appreciation for the wonderful Christmas Turkey tour. The whole tour went without a hitch and it was the most enjoyable tour we have undertaken. Our guide, Recep, ran the tour like a conductor bringing everything together at the right time without fuss. His knowledge of the subject was magnificent, providing not a standard general explanation of the parts but a detailed history of each place and then placing it within the larger context was just right. I was particularly impressed by his knowledge of the early Christian era so it was possible for those bible stories to become more relevant. He also seemed never to be stuck for further information when we sought more detail. We benefited greatly from his knowledge of the politics, general and social aspects of Turkish life and individual communities.
The tour participants bonded very well making it a particularly fun time with the group size being about right.
Our driver, Yussef, was very steady and sure so that we never we were never concerned with anything in the, at times, crowded roads. His bright and happy personality stood out.
A thoroughly enjoyable tour to an amazing country and we have hesitation in recommending On the Go Tours, and Recep, in particular, for a wonderful tour we will remember always. Will be providing feedback to the travel agent on our return.
We will be back for more. "
Bob and Mary Taaffe
• Submitted 31 Dec 2015
"
Dear On The Go Tours,
We have just completed the 2015 Christmas Turkey Tour, and we wish to commend the Tour, and the Tour Guide as being exceptional. As a destination, Turkey far exceeded our expectations, and we relished the richness of the culture, and the history.
The organisation of the tour was flawless. Transport, accommodation and meal arrangements were all available on time, and met the expectations set in the brochure.
The tour guide was Mr Recep Aydin, who was unbelievably good. Recep's deep understanding of both historical and cultural matters were delivered in a compelling narrative, as we travelled through the tour. Recep's blend of history, culture, and a bit of fun made the tour both interesting and entertaining. Visiting the Church of St Nicholas, and having Christmas Dinner in Turkey added a special significance to this tour.
We cannot recommend this tour more highly. Thank you for an enriching experience.
If you need any further information, please do not hesitate to contact us.
Yours sincerely,
Rob & Amanda Gillis
(Sydney, Australia) "
Rob Gillis
• Submitted 28 Dec 2015
Tour





Guide





Country





"
The Tour was fantastic. There was some discrepancy in the standard of hotels (Marina Hotel in Kusadasi was tired and generally substandard). We also had issues with no assistance with luggage at the Hilton Hotel in Konya (surprising for a Hilton hotel not to have a bell boy!). Our driver was very good and we felt safe at all times. Our Guide, Esra, was exceptional. She had excellent knowledge of the history of all sites and managed the group extremely well. The only disappointment for me was that we spent very little time in Antalya. I know others in the group would have liked more time there, too. Overall, I thought the tour was terrific and will not hesitate to recommend it to friends, family and clients."
Prue Conaghan
• Submitted 09 Jan 2015
Tour





Guide





Country





"
The trip was fantastic in absolutely every respect.
1.The organisation of the trip was faultless,right down to the last detail.
2.The tour guide Kemal was friendly,knowledgeable and competent,and ensured we all left enriched and happy.
3.The food and accomodation was better than expected,and was excellent.That is a big ask as there were a lot of meals.
4.We saw and did more than the itinerary indicated.
5.The bus and its driver were of a very high standard.The driver went to the trouble of ensuring the windows were washed at least once a day,and they were so clean you could take photos through the glass.
6.The price was an added bonus.There is no way one could do such a trip independently for even double the price.
7.I am not a "tour" person, and like to travel 5 star and in style. The toilets were of a very high standard.The food was lovely fresh healthy standard.The hotels were all really excellent,many with gyms,heated pools,views,hammams etc.
I would not hesitate recommending On the Go as well as Turkey as a destination. "
Ms Julie Bennett
• Submitted 02 Jun 2011
In Brief
Range
Trip Type
Starts
Istanbul
Ends
Istanbul
Departs
18 Dec 2022
Group Size
Min 4 / Max 24
Hotel Rating
4 - 5 star
Tour Guide
Yes - escorted by a tour guide
Meals
Breakfast: 11, Dinner: 6
Visiting
Istanbul, Canakkale, Kusadasi, Konya, Cappadocia, Pamukkale, Antalya, Ankara
Countries
Tour Add-ons
Enhance your trip with these amazing added extras and add-ons
"
This tour was fantastic, exactly what I wanted to get in terms of learning some history and culture of Turkey. Recep was very knowledgeable, he provided enough information and background for us to understand what we were looking and needed to look. The driver worked hard and often had to drive a long time to reach the sites. I really enjoyed this holiday. "
Kitty Ko
OTG000167
Christmas Turkey - 12 days
Europe
Signature
Europe
false
0
Turkey
https://www.onthegotours.com/Turkey/Christmas-Turkey-12-days
https://www.onthegotours.com/repository/Hagia-Sofia-in-winter--Turkey-Tours--On-The-Go-Tours-263271432034469_crop_flip_300_300_f2f2f2_center-center.jpg
Group_Tours