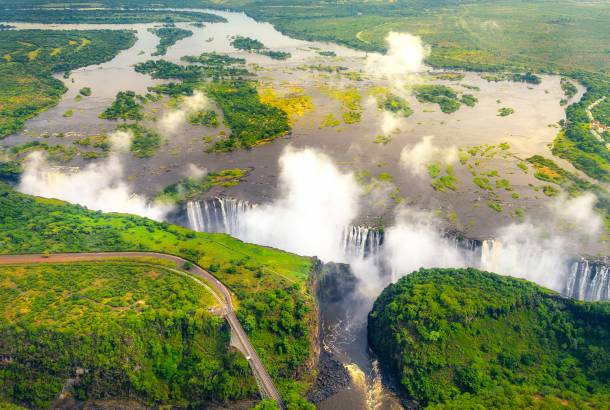 Zambia at a Glance: Best Time to Visit
Recommended time to visit: The dry seasons from May to November are better than the wet season for visiting. Wildlife gathers around the scarcer water sources and there is less vegetation to conceal species from you. Specifically, the cooler dry season from May until mid-August offers more pleasant game viewing conditions

Less popular time to visit: Most safari camps are closed from January to February, when the rains are at their heaviest. The water levels at Victoria Falls are on the up, but if you're planning a Zambia safari, you should probably wait a couple of months.

Best time for wildlife: The cool dry season from May - mid-August offers the best conditions but this is peak season, so you'll pay more. For a more budget-friendly Zambia safari, the shoulder months of June and September are mostly dry, with safari camps offering much better deals.

Best time to visit Victoria Falls: You'll want to visit the mighty falls when they're at their fullest from February - May, with March in particular tending to offer the best spectacle. For more detail, check out our guide to visiting Victoria Falls.
Want to know more about Zambia? Check out our latest blog posts
Climate | Lusaka
| | Jan | Feb | Mar | Apr | May | Jun | Jul | Aug | Sep | Oct | Nov | Dec |
| --- | --- | --- | --- | --- | --- | --- | --- | --- | --- | --- | --- | --- |
| Temp Min °C | 18 | 18 | 17 | 14 | 11 | 9 | 8 | 11 | 14 | 17 | 18 | 18 |
| Temp Max °C | 26 | 26 | 26 | 26 | 25 | 23 | 23 | 25 | 29 | 31 | 29 | 27 |
| Rainfall (mm) | 200 | 190 | 80 | 40 | 10 | 10 | 10 | 10 | 20 | 60 | 110 | 160 |
Climate | South Luangwa National Park
| | Jan | Feb | Mar | Apr | May | Jun | Jul | Aug | Sep | Oct | Nov | Dec |
| --- | --- | --- | --- | --- | --- | --- | --- | --- | --- | --- | --- | --- |
| Temp Min °C | 24 | 24 | 23 | 21 | 18 | 16 | 16 | 17 | 20 | 23 | 25 | 24 |
| Temp Max °C | 31 | 31 | 31 | 31 | 29 | 28 | 27 | 30 | 33 | 35 | 35 | 32 |
| Rainfall (mm) | 170 | 147 | 68 | 21 | 5 | 1 | 0 | 0 | 1 | 11 | 52 | 142 |