Surrounded by the beautiful Andean mountains, Ecuador's capital has a truly beautiful setting and is the second highest capital in the world. The historical centre of Quito is known as the old town and is a maze of colonial grandeur. The city's new town is a wonderful juxtaposition of its old neighbour with mixture of tall hotels, bland government buildings and residential high rises. Get to know Quito with our range of day tours and activities, available to book today with instant confirmation.
Read More
Please note that our Quito day tours run independently of our longer multi-destination tours in Ecuador.
Next Departures - Quito Day Tours and Excursions
Best things to do in Quito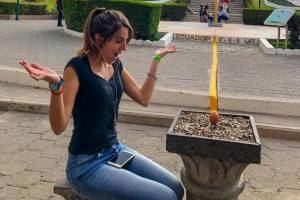 7 hours
FROM AUD $50.28
Discover the Middle of the World monument and the Pululahua Crater on this half day guided tour,...
Planning a longer visit to Ecuador?
Browse some of our popular multi-day trips that spend a day or more in Quito. Alternatively, if you would like to include a visit to Quito on a bespoke touring itinerary to Ecuador, take a look at our tailor-made holiday planning section.
Ecuador Day Tours and Excursions
Cover the attractions of Quito - its UNESCO-listed historic centre and nearby markets - with our range of day tours and activities.