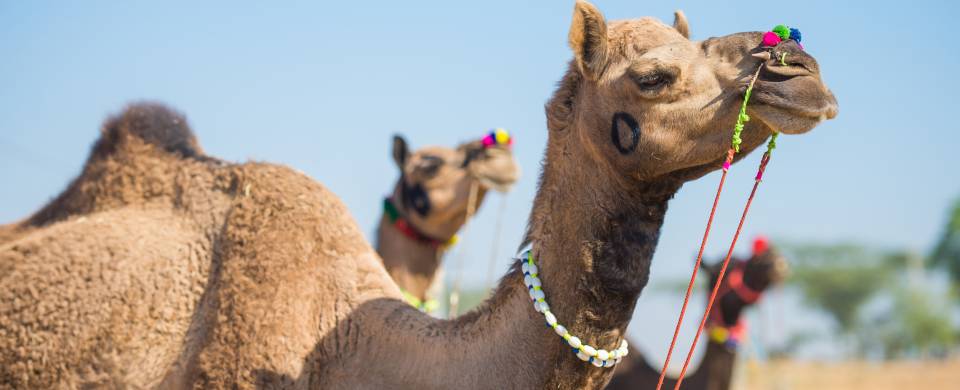 Trips and Tours to Pushkar
About Pushkar
Sitting on the edge of the desert and clinging to the side of a small lake, Pushkar is an ancient Rajasthani town considered by Hindus to be one of the most sacred places in India. Life in Pushkar is significantly related to the ancient lake. Legend has it the lake was formed when a lotus flower fell into the valley from the hands of Brahma, the creator god in the Hindu religion. It is said that the waters have special curative powers. As such, Pushkar has nearly 500-whitewashed temples and 52 bathing ghats surrounding the lake, which are often packed with pilgrims and sadhus.
Read More
Each ghat is named after an event or person. Primary amongst them is Gau Gaht, where visiting ministers and politicians come to worship, and from which the ashes of Mahatma Gandhi and Jawaharlal Nehru were sprinkled. In addition to the magical pools, Pushkar is known for its temples, the most famous of which being the Brahma Temple, said to be one of the few temples in the world dedicated to this deity. Meanwhile, Brahma Ghat marks the spot where Brahma himself is said to have worshipped.
During the auspicious full-moon phase of Kartik Purnima in approximately October/November, the lake's waters are believed to cleanse the soul of all impurities, drawing believers from all over the nation. A further draw of Pushkar is its annual Camel Fair, which also falls during the full-moon phase of Kartik Purnima. This massive congregation of camels, livestock traders, pilgrims, sadhus and tourists is an incredibly colourful event and one that is well worth seeing if you happen to be passing through the region.