Points on the Golden Triangle
Most adventures to India head to the first point on the triangle, Delhi, India's capital. The other two points are Agra, home to the Taj Mahal, and The Pink City of Jaipur in Rajasthan, with its impressive Amber Fort and City Palace. You can travel around the triangle in either direction and there are a number of interesting spots to stop off at along the way too, particularly between Agra and Jaipur.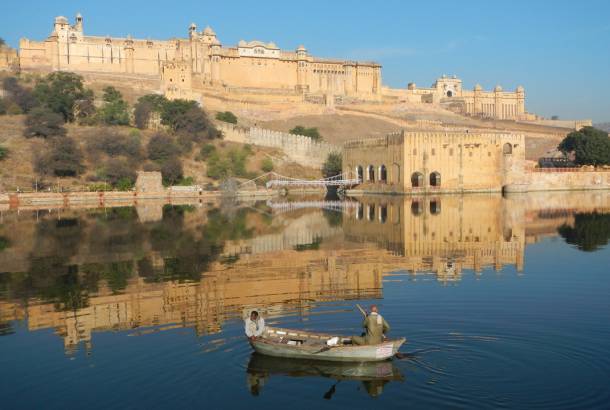 Start point on the Golden Triangle
Delhi
On your way to India? Then you are likely to fly into New Delhi, the main gateway in the north of the country. Arriving at New Delhi is an experience in itself and you'll get your first taste of India as soon as you exit the airport - it's always buzzing with activity and you are bound to hear the cacophony of car horns even at 2 in the morning - a trade mark of driving anywhere in India! Delhi really is a tale of two cities; New Delhi and Old Delhi, both poles apart and with their own distinct character.
New Delhi:
As the capital city of India since independence back in 1947, you'll find that New Delhi is really nothing like Old Delhi at all, with beautiful wide tree lined roads and the sprawling buildings of the Bungalow Zone, designed by Edwin Lutyens. The main sites of New Delhi include Rashtrapati Bhawan, Humayun's Tomb - a UNESCO World Heritage site - and iconic India Gate. New Delhi is very much a modern city too and you'll be spoilt for choice with its many bars and quality restaurants, many of which are housed in 5-star hotels. A stroll down Janpath (People's Path) up to Connaught Place is really worth it and we'd also recommend staying at the nearby Imperial Hotel; designed by Lutyens, where their impressive art collection will be sure to transport you back to days of the British Raj.
Old Delhi:
Still surrounded by crumbling city walls, Old Delhi is packed with busy bazaars and tiny lanes full of rickshaws, so you must take a rickshaw ride through the main drag, Chandni Chowk. While you're here, get a true flavour of India, stopping by the Gali Paranthe Wali for some parathas, a flavoursome fried Indian bread. Perhaps the biggest draw card in Old Delhi is the Red Fort, built with beautiful red sandstone. Then there's Jama Masjid, India's largest mosque and revered Raj Ghat, where Mahatma Gandhi, was cremated. If you have time, it's worth visiting the UNESCO listed 73-meter tall tower of Qutub Minar too and the nearby iron Pillar of Delhi. And for a taste of the Raj, consider staying a night at the charming heritage listed Oberoi Maidens hotel in Old Delhi, one of Delhi's first hotels.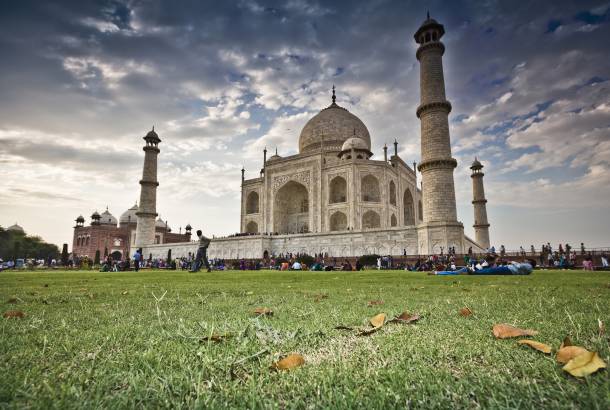 Second point on the golden triangle
Agra
Home to the world famous Taj Mahal (one of the New 7 Wonders of the World), Agra needs no introduction. The Taj is India's biggest drawcard, topping the list of reasons to visit the country, so no holiday here would be complete without a trip to this Monument of Love. Eclipsed by the fame of the Taj Mahal, Agra is also home to the impressive red sandstone Agra Fort, and from the Musamman Burj section, you get a fabulous view over to the Taj Mahal too. You don't have to stay at Agra overnight as it's a great day trip from Delhi, but we do recommend a 1-night stay so you can see the Taj at both sunrise and sunset. The lavish Amar Vilas is the only hotel in Agra with uninterrupted views of the Taj from each room. It is expensive, but for a night, it's an indulgence that you'll never forget!
Third point on the golden triangle
Jaipur
Jaipur, the vibrant capital of Rajasthan and popularly known as the Pink City, is a firm favourite with travellers and for good reason too. There's a lot to see in Jaipur so we recommend that you stay for at least 2 days.
Just outside the main city and a real highlight is the lofty Amber Fort with fabulous views of Jaipur and the surrounding area. Within the old city head to 18th century Jantar Mantar, a fascinating outdoor observatory complex and the oldest in the world! The nearby City Palace Complex offers an intriguing blend of Rajasthani and Mughal architecture, and at the edge of the City Palace you'll find the famous Hava Mahal or Palace of Winds. We recommend exploring the colourful city markets, just wandering around the many stalls is an experience in itself. There are plenty of great accommodation options in Jaipur, from authentic Havelis to modern 5-star properties, and for a real treat, consider staying at the opulent Rambagh Palace or Raj Vilas properties which are amongst India's finest hotels.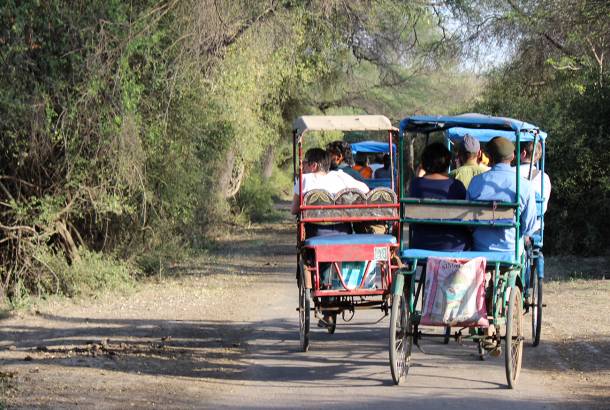 Getting around the Golden Triangle
The best route to take
There's plenty of choice travelling between the points of the Golden Triangle, though we definitely recommend driving as you get to see a lot more of India and the local way of life along the way.
Travel between Delhi and Agra:
There's an express highway from Delhi to Agra, so you'll be able to cover over 200kms in under 4 hours. There's also the Shatabadi Express train service speeding along at under 2 hours which provides the best way to get up to Agra from Delhi for a day trip. The train departs Delhi at around 6 in the morning, you get the full day at Agra and you return on the train at around 9 at night, getting back into Delhi before midnight for a proper day's travelling. There is also a limited flight service between Delhi and Agra.
Travel between Agra and Jaipur
There's a relatively new road between Agra and Jaipur though it's not an expressway and the 250km journey will take you around 5 hours by road. There are plenty of interesting places to stop at along the way, so we'd recommend that you build in a full day for this drive. The Shatabadi Express train operates on this route too, which takes around four and a half hours. There are no flight services between Agra and Jaipur, so if you would like to fly, you will need to transit Delhi.
Travel between Jaipur and Delhi
Train or drive are your options. However, the drive is quite long, taking just under 6 hours to cover the 250km trip. So for this sector, consider travel by train, and as you have probably heard, train travel in India is an experience in itself! The train, again the Shatabadi Express service, will take you around four and a half hours. There are plenty of flights offered by professional carriers between Jaipur and Delhi, and with a flight time of around an hour, a very speedy option.
The best direction to travel in
You can travel the golden triangle in any direction, there's very little difference. A lot of travellers carry on to see the sites of Rajasthan after the Golden Triangle, so if that is what you are planning to do, then it's best to travel from Delhi to Agra and then on to Jaipur, from where the rest of Rajasthan is easily accessible. If you are doing a quick trip around the Golden Triangle, then we recommend visiting Jaipur first, as the architecture, there is quite different to that of Agra and Delhi.
Leave the hassle to us
Of course, the best way to explore India's Golden Triangle in our opinion is on a group tour! We do the heavy lifting and sort all the internal travel arrangements. So all you have to do is soak up the sights! Get in touch with our team today to start planning your Golden Triangle tour.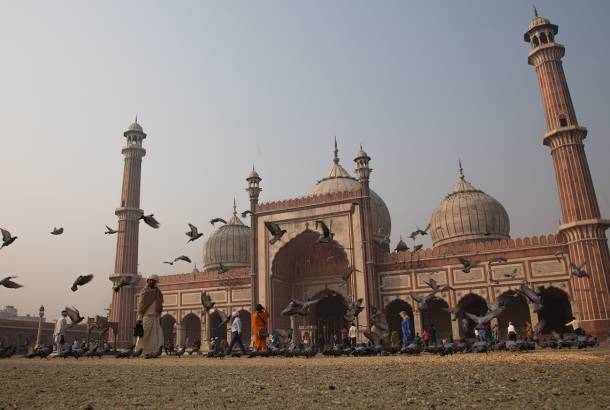 Travelling between Agra and Jaipur
Interesting stops en route
There's plenty more to the Golden Triangle than Delhi, Agra and Jaipur, and here we've picked out some of our favorite stops en route. Other places worth mentioning include Kanota, a small village about an hour from Jaipur where parts of the Best Exotic Marigold Hotel were shot. There's an old heritage hotel here, a great spot for lunch after a wander around the local village. The small village of Samode, home to the beautiful heritage Samode Palace hotel and Shahpura village, is about a 1-hour drive from Jaipur and definitely worth visiting too.
Fatehpur Sikri
Driving en route from Agra to Jaipur, you simply have to stop at UNESCO Listed Fatehpur Sikri. Abandoned due to the lack of water, this City of Victory was briefly India's capital under Mughal rule in the 1,500s. As with many Mughal monuments in India's north, Fatehpur Sikir is built from red sandstone, and wandering around this atmospheric site you'll feel an echo of India's glorious Mughal past.
Bharatpur
Bharatpur is another popular stop on the drive between Agra and Jaipur as its home to UNESCO listed Keoladeo Ghana National Park as well as 18th century Lohagarh Fort. Keoladeo Ghana is a top bird reserve, though you really have to pick your time to visit, October through March being optimal. There's plenty of areas where you can stroll freely through the reserve though a fun way to see the park is by rickshaw.
Abhaneri Step Well
Not far out of Jaipur on the road to Agra is Abhaneri which provides a fun stop off. If you're on the last leg of your journey from Agra on to Jaipur, don't drive by - visit! The main highlight is the 9th century Chand Baori step well, one of the deepest and largest in the region. The architecture of well is certainly unique with lots of intricate carvings still intact. The other highlight of Abhaneri is the ruined Harshat Mata temple.
Pehrsar Village
The village of Peharsar offers another port of call on the drive between Agra and Jaipur with Chandra Mahal Haveli (an old stately home) a great spot for lunch or for an overnight stay - be sure to watch out for the peacocks that make regular appearances! Strolling around the village will give you a true insight into rural life in India and if it's open, drop by to see the children at the village school.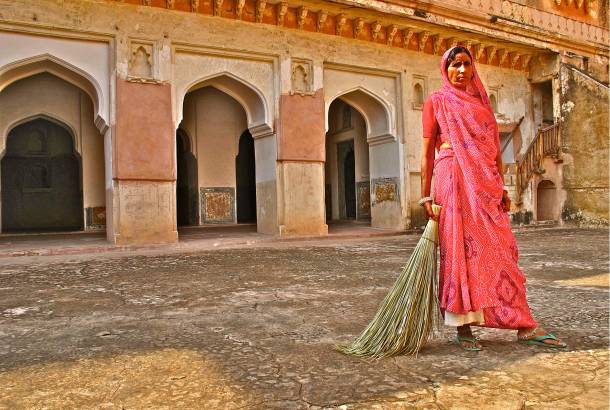 When to visit India's Golden Triangle
The most popular time to visit the Golden Triangle is in the Northern Hemisphere winter months from October through March, mainly because it's far cooler at this time of year, with a moderate dry heat. However if you're not averse to the high temperatures of the Indian summer, you could consider travelling then. There'll be no crowds at most of the main sites and you're likely to snap up a bargain at some of India's opulent hotels too.
Tours To India's Golden Triangle
We have a number of tours that include the Golden Triangle. Most of our group tours to India cover the main sites of Delhi, Agra and Jaipur before exploring other parts of the country. We also have a number of private journeys that might suit. Alternatively we'd be absolutely delighted to tailor-make a special holiday for you. Here are some recommended group and private tours that include the Golden Triangle: