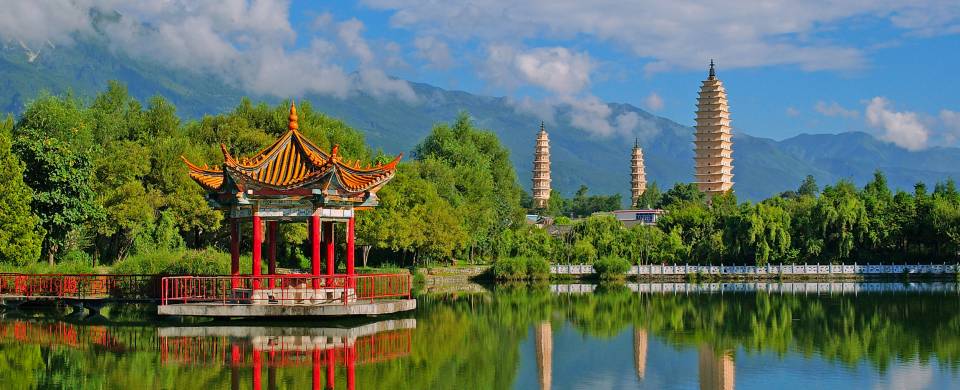 Trips and Tours to Dali
About Dali
Situated on Lake Erhai with a backdrop formed by the peaks of the 50km-long Cang Shang range, Dali boasts an enviable location, which is perfect for exploring on foot or by bike. With its proximity to the legendary Silk Road, Dali's fortunes kick-started when an aspiring 8th century prince named Piluage invited some rivals to dinner. Casting alight the tent they were in and eliminating his competition, he then set to establishing the Nanzhao Kingdom here, a realm that was later expanded to include large tracts of modern Burma, Thailand and Vietnam.
Read More
Various overthrows occurred and the Bai people set up a smaller kingdom, until Kublai Khan and his Mongolian henchmen descended on the region in 1252 and imposed Chinese rule. This persisted until 1856 when there was a Muslim uprising and the town capital was declared an independent state. In 1873 a wholesale massacre of the Muslim population occurred and Dali was decimated, never to recover its former political position. Covering only about 4 sq km, much of Dali is contained by the remains of its Ming-dynasty walls.
Popular sights and activities include cruising on Lake Erhai or visiting the Butterfly Spring and the famous Three Pagodas. Built when the region was a major Buddhist centre, Dali's distinctively tall pagodas remain upright, despite wars and earthquakes. The narrow streets of the Old Town, specifically Fuxing Lu, are ideal for wandering along and the Dali Museum is worth a look. Head to Yu'er Park for relaxation amongst the camellias and fruit trees, and if you feel like a spot of souvenir shopping, head to Huguo Lu.