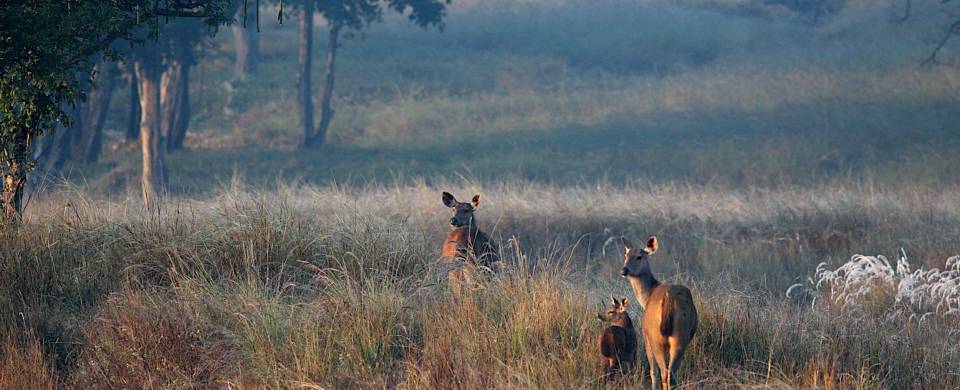 Trips and Tours to Kanha National Park
About Kanha National Park
Swathes of thick, green vegetation grow in abundance throughout Kanha National Park, making it one of the most spectacular parks in the region. Walking through the leafy paths, it isn't hard to see why this stretch of lush forest inspired Kipling to write the Jungle Book. 4x4s regularly take both foreign and domestic travellers on safari trips through the park in order to catch a glimpse of some of its magnificent wildlife. Visitors can either explore the park from 6am-11am or 3pm-6pm and should consider booking in advance to avoid any hassle on arrival. The morning slot is generally considered better for spotting animals.
Read More
One of the main draws of the Kanha National Park is its multitude of tigers. Being home to a Tiger Reserve, this park has played an important role in the conservation of the ever-dwindling population of wild tigers in India. In addition to these majestic creatures, safari-goers might also spot panthers, monkeys, a variety of different deer, lizards, snakes and over 300 different species of birds. Nature lovers should certainly have a trip to this park at the top of their to do list.
One significant achievement of the park over recent years has been the preservation of the Barasingha, a type of deer that was at risk of becoming completely extinct. Aside from the flora and fauna that exist within the park, a favourite with explorers is the Bamni Dadar, otherwise known as Sunset Point. From here, visitors can watch the sun dip down behind the gorgeous landscape, painting the sky all shades of red and pink with its final throes of light.
Kanha National Park Tours
Here are some popular itineraries that include a visit to Kanha National Park. Alternatively, if you would like to include a visit to Kanha National Park on a bespoke touring itinerary to India, take a look at our tailor-made holiday planning section.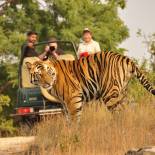 Show All Tours