Top 10 Destinations in Morocco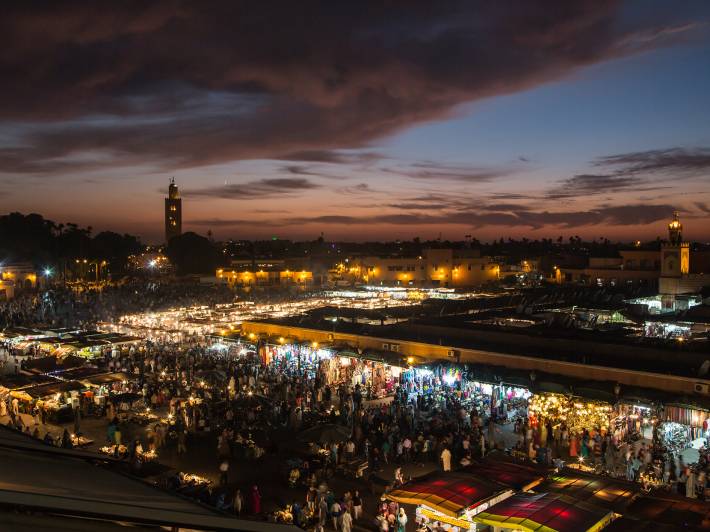 Our pick #1
One of the first sights you will see in Marrakech is the iconic Koutoubia Mosque, with its 230 foot high minaret, dating back to the 12th century. Djemaa el Fna, the central square, is best seen in the evening when its overflowing with food stalls, dancers, acrobats, fortune tellers, musicians and henna artists. The square is an incredible assault on the senses, with aromatic smells, weird and wonderful sights and a cacophony of sound. The bustling souks surrounding Djemaa el Fna sell everything from colourful lanterns, leather bags and shoes, to musical instruments and exotic spices. Be sure to barter to snap up some bargains.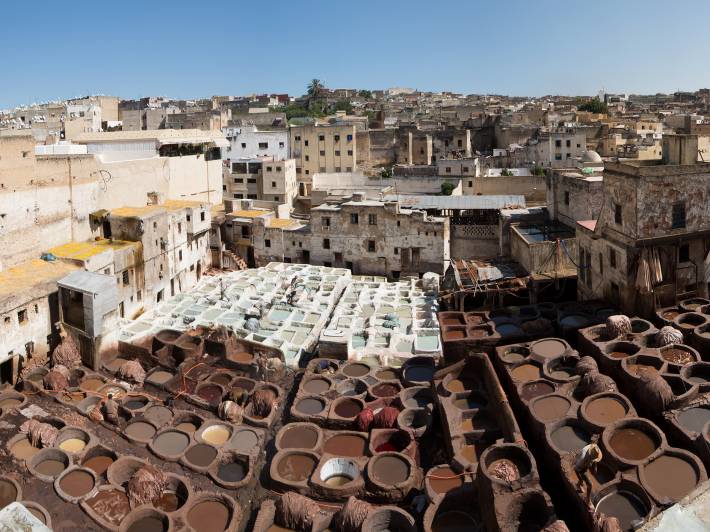 Our pick #2
Step back in time with a visit to the Imperial City of Fes, the oldest and largest medieval city in the world. A visit to the ancient medina of Fes is like taking a step back in time - the city is worlds away from the modern, 21st century cities you are probably used to. A rabbit warren of labyrinthine alleys open up into bustling squares and lead you to beautiful mosques and minarets, stunning synagogues, market stalls and pungent tanneries bursting with tradition. To navigate your way through the medina there are five different circuits you can follow, each with a different colour, each with a different theme, such as palaces and gardens, traditional crafts etc.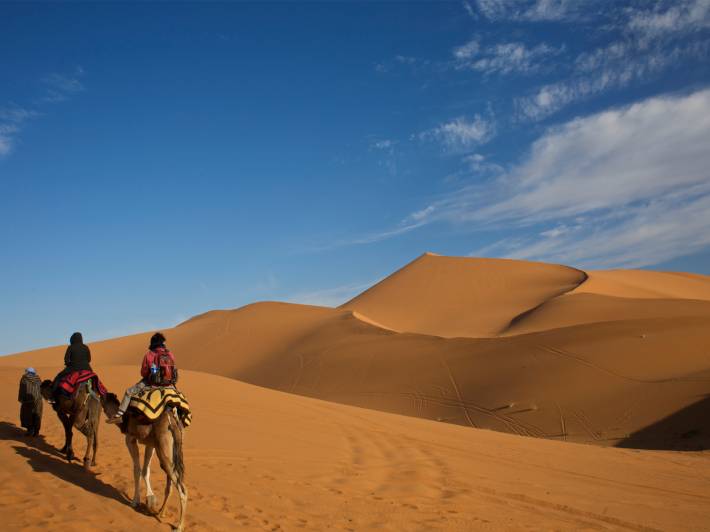 Our pick #3
The Erg Chebbi sand dunes on the western flank of the vast Sahara Desert are nothing short of spectacular. Wave upon wave of orange dunes, which reach up to 250m in height, roll out into the distance creating endless patterns of light and shade and the most astonishing panoramic vistas. The best way to experience the desert is to take an epic camel trek across the rolling dunes and spend a night at a remote Berber camp under the most incredible blanket of stars. Of course, there is more to the Sahara than just ogling at the landscape and the heavens. During the day, travellers who make it as far as the Sahara will be confronted with an array of exciting activities, including sand skiing, sand boarding and quad biking over the dunes. For those with aching muscles, you can enjoy a Sahara spa day, which means burying yourself to the neck in hot sand.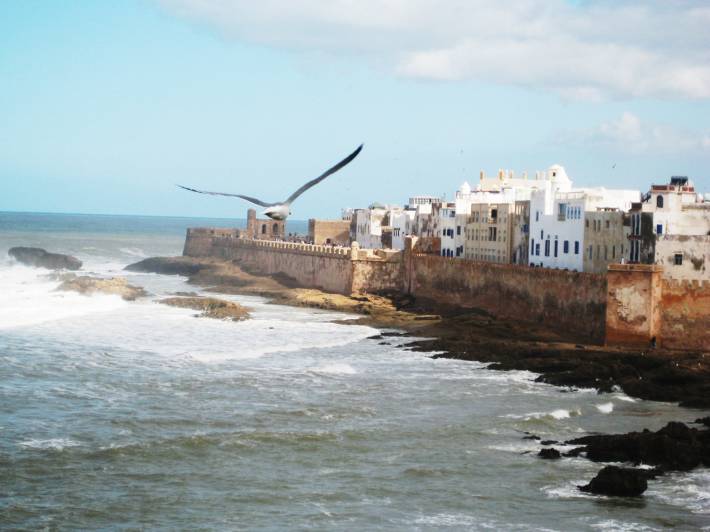 Our pick #4
The enchanting coastal city of Essaouira has an 18th century fortified medina. The city has now extended beyond its ancient walls, but is still small enough to explore on foot. Any city gate leads to the medina so you're unlikely to get lost. There's a broad, sandy beach in front of the medina and plenty of cafés and restaurants with outside terraces for al fresco dining. Blue doors and window frames abound in Essaouira, as do art galleries, jewellery stalls and other handicraft stalls. Activities on offer in Essaouira include horse riding and wind surfing. Laid back Essaouira is the perfect place to enjoy some rest and relaxations after exploring Morocco's bustling Imperial Cities. Check out our suggestions for things to do in Essaouira.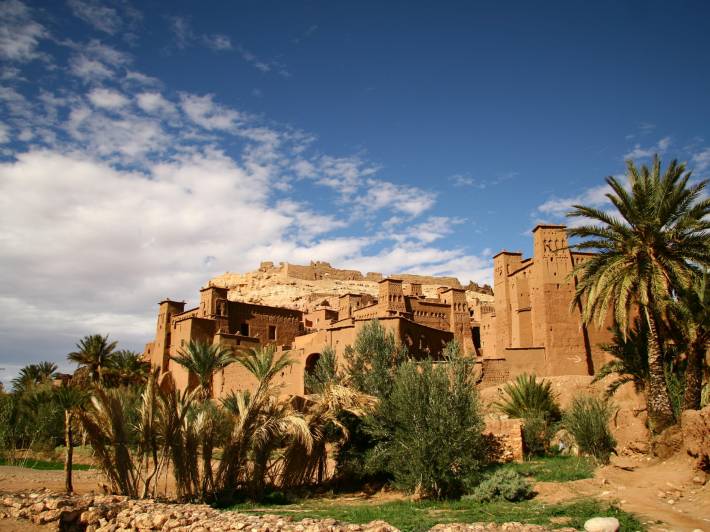 Our pick #5
Ait Benhaddou is an ancient ksar, or castle, situated along the former caravan route between the Sahara and Marrakech. Perched on a hill beside the Ouarzazate River, Ait Benhaddou boasts some beautiful kasbahs in Morocco, some of which are still inhabited today. Granted UNESCO World Heritage listing, the site has been the setting for many films including Lawrence of Arabia and Gladiator. Most people opt for a day trip to Ait Benhaddou, coming from Marrakech and returning the same evening. However, there is a lot to be said for spending a night or two here, not least because it splits up the 7-8 hour round trip along winding mountain roads. Upon arrival, travellers will be able to cross the river either by bridge or stepping stones, the latter of which being much more fun, before exploring the clay earthen walls of the ksours and kasbahs.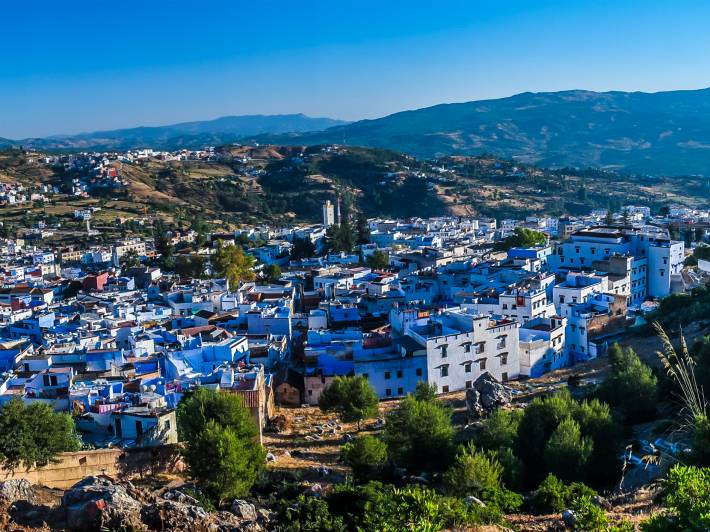 Our pick #6
Known as the "Blue City" for its stunning blue painted buildings, the charming and hard to pronounce city of Chefchaouen is tucked away in Morocco's Rif Mountains, surrounded by stunning scenery. A former Berber outpost, its wonderful medina is one of the best places to visit in the entire country. The main square is probably the city's main attraction and offers a mix of traditional Moroccan items and tourist souvenirs. It's also a great place to buy kilims, traditional woven carpets. While Chefchaouen has more than enough to keep people occupied, just outside of the blue walls are a number of natural wonders, including the magical cascades d'Akchour, located just outside Talassemtane National Park. Travellers can ogle at these sublime waterfalls before taking a dip in one of the rock pools and snapping a photo of the Bridge of God, a rock arch that reaches across the river.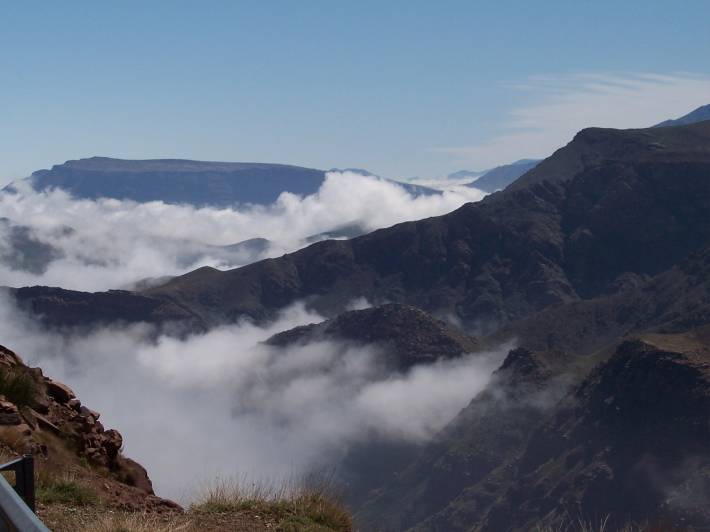 Our pick #7
Stretching 2,400kms through Morocco to Tunisia, the beautiful Atlas Mountain range includes the Rock of Gibraltar. Trekking is popular in the Atlas Mountains and can be anything from a light stroll to a strenuous hike up to the highest summit in North Africa, Jebel Toubkal. The Moroccan Grand Atlas includes the Middle Atlas, High Atlas and Anti-Atlas. There are many Berber villages in the High Atlas which maintain a very traditional way of life and can be explored by those looking to expand their cultural horizons. Some popular stopping points include Ouarzazate and the Ait Benhaddou Kasbah, both of which have featured in a number of notable films including Jesus of Nazareth and Alexander the Great. A trip to the Toubkal National Park, situated near Marrakech, is also well worth visiting.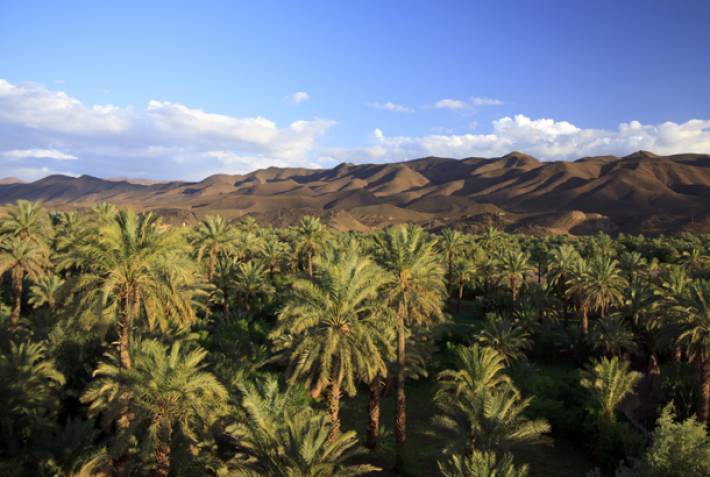 Our pick #8
Draa Valley
Surrounded by the staggering Atlas Mountains and peppered with palm-fringed oases, the Draa Valley is home to some of Morocco's most striking scenery. Steeped in history, there is evidence of thousands of years of life in this fascinating section of the country and it was here that archaeologists uncovered the Venus of Tan-Tan statuette, one of the oldest prehistoric sculptures to have ever been discovered. From cave paintings to remnants of when the valley was a main feature in the gold, salt and spice trades, the heritage of this strip of land will certainly give travellers something to think about. To really experience the best that the Draa Valley has to offer, there are plenty of hiking paths, which can also be tackled on a mountain bike. Alternatively, it is possible to explore the region from the comfort of a 4x4 vehicle.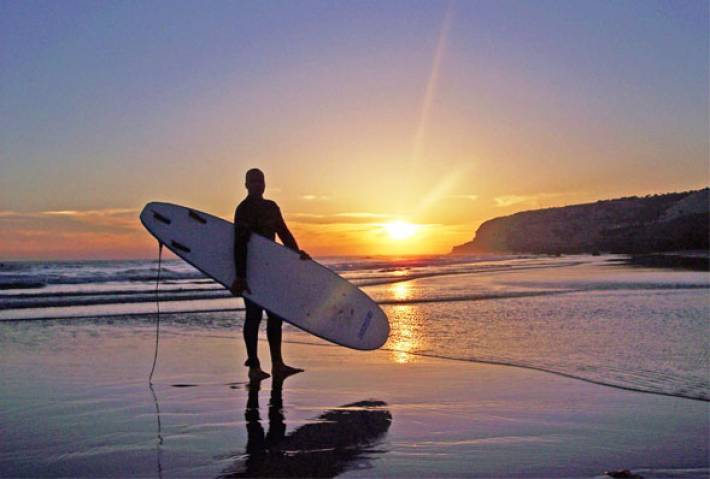 Our pick #9
Taghazoute
The coastal town of Taghazoute has come a long way from its humble origins as a sleepy fishing village. Today this seaside hub has become Morocco's number one surfing destination and attracts boarders from all over the world looking for some quality wave action. Surf culture prevails here, meaning that the vibe is about as laid-back as it can get and, when you are not riding waves, the main activities are lying on a beach, lying in a hammock or lying by a pool. For those who have worn themselves out surfing, there are plenty of yoga classes, which focus on stretching out and soothing sore muscles. There is also a pretty exciting culinary scene here thanks to Taghazoute's enviable location right next to the sea. Fresh seafood is the norm here but with a distinctly Moroccan twist that involves plenty of spices and seasonings, creating the ultimate taste explosion for diners.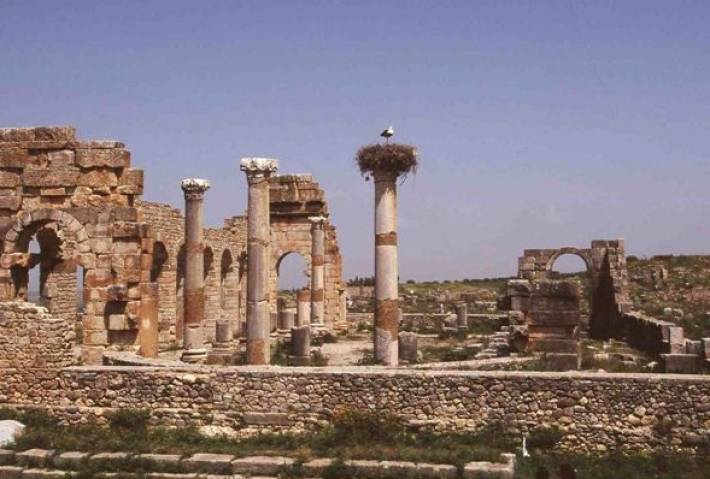 Our pick #10
Dating back to the 3rd century BC, the ruins of Volubilis are truly captivating and a must see for anyone travelling through Morocco. The site was inscribed as a UNESCO World Heritage site in 1997 and remains one of the best preserved Roman colonial towns to have ever been discovered. During its heyday, Volubilis was a major producer of olive oil as dozens of ancient presses have been found. In addition to this, a number of shops have been uncovered here, indicating that Volubilis had a thriving commercial centre. The main structures at the site are two public buildings, a basilica and a temple, both easily visible and fascinating to behold. Perhaps the most exciting thing about this historical site is that it has only been partially excavated, leaving what remains to the imagination. Who knows what else might be unearthed here in the future.