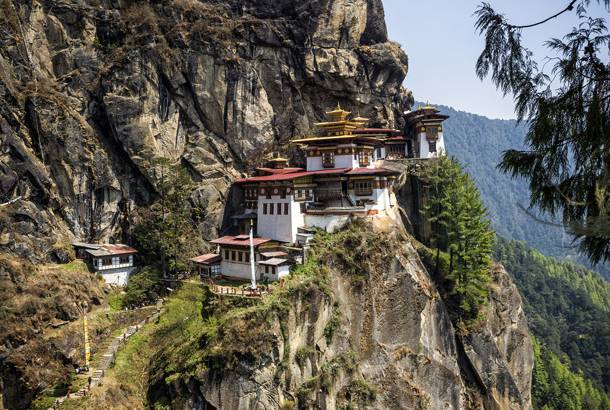 Bhutan at a Glance: Best Time to Visit
Recommended time to visit: The spring months from March - May are a great time to visit Bhutan, with flowers blooming across the country and temperatures beginning to warm up. October - December are also popular, with clear skies and crisp, fresh air.

Less popular time to visit: Bhutan is at its coldest from December - February, though this means fewer crowds and lower prices for travelers willing to brave the chill.

Best time for trekking: October - December is when most hikers tend to visit Bhutan. Temperatures are pleasant but not too high, and there is little rainfall. Nights in particular can get very chilly at altitude, so bring warm clothing.

Wettest time to visit: Bhutan's monsoon season lasts from June - August and is characterized by warm, humid days and sudden downpours. Sightseeing is still possible at this time, just don't forget your waterproofs!

Anything else to be aware of? Black-necked cranes descend on Bhutan in November, and an annual festival celebrates the arrival of these migratory birds in the Phobjikha Valley.
Want to know more about Bhutan? Check out our latest blog posts
Climate | Paro
| | Jan | Feb | Mar | Apr | May | Jun | Jul | Aug | Sep | Oct | Nov | Dec |
| --- | --- | --- | --- | --- | --- | --- | --- | --- | --- | --- | --- | --- |
| Temp Min °C | -17 | -15 | -10 | -5 | -1 | 3 | 5 | 4 | 2 | -5 | -12 | -16 |
| Temp Max °C | 1 | 1 | 4 | 7 | 10 | 12 | 12 | 13 | 11 | 8 | 5 | 3 |
| Rainfall (mm) | 4 | 8 | 16 | 21 | 24 | 40 | 75 | 72 | 34 | 14 | 4 | 1 |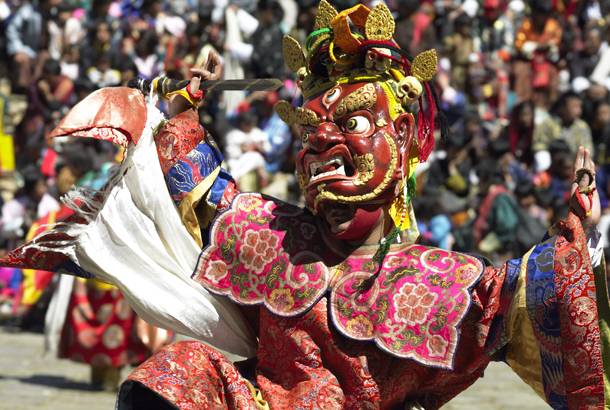 Festivals and Events
Steeped in mystery, Bhutan was off the travel radar for centuries before opening its arms to visitors and sharing its fascinating history and traditions with the world. Nothing showcases the beauty and wonder of Bhutanese culture better than its array of festivals, which bring the country to life and fill the streets with color and music. To help you make the most of your time in Bhutan, we've compiled a list of our favorite festivals.
What is Paro Tshechu?
This religious festival takes place across the country but is of particular note in the city of Paro. The event is held in a temple or monastery and sees entire communities come together to watch mask dances and other various forms of entertainment. These dances all tell a story and are a fine example of Bhutan's rich oral traditions. It is believed that by attending a Tshechu and witnessing the mask dance, an individual will receive blessings and wash away their sins.
What is the Jomolhari Mountain Festival?
What started as a small community initiative has grown into a significant event on the Bhutanese calendar as the Jomolhari Mountain Festival has gained popularity. Its purpose is to promote awareness of the elusive and endangered snow leopard in order to prevent it from potential extinction. Festivities that take place during the day include sports, snow leopard themed folk songs, dancing and showcasing locally made handicrafts.
What is the Black Necked Crane Festival?
The Black Necked Crane Festival is a significant festival in Bhutan that was created in order to promote awareness and understanding of the importance of conserving these majestic birds. Plays, dances and songs are all performed by local children and adults as the community celebrates the arrival of the bird that plays a major role in their lives during the winter months.
Recommended tours
Signature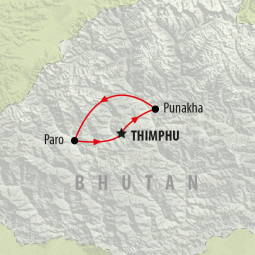 7 Days FROM $3,635
Signature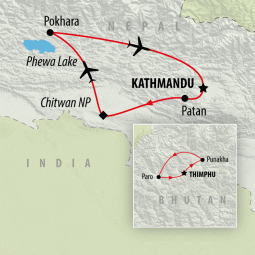 15 Days FROM $5,005
Private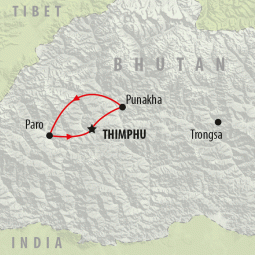 7 days FROM $2,865
See Also
For further help planning your trip to Bhutan, take a look at these handy resources:
Best Places to Visit - top 10 destinations in Bhutan
Tourist Visas - what you need to know before you go
Top Travel Tips - Bhutan's food, currency and info on health

Bhutan Trip Styles

Group Tours

Private Tours