The Sahara
Spread out over 9 million square kilometers across north Africa, the great Sahara desert is the largest sand desert in the world with a remarkable variation of microclimates and communities of plant and animal species. From the Red Sea in the east to the Atlantic Ocean in the west, the Sahara morphs from vast stone plateaus to areas of undulating sand dunes, punctuated by deeply cut mountain ranges and small green oases.
Despite the harsh conditions, the Sahara is home to an estimated two million people formed of permanent communities that have set up close to water sources and the ethnic tribes that live a traditional nomadic existence following ancient trade routes. Most famous of these tribes are the Berbers, descendants of the pre-Arab inhabitants of North Africa, who even after some 4,000 years maintain their own language and culture across the Sahara and much of Morocco.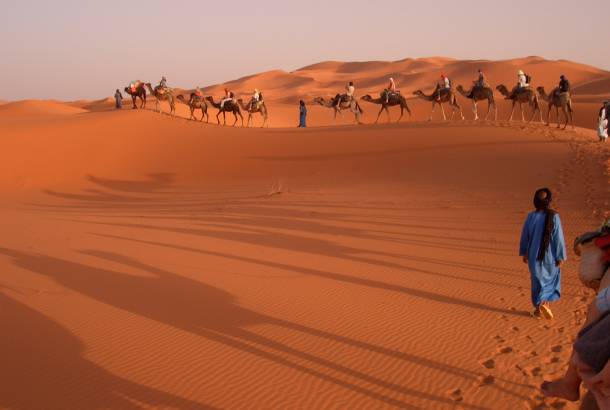 Erg Chebbi
Rising to heights of up to 150 meters, the wind-blown sand dunes of Erg Chebbi are the classic image you would expect of the Sahara desert - an endless sea of rose gold mounds snaking their way across an area that spans 50km from north to south, changing hue as the sun rises and falls from warm pinks to brilliant orange. The dunes rise almost immediately from the edge of Merzouga village, one of the most accessible desert towns in the region reached by paved roads with a choice of traditional hotel accommodation offering spectacular views of the dunes. It's for this reason that the dunes of Erg Chebbi are the most visited part of the Moroccan Sahara and get busy with people during peak tourist seasons. The dunes around Merzouga peak with the Grand Dune de Merzouga, distinguishable from the others by dense thicket of tamarisk trees at its base.
Visit Erg Chebbi from Marrakech
The dunes of Erg Chebbi can be comfortably reached from Marrakech in a 4 day return journey with one night spent out in the desert and interesting stops made along the way. Here's a popular route we recommend:
Day 1 - Drive from Marrakech to Ouarzazate, a small trader town with its own Kasbah (5hr drive). Overnight Ouarzazate.
Day 2 - Drive from Ouarzazate to Merzouga with a stop made en route at Dades and Todra Gorge (5-6hr drive). Overnight desert camp.
Day 3 - Return the same way with a stop at Ait Benhaddou to return via the Berber village of Nkob that's surrounded by attractive palm groves with a night spent in Agdz, a classic caravanserai oasis (5-6hr drive). Overnight Agdz.
Day 4 - Return to Marrakech via High Atlas (4-5hr drive).

Thinking of visiting Morocco? Download a copy of our Worldwide brochure for inspiration.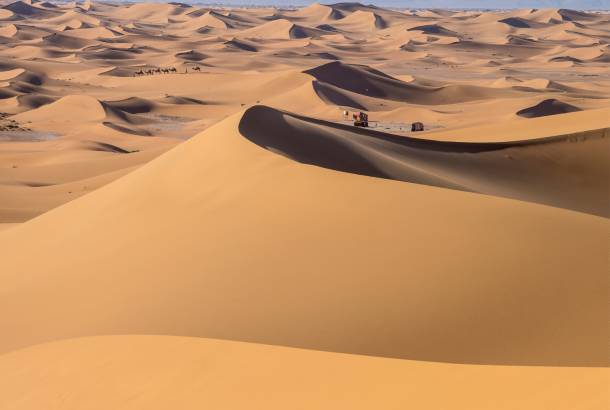 Erg Chegaga
Located further south and some 60km from the nearest paved road, the sand dunes of Erg Chegaga are the largest and wildest in Morocco. Rocky terrain with tamarisk oases flow into an endless sea of dunes with the tallest reaching dramatic heights of up to 300m. Erg Chegaga is a more rustic desert experience with a good 2 day one-way camel trek required from the nearest village of M'hamid to the tallest dunes. If you're short on time it's possible to visit smaller dunes at Erg Zaher in just one day by camel or you can travel to Erg Chegaga by 4x4 in just a few hours though this is a much more costly means of transport. Thanks largely to its relative isolation, Erg Chegaga remains untouched with far fewer visitors than Erg Chebbi meaning you can get that perfect photo of the dunes minus the trails of footprints. Here the only accommodation options are desert camps set out in the wilderness of the Sahara.
Visit Erg Chegaga from Marrakech
It is possible to reach the dunes of Erg Chegaga in a minimum of 4 days return journey from Marrakech, though due to its location more time will be spent travelling than if you were to visit Erg Chebbi. 5 days would allow a more enjoyable pace. Here's a short itinerary we would suggest:
Day 1 - Depart Marrakech and drive to either Ouarzazate or Agdz (5-6hr drive). Overnight Ouarzazate or Agdz.
Day 2 - Drive from Ouarzazate/Agdz to M'hamid (4-6hr drive). 1hr camel trek to desert camp situated amongst the smaller dunes. Take a 4x4 return journey to the larger dunes. Overnight desert camp.
Day 3 - Depart the Sahara and return via the Draa Valley to Ouarzazate or Ait Benhaddou (5-6hr drive). Overnight Ouarzazate or Ait Benhaddou.
Day 4 - Return to Marrakech via the High Atlas mountains (4-5hr drive).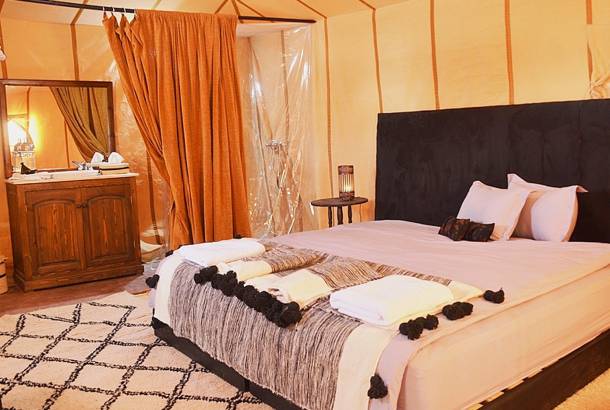 Sleeping in the Sahara
To truly experience the Sahara desert we recommend spending a night in a desert camp inspired by Berber traditions. The standard camps tend to be located further out in the desert with the nearby villages out of sight, often reached by an hour's camel trek which only adds to your desert experience. The colorful tents are pitched in a rectangular arrangement facing into a central communal area of rugs, seats and low tables where guests will dine in the evening and for breakfast.
For discerning travelers, luxury camps offer a more comfortable desert experience with larger tents with fixed beds, flushing toilets and running water, carpets and lamps. The luxury camps tend to be closer to the desert towns as the higher standard of facilities requires access to electricity and water supplies. Many such camps are an easy walk from Merzouga and M'hamid village but guests can still opt to take a camel trek further out into the desert on a return journey back to the camp.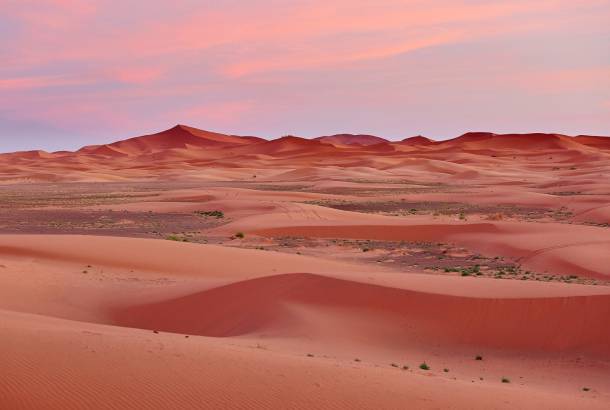 Best time to visit the Sahara
The best time to visit the Moroccan Sahara is between October and April when daytime temperatures are bearable; however, in December and January night-time temperatures can plummet below freezing so you'll need to travel with suitable clothing. To experience the ethereal beauty of the Sahara sand dunes without the crowds, visit during the quietest months of November, January and February.
Temperatures are particularly fierce between June and August and therefore not ideal for the elderly or the very young. During the height of summer, Moroccans come to Erg Chebbi to be buried neck-deep in the hot sand for a few minutes at a time. It's reputed that the power of the sands are a treatment for rheumatism.
The dunes are spectacular at any time of day but particularly impressive first thing in the morning with the rising sun and last afternoon as the sun begins to set and the sands blaze with changing color.
Find out more about the best time to visit Morocco.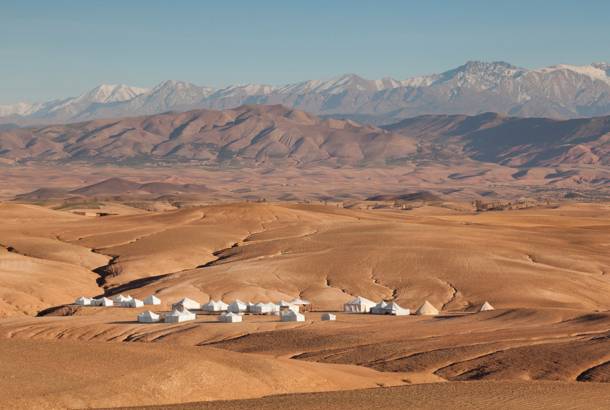 Desert Camp Alternatives
If your time in Morocco is limited yet you still wish to enjoy a desert camp experience sleeping out under the stars away from civilization, the Agafay Desert is a great option and just an hour's drive from Marrakech. Although bearing little resemblance to the rolling sand dunes of the Sahara, the hilly terrain of the Agafay is almost lunar in appearance with rocky ground, gently rising mountains and jagged crevices with panoramas stretching all the way to the snow-capped Atlas mountains. Here's our selection of luxury camps in the Agafay Desert that are ideal for a night's stay:
Terre des Etoiles Camp - Featuring 10 permanent and spacious tents with indoor seating area, comfortable beds and private bathroom with running water, the Terre des Etoiles provides a Zen-like retreat away from the hustle and bustle of the city. Guests can enjoy delicious Moroccan cuisine in the large restaurant tent and drinks at the bar whilst the sun sets and gas lamps are lit to create a truly magical ambience. Optional activities on offer at the camp include camel rides, mountain biking and horse riding - or simply relax and reconnect with the great outdoors.
Scarabeo Stone Desert Camp - Each private sleeping area at the Scarabeo Stone Desert Camp consists of a nomad-style tent of thick white cotton with Moroccan textile rugs decorating the floor. Guests can recline in the lounge area of their tents or soak up the views from their private front 'terrace'. The en suite shower tent provides black soap alongside one bucket of hot and cold water so that you may wash like the Berbers. All tents come with a Western style toilet and heat is provided in the winter months.
La Pause - The rustic yet stylish La Pause desert camp wonderfully combines Berber-inspired accommodation with the beautiful severity of the Agafay Desert. Simple canvas tents house low-lying mattresses and Moroccan furnishings whilst the permanent lodges feature mud walls and wide windows with just thick drapes separating you from nature. Luxuries in the lodges include hot running water, a log fire place and Egyptian linen. Hidden away in a small sunken garden guests will find a splendid swimming pool where they can escape the summer heat.
Morocco Desert Tours
For many visitors a trip to Morocco would not be complete without visiting the rolling sands of the Sahara. With a number of desert towns and evocative camps, Morocco is a rewarding place to do so and we include an overnight stay at Erg Chebbi on all of our group tours along with a camel ride across the sand dunes. See below for a selection of our favorites.
If you would prefer to visit Erg Chigaga, our tailor-made travel consultants can put together your dream itinerary that covers the Sahara and other highlights in Morocco.
Morocco Trip Styles

Group Tours

Family Holidays

Private Tours