Travel from Nicaragua to Belize on this 19 day tour, taking in some of the cultural, architectural, and geographical wonders of Central America. Explore the beautiful colonial cities of Granada, Leon, Suchitoto, and Antigua. Get off the beaten track in El Salvador and travel into Guatemala's highlands to visit beautiful Lake Atitlan, surrounded by imposing volcanoes and dotted with indigenous market villages. Marvel at spectacular Mayan ruins at Tikal and end your adventure at a beautiful rainforest retreat in the heart of Belize.
Trip Highlights
Granada - Stroll around Central America's oldest Colonial city on the shore of Lake Nicaragua
Masaya National Park - Spend a day exploring its volcanic crater lakes, the old hilltop fort of Coyotepe and the active crater of Masaya
Suchitoto - Get off the beaten track in El Salvador, spending two days in this beautiful town on the shores of Lake Suchitlan
Lake Atitlan - Cruise across the lake to Santiago de Atitlan, admire the stunning scenery and explore the lakeside villages
Yaxha - Discover this captivating lesser-visited archaeological site nestled within a lush jungle on a guided walking tour
Las Isletas - Take an excursion to this 365 island archipelago on Lake Nicaragua, which is a haven for birdlife
Leon - Explore this charming old Colonial town on a walking tour
Antigua - Discover this picturesque Colonial town with its charming cobbled streets and leafy central plaza, set against a stunning backdrop of smouldering volcanoes
Tikal - Take a guided tour of this remarkable Mayan archaeological site, where steep, stepped and vertiginous temples penetrate the forest canopy
Chaa Creek - Stay at a beautiful Belize eco-lodge on the rain-forested banks of the Macal river and enjoy a range of activities
Included
Breakfast daily, 1 lunch & 3 dinners
18 nights 3-4 star hotels
Economy flights from Managua - San Salvador and Guatemala City to Flores
Granada excursions to Masaya market and volcano, and Lake Nicaragua's Las Isletas
Boat excursion to villages on Lake Atitlan
Selected excursions at Chaa Creek
Arrival and departure transfer on days 1 and day 19
Transfers and transportation in private air-conditioned vehicles
Escorted by an English-speaking tour leader
Walking tour in Leon and Antigua, city tour in Granada
Guided tour of Tikal and Yaxha Ruins
Not Included
Tipping - an entirely personal gesture
Departure taxes or border taxes
International flights and visas
Granada
Welcome to Nicaragua! You will be met at Managua airport and transferred to our hotel in the nearby historic town of Granada. Spend the rest of the day at leisure.
Overnight: Granada
Granada city tour & Las Isletas
This morning we explore the charming city of Granada with a guided city tour, visiting some of the city's finest colonial buildings and churches. Then we take an excursion to Las Isletas, a 365-island archipelago which was formed 20,000 years ago when the Mombacho volcano erupted and giant masses of rock, ash and lava landed in Lake Nicaragua. Today these green tropical islets are a haven for birdlife and the site of luxury holiday homes owned by rich Nicaraguans. At dusk we can sit and watch a wonderful sunset over the mainland.
Overnight: Granada | Breakfast
Masaya volcano and market
We visit Masaya National Park today and explore its incredible volcanic crater lakes, Coyotepe hilltop fort, the active crater of Masaya and the town of Masaya. In the town you can stroll around the handicraft market and perhaps purchase one of Masaya's famous handmade hammocks.
Overnight: Granada | Breakfast
Leon
Granada - Leon. This morning we drive to Leon (2-3 hours), passing the capital city of Managua and Managua Lake. Heading north past the foothills of the Momotombo Volcano we arrive in Leon, another charming colonial city. The rest of the day is free for you to stroll around the streets and shady plazas of the city center, where you'll find many ornate churches.
Overnight: Leon | Breakfast
Leon optional excursions
Today there's a choice of optional excursions. You can visit Poneloya on the pristine Pacific coast where you can relax on the long stretch of beautiful beach and relax with a drink at one of the ramshackle local bars. Or you can explore the local mangrove forest by boat and spot the resident bird life and wildlife. Alternatively, there's a trip to Leon Viejo archaeological site, where the city of Leon was first located among the tropical trees. Following earthquakes the city was relocated in the early 17th Century.
Overnight: Leon | Breakfast
Suchitoto in El Salvador
Leon - Suchitoto (El Salvador). This morning we travel back to Managua airport and take a flight to San Salvador, the capital of El Salvador. From here we drive to the lovely colonial town of Suchitoto, located on the shores of Lago Suchitlan. Virtually untouched by tourism, this small town is easily navigated on foot. Explore its cobblestoned streets, visit the plaza which has a beautiful, whitewashed church and enjoy wonderful views of the lake and forest from restaurants along the shore.

We spend a day walking along the forest trails which surround the town, spotting migratory birds, or perhaps take a boat trip out onto the lake. Alternatively, simply relax and enjoy this relaxing haven.
Overnight: Suchitoto | Breakfast x 2
Antigua
Suchitoto - Antigua (Guatamala). Bidding farewell to El Salvador we travel north-west across the border into the Guatemalan highlands and the picturesque town of Antigua. Time permitting, a stop will be made en route to visit the archaeological site of Joya de Ceren, a 600 AD Mayan town preserved under ash from the eruption of a nearby volcano.

We spend three nights in the beautiful colonial town of Antigua, which is set against a spectacular backdrop of smoldering volcanoes. This town cannot fail to enchant, with its cobbled streets, gorgeous leafy central plaza, tiled courtyards and colorful street markets. Antigua also has an abundance of huge, ruined churches, convents and monasteries, testament to a time when Antigua was the country's capital, and its main religious center. We explore the city on a guided tour.
Overnight: Antigua | Breakfast x 2
Optional excursion to Copan
Spend the day relaxing in Antigua, strolling around town, shopping for souvenirs or visiting the ruined convents and squares. Alternatively there is a full day optional excursion to the ruins of Copan in neighboring Honduras. Copan, along with Tikal is one of the most impressive Mayan archaeological sites.
Overnight: Antigua | Breakfast
Chichicastenango & Lake Atitlan
Antigua - Chichicastenango - Lake Atitlan. Today we travel into the highlands of west Antigua to Lake Atitlan, passing dramatic landscapes dominated by imposing volcanoes. En route we stop at the highland town of Chichicastenango. In this religious town there's a large, vibrant market selling brightly colored textiles, clothes and tapestries, in addition to beautiful hand-carved masks and leather goods.
Overnight: Santa Catarina de Polopo | Breakfast
Picturesque Lake Atitlan
This lake is one of the world's most captivating gems, boasting volcanic peaks that mirror themselves in its unbelievably blue waters, while traditional towns and villages grace its shores. It's an ideal destination for a few days of serenity. Our home base is the tranquil village of Santa Catarina de Polopó, just a short distance from the bustling tourist hub of Panajachel. To explore further, we embark on a motor launch journey across the lake to Santiago de Atitlán. As we journey the calm morning waters, we are treated to breathtaking views of various shoreline communities, cultivated fields, majestic residences, and the encircling gently sloping volcanoes.

Upon reaching Santiago, we receive a warm welcome from enthusiastic local children. This town is a fantastic place to shop for brilliantly colored textiles. These spirited children might even offer to lead us to the current abode of Maximón, the local idol known for his smoking, drinking, hat-wearing, and mischievous antics. Each village around the lake has its distinct traditional attire and speaks its own Mayan dialect. There's plenty of time here to unwind, savour the tranquillity, and marvel at the enchanting views. Alternatively, you can choose an optional excursion available to go out onto the lake by canoe, rent a bicycle, or visit one of the nearby butterfly or animal parks.
Overnight: Santa Catarina de Polopo | Breakfast x 2
Into Flores & a tour of Tikal
Lake Atitlan - Flores. Morning of Day 14, we take an hour flight to Flores, nestled in the lush northern jungles of the country. Here, we make our base for exploring the magnificent Mayan ruins for the next two days at Tikal, which is just an hour away. Tikal, an ancient city veiled in history, boasts towering temples that pierce the forest canopy. Climbing one of these temple summits offers timeless, unforgettable views of the site. With the guidance of a knowledgeable local, we'll wander through palace complexes, discovering the grandeur of Tikal. Reaching the peak around AD 800, Tikal was one of the largest and most significant Mayan city-states before its enigmatic decline.

Our base is located in a secluded lakeside lodge on Lake Petén, explore the extensive grounds of a nearby nature reserve, encompassing jungle-clad areas along Lake Petén's shores, where lurking crocodiles and graceful wild deer may be encountered. Don't forget to gaze skyward, as the trees host a colorful array of lively birdlife, including various toucan species. Alternatively, you can unwind amidst the hotel's enchanting gardens and by the pool, relishing the serenity of your surroundings.
Overnight: Flores | Breakfast x 2
Belize rainforest lodge
Flores - Yaxha - San Ignacio (Belize). The morning of day 16, we journey to the lesser-known Mayan ceremonial site of Yaxha, nestled on the shores of a lagoon. Following this, we embark on a picturesque drive crossing the border into Belize, passing through the town of San Ignacio and entering the low-lying Cayo district.

Our accommodation for the next three nights is Chaa Creek, one of Belize's pioneering lodges. Established by an Anglo-American couple in 1981, this tranquil jungle retreat spans 135 hectares of lush rainforest. The lodge places a strong emphasis on the region's natural beauty. Activities here include leisurely walks along orchid-lined trails, serene canoe trips along the mustard-hued waters of the Macal River to observe wildlife and birds along the shoreline. Alternatively, you might choose to unwind and revel in the stunning tropical gardens or indulge in spa treatments. Chaa Creek offers a slice of paradise with a warm and laid-back atmosphere.
Overnight: San Ignacio | Breakfast x 3, Dinner x 3
Belize City
Today our incredible adventure through Central America comes to an end today. Bid farewell to your fellow travelers and travel by road to Belize City airport.
Breakfast
Prices & Dates
Departure dates are guaranteed with a minimum of 4 persons. 'Twin Share' prices are per person when there are 2 people sharing a room. 'Single Room' prices are applicable to solo travellers wanting the privacy of a single room.
Read More
2024
Twin Share
Single Room
Extra Prices
Twin Share
Single Room
The hotels listed below are ones which we frequently use on this tour. We reserve the right to substitute these hotels to ones of a similar standard.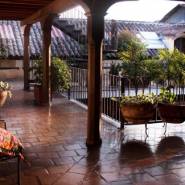 Meson De Maria , Antigua
Antigua boasts numerous charming Spanish colonial-style hotels, and this stands as one of the most captivating. Set within a refurbished colonial-era residence, it offers snug, exquisitely adorned guest rooms of diverse sizes, encircling petite patios adorned with terraces and balconies adorned in lush tropical greenery. Throughout the property, antiques are thoughtfully placed, complementing exposed brickwork, wicker furnishings, and crackling open fires, creating an upscale rustic chic ambiance. A rooftop terrace invites relaxation under the sun, affording views of the city from comfortable loungers.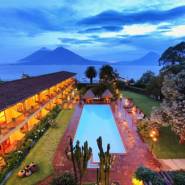 Villa Santa Catarina, Santa Catarina de Polopo
Villa Santa Catarina lies 4km from the tourist hub of Panajachel in the quaint village of Santa Catarina Polopo and offers picturesque views of the lake. The hotel centres around a well-maintained small landscaped garden, featuring a medium-sized swimming pool surrounded by loungers and a manicured lawn. The spacious rooms are spread across two levels, each equipped with a terrace or balcony, with most boasting lake and volcano views. Built in an appealing colonial style, its relaxed feel makes it an ideal choice for those looking for a peaceful escape with minimal crowds.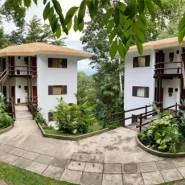 Villa Maya, Flores
Situated on the picturesque shores of Lake Petén, Villa Maya Lodge offers a secluded retreat for its guests. Located a 45-minute drive from the magnificent Tikal Mayan site and just 10 minutes' drive from the nearby Flores town this is the perfect base to explore the region. The rooms are contemporary and well-lit, each featuring a ceiling fan, private bathroom, and a balcony showcasing lake views. With no TVs in the rooms guests can make the most of the appealing swimming pool with an adjoining plunge pool, thatched restaurant, and lakeside bar.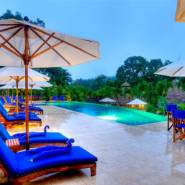 The Lodge at ChaaCreek, San Ignacio
Located within a lush rainforest-covered valley near the Macal River, The Lodge at Chaa Creek is a charming jungle retreat. All en-suite rooms have WiFi, A/C and offer space, comfort and privacy. The infinity pool, flower-filled gardens and spa offer relaxation and peace for all guests, whilst the adventurous can partake in organized activities led by naturalist guides. A stay at Chaa Creek contributes to Chaa Creek Cares, an initiative supporting various social and environmental projects such as local kids' summer camps, scholarships, clean-up drives, and conservation efforts.
At a Glance
Range
Trip Type
Starts
Granada
Ends
San Ignacio
Departs
Thursdays
Group Size
Min 4 / Max 20
Hotel Rating
3-4 star
Tour Guide
Yes - escorted by a tour leader
Meals
Breakfast: 18, Dinner: 3
Countries
Minimum Age
12 yrs, accompanied by an adult
Arr. Transfer
Yes
Dep. Transfer
Yes
OTG002644
Central America Uncovered - 19 days
Central America
Handpicked
Central America
false
0
Costa Rica
https://www.onthegotours.com/Nicaragua/Central-America-Uncovered-19-days
https://www.onthegotours.com/repository/Lake-Atitlan--Guatemala--On-The-Go-Tours-345761493295965_crop_flip_300_300_f2f2f2_center-center.jpg
Group_Tours