Top 10 Destinations in Southeast Asia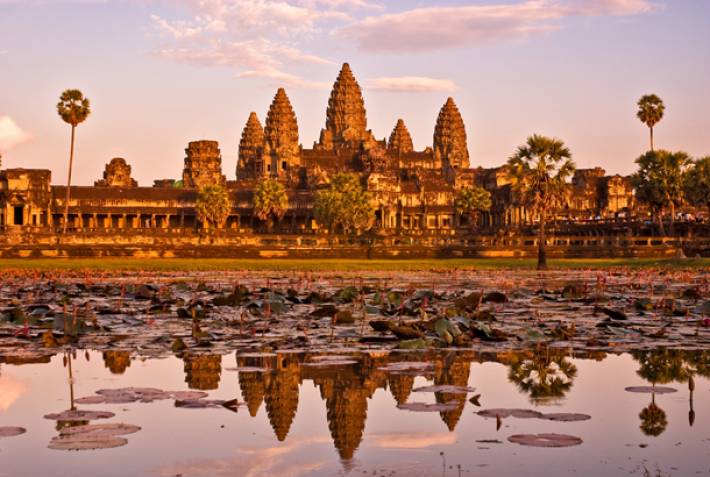 OUR PICK #1
Angkor Wat - Cambodia
Few archaeological sites can match the spectacular Angkor Wat for its sheer scale and elaborate features. Originally dedicated to the Hindu god Vishnu, over the centuries Angkor Wat morphed into a Buddhist temple with extensive bas-reliefs that display a wide range of cultural, religious and symbolic values. Even today it remains the planet's largest religious monument, covering an area of 402 acres. The temple of Angkor Wat is just one of the monuments that comprise the Angkor Archaeological Complex - there are thousands more that range from palaces to reservoirs that date back as far as the 9th century. Angkor Wat is so important to the Cambodian people that it even features on the national flag!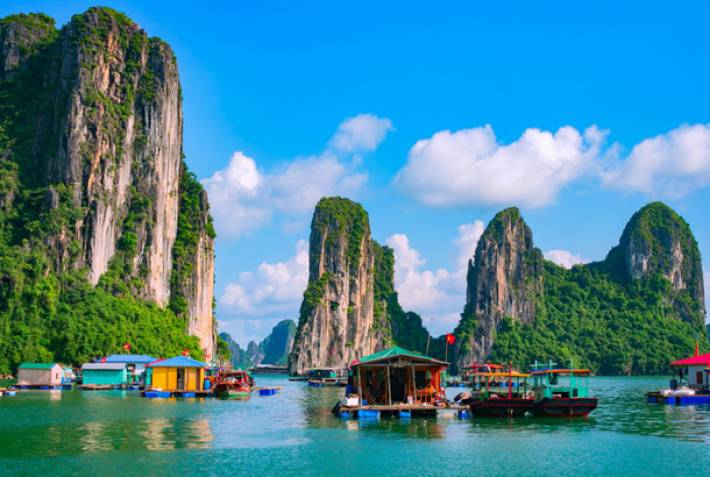 OUR PICK #2
Enchanting Halong Bay is the jewel in Vietnam's scenic crown. Comprised of thousands of karst islands that tower above jade-green waters, this stunning seascape is one of the country's most iconic sights. The precipitous nature of the karst formations mean that most of them are uninhabited but it's possible to explore the grottoes and caves that were formed by the elements over the centuries. The most popular way of exploring the region is on a traditional junk boat, spending your time leisurely cruising between islands and getting even closer with the aid of a kayak.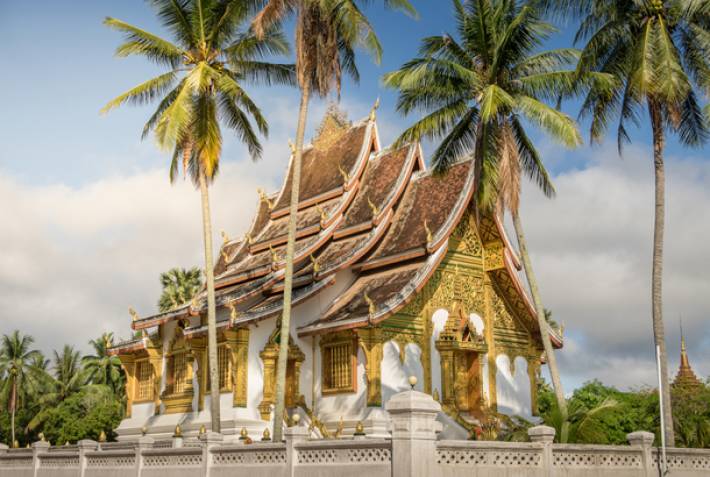 OUR PICK #3
With its idyllic setting at the confluence of two rivers and a tangible colonial ambience, Luang Prabang could quite easily lay claim as Southeast Asia's most romantic city. It's home to over 30 sparkling wats and remarkably well-preserved Indochinese architecture that dates back to the 19th century. And this is what helped Luang Prabang secure UNESCO World Heritage status back in 1995. There's a taste of French Indochina on practically every street corner with surprisingly good coffee and freshly made baguettes available from cafes and roadside stalls. In the surrounding environs there are aquamarine waterfalls to play amongst, trails to hike and rivers to cruise or kayak upon.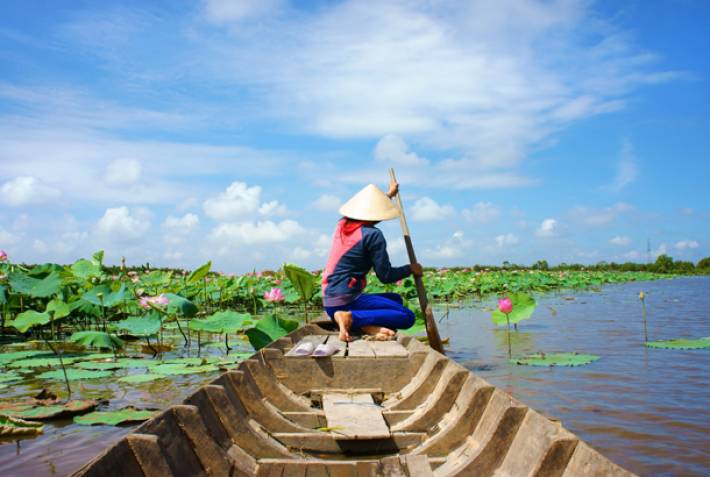 OUR PICK #4
Another watery delight in Southeast Asia is the Mekong Delta, a sprawling maze of rivers that weave their way around islands and traditional rural villages. Encompassing a large portion of southwestern Vietnam, the mangrove forests of the delta are teeming with wildlife while the towns bustle with agricultural commerce. Floating markets display the bounty of fresh produce available in this part of Vietnam, from rice to fish, fruit to sugar cane, and it's possible to visit local cottage industries to see how Vietnamese sweets are made. The best way to explore the Mekong Delta is by boat and perhaps the most iconic way to navigate is on a modest row boat with a conical hat-toting Vietnamese lady at the helm.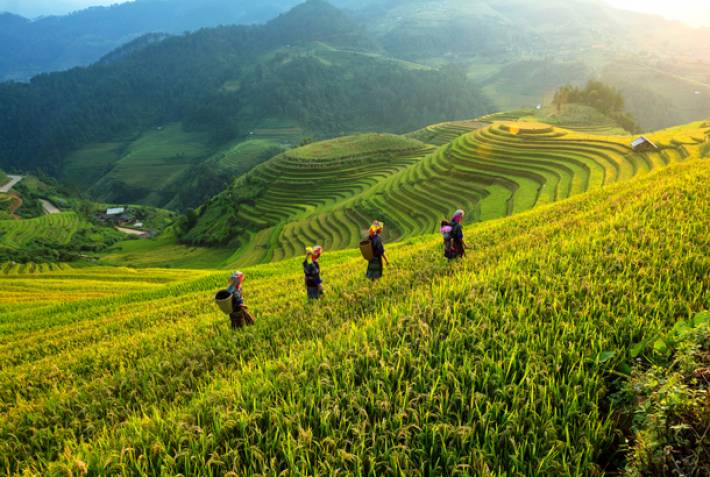 OUR PICK #5
Sapa - Vietnam
Southeast Asia is home to a number of ethnic minorities, each with their own distinct dialect, dress and traditions. The former French hill station of Sapa in the northern highlands of Vietnam is the ideal place to meet some of these local tribes. Sapa is surrounded by stunning rice terraces and lush green valleys, whilst nearby market towns are bustling with the comings and goings of the local traders.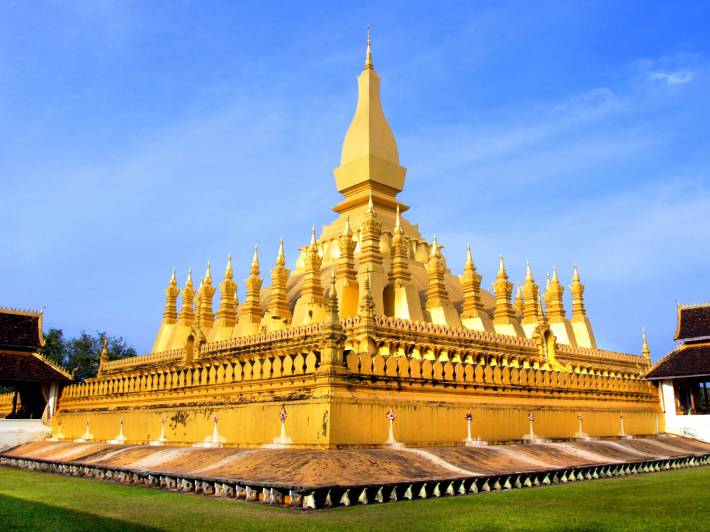 OUR PICK #6
Despite being the capital of Laos, Vientiane remains a quaint and easy-going city with the charm of a provincial town. Its historic old quarter can be easily explored on foot, where you can see pretty boulevards, glittering temples and wandering Buddhist monks. Must-sees include Wat Sisaket, Vientiane's oldest temple, and Wat Simuang, which is the most popular with worshipers. And any visit to the city wouldn't be complete without exploring That Luang. Otherwise known as the Great Stupa, That Luang is a national symbol and its gold-covered Buddhist stupa is best viewed at sunset.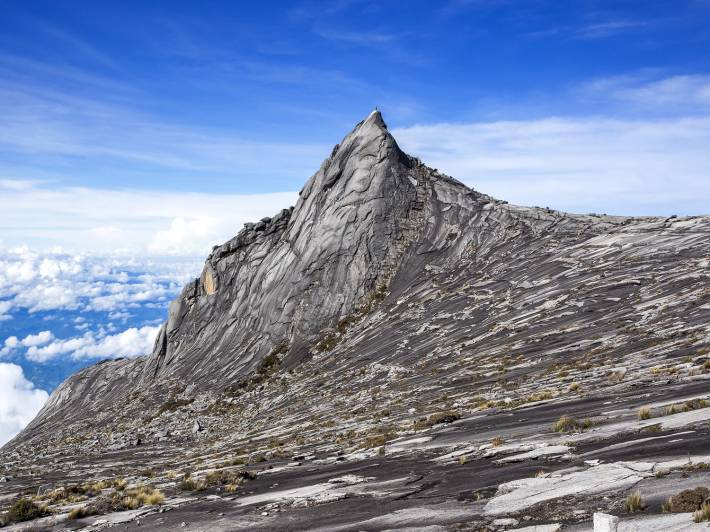 OUR PICK #7
Mount Kinabalu – Borneo
Set at the heart of Kinabalu National Park, Gunung Kinabalu, as it is known in Malay, is the highest mountain in Malaysia. Standing at over 4,000 meters, it's the park's biggest drawcard and attracts thousands of climbers every year. The trek takes you through verdant jungle and barren moonscapes, with its granite summit offering breathtaking views over the surrounding scenery. The park itself is also a highlight on any trip to Borneo, with a remarkably diverse range of flora and fauna including up to a staggering 6,000 plant species and 326 types of bird.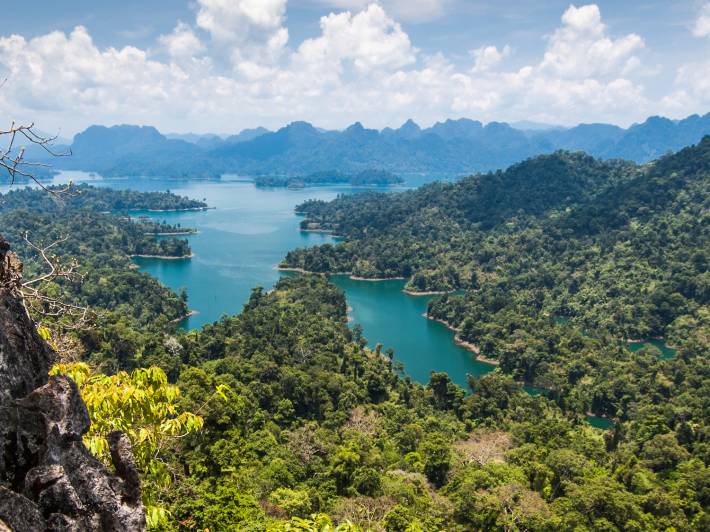 OUR PICK #8
Khao Sok National Park - Thailand
Covering 738 square kilometers of southern Thailand, Khao Sok National Park offers rugged green islands rising from perfect turquoise water. Dating back around 160 million years, the park's rainforest is said to be one of the oldest in the world and contains a variety of native wildlife. Alongside 300 species of bird, you may spot wild elephants, Malayan sun bears, swinging gibbons and clouded leopards. The park is also home to the increasingly rare Rafflesia kerri, one of the world's largest and, unfortunately, the smelliest of flowers. There's plenty of ways to explore Khao Sok including trekking, kayaking, boat tours and even bamboo rafting.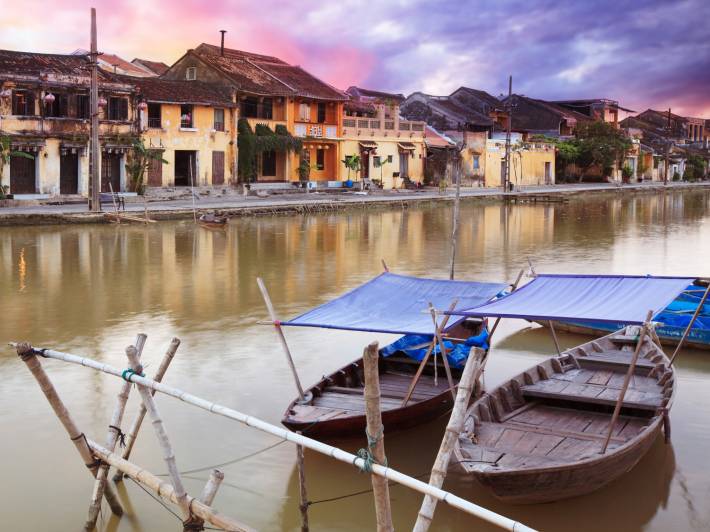 OUR PICK #9
One of Vietnam's best-loved destinations, Hoi An is a UNESCO-listed port town brimming with charming architecture. Evidence of past traders can be seen throughout the town, with French colonial merchant houses, Chinese temples and the iconic Japanese Covered Bridge. Amongst the town's ancient cobbled streets, you'll find colorful markets, delicious restaurants and cooking schools, alongside a plethora of tailor-shops where you can have clothes custom-made for just a fraction of the price you'd pay back home. Hoi An also boasts a delightful riverside setting, without the modern-day curses of traffic and pollution, further adding to the town's effortless appeal.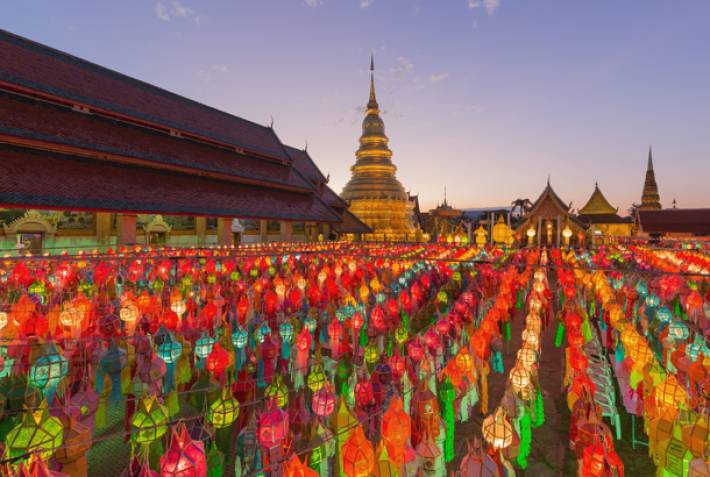 OUR PICK #10
Chiang Mai - Thailand
The city of Chiang Mai is an exciting blend of contemporary Thailand and its more traditional roots. Despite being the largest city in Thailand's mountainous north, Chiang Mai is surprisingly laid-back with a wealth of experiences available, from cooking classes to zip lines. There are bustling night markets to explore with exotic snacks to try and colorful handicrafts to buy. There's the sacred hilltop Wat Phrathat Doi Suthep to climb up to for sweeping views of the city. And then there's the magical Yi Peng Lantern Festival, a celebration of light with hundreds of lanterns released into the night sky. So visit in November for Chiang Mai at its most photogenic.